15 Fireplace Wedding Decor Ideas We're Absolutely Obsessed With
Trying to figure out how to work a fireplace into your wedding decor? We've rounded up a few of our favourites to help you out.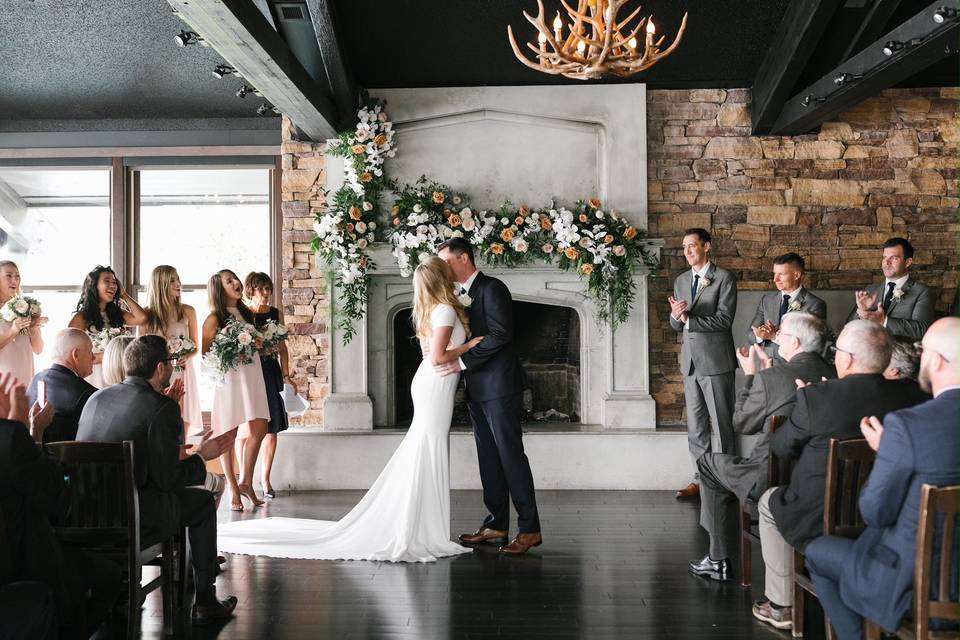 Let's talk about fireplaces! If your wedding venue has one, it'd be a shame not to put it to use. While many look great without any added bells and whistles, others could use a bit of sprucing up. If yours is in the latter category, don't stress. We've searched far and wide for the best fireplace wedding decor ideas and dug up some downright stunning stuff from our vendors and real weddings gallery. Whether you want to cover your mantel in gorgeous florals, go green by surrounding it with a frame of eucalyptus, or add a few fun accents (like candles and linens), you're bound to find something on this list of fireplace mantel decorations that suits your unique wedding style.
Here are a few fireplace wedding decor ideas we're absolutely obsessed with.
Cascading greenery and florals
Cover your fireplace's mantel with heaps of gorgeous greenery and florals that complement your wedding centerpieces and bridal bouquet. If you want to save a bit of money, go heavier on the greenery and consider opting for faux flowers instead of the real deal. The results will be romantic, dreamy, and make the fireplace really stand out.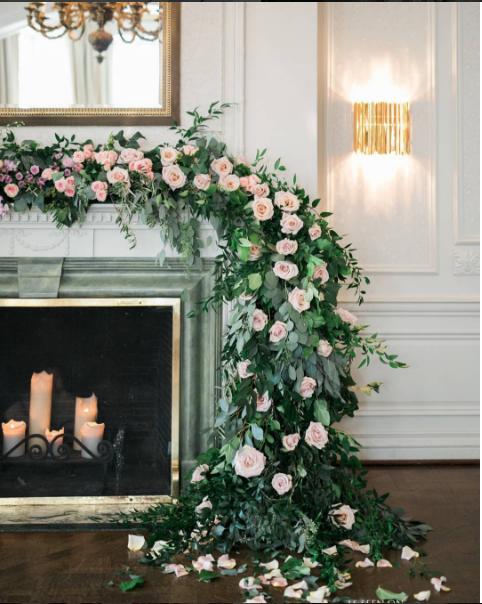 Asymmetrical cascade
A variation on the cascade is to place a floral arrangement on the mantel on one side of the fireplace and another arrangement on the hearth on the opposite side and join them with a swooping greenery garland. Pile on some pillar candles for a gorgeous display.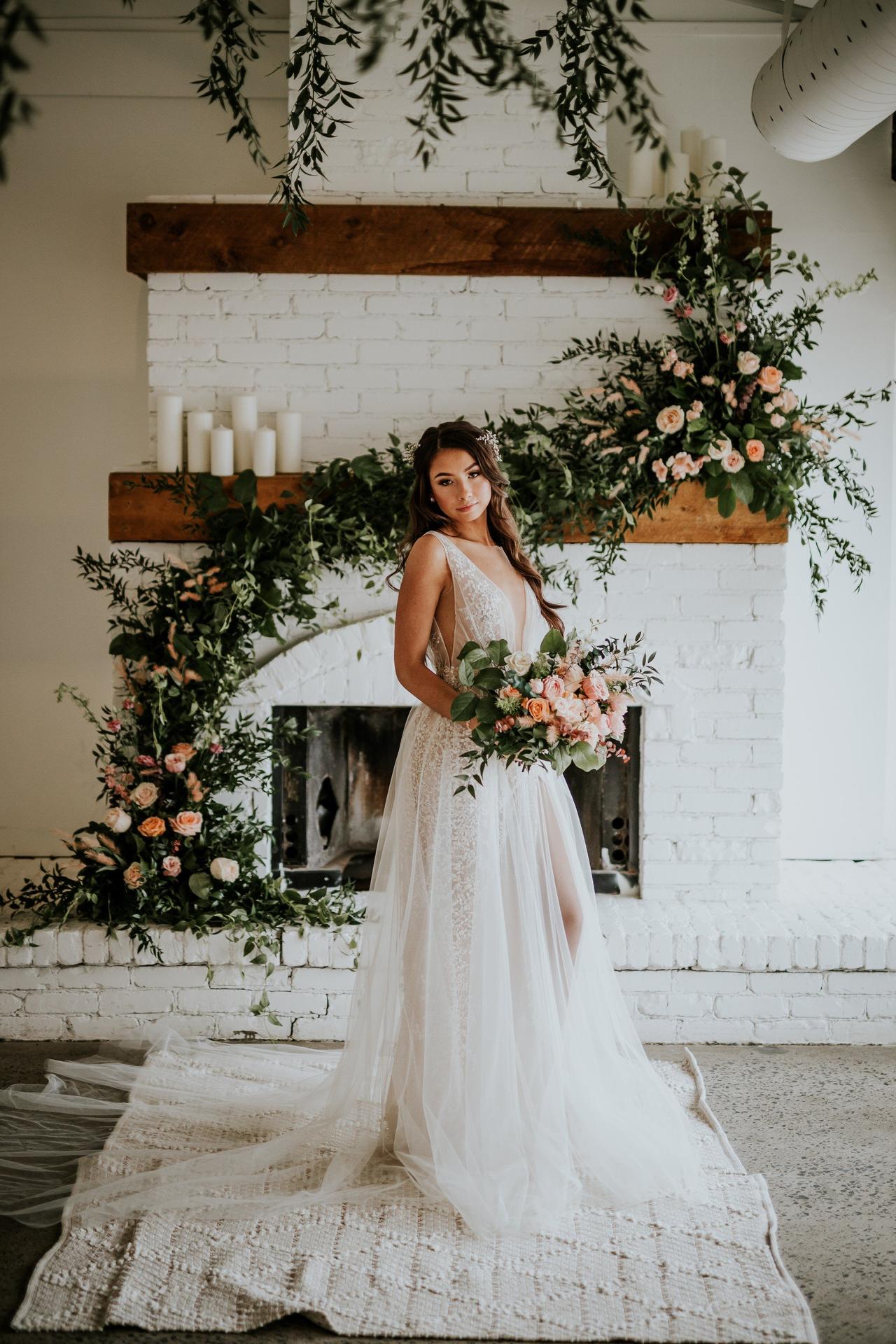 Greenery and candles
Love the look of cascading greenery and florals, but want to give it a little extra somethin'? Add a few candles to the mix. If you go this route, we suggest sticking mostly to greenery and peppering in a few flowers here and there so that the candles don't get lost in the mix. This is also a bit more budget-friendly, so you can shave a few bucks off your florist bill (providing you don't choose a super expensive type of greenery).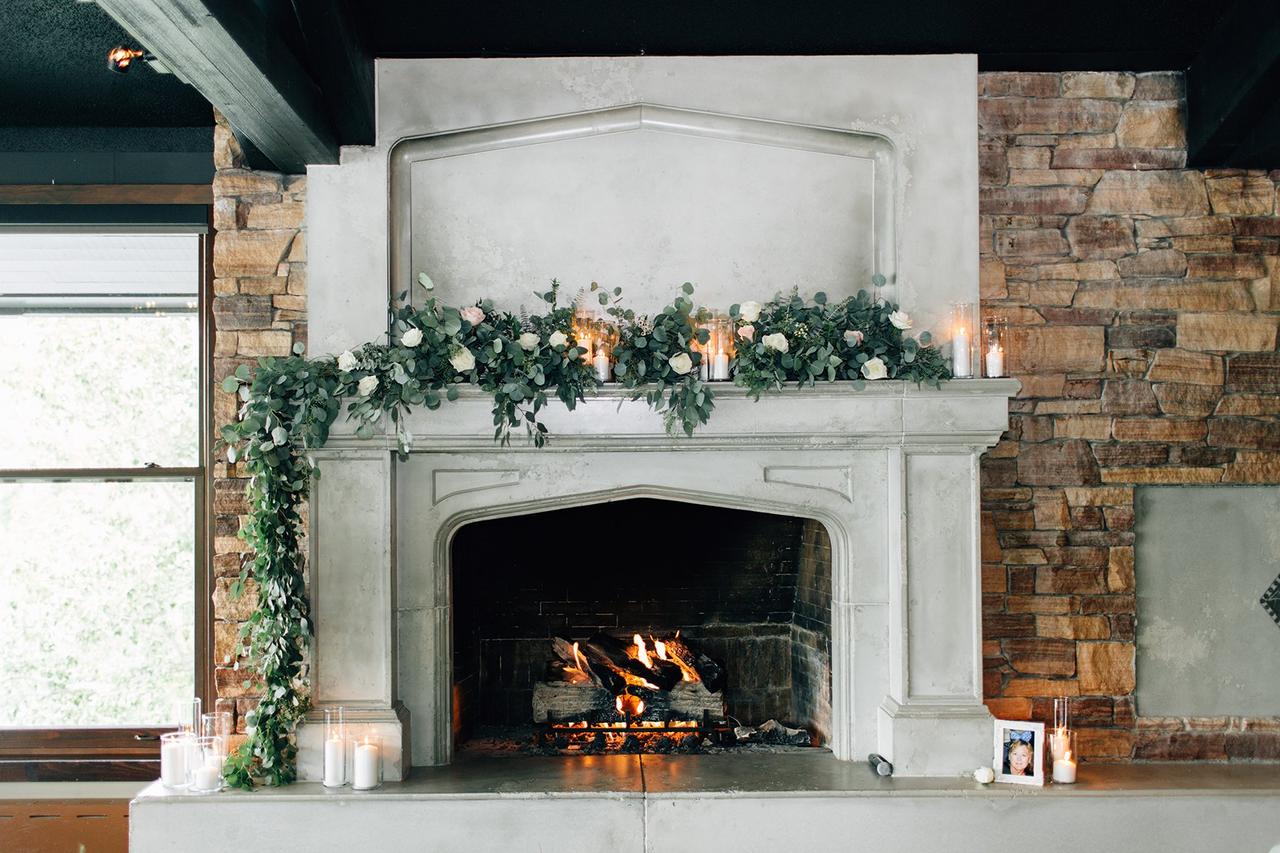 Overflowing arrangements
If you want a fireplace wedding decor idea that's full of flower power, but not as over-the-top as cascading florals, add a couple of arrangements to your mantel. We absolutely love the look of overflowing arrangements like these, and they'll definitely make the fireplace your venue's focal point (great if you're using it as your wedding altar or a backdrop for your head table).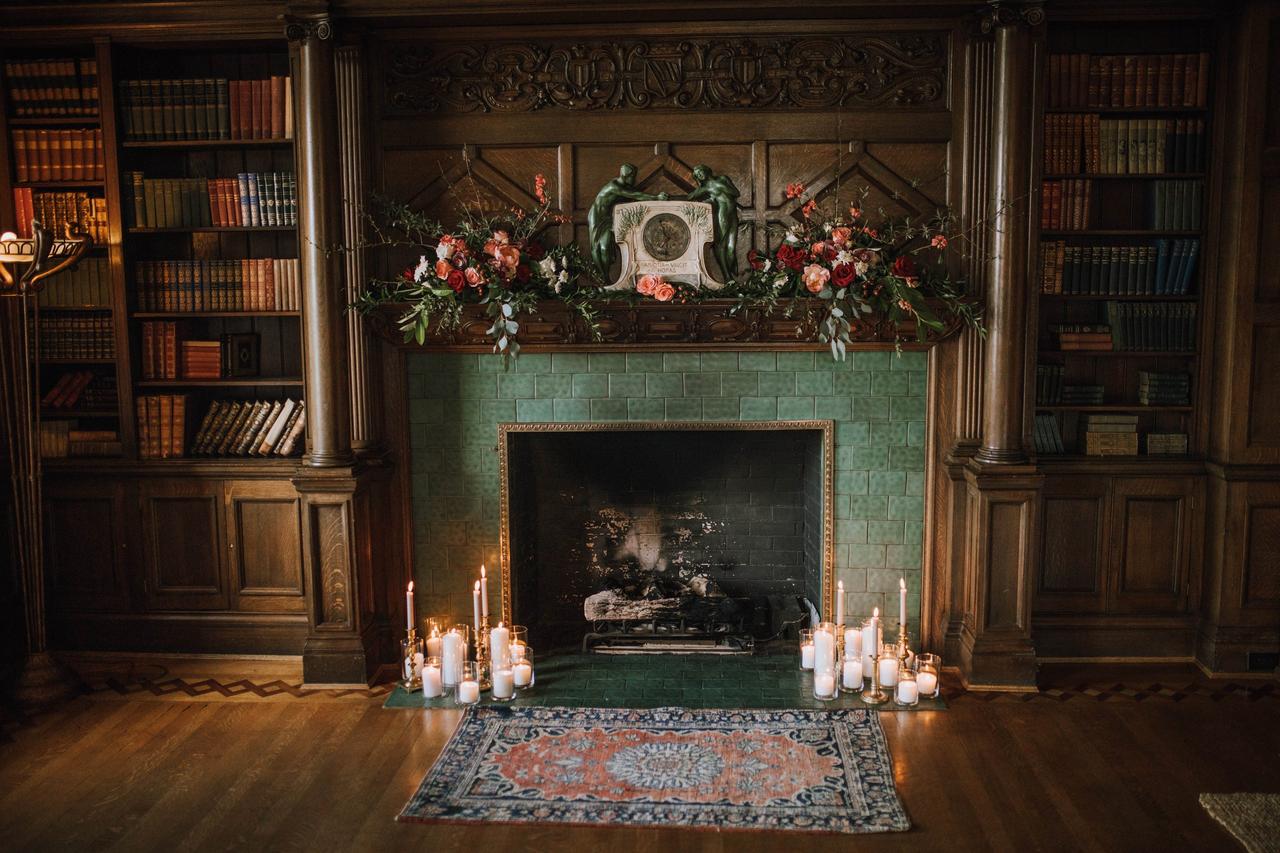 Minimalistic arrangements
If you're going for a more toned-down look, opt for smaller arrangments in decorative vases. You can even surround them with garlands of greenery (like this couple) or fairy lights to give them a bit of extra oomph. P.S. having arrangements already in vases will make breakdown a lot easier - you can even gift them to some of your VIP guests on their way out.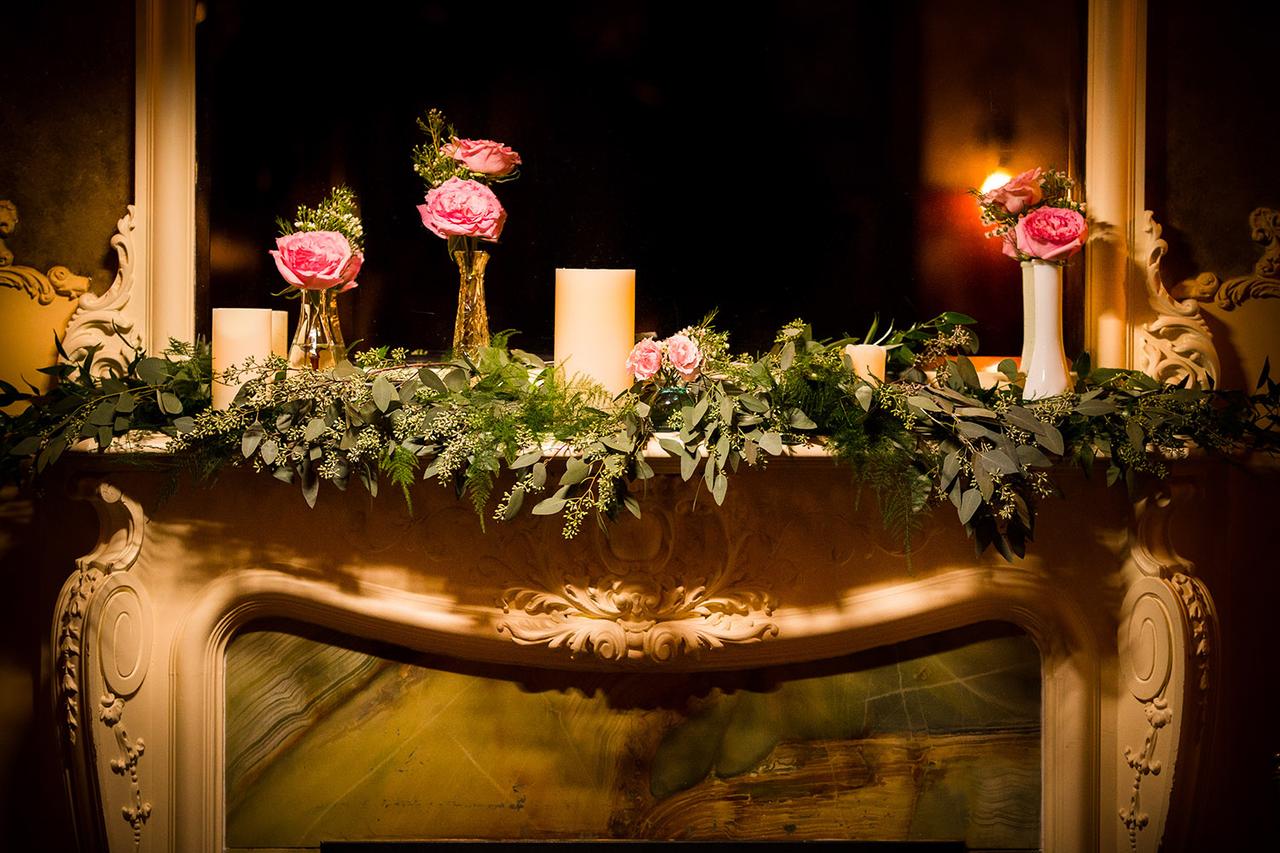 Center arrangement with accent candles
We're head-over-heels for this more modern take on fireplace wedding decor. Simply add a larger arrangement (similar to your centerpieces) to your mantel and surround it with long stem candles. You get brownie points if they match the rest of your decor and floral selections.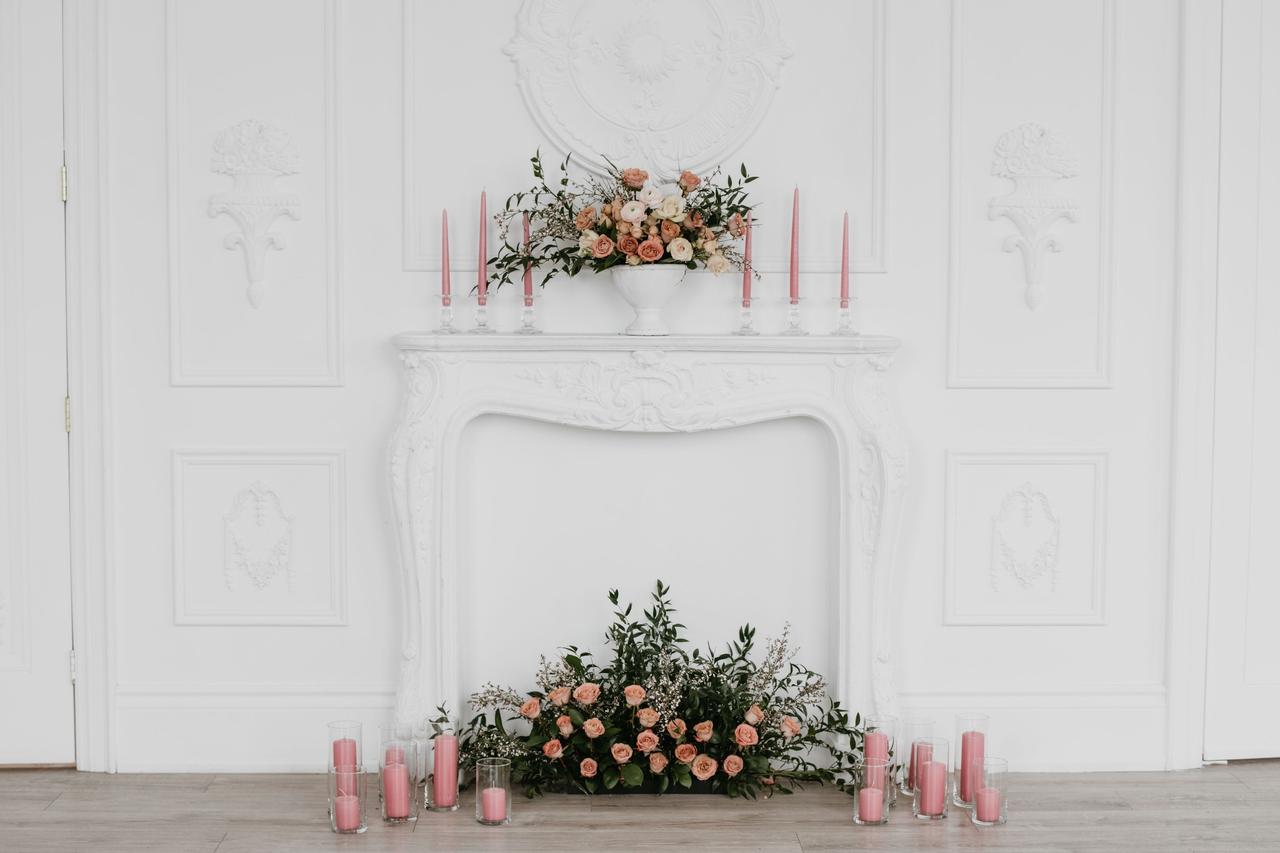 High to low arrangements
If you're looking for a way to make more minimalist arrangments pop, create interest by lining up tall to small floral bouquets. Of course, if you're going with this idea, the flowers and vases you use should pack a punch and stand out from the rest of your decor (you can even mix and match them if you want something totally unique). They look super-cute and are a cinch to clean up at the end of the night.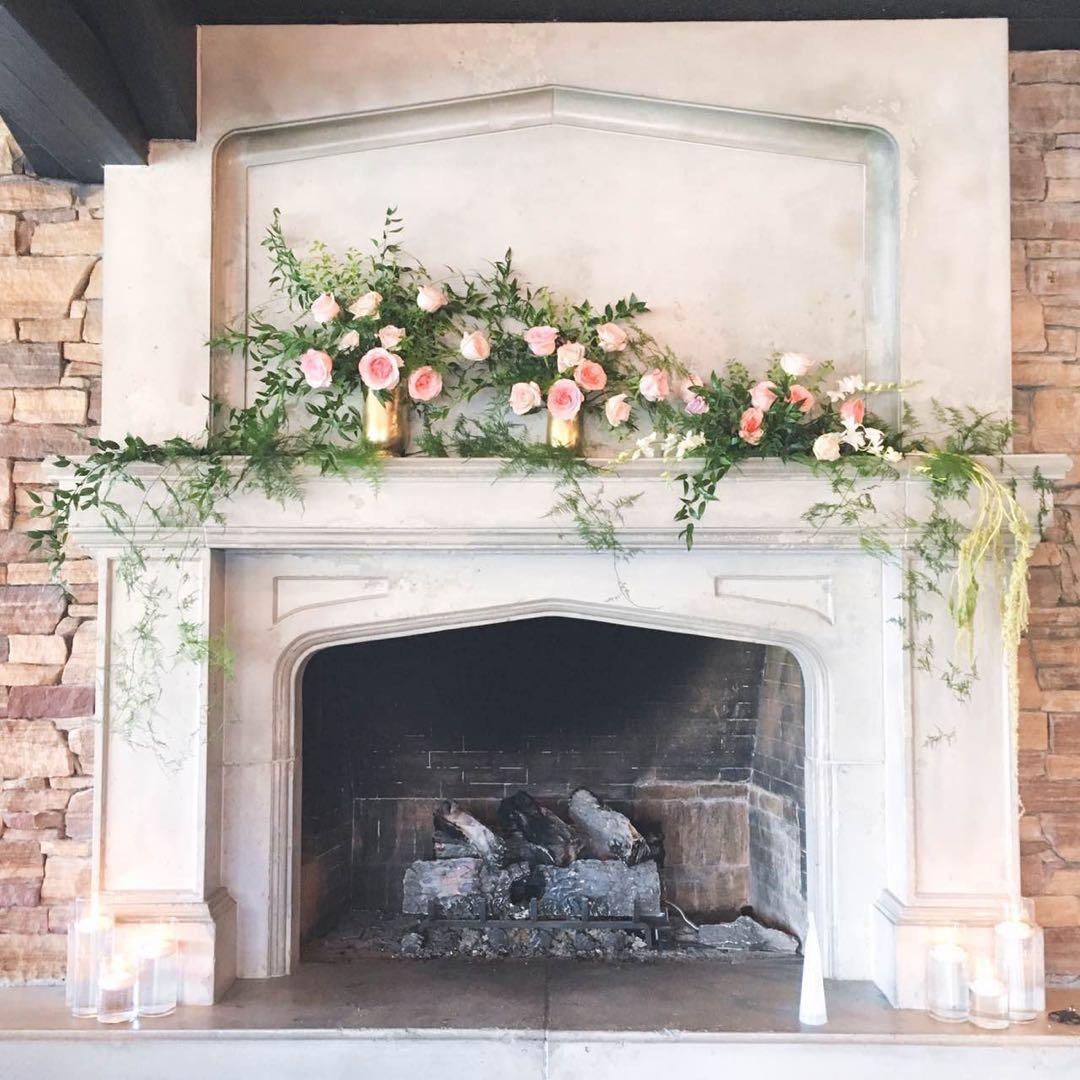 Gold accents
Fireplaces are pretty darn regal without any help, but if you want to embrace those luxurious, elegant vibes, add a healthy splash of gold to your mantel. Vases, votives, candlesticks, and metallic decorative knick-knacks will make your display truly unmissable. Naturally, you'll want to work some flowers into the mix as well (because what's wedding decor without them?).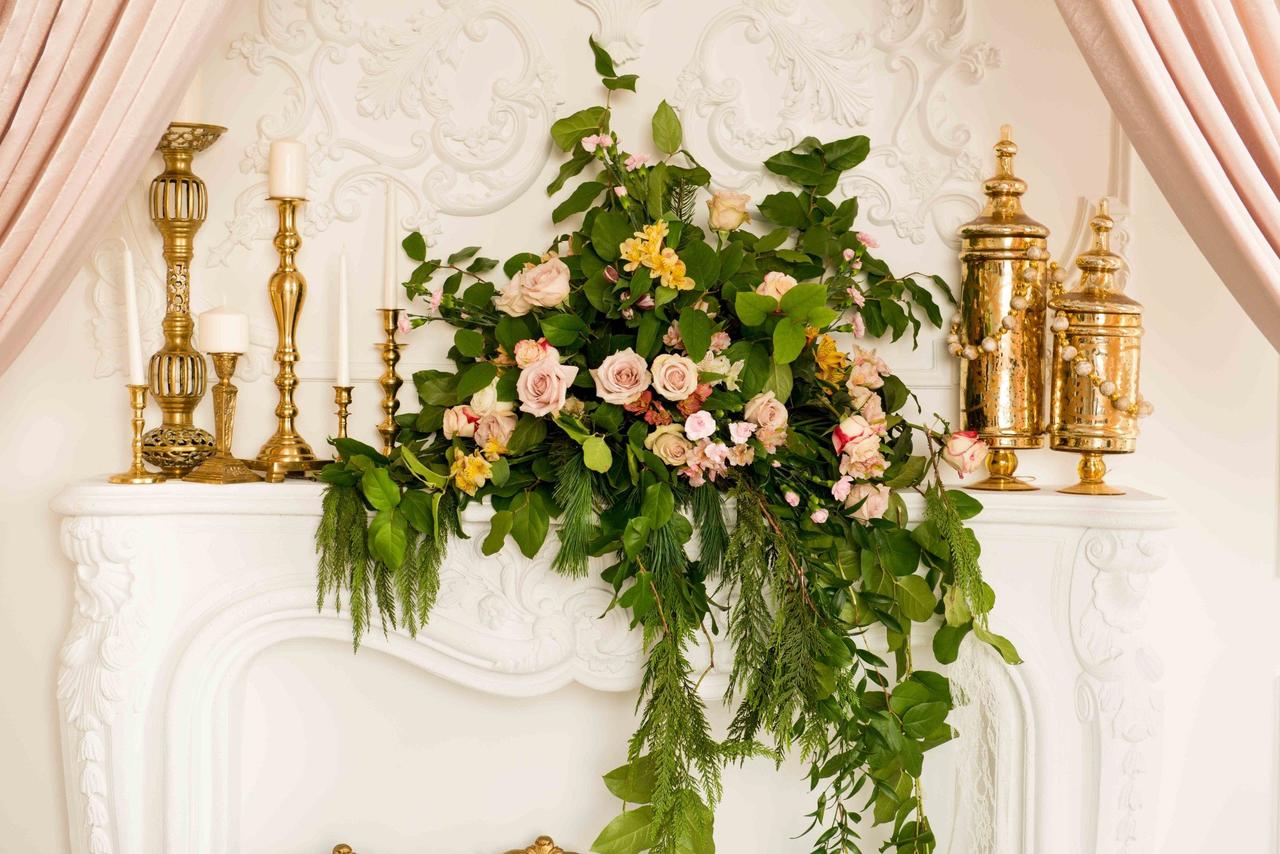 A little bit of everything
Add linens, votives, candles, floral arrangements and more to your mantel for an interesting and eye-catching fireplace wedding decor display. You don't have to choose bright and bold pieces to create something truly magical - in fact, if you're going for different textures and styles of decor, sweet and simple is sometimes better.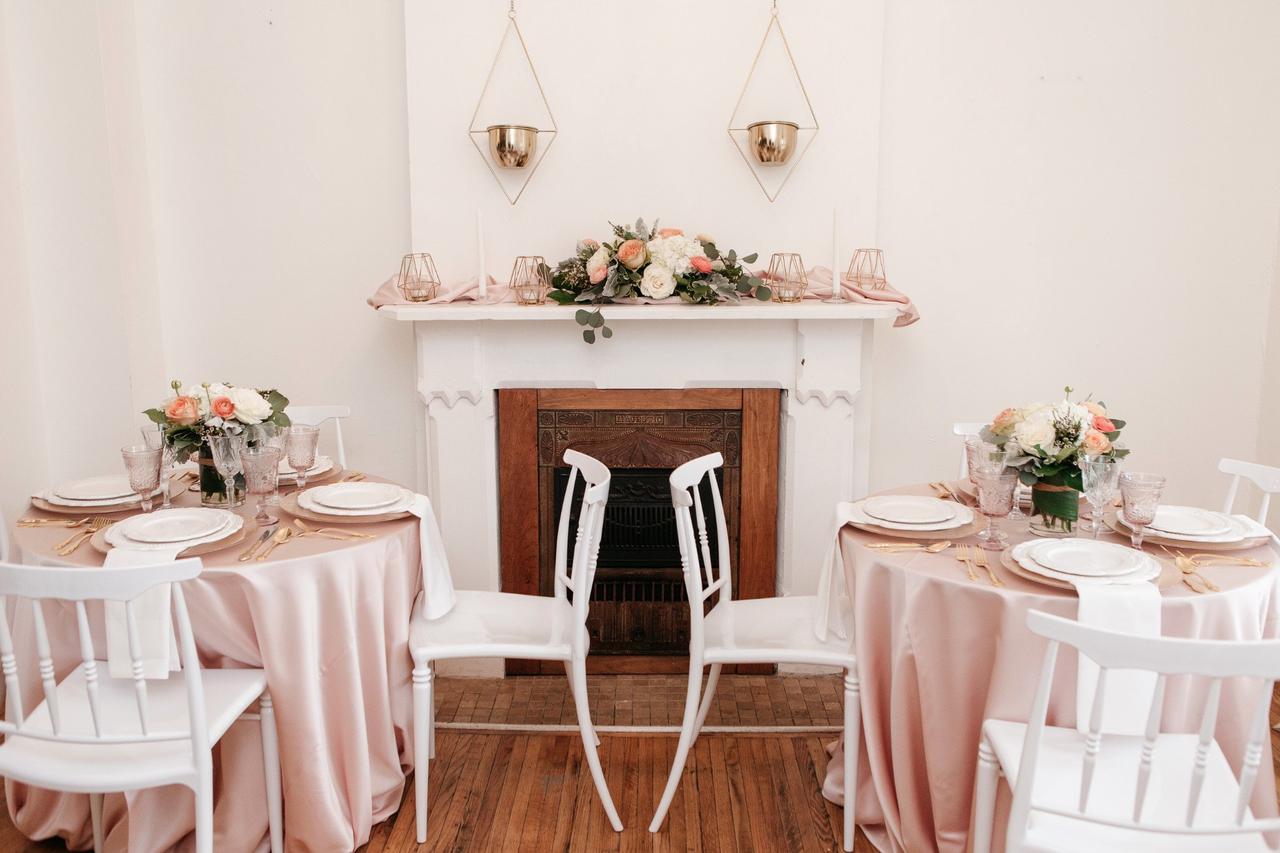 Bunting banner
If you've opted for a rustic-chic theme or something on the woodsier side, a bunting banner is the only way to go for your fireplace wedding decor. Of course, you can add a few fun accents, like apothecary bottles, candles and itty bitty floral arrangements on top, but your banner should be your focal point. Pro tip: you can totally DIY one (or ask your wedding party to take on the task for you) to save a bit of money.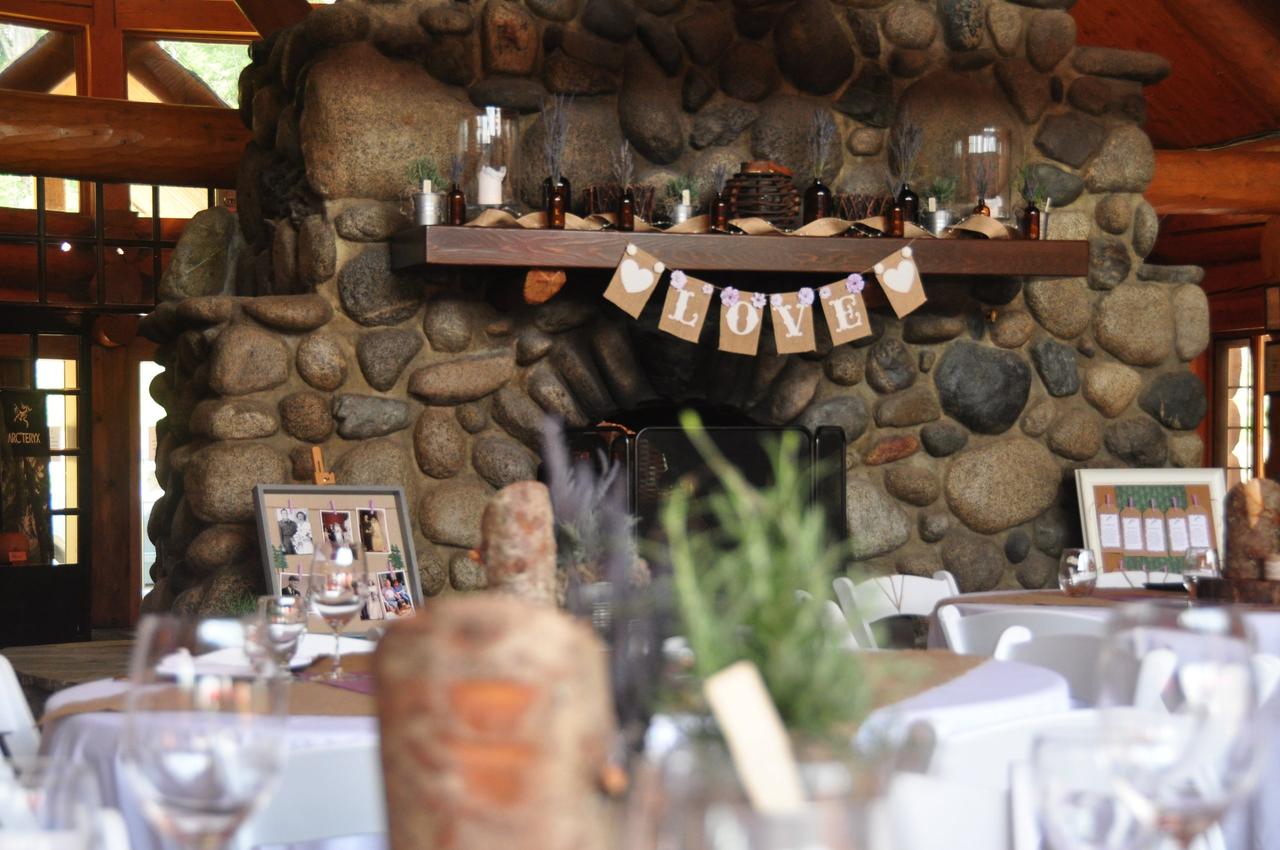 Tropical paradise
Adorn the mantel in an abundance of tropical flora and fauna for an exotic focal point for the festivities. The key here is to have a variety of large leaves for visual interest.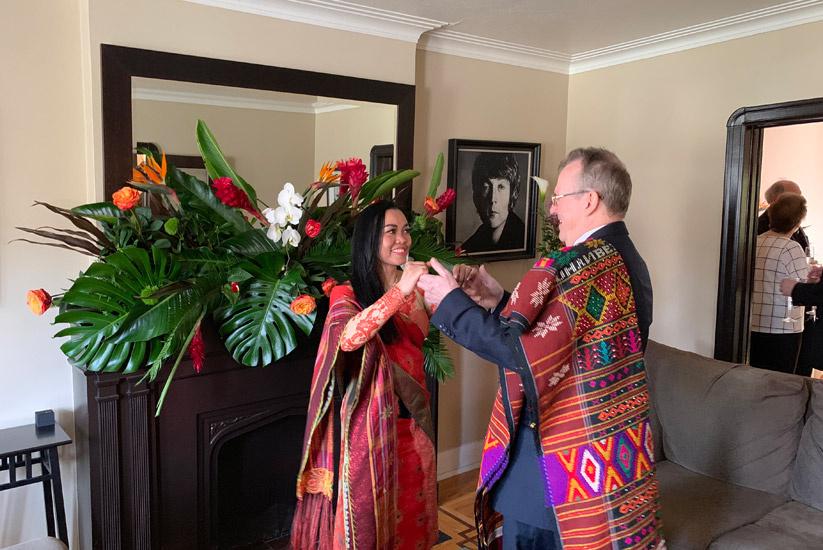 Lush greenery
Bring the lush greenery of a Canadian forest indoors with a few natural arrangements made from ferns and branches of green leaves. This looks simply stunning resting on a flagstone fireplace and is pretty budget-friendly, too.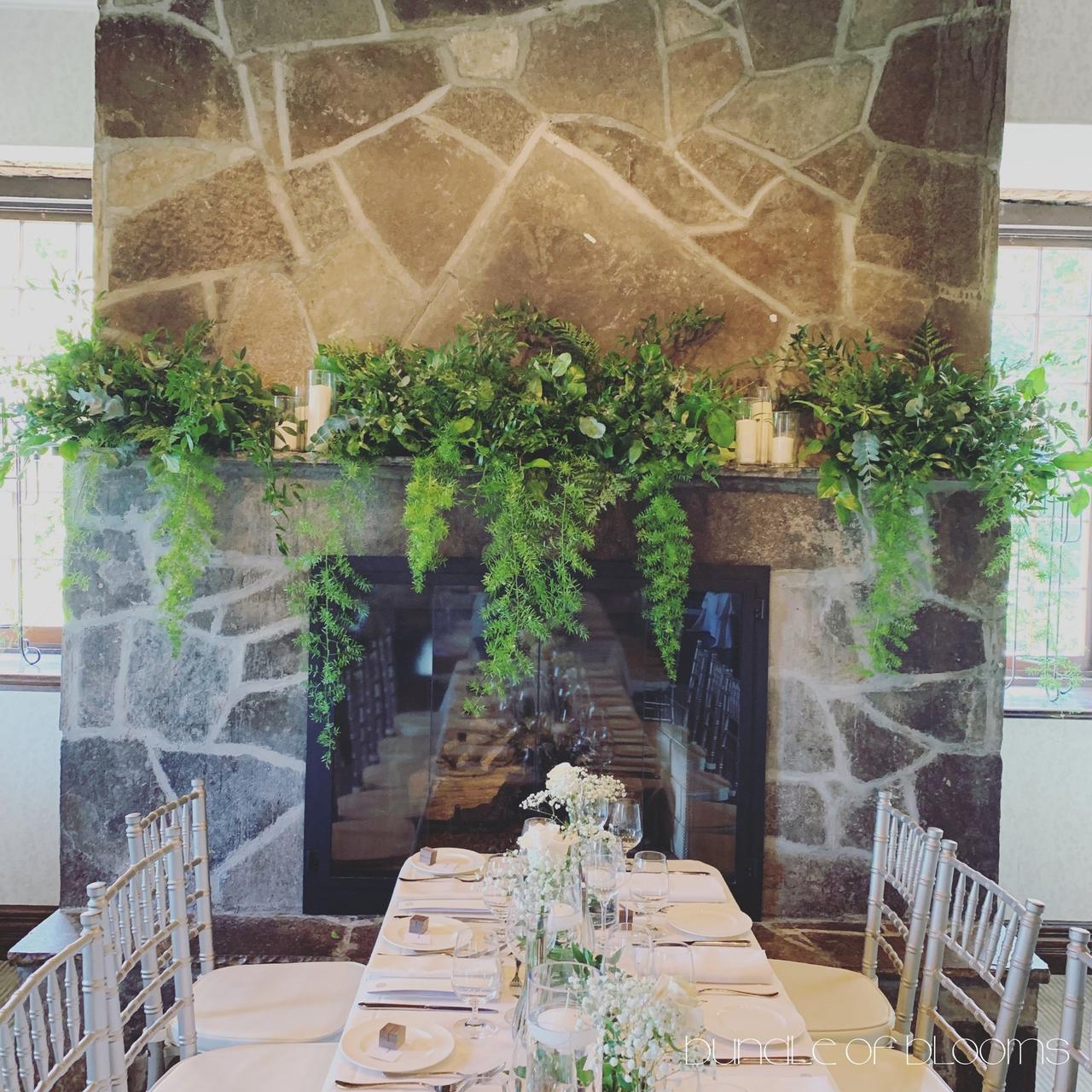 Bold blooms
A garland featuring big bold blooms in a few colours nestled among greenery looks modern and festive placed on a white rustic fireplace like this one.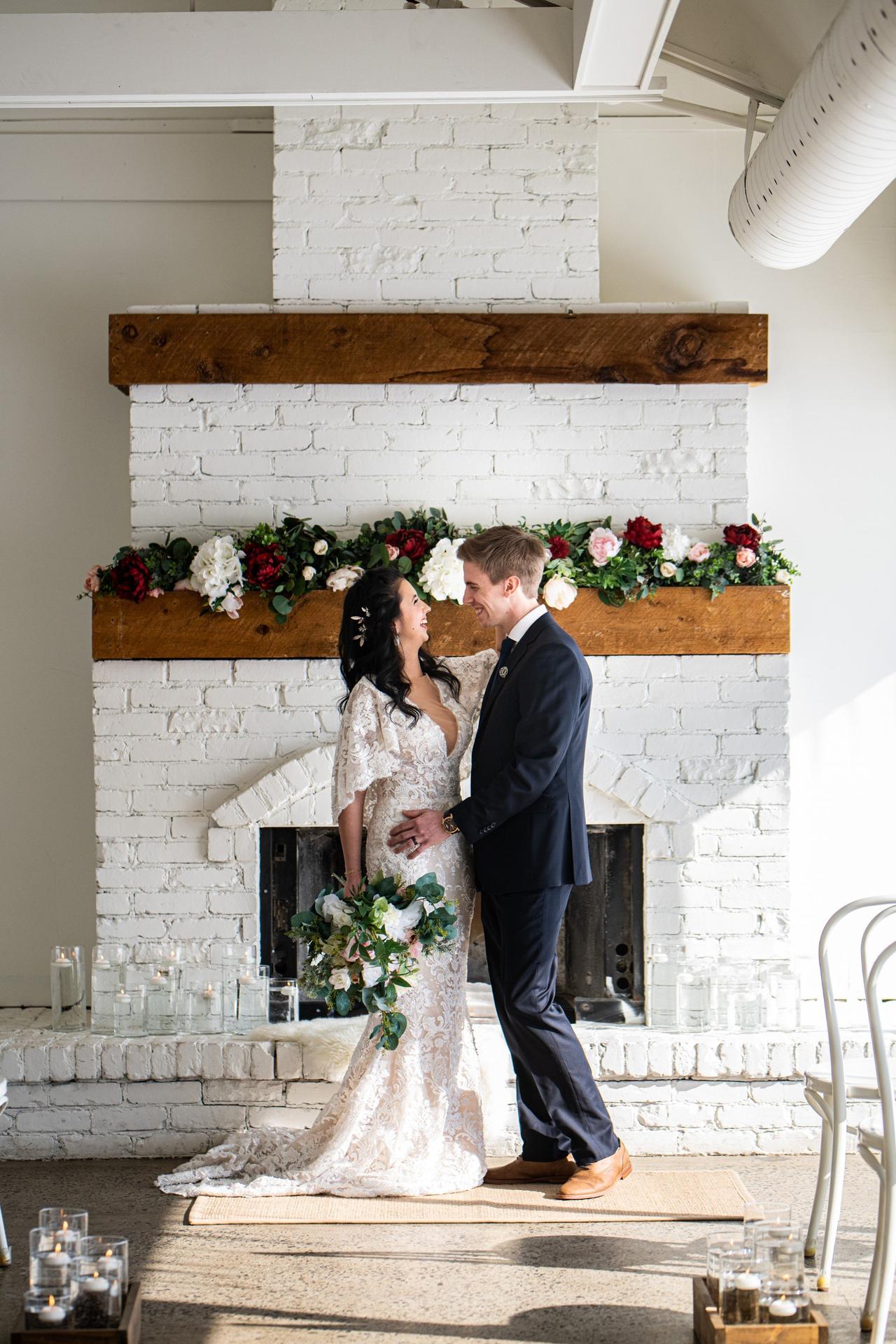 Arch altar
Using your fireplace as your altar backdrop? Great idea! Make it even more wow-worthy by surrounding it with a floral-covered wedding arch and adding some accent arrangements. It'll make for a cozy and absolutely epic display that you'll be proud to say your 'I dos' in front of. Keep in mind that you can totally go over-the-top in this area, because, obviously, you want your altar to look just as stunning as you on your big day.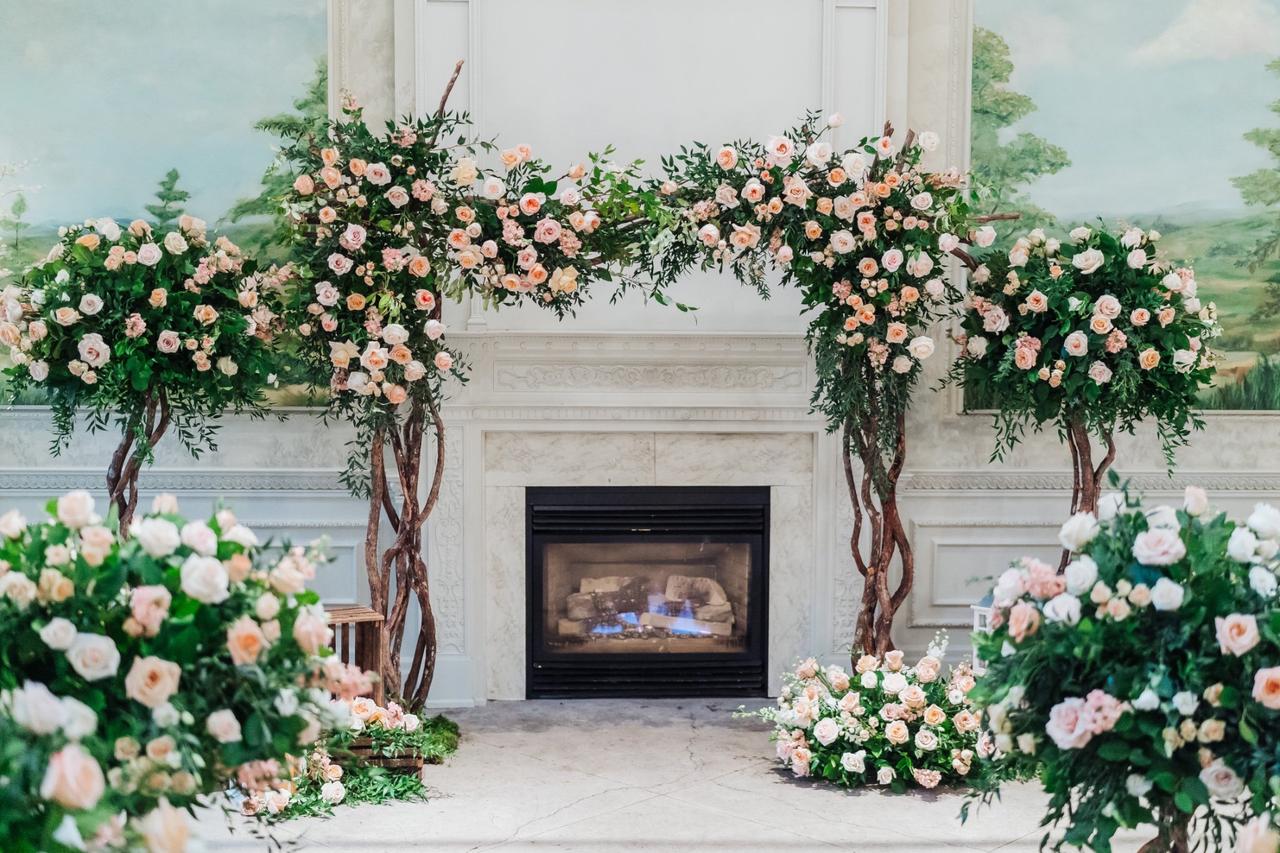 Sweetheart table backdrop
A fireplace also makes for a dramatic backdrop for your sweetheart table. Take inspiration from this fireplace decor featuring tall arrangments, geometric accessories and an adorable "LOVE" sign centered on the mantel.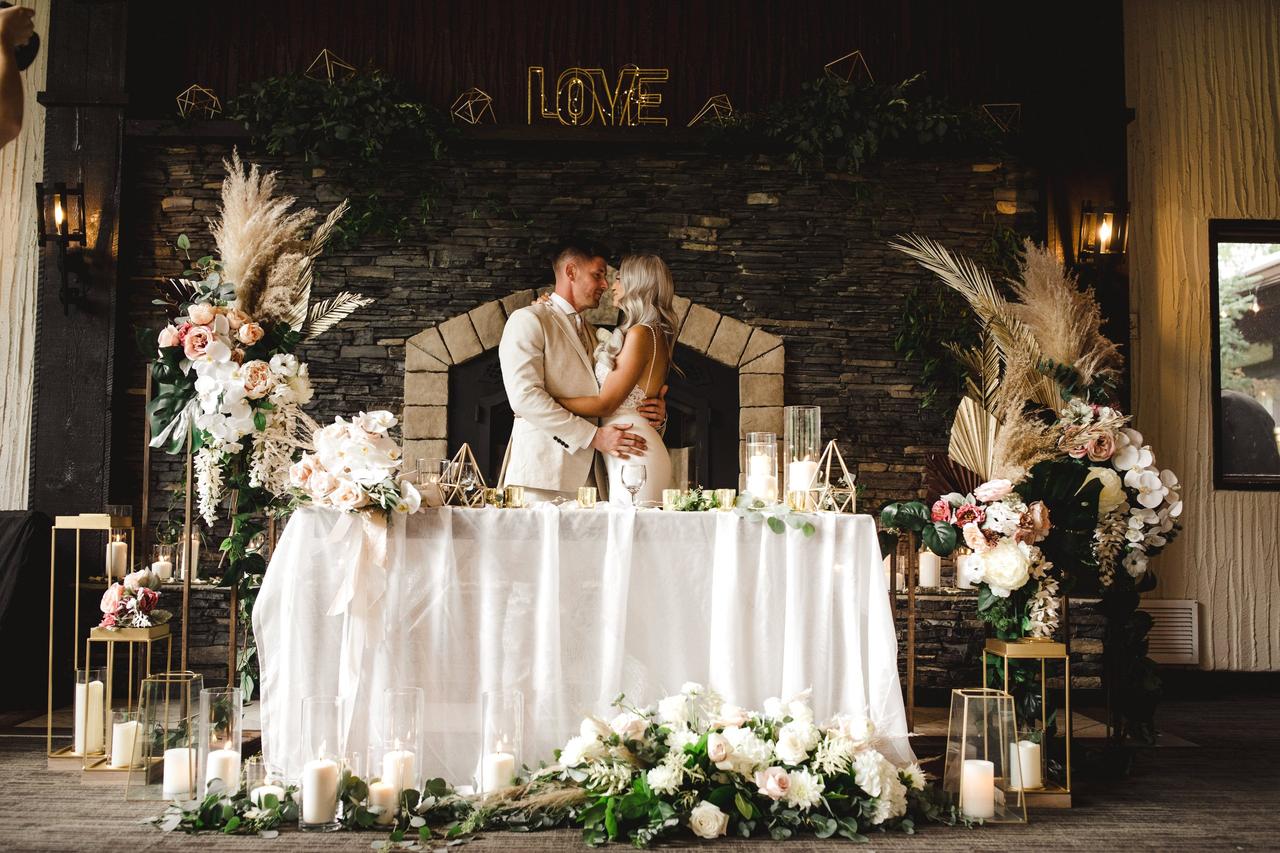 Makeshift fireplace
If your venue doesn't have a fireplace, create the illusion of one by adding candles inside of a frame. This works for almost every wedding theme and is completely customizable. No, it won't be the same as a cozy hearth in a lodge or a gilded fireplace in a mansion, but it'll totally do the trick. Pro tip: if you don't want to tackle the design on your own, enlist the help of a wedding stylist. Pinterest and Instagram also filled with great inspo images.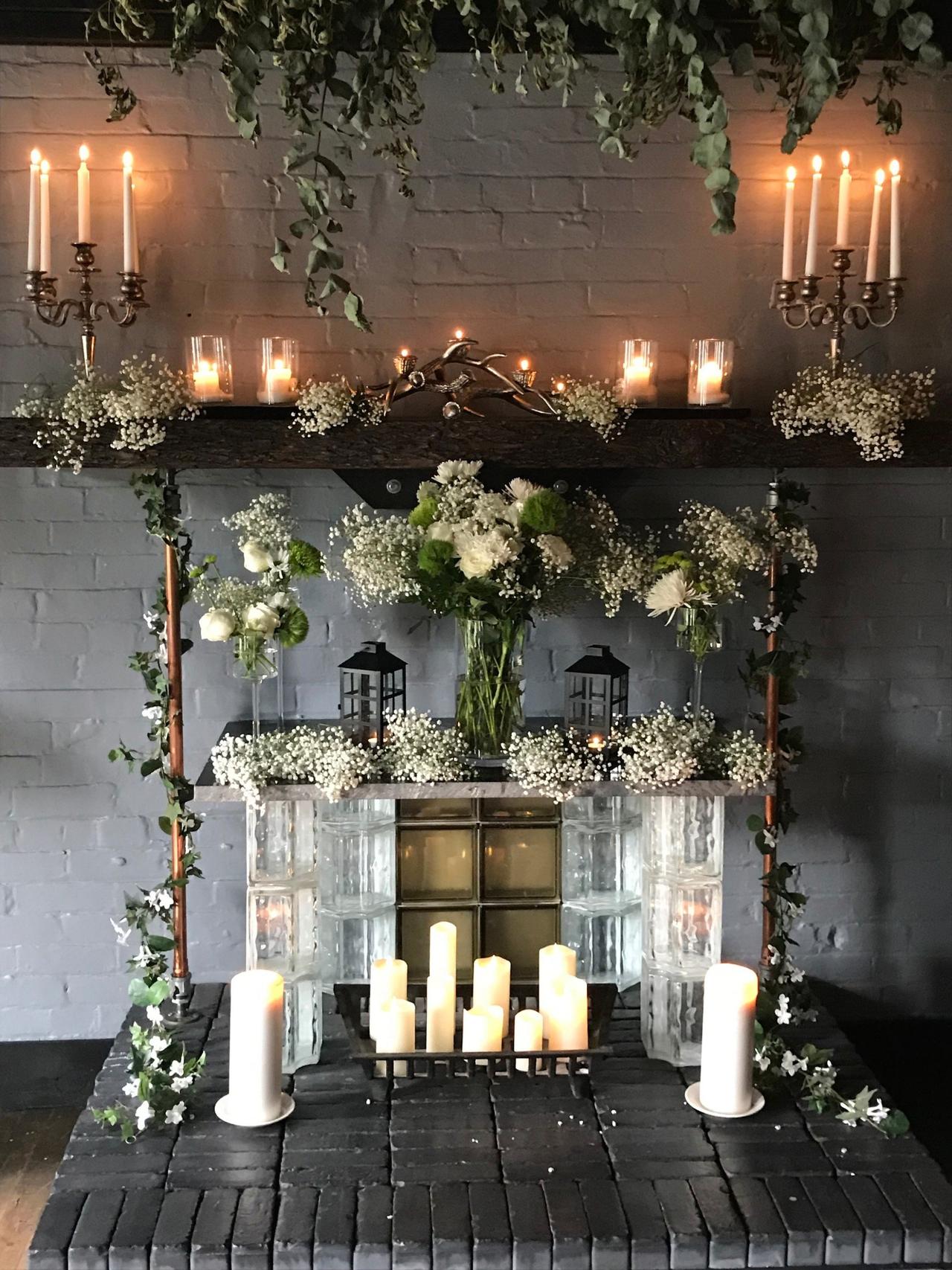 Find wedding decorations, florists and event rentals on WeddingWire »