Wedding Boutonnieres 101
Want to dress up your suit or tuxedo? Adding a wedding boutonniere will do the trick. Before you schedule a meeting with your florist, here are a few key things you should know.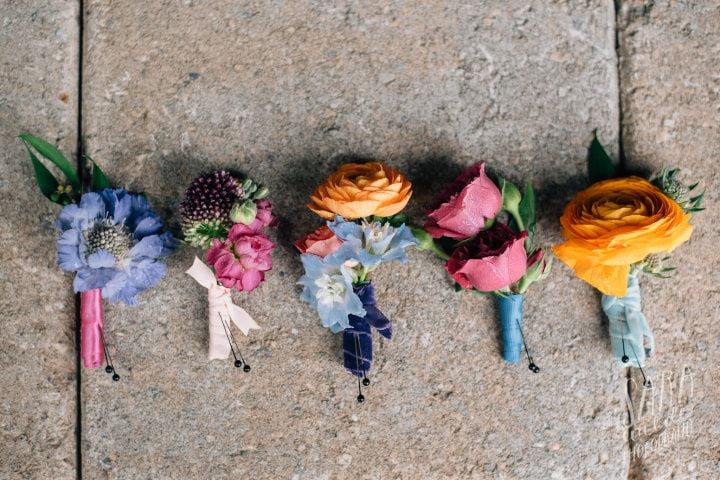 While the bride may get the star of the floral show - the wedding bouquet - grooms don't miss out on all the fun. Jazzing up a simple suit with a stylish statement wedding boutonniere is an absolute must and gives the guys a chance to dabble in flora and fauna, as well.
Here's everything you need to know about wedding boutonnieres.
What is a boutonniere?
A boutonniere is basically the male equivalent of a bouquet. It is made of a single flower, cluster of flowers or a mix of decorative accents and blooms that is typically pinned to the lapel of a suit jacket. Originally, the mini-bouquet would be placed through an itty-bitty buttonhole on the jacket (that's where it got its name). Now, many are made with pins so they can be fastened to anything from a dress shirt to a suspender.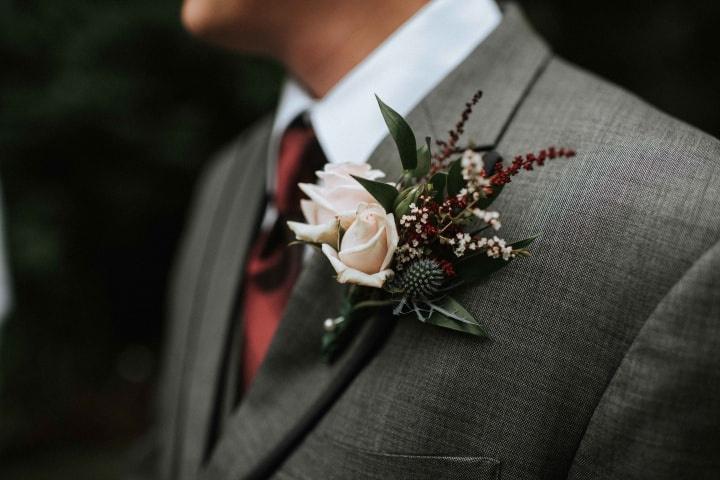 Who wears a boutonniere in a wedding?
It is usually the groom, his groomsmen and the ring bearer who rock wedding boutonnieres, though that rule is not set in stone. At some ceremonies parents, stepparents, ushers and/or the officiant also wear one. Have a talk with your wedding florist and fiancé(e) to figure out what will work best for your wedding (and budget).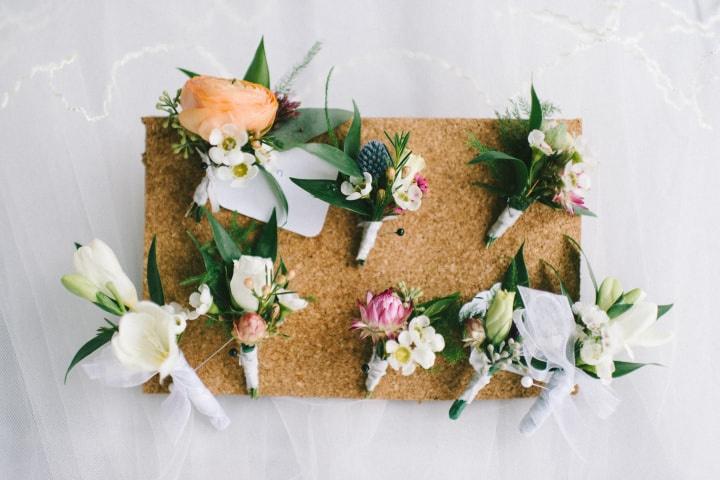 How much do boutonnieres cost?
Good news! Wedding boutonnieres cost significantly less than a bridal bouquet, but that doesn't mean they'll leave your wedding budget untouched. You'll have want to work out how many you need and the cost of labour for each (remember to order extra in case of emergency). Note that flowers will eat up approximately 8% of your overall budget, so make sure you still have the funds for aisle markers, wedding centerpieces, bridesmaid bouquets before deciding on your boutonnieres (you can use our budget tool to help!). If you're looking to conserve funds consider picking blooms that are in season to help lower the cost and skipping rare flower types altogether.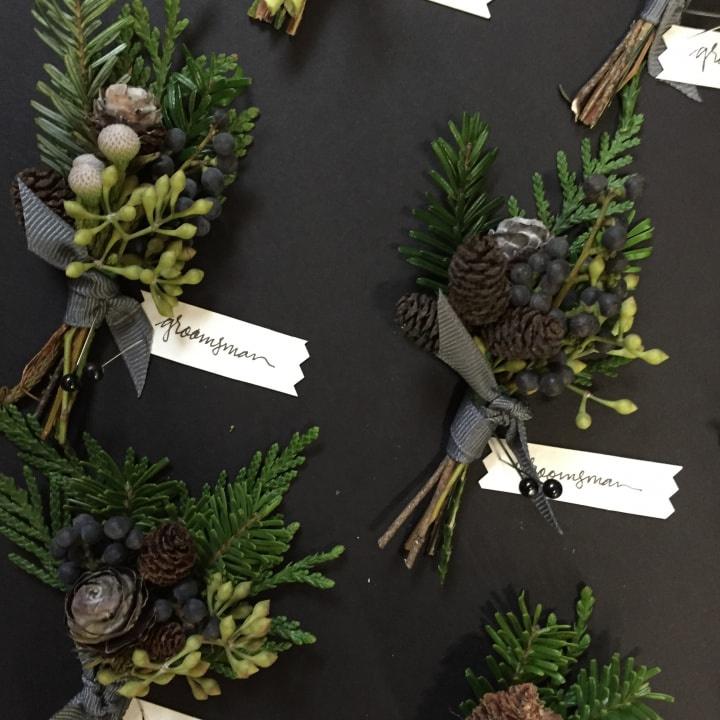 What flowers are good for boutonnieres?
This is where you can get a little bit creative. Though many grooms match the wedding flowers in their boutonnieres to those in the bride's bouquet, you don't necessarily have to. Finding something that's a similar shape or complementary shade will do just fine. You'll also want to think about how the flowers will hold up. Blooms like orchids, roses and peonies will hold their shape all day without being watered. You'll probably want to steer clear of hydrangeas and tulips as they tend to wilt without constant TLC. If flowers just aren't your cup of tea, that's fine, too! Non-floral wedding boutonnieres are gaining popularity because they allow grooms to be a little more imaginative. Consider using greenery, feathers and other decorative flourishes to make it your own.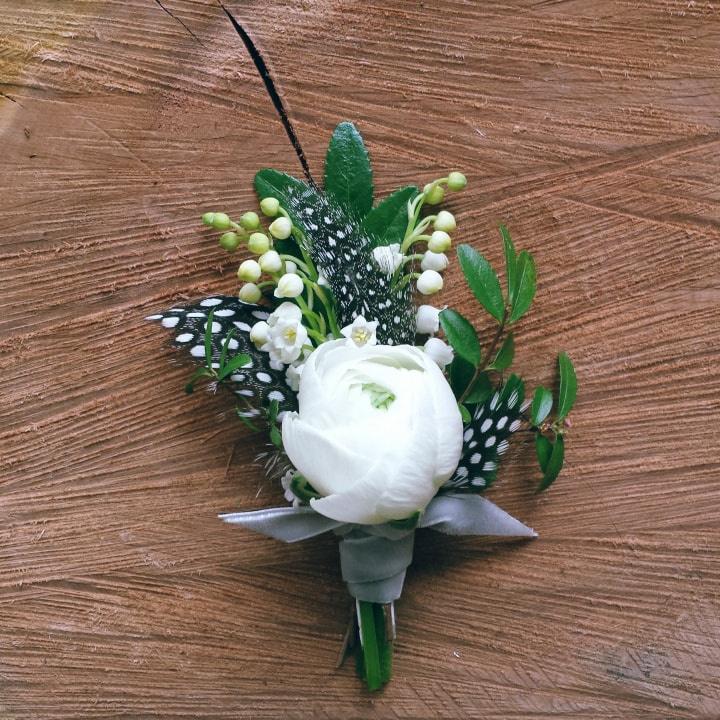 What colour should the boutonnieres be?
When choosing the flora and fauna for your wedding boutonnieres think about your wedding's overall colour scheme. You don't want your statement accessory to clash with your surroundings or the bridal bouquet, so this is of the utmost importance. Remember, you and your groomsmen don't need matching boutonnieres, either. If you don't want to give them carbon copies of your own piece, opt for complementary coloured blooms or flowers of slightly different shades than your own boutonniere's.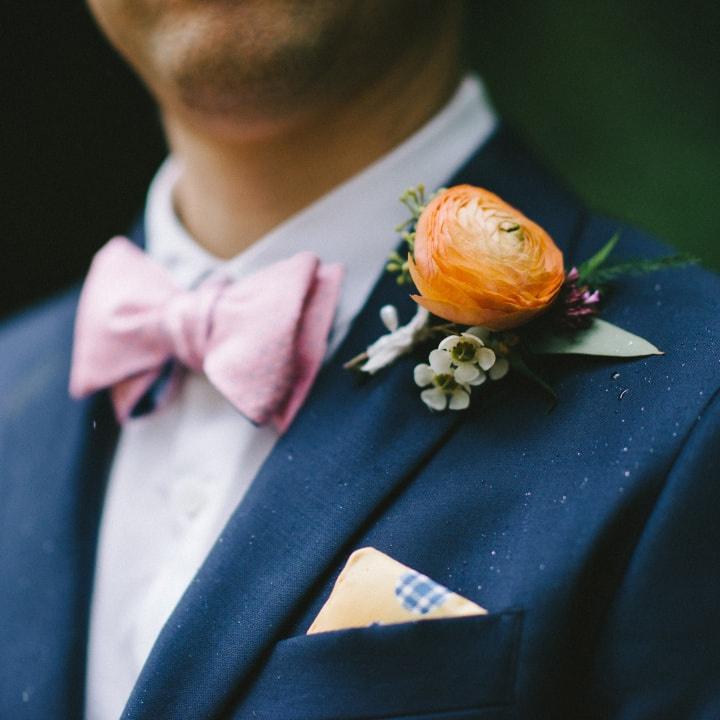 What style should a wedding boutonniere be?
As with all other aspects of your wedding, you'll want to consider its overall theme. If you're going for a more refined look you may want to go with a classy single flower that matches the flora in the bridal bouquet. More into a rustic look? Think about incorporating wildflowers or baby's breath. If you're planning a more laid-back affair mixing and matching is a great option. Giving each of your groomsmen unique boutonnieres will add a bit of interest to their suits. Try not to go too crazy with different blooms, you'll still want things to look cohesive. Stay inside a colour palette or stick with similar looking flowers.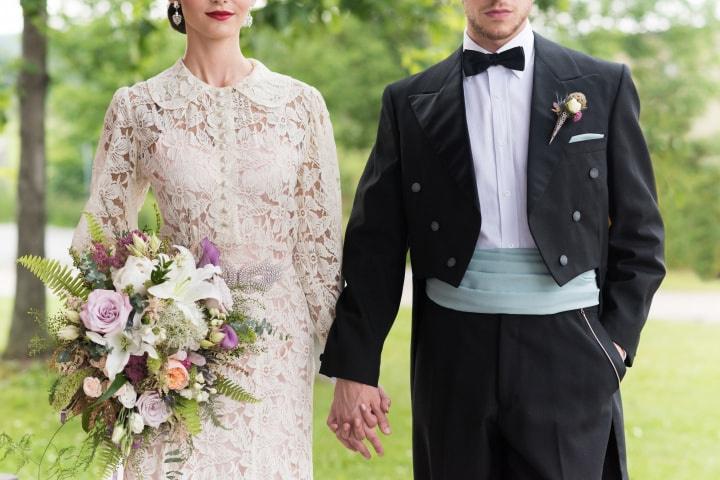 What decorative accents can be added to a boutonniere?
Little embellishments can pack quite the punch when added to a wedding boutonniere. Many modern grooms are decorating theirs with petite bits and bobs that reflect their favourite hobbies. Into fishing? Maybe add some tackle. Crazy about golfing? Maybe throw in a tee or two. You can also use decorative accents to make the boutonnieres match your wedding theme. Say you're throwing a rustic wedding? Tie that boutonniere together with twine! Want things to look extra elegant? Maybe incorporate a bit of ribbon.