The 36 Best Wedding Cake Cutting Songs
On the hunt for your wedding cake cutting song? Here are a few sugary sweet tracks that'll fit the bill.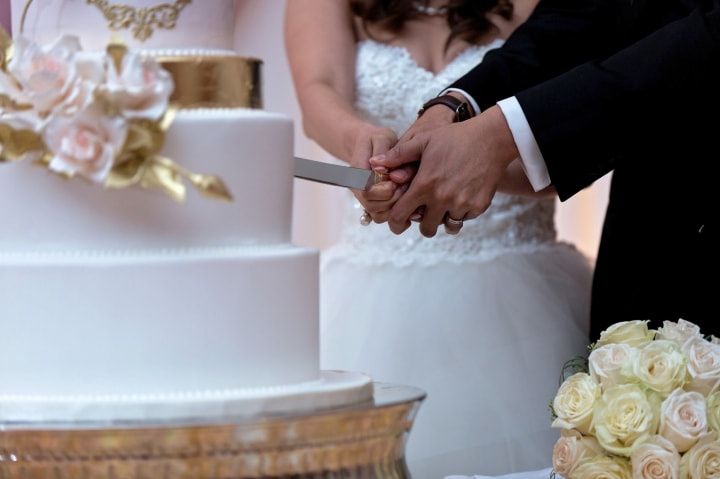 Trying to nail the soundtrack to the sweetest moment of your wedding reception? Well good news, you've got plenty of options when it comes to choosing your wedding cake cutting song. Sure, you could go with a cute, romantic track like Bruno Mars' "Just The Way You Are" or Jack Johnson's "Better Together", but why not cut the cake to something a little more thematic? There are plenty of sugar-related songs that would fit perfectly with your wedding cake cutting. This list of wedding songs spans eras and genres, giving you lots to choose from.
Here are the 36 best wedding cake cutting songs.
Sugar
Sugar - Maroon 5
Sugar - Stevie Wonder
Sugar Dumpling - Sam Cooke
Sugar, Sugar - The Archies
Sugar, You - Oh Honey
I Want a Little Sugar in My Bowl - Nina Simone
I Can't Help Myself (Sugar Pie, Honey Bunch) - The Four Tops
Lips Like Sugar - Echo & The Bunnymen
Pour Some Sugar on Me - Def Leppard
Sweet
How Sweet It Is (To Be Loved by You) - Marvin Gaye
Sweet Dreams - Eurythmics
Sweet Escape - Gwen Stefani ft. Akon
Sweet Life - Paul Davis
Sweet Love - Commodores
Sweet, Sweet Smile - The Carpenters
Sweets for My Sweet - The Drifters
Sweetest Devotion - Adele
The Sweetest Thing - U2
The Sweetest Thing (I've Ever Known) - Juice Newton
Candy
Candy - Nat King Cole
Candy - Paolo Nutini
Candy Girl - Frankie Valli & The Four Seasons
Candy Girl - New Edition
Candyman - Christina Aguilera
I Want Candy - Bow Wow Wow
I Want Candy - The Strangeloves
Lollipop (Candyman) - Aqua
Honey
Honey - Mariah Carey
Honey Bee - Blake Shelton
Honey, Honey - ABBA
Syrup & Honey - Duffy
Dessert
Birthday - Katy Perry
Cake - Flo Rida
Cake By the Ocean - DNCE
Dessert - Dawin
Cut the Cake - Average White Band
For more wedding cake cutting songs, consult with the wedding DJs and bands on WeddingWire »