The 36 Best Father-Daughter Wedding Songs for a Memorable Dance
Thank your dad for his lifelong love and support with a spin around the dance floor. Here are some of the best father-daughter wedding songs for the big event.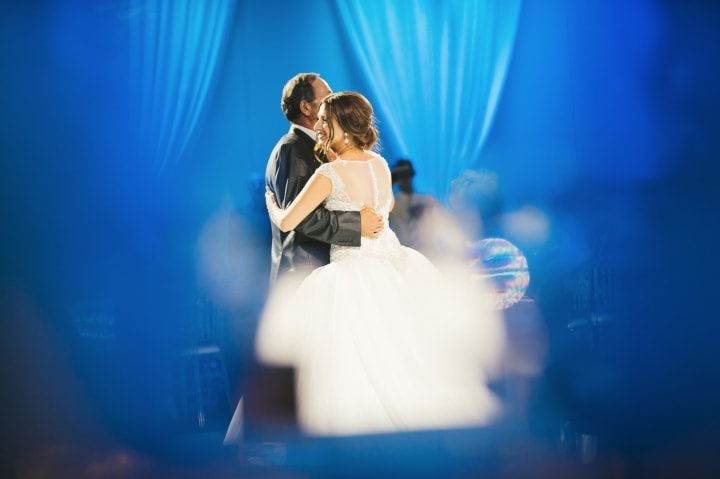 At some point during your wedding reception, you'll want to pry yourself away from your new spouse to spend some quality time on the dance floor with your dear old dad. You don't want to waltz to any old tune, so pick the best father-daughter wedding song that suits your relationship — something sweet and sentimental. From country tracks by Tim McGraw and Rascall Flatts to classic hits by Elton John and The Beach Boys, we've got lots of father-daughter song ideas from every musical genre, so you're sure to find something on this list.
Father-daughter dance songs tend to get the waterworks flowing, so remember to supply your guest with a few packs of Kleenex on your wedding day.
Here are the 36 best father-daughter wedding songs.
Isn't She Lovely - Stevie Wonder
Dance With My Father - Luther Vandross
Your Song - Elton John
Brown Eyed Girl - Van Morrison
What a Wonderful World - Louis Armstrong
My Little Girl - Tim McGraw
Daddy - Beyonce
You Are So Beautiful - Joe Cocker
My Wish - Rascal Flatts
My Girl - The Temptations
God Only Knows - The Beach Boys
Butterfly Kisses - Bob Carlisle
Sweet Pea - Amos Lee
Unforgettable - Nat King Cole ft. Natalie Cole
Right By You (For Luna) - John Legend
You've Got a Friend - James Taylor
The Best Day - Taylor Swift
The Way You Look Tonight - Frank Sinatra
Here Comes the Sun - The Beatles
My Darling - Wilco
I Hope You Dance - Lee Ann Womack
Daughters - John Mayer
Stealing Cinderella - Chuck Wicks
Wildflowers - Tom Petty
Sweet Child O' Mine - Guns N' Roses
Daughter - Loudon Wainwright III
Ballerina Girl - Lionel Richie
It's For My Dad - Nancy Sinatra
Turn Around - Harry Belafonte
Father and Daughter - Paul Simon
Child of Mine - Carole King
Over the Rainbow - Judy Garland
When You Need Me - Bruce Springsteen
I Loved First - Heartland
Lullabye (Goodnight, My Angel) - Billy Joel
Because You Loved Me (Theme from "Up Close and Personal") - Céline Dion
For more father-daughter songs, consult with the wedding DJs and bands on WeddingWire »