The Top 10 Disney Love Songs for Your First Dance
You don't need to have an all out Disney themed wedding to infuse your big day with a bit of fairytale magic. Here are a few of the best Disney love songs to incorporate into your wedding.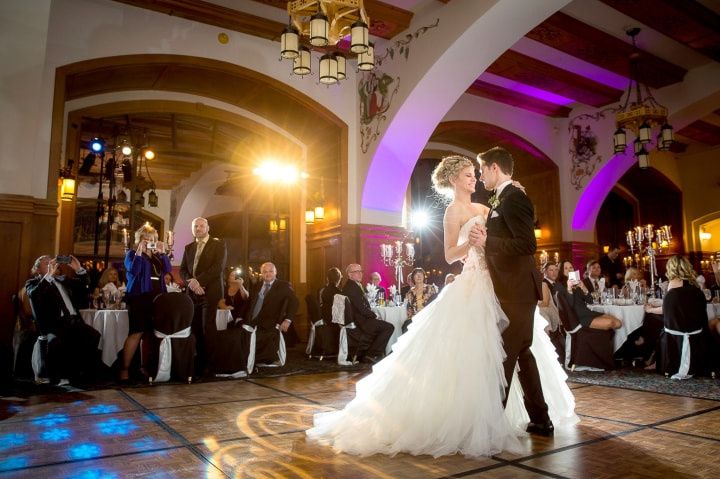 You won't need any pixie dust to have an amazing wedding day, but you may want to borrow a Walt Disney love song or two to infuse your first dance with a little extra magic. From The Lion King to Beauty and the Beast almost every classic Disney flick is equipped with an awesome love ballad. Whether you want to use the original or go with a cover or instrumental, your options are almost endless.
Here are my picks for the top Disney love songs for your first dance.
Can You Feel the Love Tonight - Elton John (The Lion King)
Is there anything more adorable than two lil' lions in love? Okay, maybe you and your soon-to-be spouse are some pretty good competition, so why not steal their song? This Elton John hit is the soundtrack for the two cubs' budding romance and could be yours, too. It's got a slow tempo and sugary sweet lyrics like "And can you feel the love tonight? It is where we are / It's enough for this wide-eyed wanderer that we got this far". Honestly, if it's good enough for Simba and Nala, it's good enough for me.
If I Never Knew You - Shanice & Jon Secada (Pocahontas)
The Disney love song that speaks to the romance of John Smith and Pocahontas is another solid option. The tune features lines like "If I never knew you / If I never felt this love / I would have no inkling of / How precious life can be" that'll do some serious tugging on your guest's heartstrings.
You'll Be in My Heart - Phil Collins (Tarzan)
Phil Collins' heartwarming ditty "You'll Be in My Heart" would be a cute addition to any wedding playlist. If you've landed the Tarzan to your Jane - or the Jane to your Tarzan - try this track on for size. It's adorable lyrics include lines like "My arms will hold you / Keep you safe and warm / This bond between us / Can't be broken" (not swooning already? wait for the chorus). It's a little speedier than some of the other options, so be prepared to accelerate the pace of your dance.
Once Upon a Dream - Lana Del Rey (Maleficent)
Sure, the original version of "Once Upon a Dream" by Mary Costa and Bill Shirley is great, but why not catapult it into the 21st century and go with Lana Del Rey's cover. Her slow, syrupy version of Sleeping Beauty's hit song makes for the ideal first dance song. Of course, lyrics like "But if I know you, I know what you'll do / You'll love me at once, the way you did once upon a dream" are also hard to pass on.
A Dream Is a Wish Your Heart Makes - Lily James (Cinderella)
Yours may not be a tale of rags to riches, but if you found great romance against all odds, you might relate to our dear storybook friend, Cinderella. If you do go for this song be sure to dazzle your guests with an ensemble that looks as though it were bibbidi-bobbidi-boo-ed together by a fairy godmother (maybe skip the glass slippers, though). Want something a little more contemporary than the 1950's version? Go with the Lily James cover (it was used in the 2015 live action remake of the film).
A Whole New World - Brad Kane & Lea Salonga (Aladdin)
Remember when Aladdin and Princess Jasmine went over, sideways and under on a magic carpet ride? Of course you do, it's an iconic scene with an equally iconic song! If your relationship has been a rollercoaster of emotions just like theirs, this may be the Disney love song for your first dance. It'll keep you feeling shining, shimmering splendid on your big day and have you dancing circles around your guests.
Baby Mine - Bette Midler (Dumbo)
Yes, the original Dumbo version of this song was sung by Betty Noyes, but many a notable artist has covered it since. Kenny Loggins, Art Garfunkel, Alison Krauss and, of course, Bette Midler have crooned the classic Disney tune. If you don't think this song fits for a first dance it also makes for a great father/daughter, mother/son dance track.
Beauty and the Beast - Celine Dion & Peabo Bryson (Beauty and the Beast)
You know how this one goes, "Tale as old as time, song as old as rhyme". If your relationship is a testament to the idea that opposites attract, snag this Disney love song from the beast and Belle. As demonstrated by the animated duo's first foray onto the dance floor, it works well for waltzing. Bonus: with the recent release of the live action take, there's also the Ariana Grande and John Legend version.
You've Got a Friend in Me - Michael Buble (Toy Story)
Is your S.O. also your BFF? The Andy to your Woody? Go with the classic Disney friendship anthem, "You've Got a Friend in Me" for your first dance. After all, lyrics like "You've got troubles, and I've got 'em too / There isn't anything I wouldn't do for you / We stick together and can see it through / 'Cause you've got a friend in me" apply to relationships just as well as friendships. While the OG version is awesome, Michael Buble, Canada's favourite crooner, does a jazzier version if that might be better suited for your wedding.
When You Wish Upon A Star - Louis Armstrong (Pinnochio)
Is your wedding is a literal dream come true? If you answered yes, this Pinnochio track should fit the bill perfectly. Cliff Edwards (AKA Jiminy Cricket) is responsible for the track you'll find on the original Pinnochio soundtrack, but many an artist has covered it since its release in 1940 - including the great Louis Armstrong.
Find your wedding DJ or band on WeddingWire »