The Top 15 Film Inspired First Dance Songs
Want to incorporate your love of movies into your big day? Choose a first dance song from one of your favourite flicks. Here are a few options worth sampling out.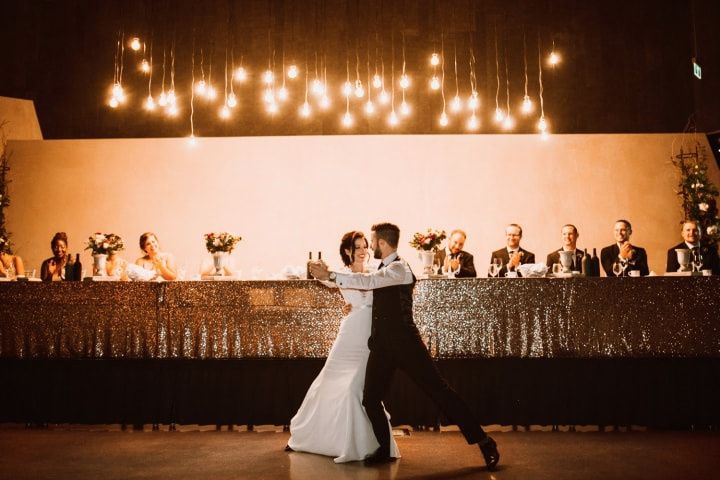 Are you and your soon-to-be spouse total film buffs? If you answered yes, a first dance song inspired by one of your favourite flicks may be the way to go. Unfortunately, the Star Wars score doesn't have a ton of appropriate options, but many other flicks have love songs worthy of your first foray onto the dance floor as a married couple.
Here are my picks for the top film inspired first dance songs.
Unchained Melody - Righteous Brothers (Ghost)
Who could forget the iconic pottery scene in this 1990 romantic thriller. If you need a refresher, it features Sam Wheat and Molly Jensen doing some sultry ceramics to the tune of Righteous Brothers' "Unchained Melody". The slow soul track would fit in seamlessly at any wedding, thanks to lyrics like "Whoa, my love / My darling / I've hungered for your touch / A long, lonely time."
Flightless Bird, American Mouth - Iron & Wine (The Twilight Saga: Breaking Dawn - Part 1)
Even if you didn't fall headfirst into the Vampire craze of the aughts, you have to admit Edward and Bella chose a pretty good wedding song. Iron & Wine's folksy "Flightless Bird, American Mouth" has a slow, smooth rhythm, perfect for dancing. The nonsensical lyrics aren't everyone's cup of tea, but that didn't stop the fictional star crossed lovers from choosing it, so it shouldn't throw you off, either.
My Heart Will Go On - Celine Dion (Titanic)
Is there any fictitious couple more famous that Rose DeWitt Bukater and Jack Dawson? No, no there is not. After you've said your vows, hit the dance floor to the tune of Celine Dion's "My Heart Will Go On", the theme of Titanic (and one of the most romantic songs of all time). Maybe just steer clear of cruises or boats during your reception to avoid bad omens.
Paperweight - Joshua Radin & Schuyler Fisk (Dear John)
This romantic drama has quite the emotional soundtrack, matching the film's plot. If you're going for a blissful, lovey-dovey vibe, Joshua Radin and Schuyler Fisk's "Paperweight" is the way to go. Its super sweet lyrics include lines like "Every word you say I think / I should write down / Don't want to forget come daylight".
Kiss Me - Sixpence None The Richer (She's All That)
Remember when Laney Boggs made her transformation from geek to chic in She's All That and her love interest, Zack Siler, turned into the human equivalent of a heart eyes emoji? Me, too. Well that scene has a pretty good soundtrack worth stealing for your first dance - Sixpence None The Richer's "Kiss Me". Perfect for when you're doing your thing out on that moonlit floor.
I'll Be Seeing You - Billie Holiday (The Notebook)
You can't really make a list referencing romantic movies and forget about The Notebook. If your love is as strong as Allie Hamilton and Noah Calhoun's, snag one of the songs from their swoon-worthy story. Billie Holiday's "I'll Be Seeing You" is featured twice on the soundtrack, once by the singer herself and a second time by Jimmy Durante.
I Don't Want to Miss a Thing - Aerosmith (Armageddon)
Not only is this Aerosmith track, featured in the 1998 sci-fi blockbuster Armageddon, great for karaoke, but it also works well for weddings. Featuring lyrics like, "I could spend my life in this sweet surrender / And just stay here lost in this moment forever / Well, every moment spent with you / Is a moment I treasure", it definitely applies to all the sweet sentiments you'll be feeling on your big day.
As Time Goes By - Dooley Wilson (Casablanca)
Want to go with something classic? Celebrate your recent "I dos" with a song that's just as timeless as your love, like Dooley Wilson's "As Time Goes By". Not only is this a great song in its own right, but it's also featured in one of the most revered romance movies of all time, Casablanca (giving it a few extra brownie points).
Take My Breath Away - Berlin (Top Gun)
Inspired by Maverick and Charlie's romance in Top Gun? Borrow their love song for your first dance. "Take My Breath Away" is peppered with sappy sentimental lyrics like "Watching in slow motion / As you turn to me and say / My Love / Take my breath away". If you want something more contemporary, Jessica Simpson did a popular cover of the hit song in 2003.
Come What May - Ewan McGregor & Nicole Kidman (Moulin Rouge!)
Baz Luhrmann's Moulin Rouge! has quite the soundtrack, but its standout number is "Come What May", performed by the film's leads, Ewan McGregor and Nicole Kidman. The song is an ode to love that has some pretty heartwarming lyrics: "Come what may / Come what may / I will love you until my dying day". If that doesn't scream 'wedding', then I don't know what does.

It Had To Be You - Harry Connick Jr. (When Harry Met Sally)
You can't really talk about romcoms without talking about the masterpiece that is When Harry Met Sally. Not only is it an iconic flick, but it also has a pretty killer soundtrack. Its crown jewel is definitely Harry Connick Jr.'s cover of the classic love song, "It Had To Be You", a slow tune about loving someone regardless of their quirks and faults.
City of Stars - Ryan Gosling & Emma Stone (La La Land)
If you don't want a ton of theatrics in your first dance song, "City of Stars" from the award-winning flick, La La Land, will be right up your alley. The piano ballad is sweet, simple, and perfect for a jazzy spin around the dancefloor.
You Make My Dreams Come True - Hall & Oates (500 Days Of Summer)
Sure, 500 Days of Summer didn't end with butterflies, romance, and rainbows, but it sure had its sappy moments. "You Make My Dreams Come True" by Hall & Oates is perfect for couples who want their first dance to be a bit more upbeat and fast-paced. Sure, it isn't exactly traditional, but it'll definitely make your first dance more memorable.

Baby, You're My Light - Richard Hawley (Nick and Norah's Infinite Playlist)
If you loved teenage romcom Nick and Norah's Infinite Playlist this is the first dance song for you. It's sweet, understated, and not overly showy. Also, it doesn't have a ton of grand flourishes, which is great if you want to skip the dips and twirls and do a simple two-step.
A Thousand Years - Christina Perri (The Twilight Saga: Breaking Dawn)
OK, I know this list already has one track from a Twilight movie, but you just can't leave A Thousand Years out. This song really tugs on heartstrings with its ultra-romantic lyrics and is already a fan-favourite for first dances.
Find your wedding DJ or band on WeddingWire »