What Songs to Play While Your Wedding Guests Eat Dinner
You're going to need a bit of wedding dinner music for your reception. Here are a few of our favourite easy listening tracks to play in the background while your guests chow down.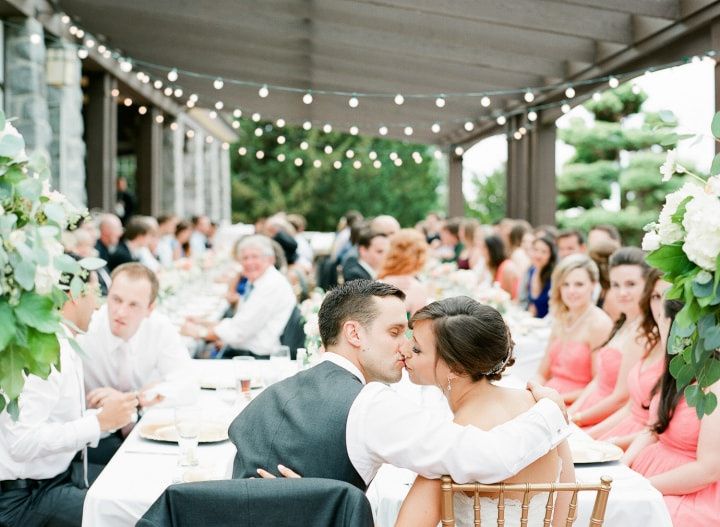 Time to eat! Your guests have settled in after a bit of mixing and mingling at the cocktail hour and their stomachs are probably rumbling. While the spotlight should shine on the guests' conversations and amazing food you've chosen, you don't want to leave your reception without wedding dinner music. Instead of opting for upbeat dance tracks, we suggest slowing things down for this portion of the night with our picks for the best songs for the wedding dinner. Save all those party jams for when you're ready to let loose on the dance floor later on.
Here's a romantic wedding dinner music playlist for your reception.
If We'd Never Met - Gabe Bondoc
Machine - Scott Helman
With You - Roméo Testa
I Do - Jesse James Decker
Not a Love Song (Beautiful Eyes) - Cam Nacson
Once in a Lifetime - Landon Austin
You. - Johnny Balik
When You Love Someone - James TW
What I Really Wanna Say - Nicole Serrano
Can't Help Falling in Love - Christian Akridge
Misty - Johnny Mathis
The Very Thought of You - Frank Sinatra
It Had to Be You - Tony Bennett & Carrie Underwood
Kiss Me - Ed Sheeran
Sparks - Coldplay
My My Love - Joshua Radin
Moon River - Frank Sinatra
The Way You Look Tonight - Tony Bennett
The Wedding Song - Matthew Mole
Your Man - Clark Beckham
Gloria - Luca Fogale
Top to Toe - Fenne Lily
Grow Old With You - ortoPilot
Song For You - Alexi Murdoch
Dream a Little Dream of Me - The Mamas & The Papas
Wonderful (The Way I Feel) - My Morning Jacket
Belated Promise Ring - Iron & Wine
Yellow - Coldplay
I Want to Hold Your Hand - Al Green
Something - The Beatles
Wild Horses - The Rolling Stones
Lay, Lady, Lay - Bob Dylan
The Best is Yet to Come - Michael Bublé
Have I Told You lately - Van Morrison
Let's Stay Together - Obadiah Parker
Hallelujah I Love Her So - Bobby Darin
Blue Skies - The Tributers
Take My Hand (The Wedding Song) - Emily Hackett ft. Will Anderson
You Are Mine - Spencer Combs ft. Holley Maher
Beyond - Leon Bridges
Everything - Michael Bublé
That's Amore - Dean Martin
Forever Like That - Ben Rector
Clementine - Bobby Darin
Made For You - Alexander Cardinale
Your Song - Elton John
Baby Can I Hold You - Tracy Chapman
You Are So Beautiful - Joe Cocker
I Get To Love You - Ruelle
Tenerife Sea - Ed Sheeran
Forever Starts Today - Tim Halperin
When I'm With You - Ben Rector
Perfect - Ed Sheeran
Love Never Fails - Brandon Heath
Somethin' Stupid - Frank Sinatra
My Way - Frank Sinatra
And I Love You So - Perry Como
Misty - Johnny Mathis
Dream A Little Dream Of Me - Ella Fitzgerald
Smoke Gets In Your Eyes - The Platters
L-O-V-E - Nat King Cole
Now that you've got lots of song ideas for your wedding dinner music, find wedding musicians and DJs on WeddingWire »