9 Ways to Get Wedding Guests to Mix and Mingle
Want to get your wedding guests out of their shells? Follow these tips to get the conversations flowing.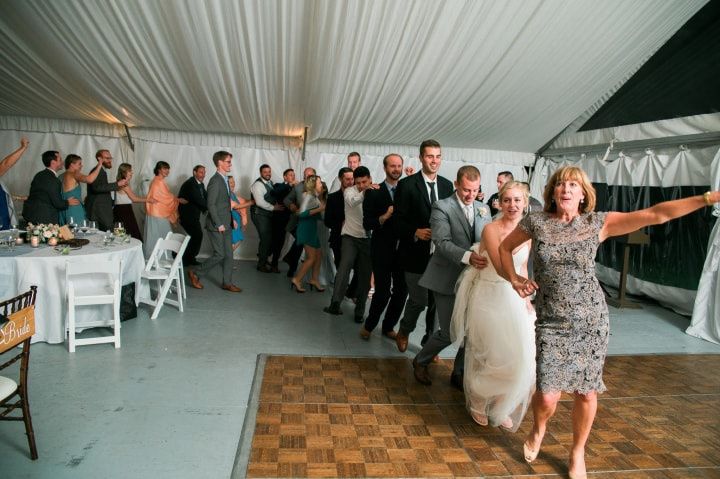 You don't want to hear crickets chirping on your big day, so getting your wedding guests on a first-name basis with each other is essential. No, you don't have to pull out the cheesy elementary school ice breakers at your wedding reception, but you'll need to find a way to get them talking. This is especially important if you're not allowing plus ones. If you're looking for some crafty ways to facilitate conversation, read on.
Here are 9 ways to get your wedding guests mixing and mingling.
Host a cocktail hour before the ceremony
Couples normally wedge a cocktail hour between the ceremony and reception but feel free to mix things up. Cocktails are great conversation starters and will help pump your guests up for what's to come. Skip serving heavily boozy beverages before the ceremony and stick to lighter drinks like wine, champagne and mimosas.
Skip assigning sides
Typically, the bride's friends and family will sit on the left side of the ceremony venue and the groom's will take the right. But remember, while it's nice to incorporate some traditions into your big day you don't have to do it all by the books. Not assigning sides may encourage your guests to sit with company they don't know. You'll want to place a sign at the entryway of your ceremony space that lets them know the plan. Try incorporating a fun phrase like "pick a seat, not a side!".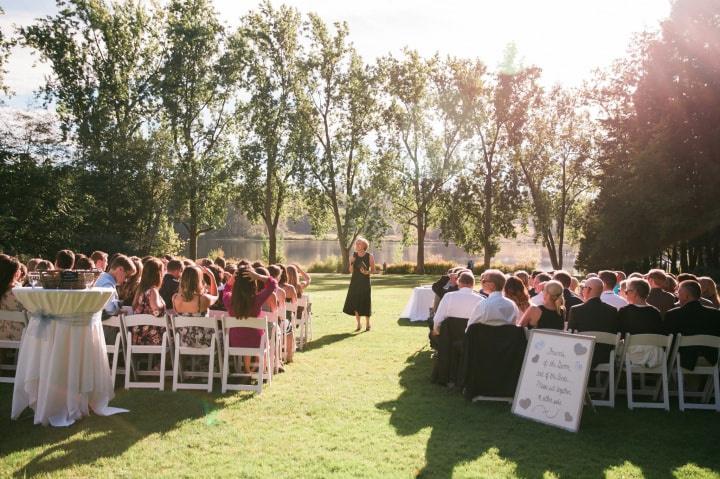 Provide the fun and games
Amp up your cocktail hour with a few games. Choose ones that require a few people so that guests are encouraged to branch out of their immediate social circles. Corn hole, bocce ball, croquet and giant Jenga are all great if you have the space. If you've opted for a more intimate wedding reception venue, stock it with table games like I Spy, cards, dice, mad libs and other quick and easy games – try not to throw in anything big with tons of pieces like Scrabble or Monopoly.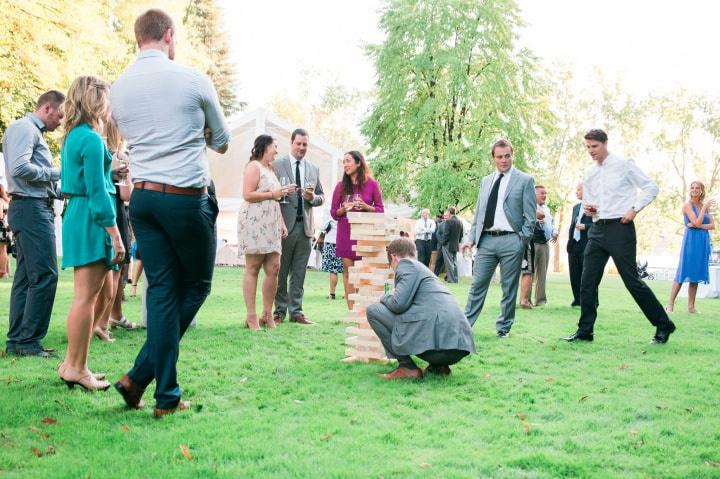 Delight guests with your wedding decor
All of your wedding decor details can become conversation pieces. The escort card display table or seating chart will have guests rubbing elbows, your wedding centerpieces and place cards can spark conversation as guests take their seats and other clever decor elements will give guests something to talk about.
Seat strategically
You'll probably spend a few nights burning the midnight oil labouring over your seating plan - but it's totally worth it! Opt for larger tables and seat guests with familiar interests together to generate some noteworthy conversations. Who knows, maybe you'll even get to play matchmaker on your wedding day.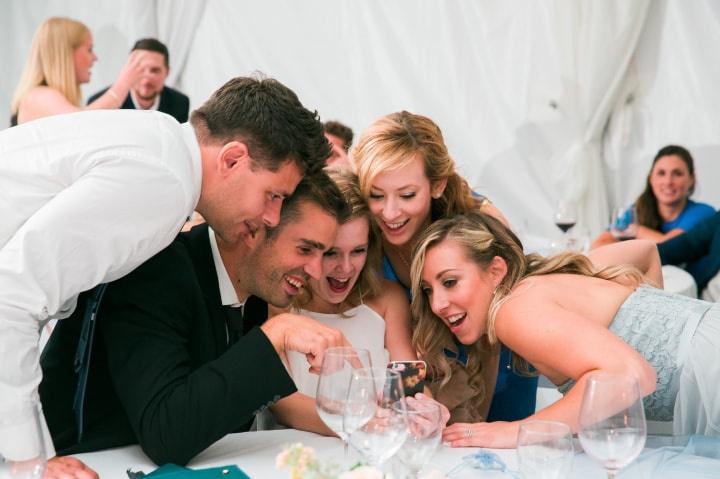 Serve a family-style meal
Yes, buffets are typically less expensive and cocktail-style catering is fuss-free, but if you want to get people talking, family-style is the way to go. This catering serving style will save your guests from having to leave the table mid-convo to refill their plate, eliminating any awkward pauses. Also, passing around the food involves a little bit of maneuvering and talking. Something as simple as, "could you pass the potatoes?" could spark a lifelong friendship, you never know.
Diversify your playlist
You know what they say, music brings people together, so you'll want to span eras and genres with your wedding reception music. This is sure to get everyone from your grandparents to your baby cousins excited and out of their seats. Throw in oldies, top 40, jazz, funk and everything in between. Remember to include a few karaoke-worthy jams like "Don't Stop Believin'" and "Sweet Caroline" for good measure.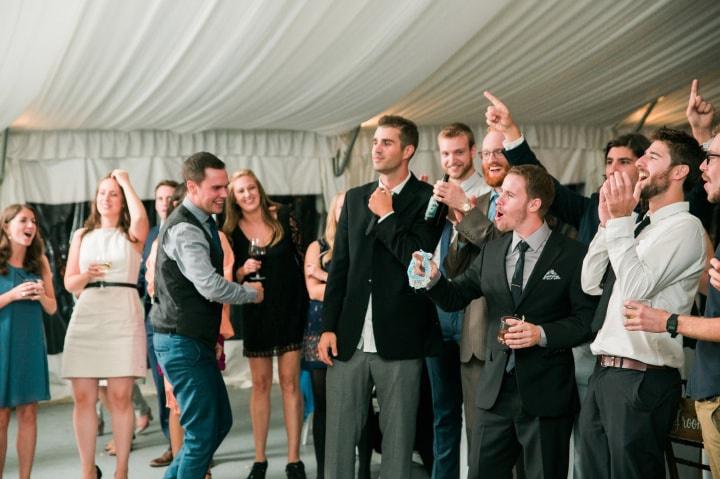 Make a wedding lounge
Create a wedding lounge in your venue filled with plenty of comfy chairs and couches. This communal space will give your guests a place to rest their weary feet after dancing and give them a chance to meet a couple of new pals outside of their table group.
Host a post-wedding brunch
Post wedding brunches aren't obligatory, but they are great for facilitating a little bit of extra mixing and mingling (and curing hangovers). Not only will your guests get to see you and your new spouse one last time – they'll get to chat and exchange info with their new friends over mimosas and bagels, too!
Images: Dean & Amy's wedding in Burnaby, British Columbia by Family Creative Imagery.
Create a seating plan with WeddingWire's FREE Table Planner tool »