20 Unique Wedding Seating Chart Ideas
Once you've perfected your reception seating arrangement, you'll need to figure out how to let your guests know where to sit. Here are some stylish wedding seating chart ideas.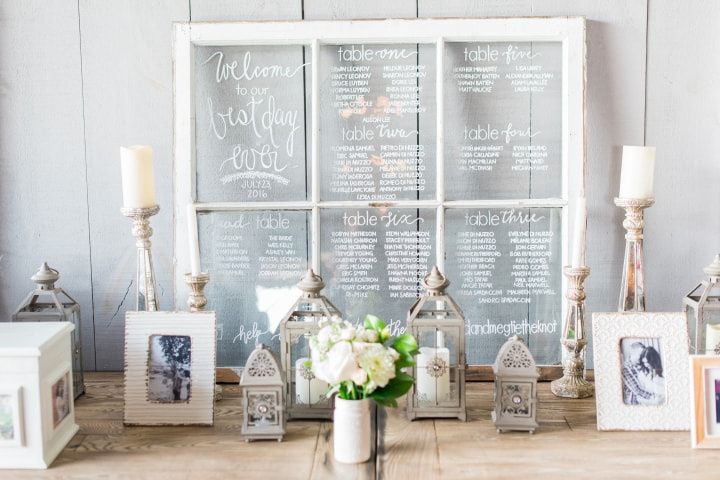 A wedding seating chart is essential for showing your guests where they'll be spending the majority of your celebration, but it's also an opportunity to set the tone for your reception and establish your wedding theme and decor style. We've rounded up a few unique wedding seating chart ideas so that you can create one that fits the theme of your big day perfectly. Feel free to copy these displays to a tee or use them as inspiration to create something totally your own.
Here are lots of unique wedding seating chart ideas.
Mirror
Head to your local antique shop and hunt down a sweet vintage mirror to write your wedding seating chart details on. If you go this route, be mindful of what the mirror will be reflecting when you place it at your venue (we love that the mirror pictured below reflects the surrounding foliage). It can totally be used as decor in your home after your wedding has wrapped, so this wedding seating chart idea serves double duty. Pro tip: if you don't want to spend your time rooting around thrift stores, many rental companies have options on hand, too.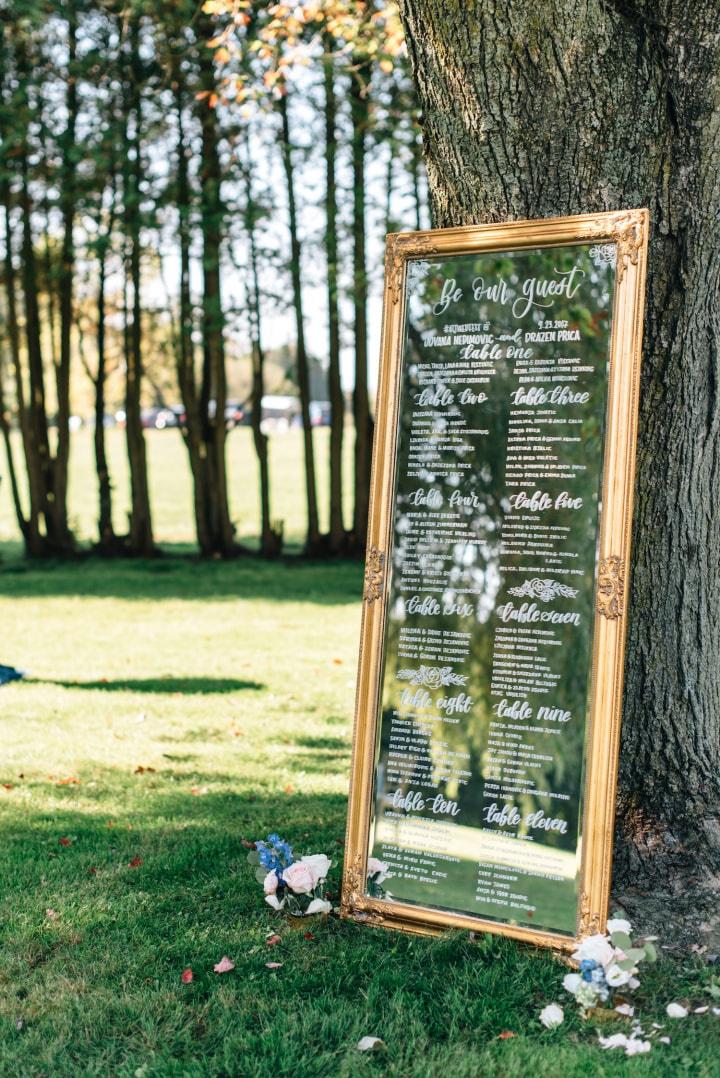 Transparent Backdrop
In the market for a truly unique wedding seating chart idea? Write your guests' names on a flower-filled lucite box or pen them onto a pane of glass. The transparent wedding decor trend is super popular ATM, making it an awesome choice for a more modern celebration.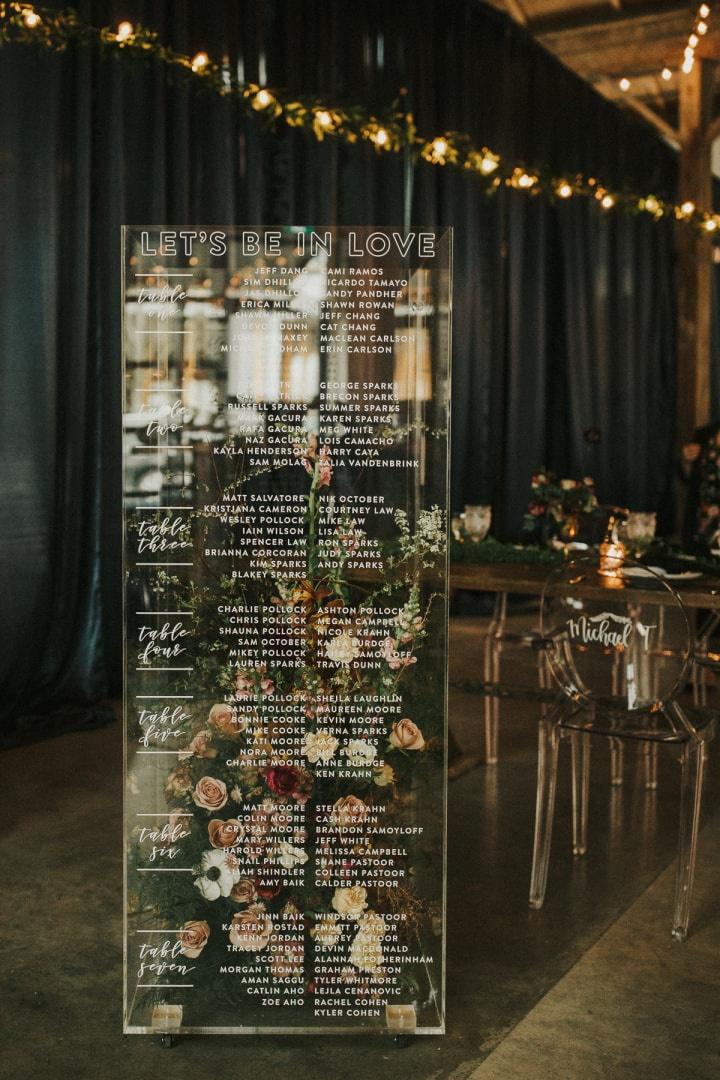 Chalkboard
Chalkboards aren't just for classrooms – they also make for an amazing wedding seating chart idea. Bonus: if you have to move any of your guests around at the eleventh hour, it's super easy to make edits on them (all you need is an eraser, a piece of chalk and a steady hand).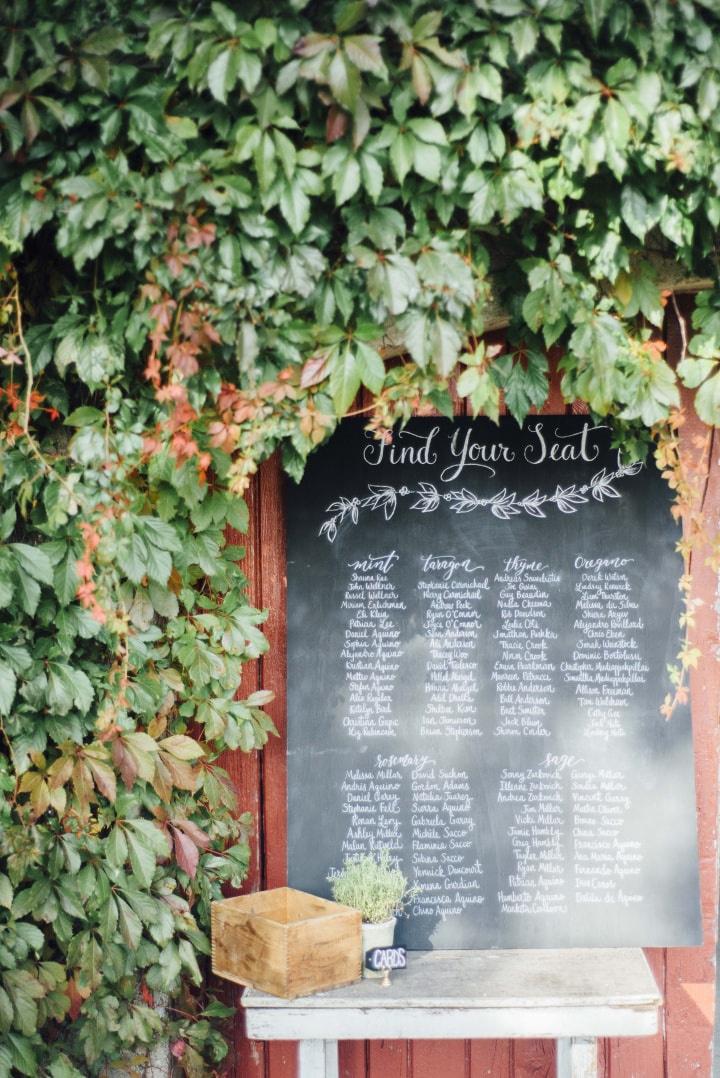 Wire Mesh
Use a panel of wire mesh as your backdrop and fill it with colourful table cards, florals and greenery to create your own one-of-a-kind installation. This edgy, modern seating chart style works great for artsy, industrial-chic wedding themes, but can really be used for any reception style with the right props.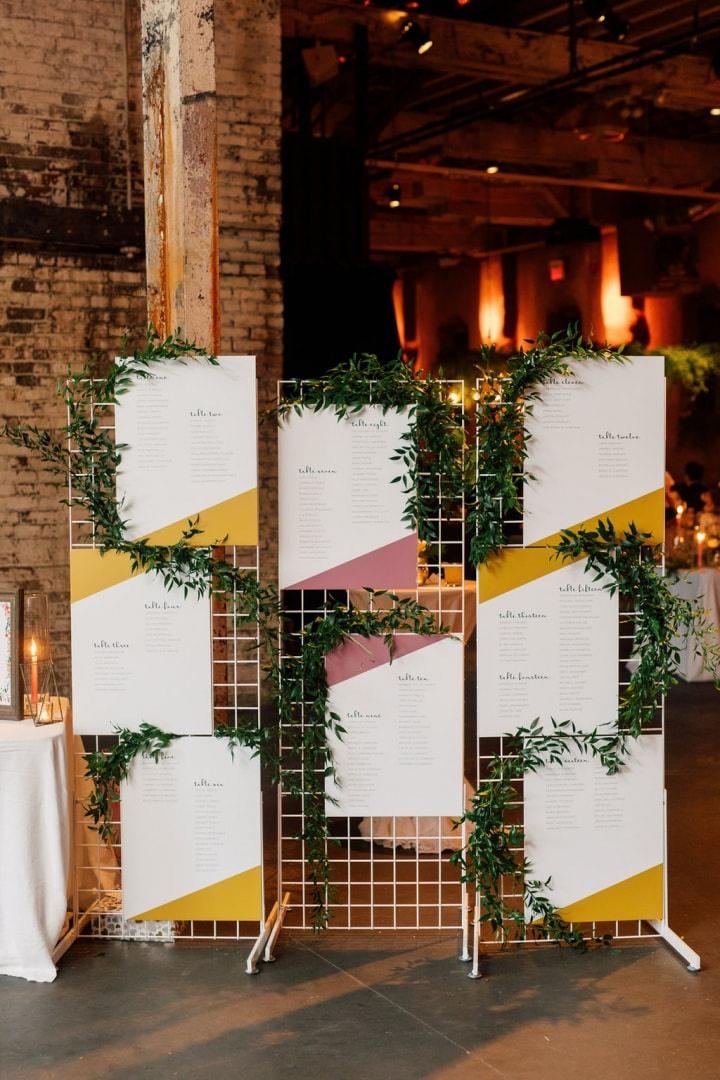 Hoop
Embrace the geometric wedding decor trend with a hoop seating chart – perfect for modern weddings. We recommend mixing and matching different shapes, textures, and finishes to create something super eye-catching.
Metal Frame
On the hunt for something with some serious industrial-chic style? This might just be the wedding seating chart design for you. Instead of displaying your chart on an easel, hang it from a metallic frame. If you're super handy, you can create it yourself with copper pipe and tubing from the hardware store.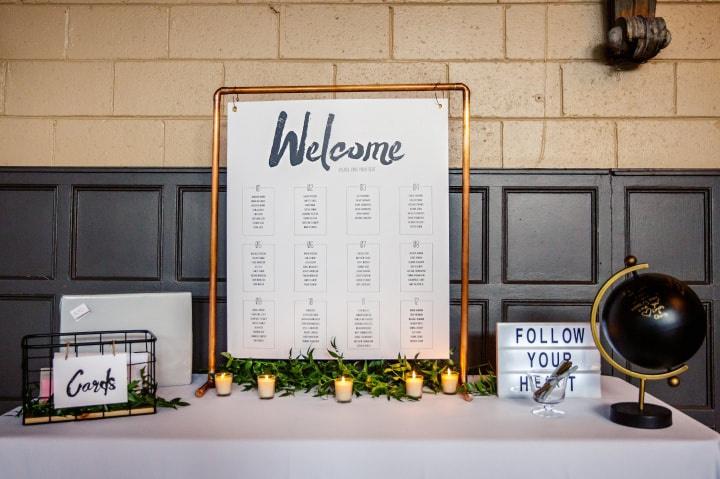 Map
Hey, travel fans, this wedding seating chart idea is for you. Show off your wanderlust by using a map as the base for your seating chart. P.S. You get bonus points if you name your tables after places you've been (or are dying to go to).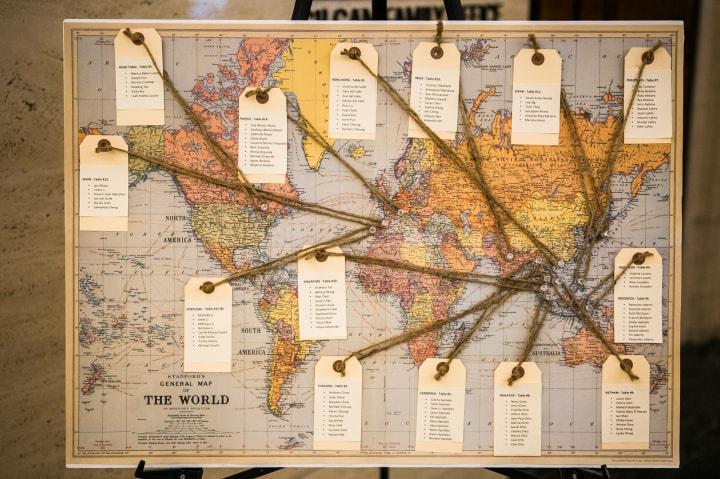 Bell Jars
Give your wedding seating chart a whimsical feel by displaying your guests' names on flower-filled bell jars. This option is ultra-romantic and has a real Beauty and the Beast vibe.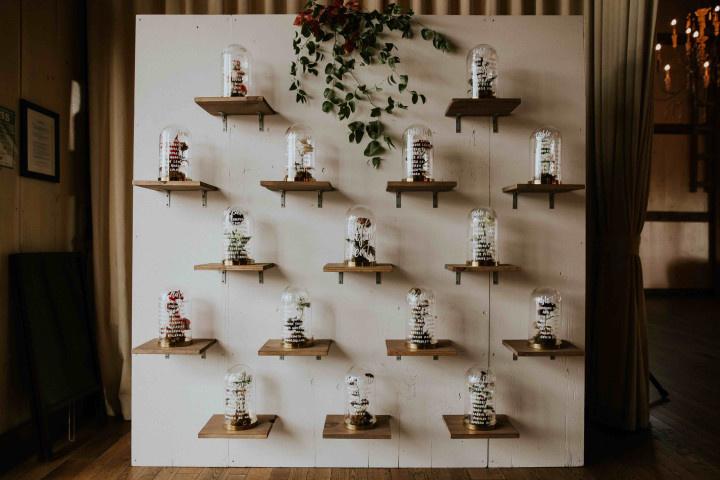 Art Installation
Turn your wedding seating chart into a real work of art by posting your table details on a painted canvas. If you're super talented with a brush, you can make this yourself, or you can ask a talented friend or pro to take on the project for you.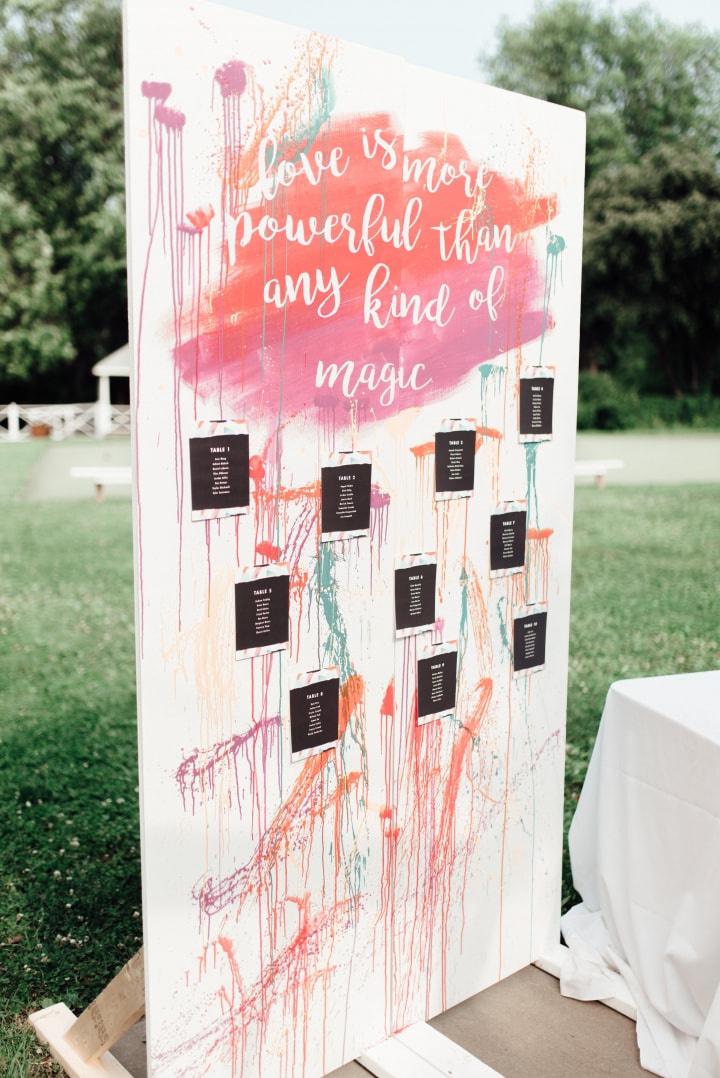 Frames
Frames are a tried and true option for wedding seating chart displays and work with just about any theme. For those looking to shake up the traditional design, skip the massive frame and mix and match smaller ones, like this couple, instead.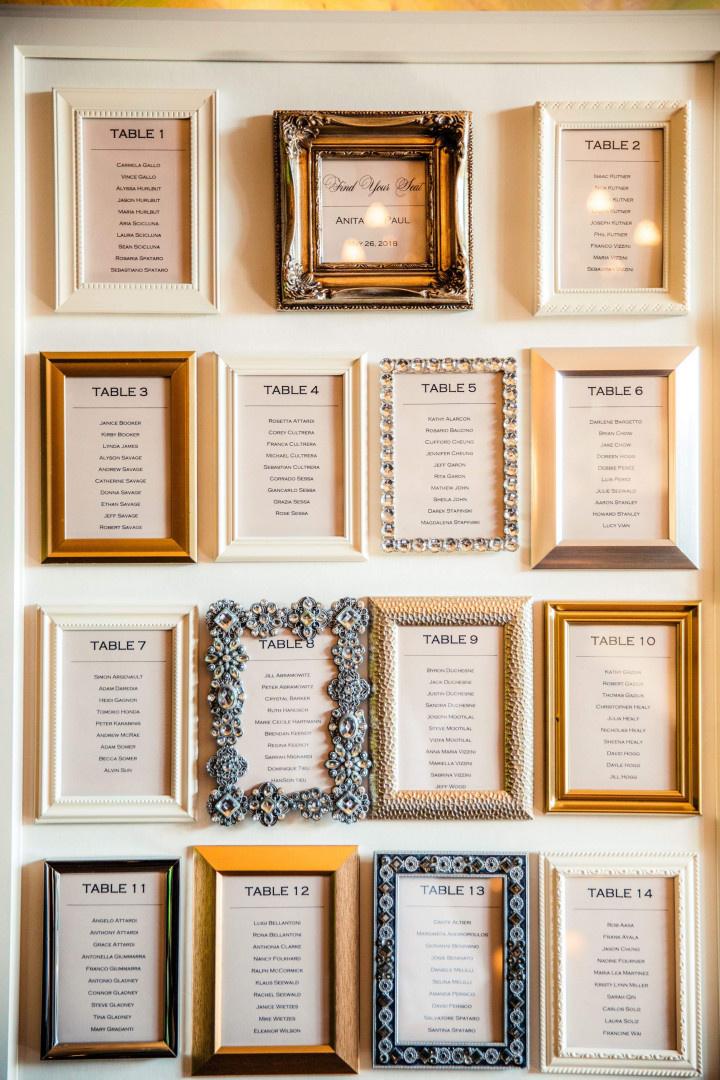 Crates
For rustic weddings, crates are basically a decor staple. If you're looking for a creative way to work them into your reception space, use them to display your wedding seating chart. You can go bare bones or paint the crates to match your colour scheme perfectly.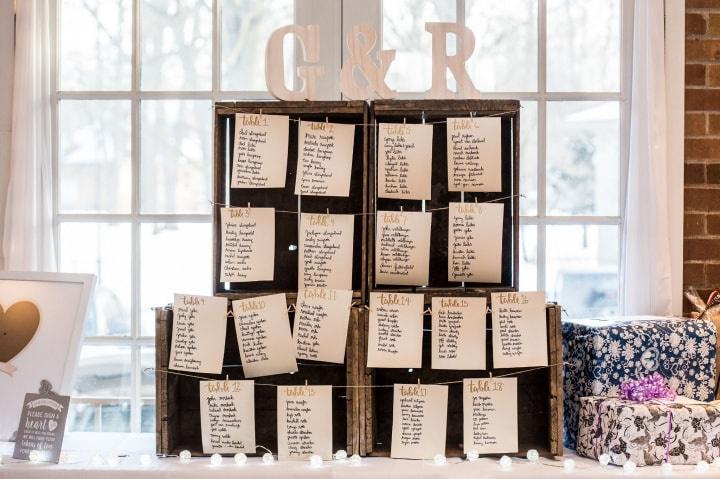 Wooden Board
Looking for rustic-chic wedding seating chart idea that's a little sleeker and more stylish than a crate chart? Use reclaimed wooden planks as your backdrop. Add a bit of twine, a few blooms and some flowery script and your table map will be 100% wedding-worthy.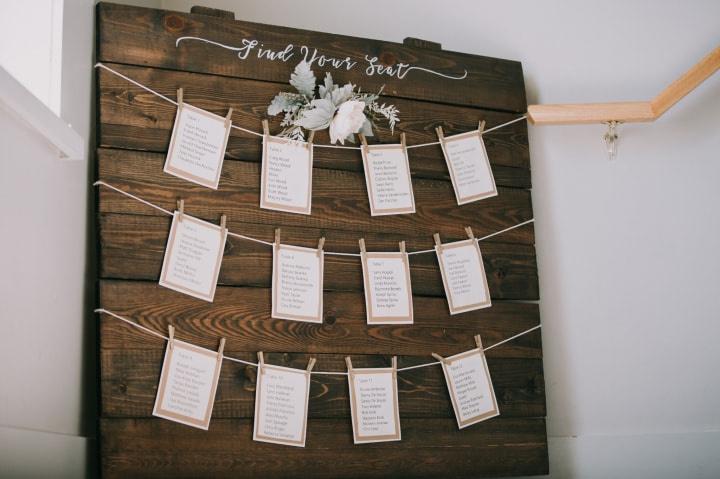 Stones
If you're looking for a wedding seating chart design that's really out-of-the-box, this is the one for you. Use jars (or other small vessels) to display your table numbers and surround them with rocks or gems with your guests' names written on them. This option is super easy to DIY, so you can totally make it yourself.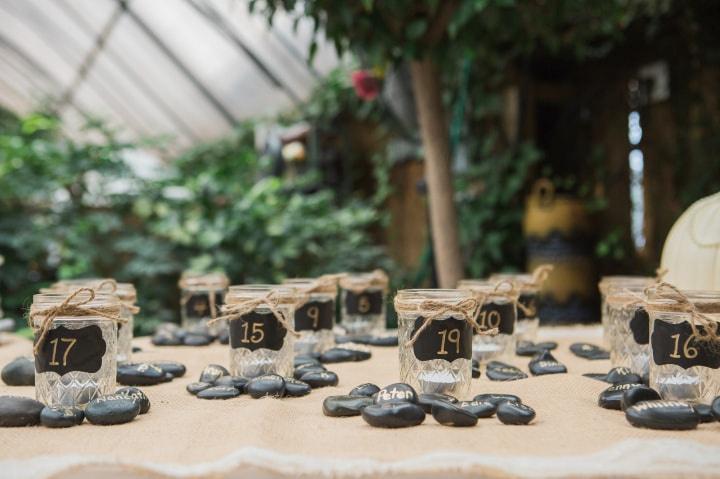 Doors
Use old doors to welcome guests. Hang paper seating plans by table on the doors or you could even write guests' names right onto the panes of glass.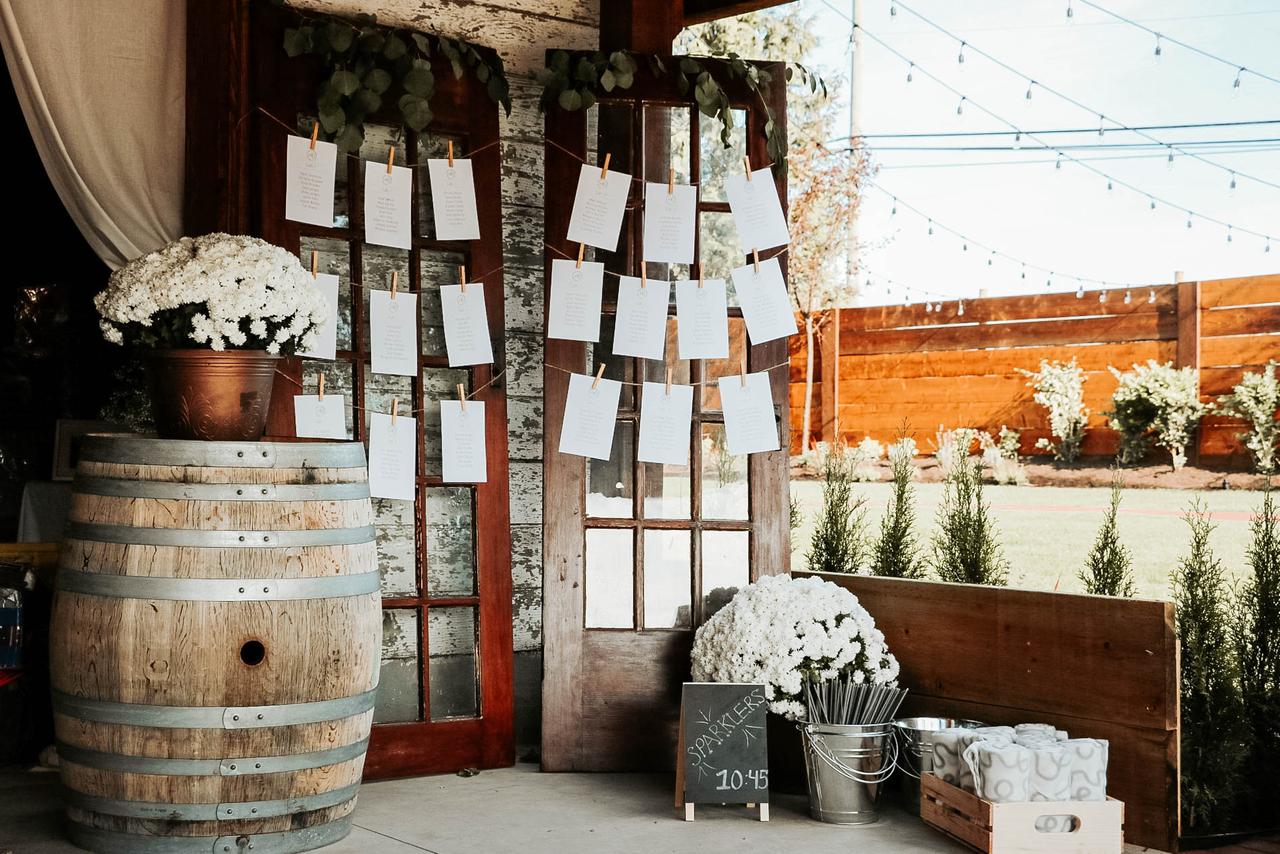 Bottles
There are so many interesting bottle shapes at the liquor store these days. Collect a bunch from your pre-wedding events, family and friends or search flea markets for vintage ones. Use a bottle for each table and display them with greenery and accessories for an eclectic display.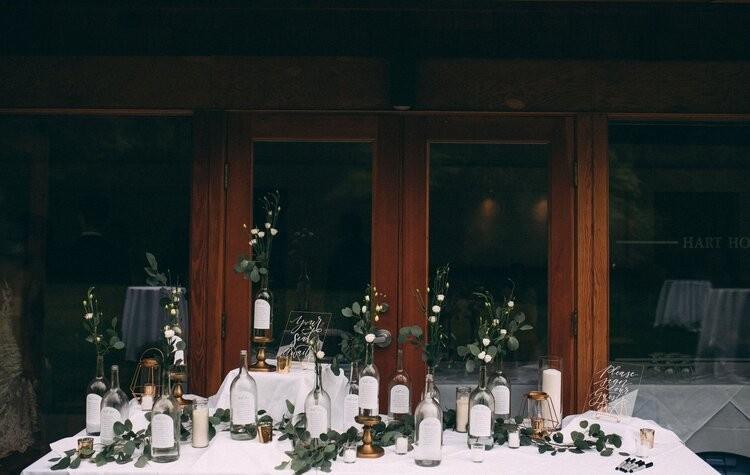 Reclaimed Wood
Create an installation using some old barnboard as a textured backdrop for suspending your seating arrangements. Add a little greenery and lighting and you've got a unique rustic seating chart.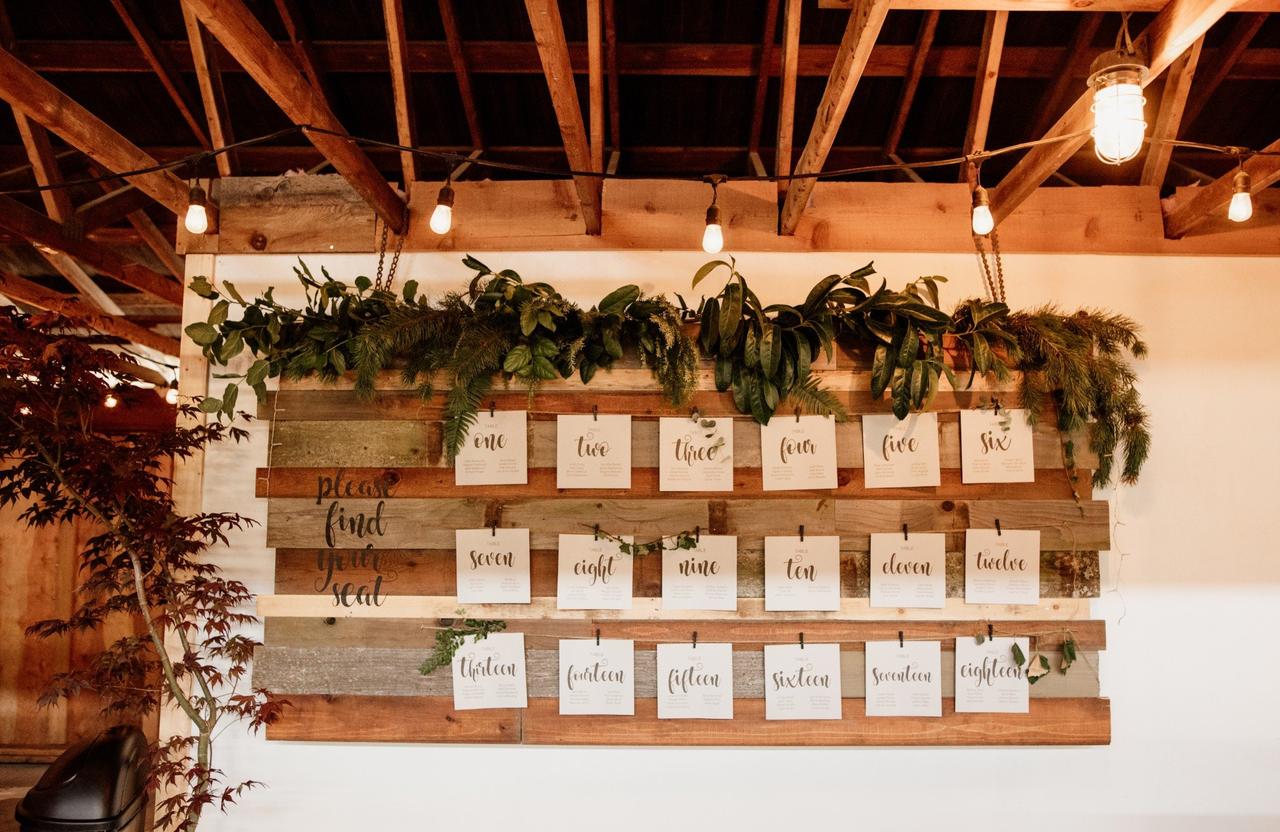 Letter Board
Here's an easy and affordable seating chart idea. A letter board display is not only super flexible for last-minute changes to your plan but you can use it after your wedding too!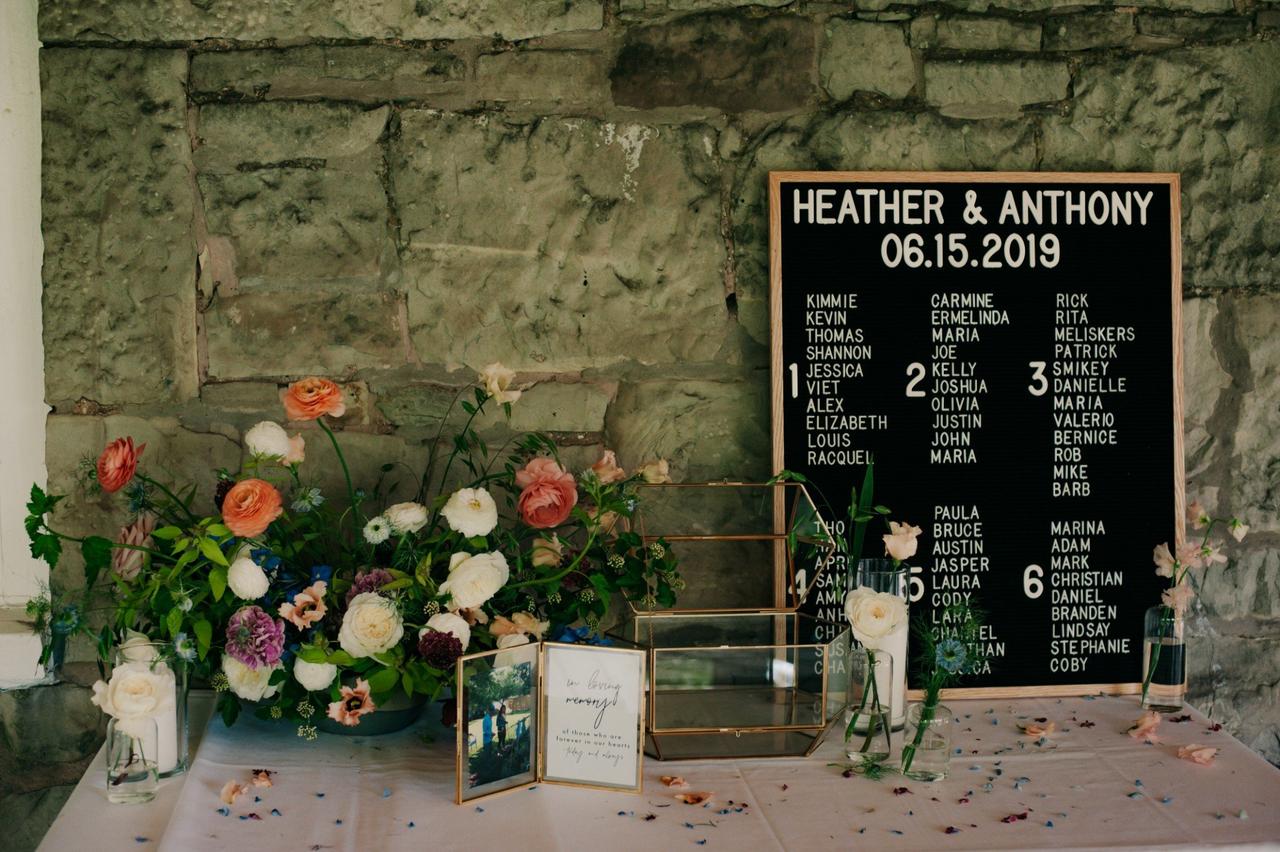 Wall-mounted Cards
Mount diamond-shaped cards on a wall for simple yet graphic display.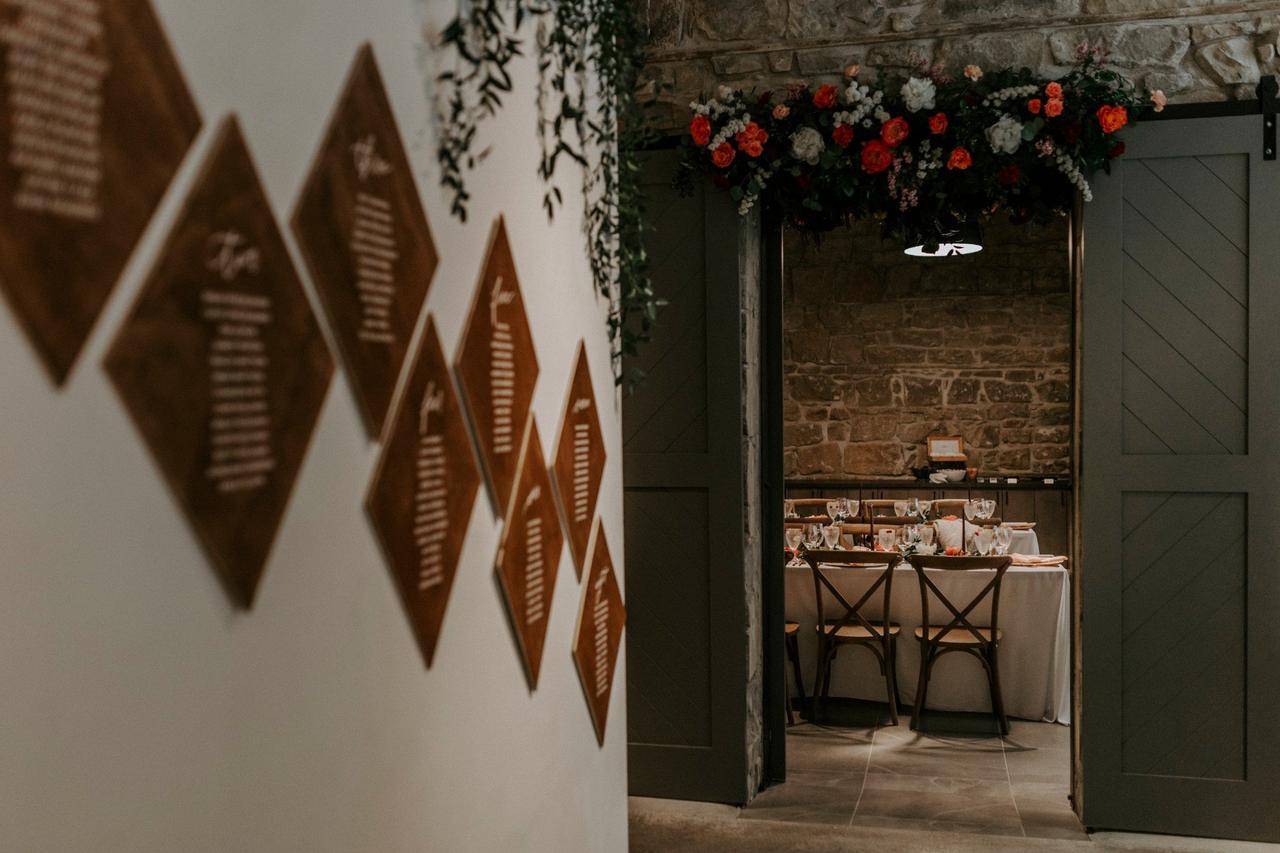 Geometric Pattern
If you love the geometric look, here's an interesting seating chart idea. Print out your guests' names and table numbers on hexagonal shapes cut from patterned paper and mount them to a board in a honeycomb pattern. You can complement this display with marble tile place cards for a chic coordinated look.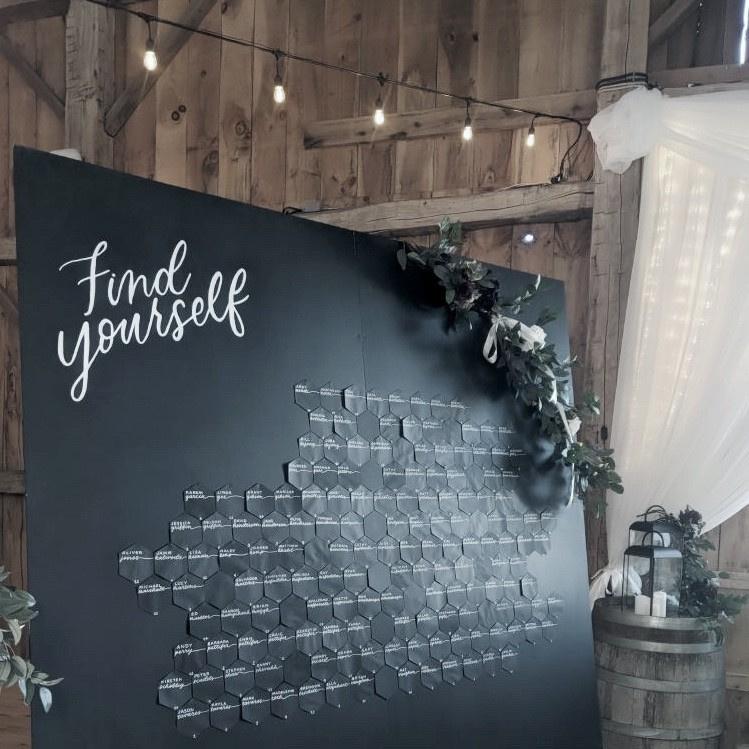 Wreath
If you're planning a garden, boho or Christmas wedding, make a large wreath or floral hoop the focal point for your seating chart.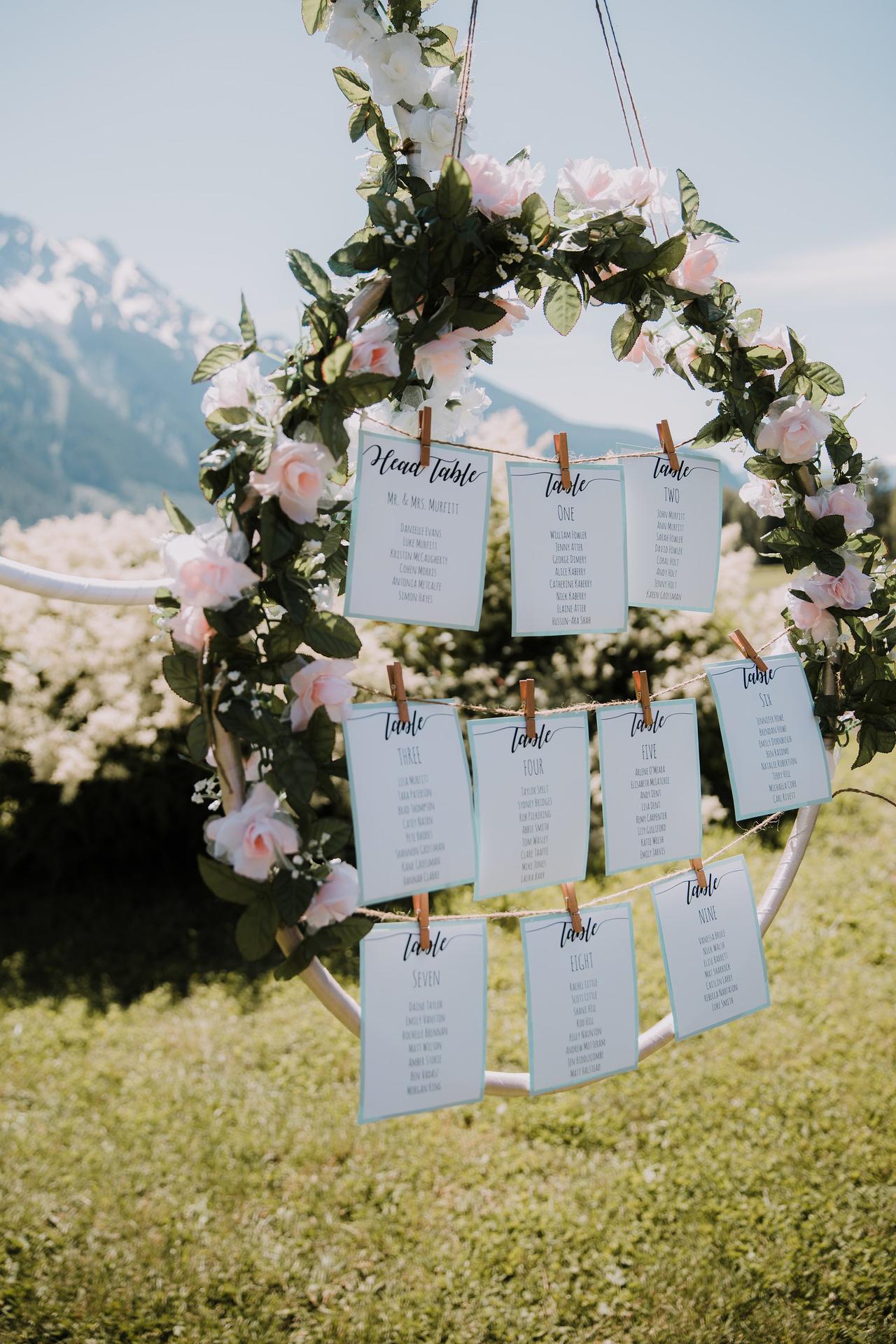 Find more wedding seating chart ideas in our Real Wedding galleries »