Considering having a garden wedding? Decorating an outdoor space is a little different than sprucing up an event hall or ballroom, so you may be on the hunt for some inspo. From stationery covered in beautiful blooms to flowery desserts to wildlife inspired decor, here are few of our favourite ways to weave the garden wedding theme into all aspects of your celebration.
Here are a few awesome garden wedding ideas.
Flowery stationery
One of the first wedding-related tasks you'll need to tackle is sorting out your wedding stationery. We suggest going with a floral theme for your save the date cards, menus and more to make your theme really hit home.
Sun parasols
If the forecast is looking bright for your wedding day, you may want to invest in a few parasols for you and your guests. This is especially key if you're not having your ceremony or reception under the shade of a tent - you don't want anyone getting a sunburn!
Flat shoes
Nothing's worse than having your heels dig into the grass, so opt for flat shoes or chunky heels and ask your bridesmaids to do the same.
Flower crowns
Give your bridal ensemble some flowery festival vibes by adding a halo of blooms. If you want to go the extra mile, ask your VIPs to wear 'em, too (they look adorable on flower girls).
Larger than life bouquet
A garden wedding calls for an impressive bouquet. Stack your handheld arrangement with all your favourite blossoms so that it really stands out.
Floral arch
Give your 'I dos' a bit of extra flower power by decking your wedding arch out with flowers. You can use real blooms or go with faux dupes to make the project a little more affordable.
Flower wall
If Kim and Kanye are your version of #couplegoals, you need a floral wall like theirs at your wedding. No, you probably won't be able to afford a giant backdrop filled with white roses but you can create something similar.
Lawn games
Amp up the fun factor of your wedding reception by adding some wedding lawn games to your itinerary. Giant Jenga, cornhole and croquet are all great options.
Woodland accents
You've got the flora covered, but what about the fauna? Add a few animal accents, like these cute ceramic bunnies, to your event space to give it even more personality.
Birdcage decor
Bird cages aren't just for vintage weddings! They fit perfectly with a garden wedding theme, too. You can use them to hold your wedding centrepieces, as aisle markers or as card boxes.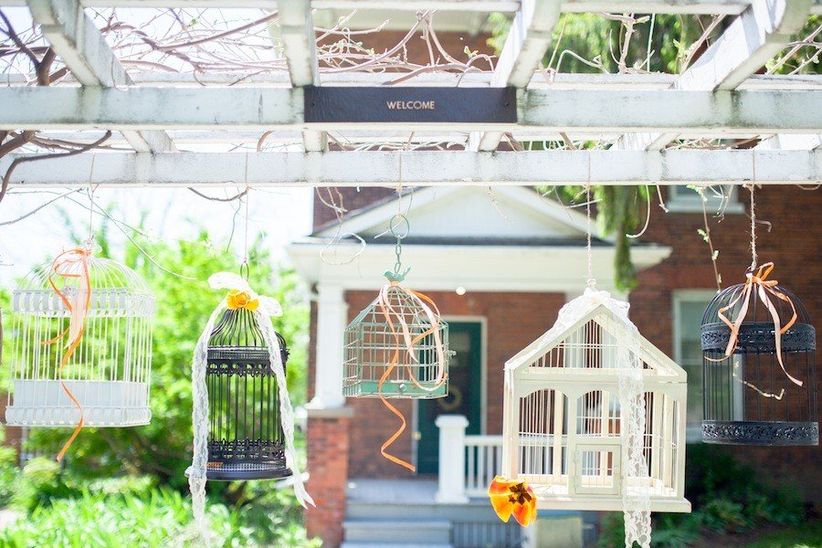 Gardening tools
Gardening staples like wheelbarrows and watering cans can easily be repurposed for your wedding to hold decor and drinks. You can use your own or rent them from a garden emporium - they're pretty inexpensive and look awesome.
Afternoon tea
Absolutely adore Alice in Wonderland? Use it as your wedding inspo and serve afternoon tea eats at your cocktail hour or wedding reception. Everyone loves scones, sandwiches and cakes.
Iced tea
Speaking of tea, you'll want plenty of it at your wedding (regardless of if you're going the scone and sandwich route). We recommend building an iced tea bar and maybe even offering a few spiked options.
Fun straws
Details make all the difference! Stock your wedding bar with fun drink garnishes and patterned straws, like these.
Geometric accents
Though your flowers will probably steal the decor spotlight, you don't have to to go 100% floral. Add some modern elements with geometric accents on your tables and around your venue.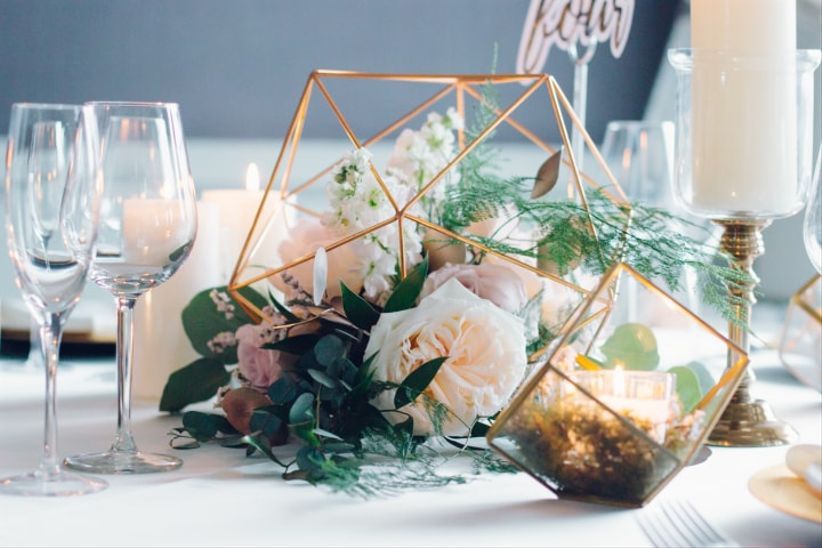 Green chair decor
Give your ceremony or reception chairs the garden treatment by decking them out with strands of greenery. Pro tip: if you're hosting a lot of people, you can use faux greenery to bring down the cost.
Creative menu displays
Looking for a unique way to display your wedding menu or place cards? Use flower pots! They're totally on theme and will give your tablescapes that extra special somethin' somethin'.
Plant-based menu
If you really want to play off your garden wedding theme, go with a plant-based menu. Stack your buffet with salads filled with fresh, local produce and drool-worthy dishes like stuffed peppers and palm heart crab cakes.
Flowery cake
Ask your baker to decorate your wedding cake with colourful blooms. They can be real or crafted from fondant or buttercream - both look amazing, so you really can't go wrong.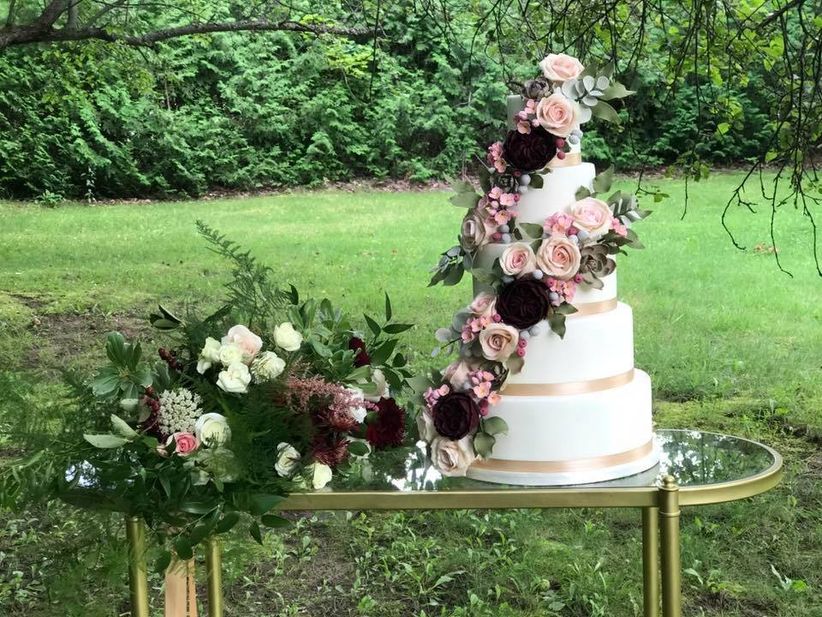 Flower gummies
Want to serve more than wedding cake for dessert? Add flower shaped gummies like these to your sweet table. If you provide treat bags, you can use them as your wedding favours, too.
Plant favours
Plants and seeds are other tried and true favour ideas for garden weddings. Both are relatively inexpensive.
Picnic table
Instead of creating elaborate tablescapes with luxurious linens and runners, go with picnic tables. With the right centrepieces, they can look extra chic and wedding appropriate.
Fancy furniture
Skip using patio furniture for your lounge and bring the inside out. Plush sofas and chairs, a few decorative pillows and some vintage accents will take your garden space to the next level.
Fairy lights
Fairy lights fit with just about every wedding theme, but they're absolutely essential if you're throwing an outdoor wedding. Why? Well, when night falls you'll need something to illuminate your garden wedding space, and a few strands of these go a long way (not to mention, they look amazing).
Terrariums
Looking for wedding centrepieces that are a little more interesting than your average vases of flowers? Go with terrariums. They look absolutely stunning against a garden backdrop and can be repurposed as favours or home decor when your wedding is done.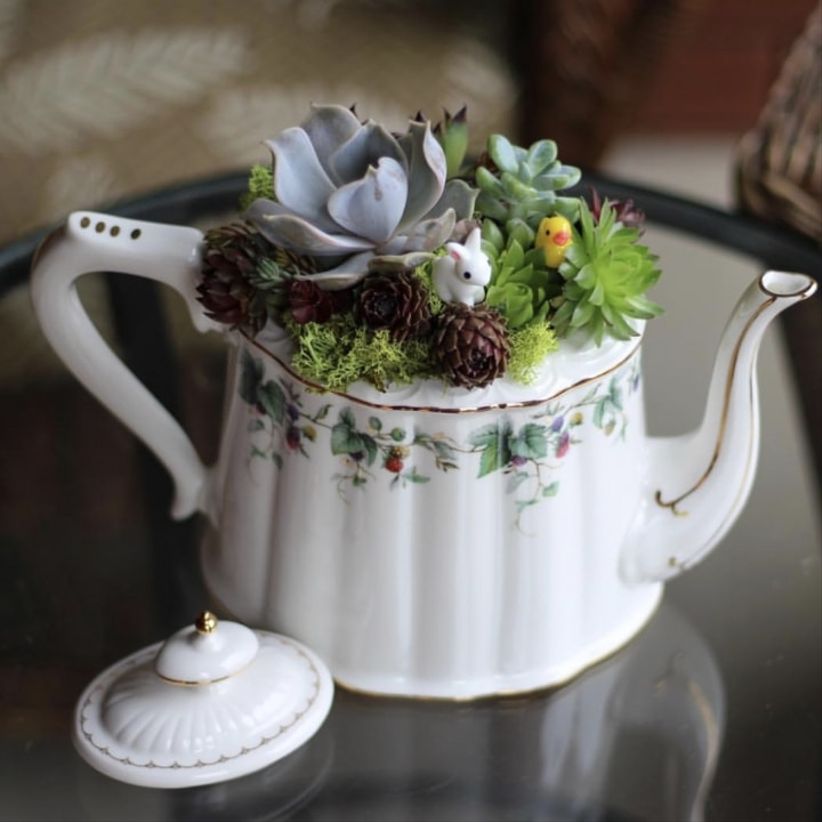 Find more garden wedding inspiration in our Real Wedding galleries »