Your Complete Wedding Bar Shopping List
Ready to start stocking your wedding bar? Here's everything you're going to need, from booze to bottle openers.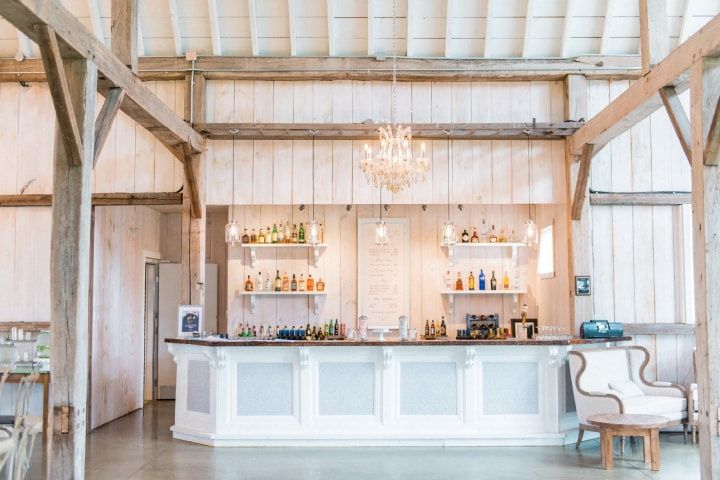 Ready to stock your wedding bar? While you'll definitely need to hit the liquor store at some point, there's more to designing your wedding bar than just booze. You'll need everything from tools like strainers and shakers to glassware to serve your drinks in. Keep in mind that some wedding venues will already have the bar stocked with supplies, so it's best to ask what yours is equipped with before you go on a major shopping spree.
Here is the ultimate wedding bar shopping list.
The goods
Ok, so what alcohol you buy for your big day is really up to you and what type of wedding bar you're having — open bar or cash bar. You're definitely not obligated to have top-shelf liquor and imported wine, so if you want to serve craft brews and some inexpensive chardonnay, go for it! Here is the basic list of how to stock a wedding bar, but remember, you're free to tweak it to meet your needs.
Liquor (usually gin, vodka and whisky)
Wine (one red, one white)
Champagne (or sparkling wine)
Beer (one or more varieties)
Mixers (a variety of juices and sodas)
Garnishes (lemons and limes)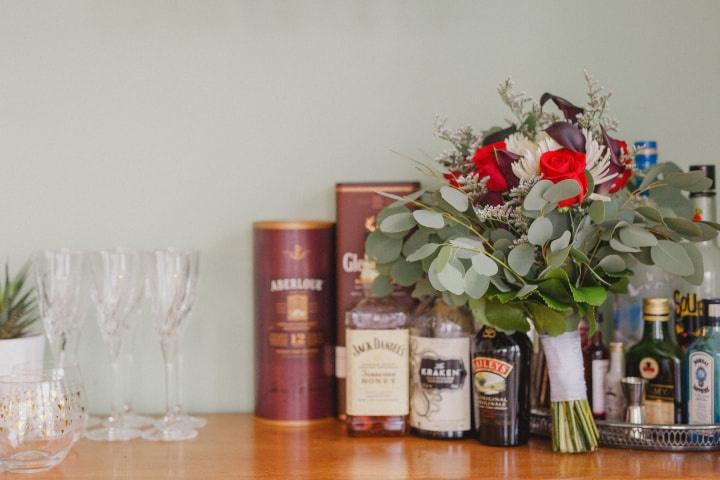 The basic supplies
You don't want your wine and beer to lose its chill, so you're going to need somewhere to put it. Not all venues are equipped with mini-fridges at their bars, so you'll need a frosty place to store it all. That's where supplies like buckets and coolers come into play. You'll also need things like extra containers and bar rags to keep everything tidy.
Bar rags
Ice
Ice buckets (reserved for ice that will be put in drinks)
Ice scoop
Ice tongs
Large tubs (to be filled with ice and wine/beer)
Coolers (for extra ice)
Containers (for garnishes)
Cocktail napkins and/or coasters
Cocktail sticks and straws
The tools
You know that feeling when you bring a bottle of wine to a friend's house only to discover he or she has no corkscrew? If you don't, it's sheer sadness, and you definitely don't want that on your wedding day. These are all the tools you'll need to create killer cocktails and open all those bottles of vino for your big day. Pro tip: if you're looking to save money on your wedding bar and not serve elaborate signature cocktails you may be able to skip buying fancy extras like muddlers and strainers.
Corkscrews
Bottle openers
Shakers
Bar jiggers (or shot glasses)
Strainers
Muddlers
The glassware
Not all beverages should be served in wine glasses, so you'll need to have a few different glassware options on hand. Keep in mind that while you don't necessarily need special glasses for your signature cocktails, investing in something a bit more elaborate (like copper moscow mule mugs) is a cute way to take your drinks to the next level.
Champagne flutes
Wine glasses
Tumblers
Shot glasses
Signature cocktail glasses
Find mixologists and event rentals on WeddingWire »