Open Bar vs. Cash Bar at Your Wedding
Can't decide whether an open bar or cash bar belongs at your reception? Here are all the pros and cons to think about.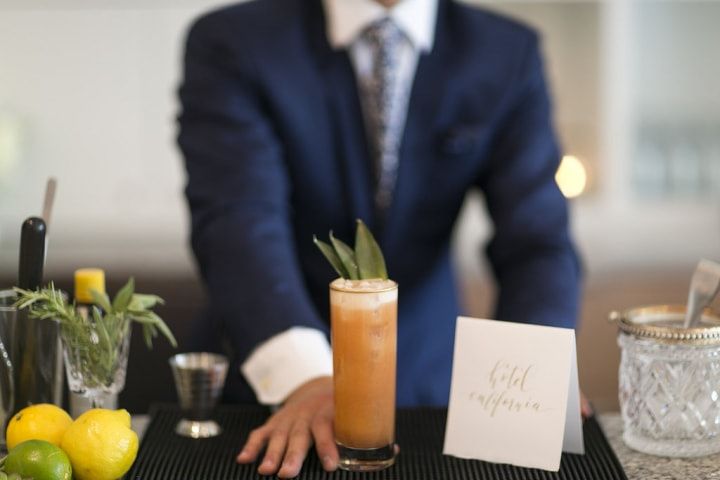 One crucial aspect of reception planning is figuring out the alcohol. Sure, it sounds simple, all you've got to do is line up a couple bottles and get a bartender on board, right? Wrong. You've got to decide on an open bar vs. cash bar and figure out exactly how you'll be serving up the drinks. Sure, you could skip setting up a wedding bar altogether and settle on serving a selection of wines and beers with dinner, but if you want to up the ante there are a few things to think about. For most wedding etiquette experts, asking guests to pay for their alcoholic drinks is a no-go, but expectations can vary by region and circumstances. Whatever wedding bar option you go with, we suggest that you clearly display the beverage choices to your guests with a bar menu and offer plenty of non-acloholic options to keep everyone hydrated.
Here are some things to consider when deciding on an open bar vs. cash bar at your wedding.
OPEN BAR;
What is an open bar?
Let's begin with the basics, shall we? If you're wondering what constitutes an open bar at a wedding, it's pretty simple. It just means that the happy couple have footed the bill for all of the night's drinks, so guests won't have to schlep their purses or wallets to the bar every time they need a refill.
Pro: Your guests will love you for it
Alcohol is the lifeblood of many a party, so chances are a few of your guests are already anticipating hitting up the bar for a drink. By taking care of it for them they are more likely to indulge, and they will love you for it. Sure, you don't want them going crazy, but you might get treated to some pretty hilarious stories after your new mother-in-law dips into the chardonnay.
Pro: You can turn your wedding into a party
Another solid pro of an open bar vs. a cash bar is that you can harken back to your university years and go a little wild on your wedding day with your pals. Remember to keep things classy and consider nixing the keg stands, beer funnelling and flip cup - you can do that at your bachelor or bachelorette party!
Pro: You won't have to handle any calculations
But, wait, there's more. If you hate doing math – even with the help of a budget calculator – an open bar vs. a cash bar removes some of that fuss. Everything will be taken care of, all you need to do is ask about the bottom line (it's usually calculated with a bartender fee and an hourly rate). Warning: open bars can be pretty pricey, so be prepared to gasp when you receive an estimate and be sure to budget accordingly.
Con: Your guests may overindulge
The pitfall of an open bar vs. a cash bar is that your friends and family may overindulge – possibly putting a damper on your big day. If you've got more than a few guests who are prone to drunken debauchery on your list, you may want to forego this option and stick to a cash bar or limit your offering to beer, wine and a signature drink served exclusively during the cocktail hour.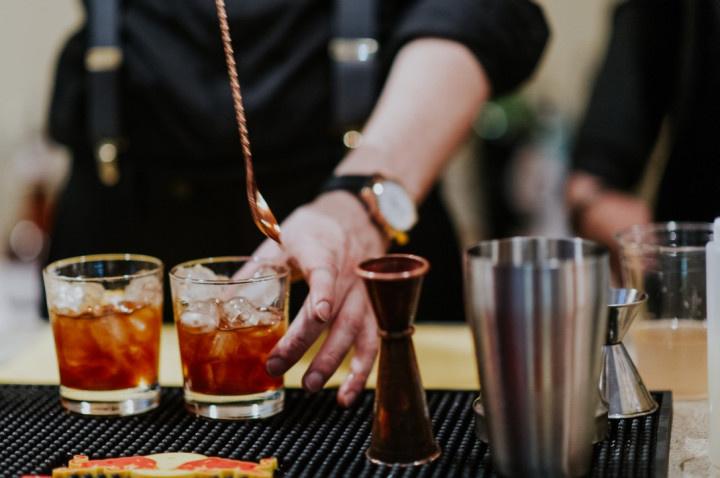 CASH BAR
What is a cash bar?
If you go with a cash bar, your guests will be tasked with paying for their own beverages with the exception of a glass of bubbly for the toasts. While this is seen as a huge no-no in some social circles, it's perfectly acceptable in others.
Pro: You (probably) won't have to deal with your guests having one too many
You won't have to deal with your groomsmen regressing into adult frat boys and photobombing your precious moments or spilling drinks on the dance floor. There's also a good chance that you'll be blessed with zero crying friends, sick pals or passed out family members. Sure, people may be less willing to pull out embarrassing moves on the dance floor but it may be worth the sacrifice.
Pro: You'll save some serious $$$
You know what else is great? The money-saving aspect of a cash bar. Because you won't be paying for your friends' drinks you'll be able to put that money toward different - possibly more important - parts of your wedding. Maybe you want a few more desserts on the sweet table? Perhaps you want a great live band to get the party started? Use the money for those things instead!
Con: Your guests may not get the party they were expecting
A few of your guests will probably be less-than-impressed with this choice – especially if they were hoping for a wild night out and left their Visa in their hotel room.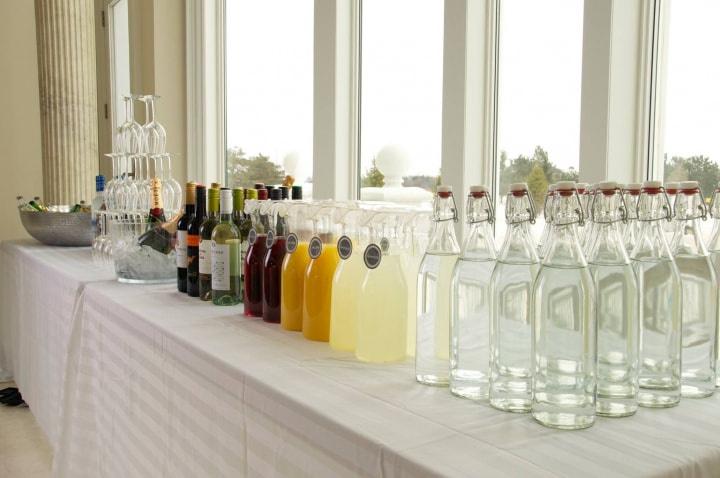 LIMITED BAR
What is a limited bar?
A limited bar is when you only treat your guests to specific types of drinks – usually a few types of beer, a red and a white wine and a handful of non-alcoholic offerings. You can also throw signature cocktails into the mix if you want a boozier option for your guests. Pro tip: instead of offering a limited selection, you could choose a toonie bar (where guests are charged $2 for each drink – just enough that they don't get too crazy or wasteful).
Pro: It's a good middle ground
This is pretty much the goldilocks of wedding bar options. Most of your guests will be happy sipping on beer or wine for the evening, so you shouldn't run into any trouble there. It also tends to be cheaper, since you don't have to stock up on spirits.
Pro: It can be open or cash, and it's always less expensive
Good news, a limited bar can be treated as an open bar or cash bar or a combination of both, so you've got options. Since the cost is dropping drastically, you may want to consider footing the bill for beer, wine and the signature cocktails. Another option is to offer a cash bar after dinner for mixed drinks. Just remember to factor it into your overall budget.
Con: You may have a few picky drinkers
The one problem you may run into is if more than a handful of your guests don't like beer or wine. This really isn't a dealbreaker though, they should be able to celebrate sans alcohol just fine!
Find a bartending service on WeddingWire.