7 Thanksgiving-Inspired Appetizers for Your Wedding Menu
Who doesn't love Thanksgiving food? Here are a few traditional dishes that have been transformed to fit your wedding cocktail hour.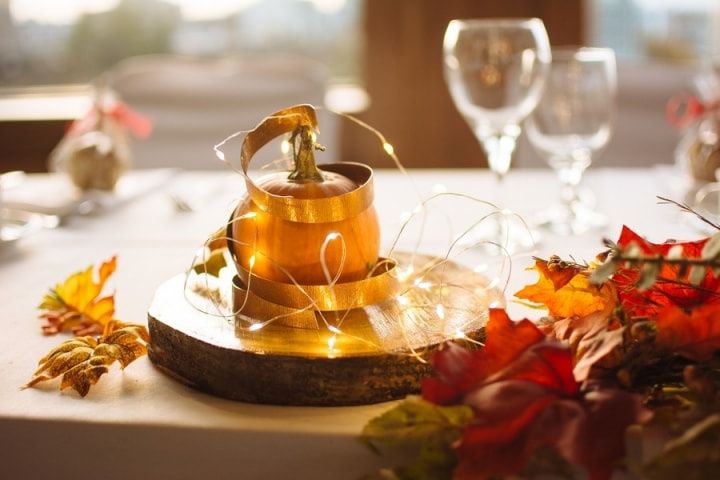 One thing everyone gives thanks for on Thanksgiving? The food, obvi! Turkey, gravy, stuffing and the like have pretty much every Canadian counting down the days until the holiday. If you're looking to infuse your wedding cocktail hour with a bit of Thanksgiving flavour, we've got some ideas for you. No, it won't be the same as your grandma's home-cooked meal, but it'll be delicious nonetheless.
Here are a few appetizers inspired by your favourite Thanksgiving foods.
Turkey Lettuce Wraps
You probably don't want to serve roast turkey with all the fixings at your wedding cocktail hour, so aim for something a bit simpler. One great option? Turkey lettuce wraps. These will give you all that great Thanksgiving flavour with a lot less labour. All they require is butter lettuce, ground turkey, some spices and a few seasonal veggies. They're pretty tasty, so don't be surprised if your guests eat them up in mere minutes.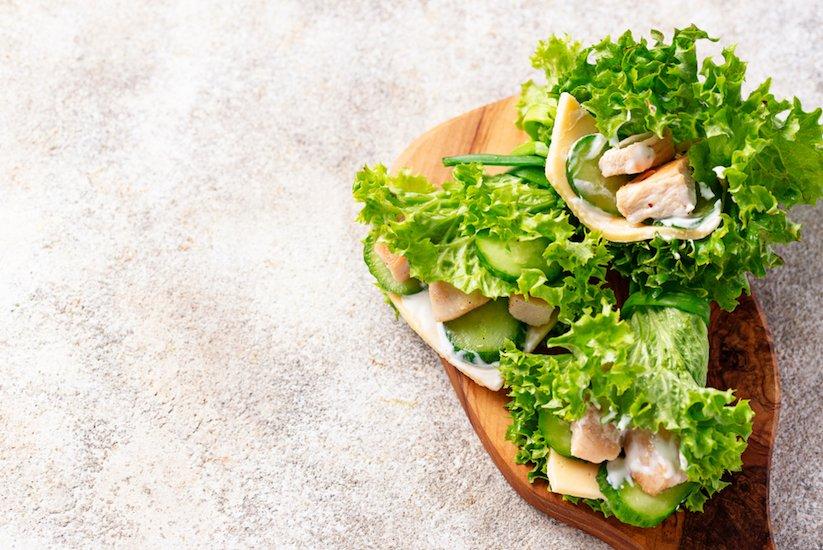 Cranberry Crostini
No Thanksgiving dinner is complete without a solid supply of cranberry sauce. Though you may not want to pair any of your apps with this festive condiment, there are other ways to incorporate cranberries in your cocktail hour. One of our favourites is the humble cranberry crostini. They're super easy to make: simply pile some toasted bread with brie (or crumbled goat cheese), cranberry sauce and rosemary. Feel free to try out different herb and cheese combos, it's hard to find a bad one.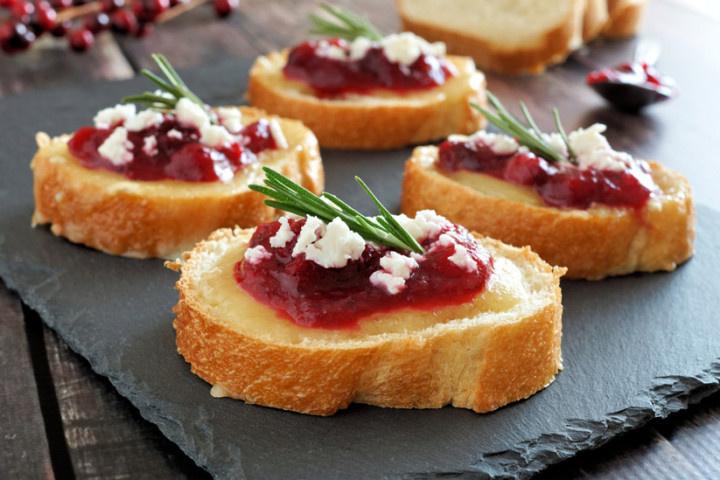 Bacon-Wrapped Stuffing Bites
Are you the type of person that fills half their plate with stuffing? Boy, do I have the appetizer for you. Bacon-wrapped stuffing bites are pretty much everything you could want in an hors d'oeuvre; they're salty, they're carby, they're indulgent AND they're bite-sized. We suggest giving your caterer your favourite stuffing recipe so that they really taste like Thanksgiving at your place.
Squash Soup Shots
If you're hosting your wedding in the colder months, you'll probably want to give your guests some cozy cocktail hour eats. One tried and true favourite is soup shots. We suggest replacing squash - a classic Thanksgiving side - with some itty bitty portions of pumpkin or butternut squash soup.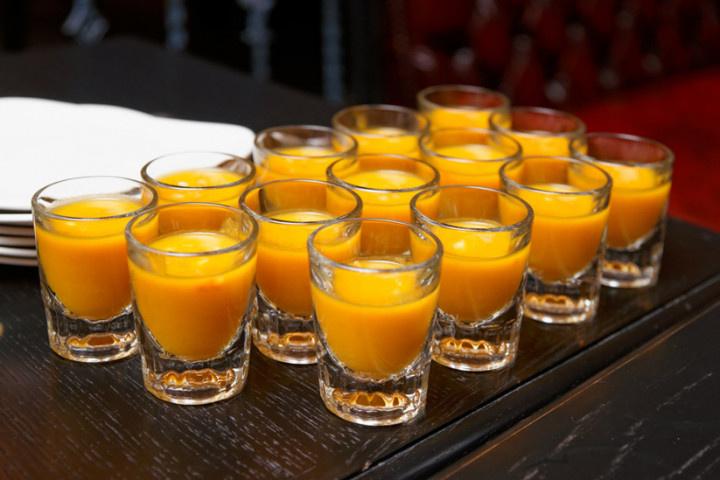 Sweet Potato Poutine
Want to add something truly indulgent (and Canadian) to your wedding cocktail hour menu, sweet potato poutine is the way to go. This dish features two beloved Thanksgiving staples: gravy and yams, so you really can't go wrong. Bonus: it makes for a great late night snack as well, so don't be afraid to serve it a few hours into your reception.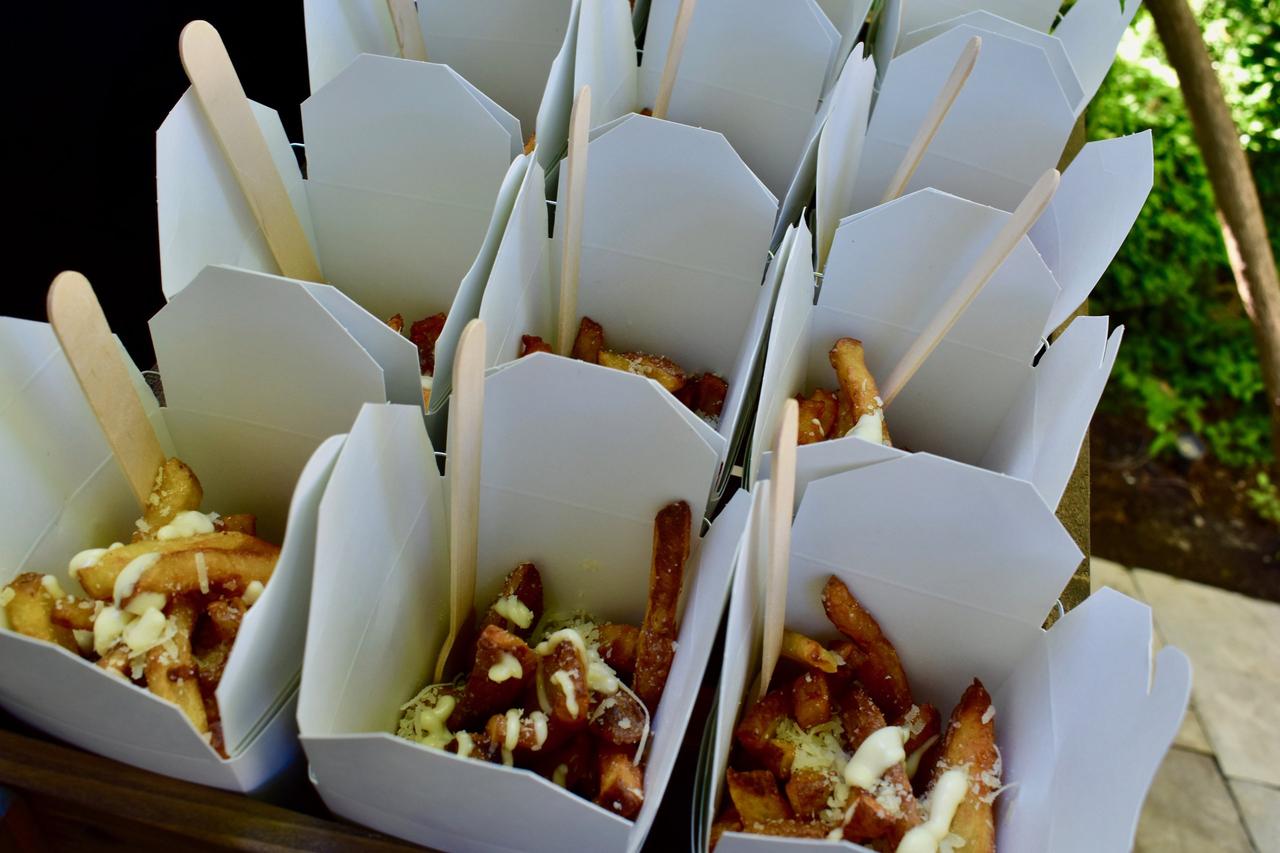 Potato Cakes
Mashed potatoes are another Thanksgiving dish that people can't seem to get enough of. While you probably don't want to serve shot glasses filled with them, there are ways to incorporate this stellar side into your wedding cocktail hour menu. Potato cakes (AKA fried mashed potatoes mixed with herbs and spices) are a great way to do so. You can even serve them alongside itty bitty pots of gravy for dipping (yum!).
Pumpkin Spice Donut Holes
You'll want to balance out all those savoury bites with some sweet treats. Traditionally, pumpkin pie is served at Thanksgiving, but you probably want to save that big ticket item for later on in the evening. So what should you offer up instead? Pumpkin spice donut holes (or Timbits for the Timmy lovers out there). You can even dress them up to look like acorns. They'll give you a similar effect but won't take away from the star of your dessert table.