Plus-One Wedding Guest Etiquette 101
There's a real art to plus-one wedding guest etiquette. Here's everything you need to know before the big day.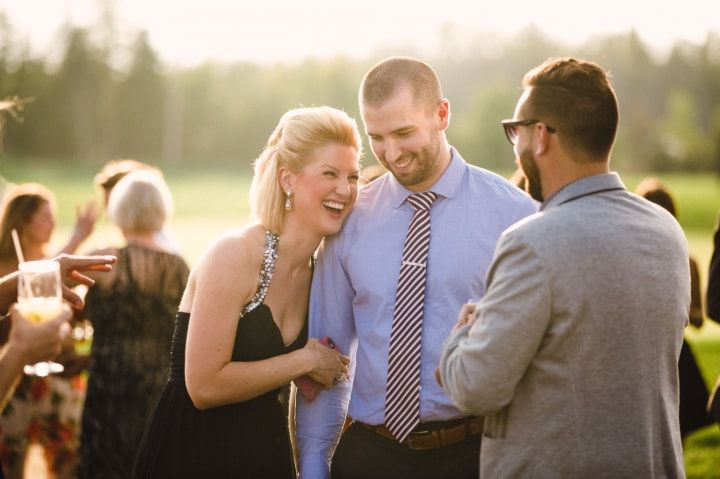 Everyone loves being a plus-one wedding guest – and for good reason. You get to enjoy a killer party where you can dine and drink the night away with total strangers (who doesn't love a blank slate?). But, before you start practicing your dance moves and preparing your icebreakers, there are a few things you should know about plus-one wedding guest etiquette. Here are the basics of being the perfect guest of a guest.
This is plus-one wedding guest etiquette 101.
Am I expected to pay for my own travel and hotel fees?
The first thing on your mind is probably your money - good for you, fiscally responsible person - so, you're probably wondering which fees you'll be responsible for if you're a plus-one wedding guest. Unless your date tells you upfront that they're footing the bill, you should be expecting to take care of your own travel and hotel fees (so, make sure to pay off that Visa or MasterCard before the big day). If it doesn't fit into your budget, let them know ASAP. They may be able to help you out or they may have to find a backup date.
Do I need to buy a wedding gift?
Good news! You probably don't need to purchase a wedding gift (cue the relieved sighs). However, if you're in a serious relationship with your date, you may want to offer to split the cost of their gift and give it as a couple. It's a nice gesture, but if you can't afford it, don't sweat it.
What do I wear to the wedding?
Every wedding is different, so you'll want to give the couples' wedding invitation and website a good look before diving into your wardrobe. Some weddings are uber formal while others err on the more casual side. One rule that applies to pretty much every single wedding: you shouldn't be wearing white or a veil. Still can't figure it out? Use handy these tips and tricks.
Which pre- and post-wedding events will I be expected to attend?
To answer this question you're going to have to turn to your date. If they're a part of the wedding party you may be invited to tag along to the rehearsal dinner and/or a few of the more exclusive events. Not the case? As a plus-one wedding guest, you may only be expected at the ceremony and reception.
Will I know anyone there and what do I do if I don't?
Unless you travel in the same social circles as the couple, there's a good chance you won't know most - or any - of the other guests. But don't freak out! You've got a clean slate and this is your chance to make a ton of new friends (or at least gain a couple of new Instagram followers). While a plus-one wedding guest shouldn't steal the spotlight from the newlyweds by dancing up a storm at the reception, feel free to mix, mingle and get in on the revelry.
My date is part of the wedding party, what do I do?
So, you've landed one of the wedding's VIP guests as a date? Well, you should be expecting to fly solo for a good chunk of the day (don't stress, this is actually a blessing, not a curse). They'll most likely be getting ready with the bride or groom, so you'll be getting primped and prepped on your own – meaning you'll get more time to sleep in and shower. While they pose for photos and decorate the getaway car, be the best social butterfly you can be and chat it up with your tablemates or hit the dance floor solo. You don't need your date glued to your arm to have a good time.
How much do I need to know about the happy couple?
Before you start channelling your inner Nancy Drew and cyberstalking the guests of honour on all their social media platforms, take a step back. They don't know you and they probably don't expect you to know much about them, either. One thing you should be aware of is your date's relationship with them (this will help you deal with the ever-popular cocktail hour question, "so, how do you know the happy couple"). You may also want to brush up on a few basic facts about their relationship - it'll help you enjoy the more sentimental moments in the ceremony and beyond.
Need more plus-one wedding guest etiquette help? Read this.