8 Wedding Gift Etiquette Rules Every Guest Should Know
Are you ready to start gift shopping for the happy couple? Then read these helpful wedding gift etiquette tips first.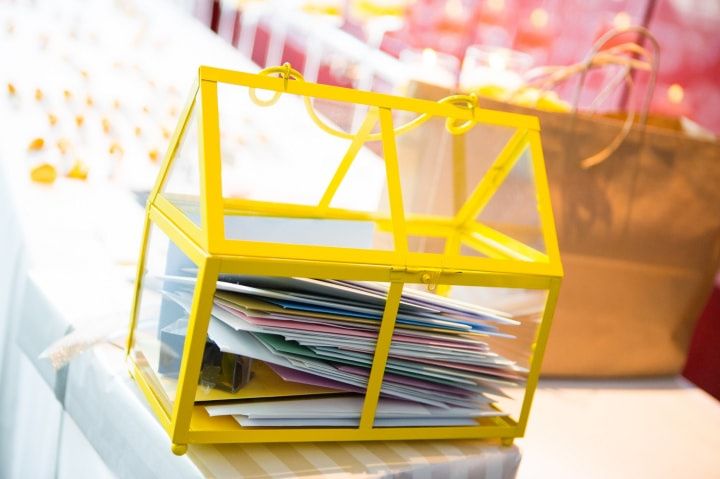 Ready to hunt down the perfect present for the happy couple? Before you start scouring Amazon for quirky homewares, there are a few wedding gift etiquette rules to follow. From consulting the wedding registry to buying group gifts, here are the things you should know.
Here are a few things every guest should know about wedding gift etiquette.
Use the wedding registry
The wedding registry is your best friend when it comes to gift giving, it takes all of the guesswork out of buying the present. The couple has probably put a ton of time and effort into creating a wedding registry, so put it to good use. Tip: remember to use the site that they registered on or they may end up with duplicate gifts.
Respect the type of registry
Some couples would rather go on adventures than fill their home with fine china, so they may opt for a honeymoon, cash or experience registry instead of a traditional one. If this is the case, respect their wishes and pitch in on their flights and accommodations or buy them a fun little scuba outing - don't purchase a present. Even if you think your pals would appreciate a funky new gravy boat, it's best to go with what they're asking for.
Don't bring a gift to the wedding
This may feel like showing up to your best friends b-day bash without a present in tow, but trust me, it's not expected - heck, it's not even wanted - and it's modern wedding gift etiquette. If the happy couple has set up a registry, their address will be on file with their store, so the gift will ship right to their humble abode. This is a lot more convenient for them, anyway. After all, they probably don't want to spend their night loading up their getaway car with packages, boxes and bags. There is one exception to this rule and that is money. If you're bringing along a cheque, you can leave it with other cards at the reception.
Group wedding gifts are A-OK
If you can't scrape together enough cash to purchase a swanky new vacuum or a flight to Tahiti, that is fine, not everyone is made of money. Split the costs with some of the other guests to save a few loonies and toonies. The couple won't care that you divvied up the bill, but they will be thrilled about receiving one of the more luxurious gifts on their registry.
Use your relationship as a guideline
Trying to gauge how much to spend? Use your relationship as your guiding light. If the happy couple are distant relatives or friends who you only see once a year or so, feel free to go for one of the less expensive items on their registry. If you're the maid of honour, best man or a BFF, you'll want to think about shelling out a few more bucks for your present.
Bring a gift to the bridal shower
Depending on how many wedding-adjacent events the almost-newlyweds throw, according to wedding gift etiquette, you may have to purchase more than one present. If they do host a bridal shower, you'll be expected to bring a gift to that on top of what you buy for their the big day. This is awesome for the bride and groom, but not so awesome for your wallet. Typically couples will use the same registry for their shower as they will for their wedding day, so choose a smaller gift - aim for around $50 - for the former and a larger item for the latter.
Send a wedding gift if you can't attend
Can't make it to your friends' big day? Follow the rules of wedding gift etiquette and send a present anyway. Just because you won't be taking part in the festivities doesn't mean you get a free pass and sending a gift is a great way to thank your pals for the invite. You don't have to purchase a huge present, go with a smaller item off their registry to show your love and support.
Wedding party members need to purchase gifts, too
As a bridesmaid or groomsman you've probably had to shell out a fair bit of cash already - hair appointments, accommodations and transportation don't pay for themselves, after all. But this doesn't mean you're excused from the gift giving. You'll still be expected to buy the happy couple a gift. If you're feeling strapped for cash, go in with the other wedding party members on a big ticket item to save a few bucks.