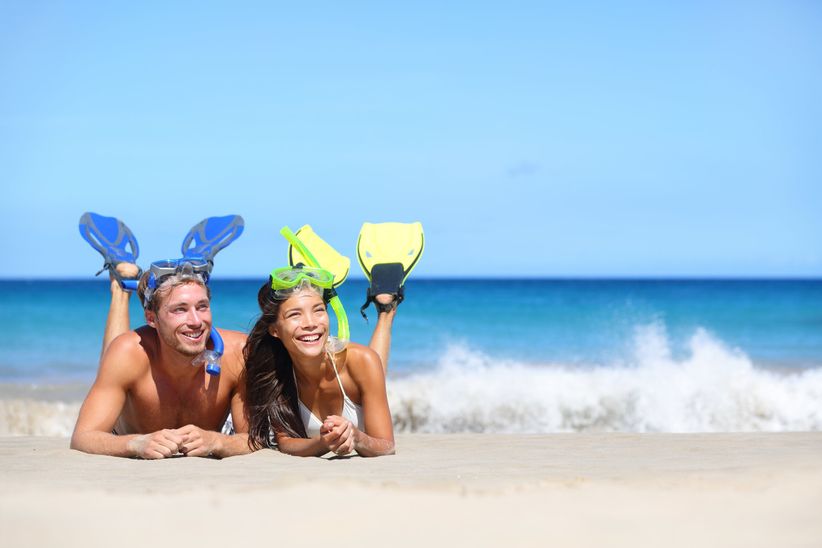 So you and your significant other are ready to go off on your first great adventure as a married couple? Well, you're going to need some resources. Hosting a wedding is bound to put you back a fair amount of cash - so cobbling together the funds may leave you with a bit more debt than you'd like. If you're okay with skipping a traditional registry, have your guests lend a hand by setting up one for your honeymoon.
Here's how to sort out your honeymoon registry.
What is a honeymoon registry?
Good question! A honeymoon registry is exactly like your run-of-the-mill wedding registry - but instead of filling your home with china and bed linens your guests will be putting funds towards the holiday of your dreams. This is becoming increasingly popular due to the way many modern love birds live. Many couples shack up before their big day and may not need an extra set of pots and pans - they'd much prefer a flight or a sunset cruise.
How does a honeymoon registry work?
Your registry will look very similar to any other, but instead of listing off homeware it will show your vacation plans (including your desired itinerary, accommodations and more). Guests will have the option of putting money toward certain parts of your trip - like a hotel stay for a few nights, plane tickets or a snorkeling expedition. Now, these look like pretty lofty price commitments - and they are. But good news, your guests don't have to purchase a particular part of your trip outright. If they're not down to shell out hundreds of dollars for your hotel stay, they can offer up a dollar amount instead.
What are the benefits?
Ask yourself this question: do you prefer material goods or experiences? Do you find yourself leaning towards the latter? Well, a honeymoon registry is probably the route to go. If your kitchen already resembles the interior of a Williams-Sonoma and you don't see the need to stock up on tableware, requesting some R&R sounds like a good move on your part. Bonus: this will make your friends and family part of your vacation planning process, so they can snoop what you've already got on your itinerary and offer up suggestions. Remember to show them what they helped fund when you return home with a photo or two.
Where can I set it up?
Honeyfund, Traveler's Joy, Gift Spaces and Flight Centre offer an online gift registry. After you create a profile it will keep all your trip info in a central hub - making it easy for your guests to scope out all your plans. Select travel agents, such as Marlin Travel, offer a gift registry service managed by a travel specialist. Some offer a group gifting option so your friends can band together to pay for pricier items.
A few extra tips for those crafting a honeymoon registry
Plan your trip early so that your guests can see your registry ASAP.
Cater to a variety of price points. Include everything from meals to activities to hotel stays so that not everything is a big ticket item.
Consider doubling up by creating a regular registry, as well. Some guests may want to go the old fashioned route and buy you something you can use from a shop.
Don't feel pinned down by your itinerary. Even though guests may put cash toward specific parts of your trip, you'll actually receive a dollar amount so you can always move things around later if need be.
Share a link to your honeymoon registry on your wedding website, that'll make it easy to find.
Set up your FREE wedding website on WeddingWire.