The Ultimate Wedding Registry Checklist
From classic gifts to honeymoon experiences, here is the ultimate list of items to consider adding to your wedding registry.
Sponsored By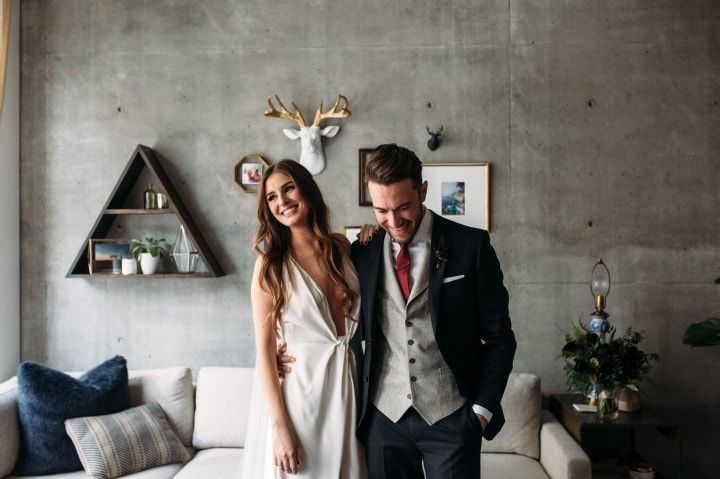 Ready to start registering now? Visit Amazon Canada to create a wedding registry with everything you need, all in one place.
Ready to create a gift registry? Use this handy wedding registry checklist to take stock of what you have, what you need, what you'd like to upgrade and what you will need in the future (think holiday entertaining, a new house, your dream vacation). Then take the time to build a complete wedding registry so your guests can celebrate your newlywed status and help you outfit your home. To get you started, we've listed all of the most popular items from kitchen appliances to a honeymoon fund to give you lots of wedding registry ideas.
Here is the ultimate wedding registry checklist.
Appliances
Blender
Coffee & Espresso Maker
Coffee Grinder
Tea Kettle
Juicer
Food Processor
Stand Mixer
Hand Mixer
Slow Cooker
Pressure Cooker
Rice Cooker
Toaster
Toaster Oven
Microwave
Waffle Iron
Griddle
Panini Press
Cookware
8 - 10 Piece Cooking Set
Skillet (8, 10 12-inch)
1 - 2 Saucepans (1, 2, 3, 5 quart)
Saute Pan
Stir-Fry Pan/Wok
Stockpot (8, 12, 16 quart)
Dutch Oven
Casserole Dish
Grill Pan/Griddle
Kitchen Accessories
Cooking Utensil Set
Measuring Cups
Measuring Spoons
Tongs
Mixing Bowls
Colander
Spatula
Peeler
Cutting Board
Cheese Grater
Ice Cream Scoop
Whisk
Meat Tenderizer
Garlic Press
Mortar and Pestle
Pizza Stone
Digital Thermometer
Digital Scale
Towel Holder
Canisters
Trivet
Tea Towel
Apron
TIP: When reviewing this wedding registry checklist, be sure to consider a wide range of items at a variety of price points to give your guests plenty of options to choose from for bridal shower and wedding gifts.
Bakeware
2 - 4 Cookie Sheets
Loaf Pan
Cake Pan
Cooling Rack
Muffin Pan
Pie Plate
Rolling Pin
Oval Baker
Square Baker
Rectangular Baker
2 - 4 Ramekins
Knives
8 - 10 Piece Knife Set
8 - 12 Piece Steak Knife Set
Santoku Knife
Paring Knife
Chef's Knife
Bread Knife
Carving Knife
Utility Knife
Knife Block/Magnet
Kitchen Shears
Sharpener
Glassware
8 - 12 Iced Beverage Glasses
8 - 12 Champagne Flutes
8 - 12 White Wine Glasses
8 - 12 Red Wine Glasses
8 - 12 Double Old Fashioned Glasses
8 - 12 Highball Glasses
8 - 12 Pilsner/Beer Mugs
Decanter
Pitcher
Cocktail Shaker
Ice Bucket
Coasters
Wine Bottle Opener
Everyday Dinnerware
8 - 12 Casual Placesettings
8 - 12 Cereal/Soup Bowls
8 - 12 Coffee Mugs
1 - 2 Serving Bowls
1 - 2 Large Platters
1 - 2 Medium Platters
Salad Bowl
Cake Plate
Butter Dish
Salt & Pepper Shakers
Chip and Dip Bowl
8 - 12 Napkins
8 - 12 Napkin Rings
Table Runner
Fine Dinnerware
8 - 12 Formal Placesettings
8 - 12 Accent Plates
8 - 12 Formal Soup/Pasta Bowls
Coffeepot
Teapot
Gravyboat and Stand
Creamer
Sugar Bowl
1 - 2 Serving Bowls
1- 2 Large Platters
1 - 2 Medium Platters
Covered Serving Bowl
Salt & Pepper Shakers
Flatware
8 - 12 5-piece flatware sets
3-Piece Serving Set
4-Piece Hostess Set
Salad Servers
Cake Knife and Server Set
Bed
2 - 3 Flat and Fitted Sheets
4 - 6 pillowcases
Comforter or Duvet
Duvet Insert
Mattress Pad
2 - 4 Pillows
Bath
6 Bath Towels
6 Hand Towels
6 Wash Cloths
Bath Mat
Shower Curtain
2 Robes
Scale
Hamper
Bath Rug
Vanity Mirror
Waste Basket
Soap Dish
Lotion Dispenser
2 - 4 Bathroom Containers
Outdoors
Barbecue
Barbecue Tool Set
Tent
Sleeping Bag
Camping Gear
Picnic Basket
Patio furniture set
Snow shovel
Lawn Games
Sports Equipment
Decor & Entertainment
Vases
Frames
Lamps
Throw Blankets and Pillows
Candles and Candleholders
Wall Art and Mirrors
Centerpiece Bowl
Games
Books
Gym Equipment
Electronics & Smart Home
Camera
Television
Entertainment System
Game Console
Wireless Speakers
Headphones
Smart Thermostat
Streaming Services
Home Care
Vacuum
Broom
Garment Steamer
Hand Vacuum
Iron
Ironing Board
Mop
Steam Cleaner
Luggage
Duffel Bag and Backpacks
Luggage Tags
Travel Tote Bags
Carry-on
Medium-Sized Spinner
Large-Sized Spinner
Passport Cover
Travel Accessories
Honeymoon Fund
Airfare or Transportation
Accommodation
Activities
Other
Cash Fund
Gift Cards
Experience Gifts
Food/Wine
Charity Fund
Keep your guests up to date on your wedding registry. Set up your FREE wedding website on WeddingWire.