Bridal Shower Etiquette: The Tips You Need to Know
If you're clueless when it comes to bridal shower protocol, then we've got a few helpful tips for you.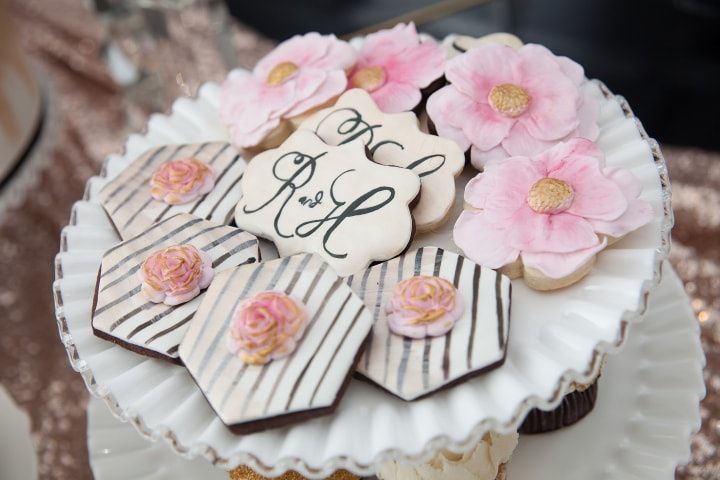 The bridal shower is one of the essential wedding kickoff events. It's a bash that brings together close friends and family of the bride to celebrate her upcoming nuptials with presents, champagne and activities - making it a blast for all parties involved. While the day should be filled with fun and games you don't want to forget about manners. From crafting the perfect guest list to sending out those thank-you cards ASAP there are a few things you'll want to remember.
Here are a few tips on bridal shower etiquette.
Who pays for the bridal shower?
Etiquette rules are flexible when it comes to hosting. The best bet is usually the maid of honour along with members of the bridal party, or a close friend(s) or family member(s). Pro tip: we've got tips on how to plan a bridal shower on a budget.
Who to invite to a bridal shower?
The cardinal rule of guest lists is this: you should only include people who are invited to the wedding. You don't want to put the guest of honour in an awkward situation where she has to field texts and calls from friends asking about RSVPs she never intended to send. The best way to avoid this is to ask the bride for a copy of her guest list so that you know who you can send a bridal shower invitation to. Keep in mind that you don't have to include everyone that's invited to the wedding (that's a little excessive) - keep it limited to BFFs and family.
When should the bridal shower be held?
The last thing you want to do is stress out the bride, so don't host the shower too close to her wedding date. She'll probably be in full-on planning mode - AKA no time for fun and games mode - in the month leading up to her big day, so host the party before then. Around two months (or more) in advance of the wedding date typically works best.
What should I wear to a bridal shower?
While there are no actual rules when it comes to attire, classy and casual is usually the way to go. Save that sparkly sequined number for the bachelorette bash and throw on some slacks and a sweater instead. Note: some wedding showers have themes. If this is the case you may want to use that for guidance when choosing your wardrobe.
How do you share the gift registry info?
Sharing the bride's gift registry info is necessary as the point of a shower is to gift the couple with things for their newlywed home. Some retailers will provide registry notification cards to enclose with the invitation or add a line in the invitation about checking the wedding website for further details so that they're lead to gifting details.
What should invitees do if they can't attend?
Can't make it to your pal's shower? No problem, what's important is that you make it to the main event. If you want to show your support, sending them a small gift or flowers doesn't hurt.
Can I have multiple bridal showers?
If social circles don't overlap, multiple parties may throw smaller showers to celebrate the bride-to-be. For example, your BFFs may throw you one and your coworkers may throw you another. Note: if the same guest attends multiple showers he or she only has to bring a gift to one.
Can I have a couples' shower?
Of course, you can! This will lead to a slight name adjustment - it'll be a wedding shower instead of a bridal shower - and a lengthier guest list that includes both ladies and gents. Word to the wise, remember to cater to both parties when picking activities and decor - you don't want the uber-masculine dudes cringing at your bridal bingo game and baby pink bunting.
How to write bridal shower thank you cards?
Once the shower has wrapped, the balloons have been popped and the crumbs have been cleared from the tables, the host or hostess' job is done. Now it's the bride's turn to do a little work. But don't stress, it's not emotionally, mentally or financially taxing in any way. All you've got to do is give your guests props for coming out and celebrating you. Sure, this could be done in a tweet or text, but a handwritten bridal shower thank-you card is so much more personal (and therefore preferred). Giving the host or hostess something extra, like a bracelet, candle or some cute stationery, along with their note is also a good idea.
Create a bridal shower guest list using WeddingWire's FREE Guest tool »