6 Tips for Planning a Coed Wedding Shower
Your shower guest list doesn't need to be limited to the ladies! Here's how to throw an amazing coed event.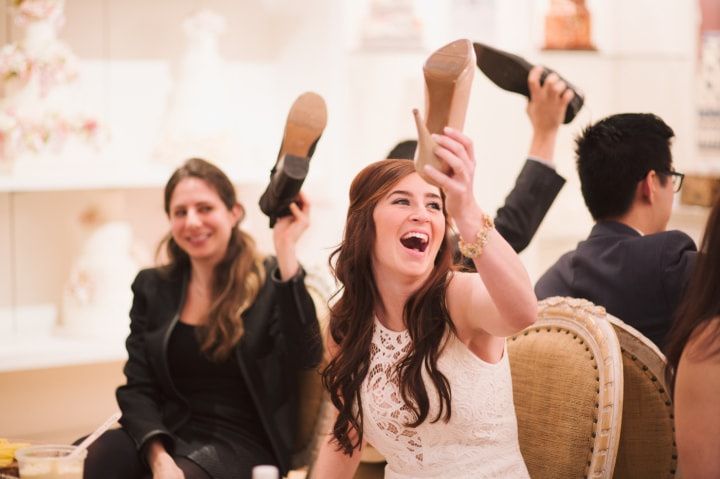 Showers aren't just for the gals! Skip the tradition of doing a "ladies only" party and invite some men along for the ride. While you, the host, can pretty much follow the blueprint for a bridal shower, there are a few easy tweaks that need to be made for a coed event. If you're looking for advice, we've got your back.
Here are a few tips for planning a co-ed wedding shower.
Create the perfect guest list
Throw the idea of a "girls only" event out the window. Stack your guest list with your soon-to-be groomsmen and bridesmaids, any of your close family members and your best friends. Of course, you don't want to forget either of your moms, but now you can invite your dads, too! Remember, you can make it as big or small as you want, but you shouldn't invite people who won't be receiving an invite to the actual wedding.
Choose the venue
Now, since you're hosting a coed shower you're probably inviting double the amount of guests you expected (gotta make room for the groom's friends!), so, you'll need a bigger venue. If you or a friend have a big enough backyard, that's totally an option, but if not, you'll need to start looking into other spots. From swanky country clubs to laid back restaurants, the world's your oyster (just don't forget to find a place that suits the happy couple).
Pick your theme
You may want to nix the ultra-girly theme this time around. Choose something that everyone in the room will love, like a camping affair complete with s'mores and a bonfire. You could also opt for a gift-oriented theme, focusing on one type of item the couple needs and building the event around that (i.e. stocking the bar or kitchen goodies).
Leave the gifts for later
Since you're probably hosting a larger group of people, there will be more gifts to open. While the bride typically unwraps all the prezzies at a bridal shower, you may not have time at this type of event. Ask the guests to wrap their gifts in clear paper so that the happy couple can sneak a peek without sitting down and opening each and every one (they'll send along thank-you cards upon opening, obvi). This will leave everyone more time to mix and mingle and give the lovebirds something fun to do when they arrive home.
Don't forget about the games
No shower is complete without a few silly games. While you may want to skip the tradition of crafting a ribbon bouquet or making gowns out of toilet paper (though that would still be hilarious), you should have a few activities prepared. The Newlywed Game, The Shoe Game and Wedding Mad Libs are a few that really work for coed showers, so take advantage.
Get to gifting
Are you planning on giving out favours at your shower? Make sure they're gender-neutral. Everyone loves a good foodie favour (these can be DIYed or store bought), so consider going that route. Bits like luggage tags, bottle openers, customized magnets and flower seeds also work well!