7 Tips for Planning a Bridal Shower on a Budget
You don't have to dip into your savings account to throw an amazing bridal shower. Here are a few tips for planning a bridal shower on a budget.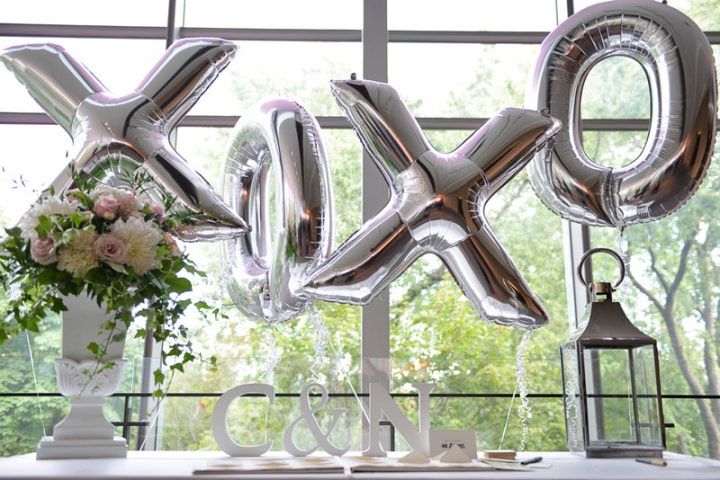 So, you've been tasked with throwing the bridal shower? Congratulations! You're clearly one of the bride-to-be's BFFs - after all, she wouldn't task just anyone with this job. Before you start stressing over the dollars and cents you'll have to shell out while planning the party, we've got tips for how to throw a bridal shower on a budget. From co-hosting to DIYing your decor, there are plenty of ways to keep your savings account in tact while throwing her the wedding shower of her dreams.
Here are a few tips for planning a bridal shower on a budget.
Co-host
Divvy up the costs and planning duties between you and a few of the other bridesmaids or family members to keep spending (and stress) to a minimum. Not only will you be saving a few extra dollars, but you'll also have help prepping and packaging favours, cooking the food, cleaning up after the big event and handling all the little tasks in between. Bonus: throwing a bridal shower on a budget means you'll be able to put a bit of extra cash into buying the bride-to-be that perfect shower prezzie.
Shrink down the guest list
This is one of those times when "the more the merrier" does not apply. Keeping the guest list short will cut back on spending immensely because you'll have fewer mouths to feed and fewer favours to buy. Meet with the bride-to-be before you send out your invites so that you know who she wants in attendance. Remember that whoever you invite to this party should be invited to the wedding.
Use your resources
Yes, scoring a luxurious venue is amazing, but it's not exactly frugal. Instead of hunting down a swanky hotel or restaurant for your event, make use of what you've already got. Do you or another wedding party member have an awesome home or backyard? Make that your venue! Add a few fairy lights and some personalized decor and it won't disappoint.
Keep the menu simple
For a bridal shower on a budget, skip hiring a caterer and make the food yourself. You don't need to channel your inner Giada De Laurentiis and craft a three-course sit down dinner, just make some simple hors d'oeuvres to keep your guests from getting hangry. Find the middle ground between beef tartare crostini and frozen bagel bites and you'll be golden.
DIY your decor
While you may be tempted to head to Etsy and fill your shopping cart with a bevy of bridal-themed bunting, napkins, party plates and more, fight the urge. Decking out your home can easily cost hundreds of dollars, so stick to DIYing when it comes to decor. Enlist the other bridesmaids to help craft the decorations and spruce up your venue or home. You may need to buy a few balloons and streamers, but those will only cost a few loonies at your local Dollarama.
Find affordable entertainment
You don't want to hear any crickets chirping during your carefully planned bash, so remember to sort out your entertainment ASAP. No, you don't need to go overboard and hire a string quartet or spend tons of cash stocking up on party games on Amazon - all you need is the internet and a bit of imagination for a bridal shower on a budget. Step one is planning out your playlist, which feature a healthy dose of lovey-dovey tracks (think Jason Mraz and Jack Johnson). Once you've got that uploaded to your phone and out of the way, you can move onto the bridal shower games. Find options - like the Newlywed Game (a true classic) - that don't cost a dime.
Save on favours
Because it's a shower, not a party, favours are kind of a must. But don't stress, your guests won't expect you to spend big bucks on luxurious Diptyque candles or Jo Malone lotions. Instead of hitting up The Bay in search for trendy giftable goods, whip up some edible treats at home (cupcakes and cookies are tried and true options). If you're a little clueless in the kitchen, you can always opt for handmade thank-you cards, pint-sized potted plants or homemade body scrubs. Commit a little time to searching for the perfect recipe or craft on Pinterest and then get to work.