Are you and your S.O. huge foodies? You know, the types of people who dine out at trendy restaurants at least twice a week and can't help but hit the newest hot spots as soon as they open? We think foodie wedding favours are a great way to share your love of amazing eats and tasty treats with your wedding guests. From macarons to olive oil, there are plenty of sweet and savoury options worth looking into for your wedding favours.
Here are a few of our favourite foodie wedding favours.
Cookies
Now's the time to put your grandma's (or Martha Stewart's) kickass cookie recipe to use. Spend a few evenings with your bridesmaid squad cooking and packaging up wedding favours from the comfort of your own home for some squad bonding. Classic chocolate chip is a tried and true option, but don't be afraid to experiment (just make a test batch before you make hundreds). If you're not confident in your baking skills, you can always ask a seasoned pro the handle the job for you.
Truffles
Chocoholics will love being treated to a few truffles at the end of the evening. Sure, they'll probably be stuffed after tucking into one or two pieces of your ganache-coated wedding cake, but these bite-sized treats make for a great late night snack (or post-wedding weekend indulgence).
Popcorn
Your guests may need to spend a few days recovering from your wedding festivities by kicking back in their apartment and watching Netflix. And what does every movie marathon need? Popcorn, obviously. Give them them bags of caramel or buttered popcorn or provide them with the kernels so they can make it themselves - this'll save them from making a trip to the store, which they will love you for.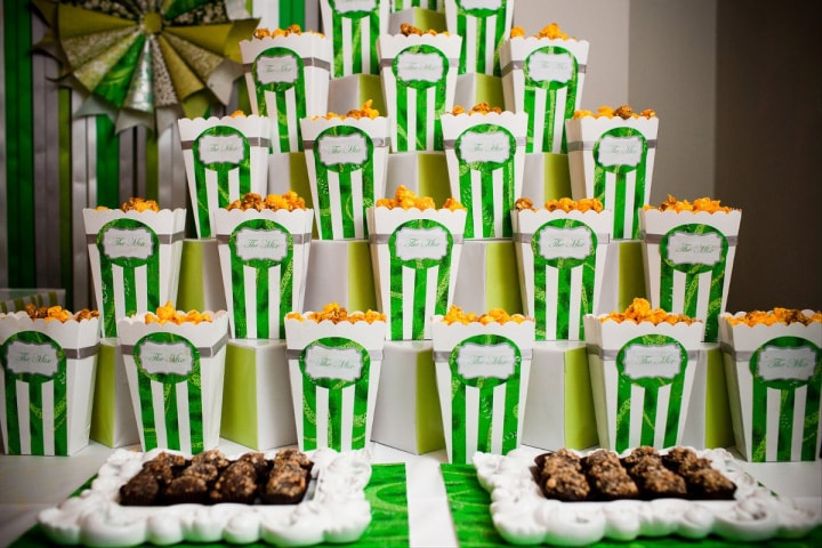 Hot Sauce
If you and your partner are huge hot sauce fanatics, this is the perfect favour for you. Buy itty bitty bottles of Sriracha, Frank's and Tabasco or head to a local grocer or farmer's market to find some artisanal options. There's a strong possibility that your guests will want to dig into these wedding favours during dinner, so we suggest leaving them on (or near) their plates.
Olive Oil
Every kitchen needs a good bottle of olive oil, so gift some to your guests. Yes, the original flavour will do just fine, but if you want to do something a little different, give one infused with rosemary, garlic or chilli. Pair it with a flavoured Balsamic vinegar to put your wedding favours above and beyond.
Macarons
No, you can't give all your guests a trip to France, but you can take their tastebuds there by offering up macarons as your wedding favours. They can be crafted in just about every colour and flavour under the sun, so you can have them match your wedding's scheme and theme.
Donuts
Ah, yes, everyone's favourite trendy treat. Instead of hitting Tim Horton's and ordering hundreds of honey crullers and Timbits from the poor unassuming drive thru attendant, turn to the experts. They'll be able to whip up some magical favour-worthy pastries that'll have your guests drooling.
S'mores
Take your guests back to the days of summer camp bonfires by gifting them with DIY s'mores kits or s'mores trail mix. Everyone, no matter what their age, loves the tasty trifecta of marshmallows, chocolate and graham crackers, so these are bound to be a hit.
Pick 'n' Mix Sweets
Not sure what to give your guests? Let them choose their own wedding favours. Fill a table with pick 'n' mix sweets like jelly beans, gummy bears, dew drops, mini eggs and more. Don't forget to stock the bar with personalized bags or boxes so they have something to carry their goodies home in.
Find wedding favours on WeddingWire »