12 Creative Ways to Display Donuts at Your Wedding
Thinking about incorporating delicious donuts in your dessert display? Here's all the creative ways to show them off.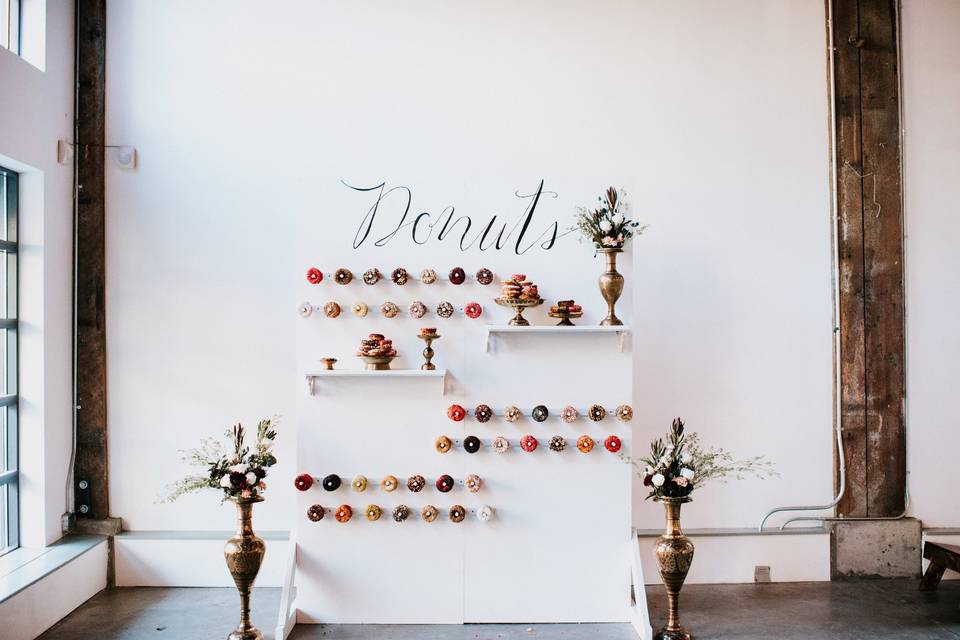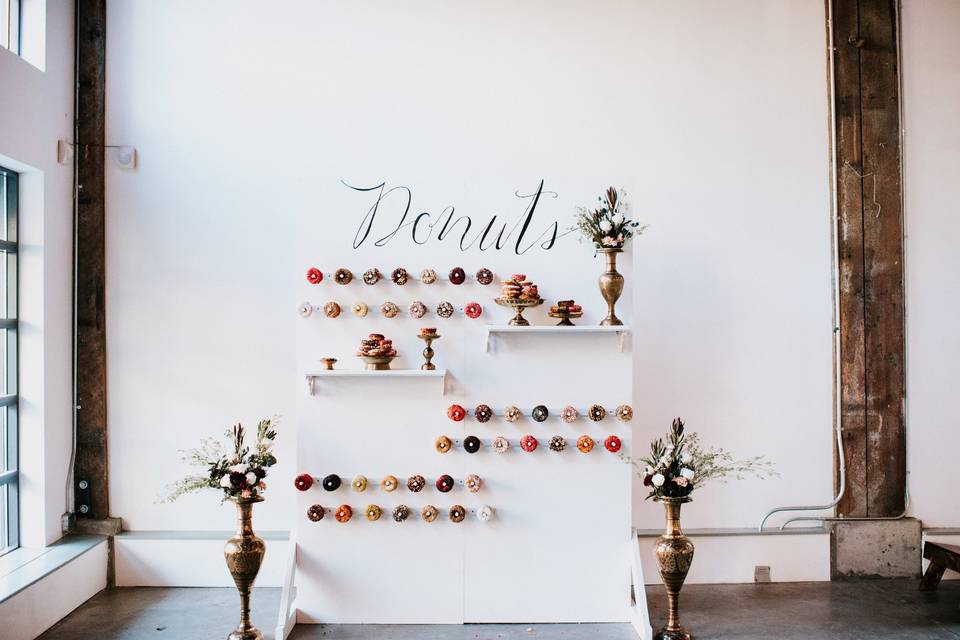 Donuts are one of the trendiest treats on the market today, so, naturally, they're popping up all over the wedding scene. If you're considering adding them to your dessert roster, there are plenty of creative ways to display donuts at your wedding. They can take the place of your wedding cake, be hung on a donut wall or earn themselves a dedicated tray on your sweet table.
Here are a few wedding donut displays worth stealing.
Hang them on a donut wall
Shine the spotlight on your display by creating a donut wall inside your reception venue. Fill it with an array of different flavours and styles and you'll have something that looks more like a modern art installation than a dessert station (guaranteed Instagram material).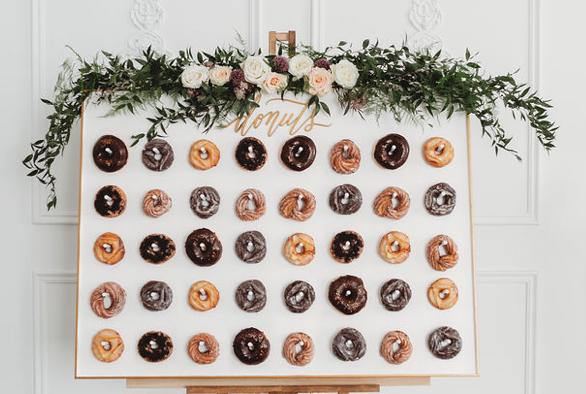 Replace a tier of your wedding cake
Can't decide between a traditional wedding cake and donuts? Good news, you don't have to choose! Get the best of both worlds by replacing one of your confection's tiers with a neatly stacked pile of donuts. This dessert display will pack quite the visual punch, so make sure your photographer gets a shot of it before it's devoured.
Arrange them on a stand
If you want to spice up your sweet table with something a bit different, ditch the multi-tiered cake and go for donuts, instead. Hunt down a stand with multiple levels and layer donuts on donuts - you'll be left with something just as impressive as any four-foot tall cake.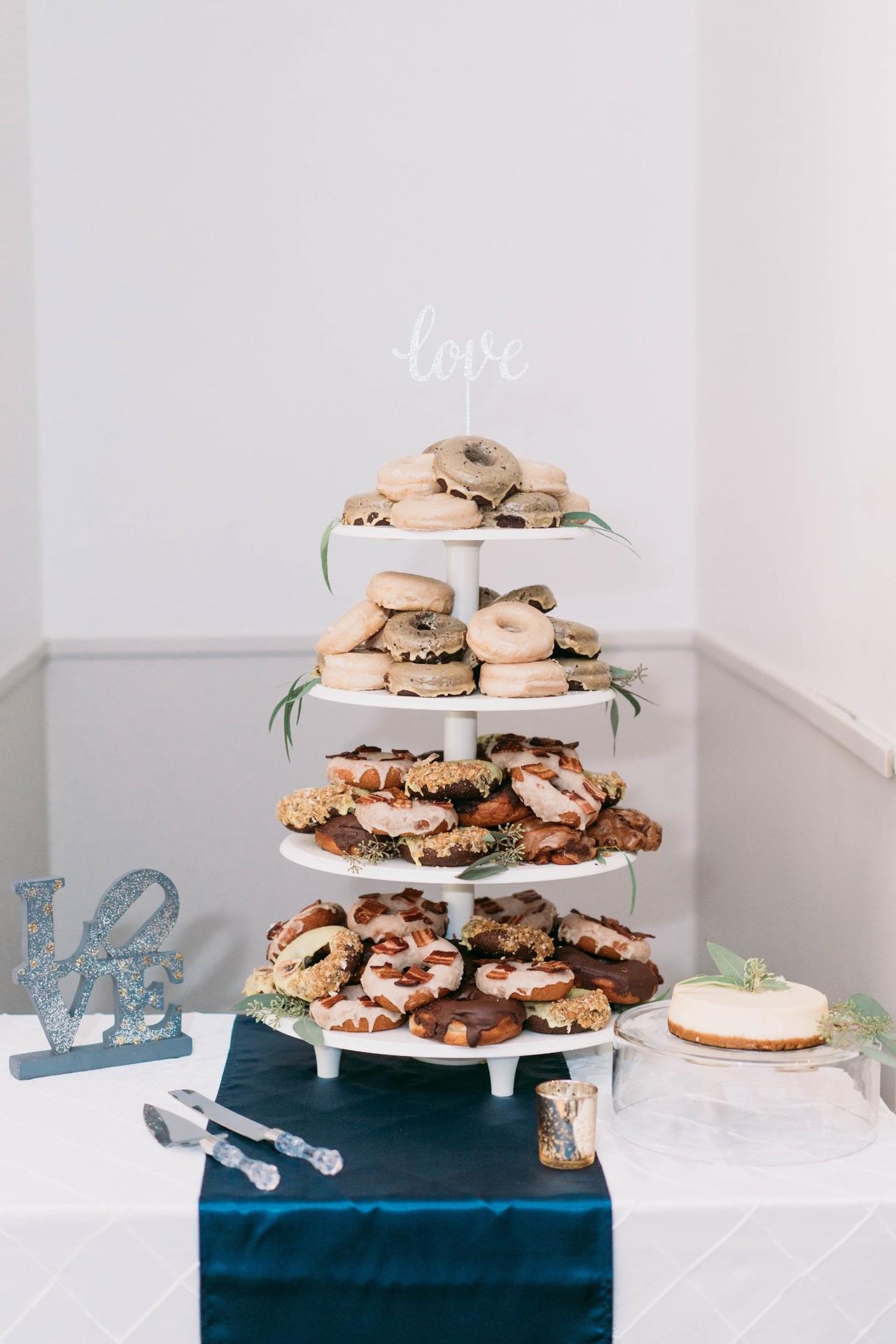 Order a giant donut cake
To take the multi-level concept a step further, you can actually have your baker make a giant donut cake that you can cut into. Supplement it with individual donuts stacked up on tiered platters and you've got a donut-lovers dream dessert display.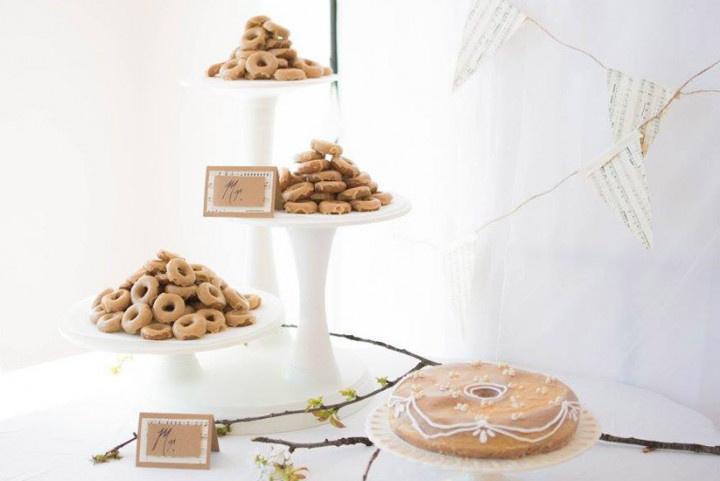 Add them to the top of your cake
Every wedding cake needs a topper. Instead of using miniature renderings of you and your partner, add a few donuts to the smallest tier of your confection. You can even personalize them, like this couple, to look like a bride and groom.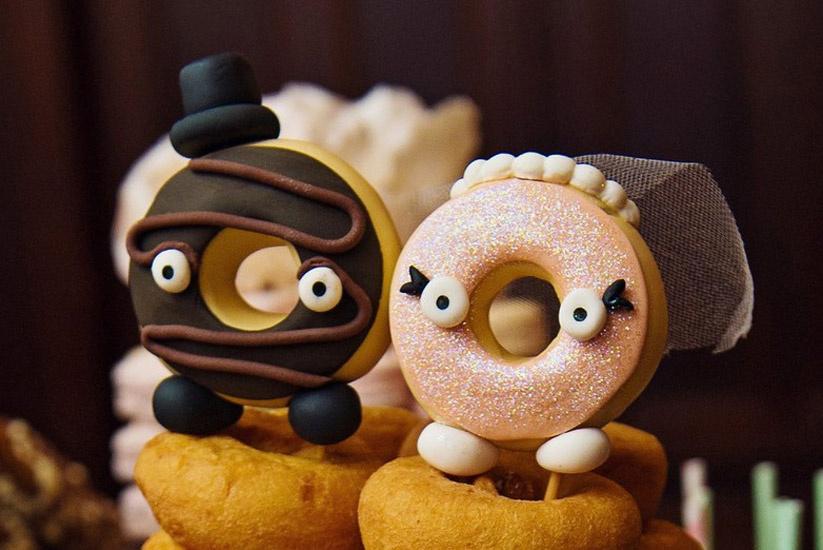 Use them as wedding cake decorations
While many bakers embellish their cakes with fondant designs, spun sugar decorations and flowers, you don't need to follow the status quo. For something truly unique add a few timbits (or full size donuts) to the top of your tiers. You can also use donut walls to amp up your wedding cake table like this one.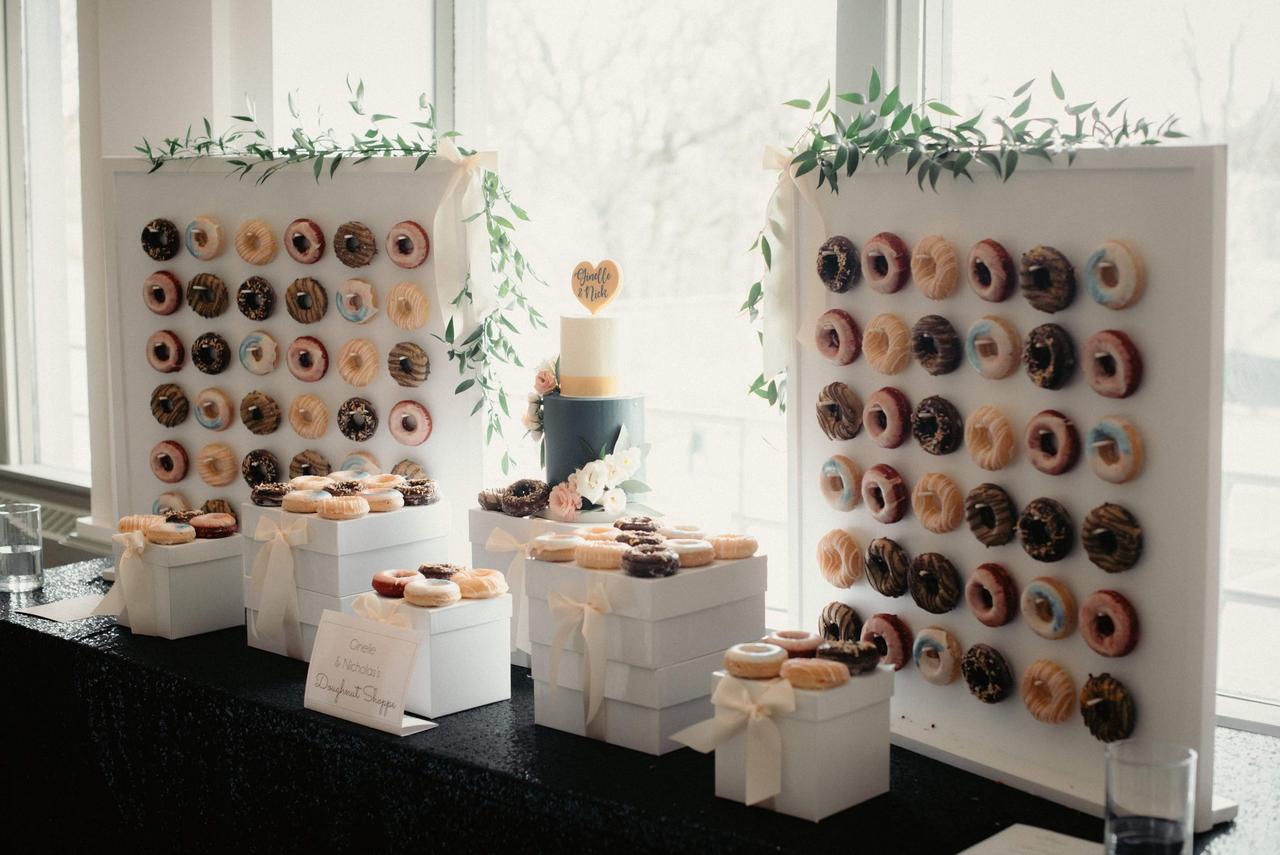 Craft them into a tower
Love the look of macaron towers and croquembouche? Then you'll absolutely adore this option. Swap the traditional french pastries for donuts, and, voila! You've got a chic and indulgent dessert that's just as tasty as it is beautiful.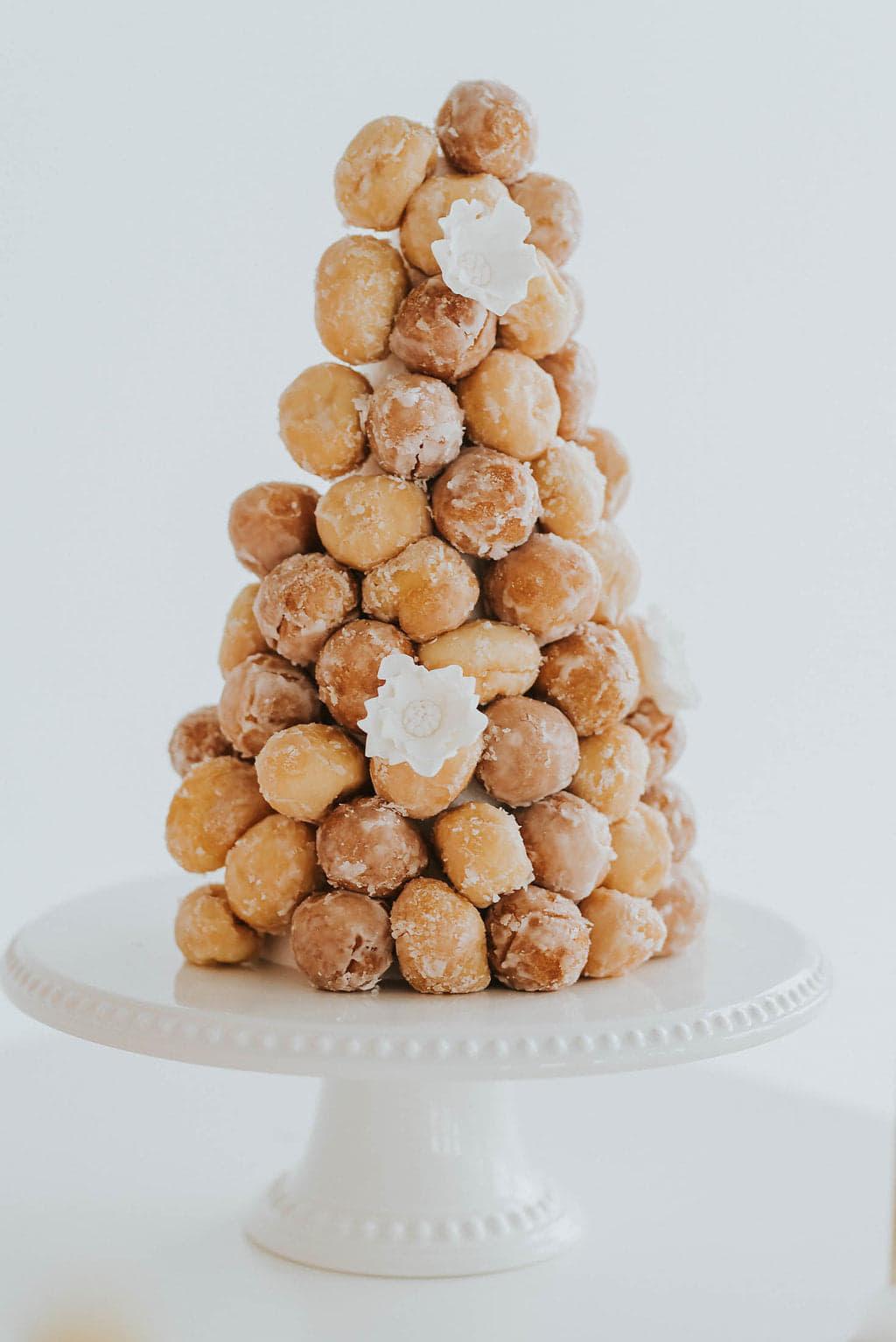 Set up a donut bar
If donuts are the star of the wedding dessert menu, set up a dedicated donut bar. We love this one made with tree trunk slabs and branches — the perfect donut display for a rustic wedding theme!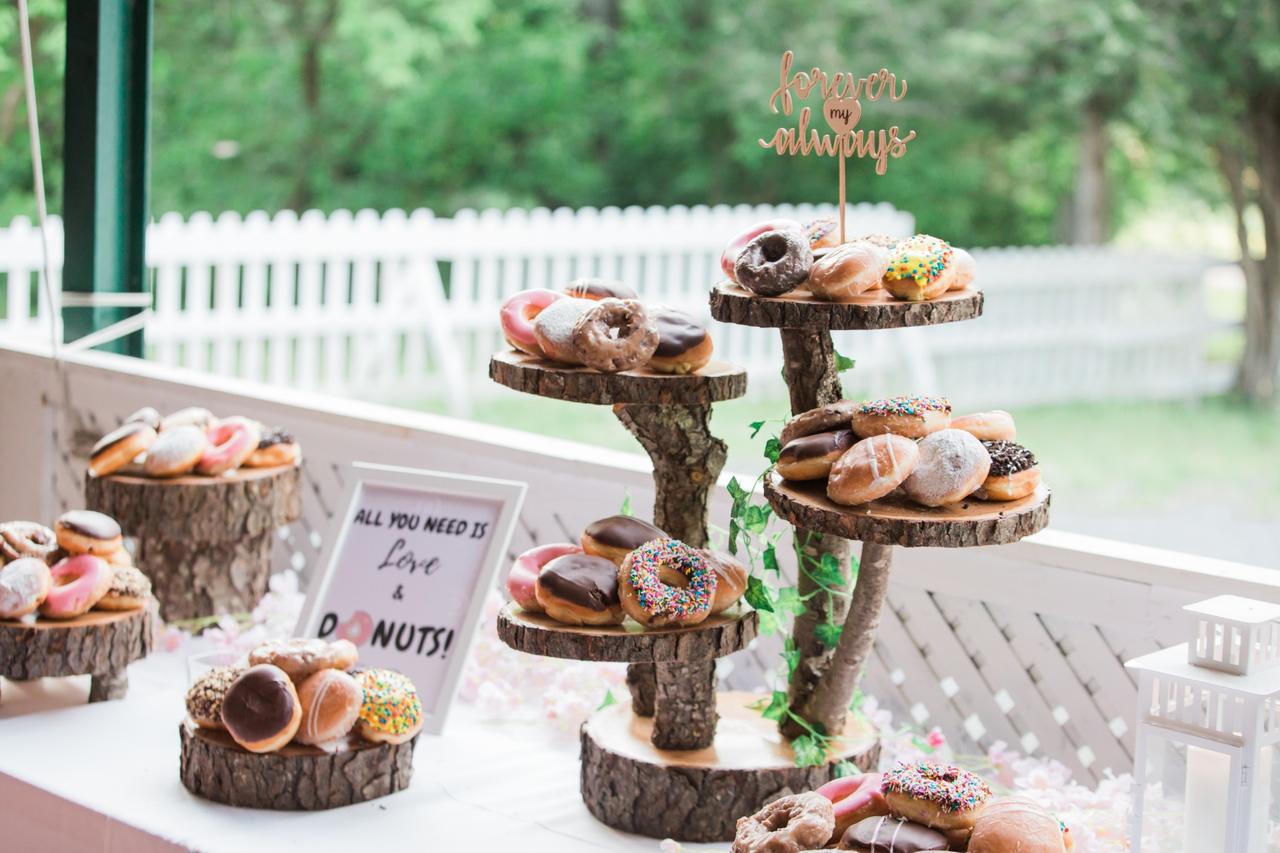 Lay them out on trays
If donuts aren't the stars of your dessert table you may choose to take the tried and true route and display them on trays. This may not sound like the most creative option, but you can still make them look extra festive with the right supplies. Find some cute dishes and platters that match your theme and they'll look just as impressive as any tower.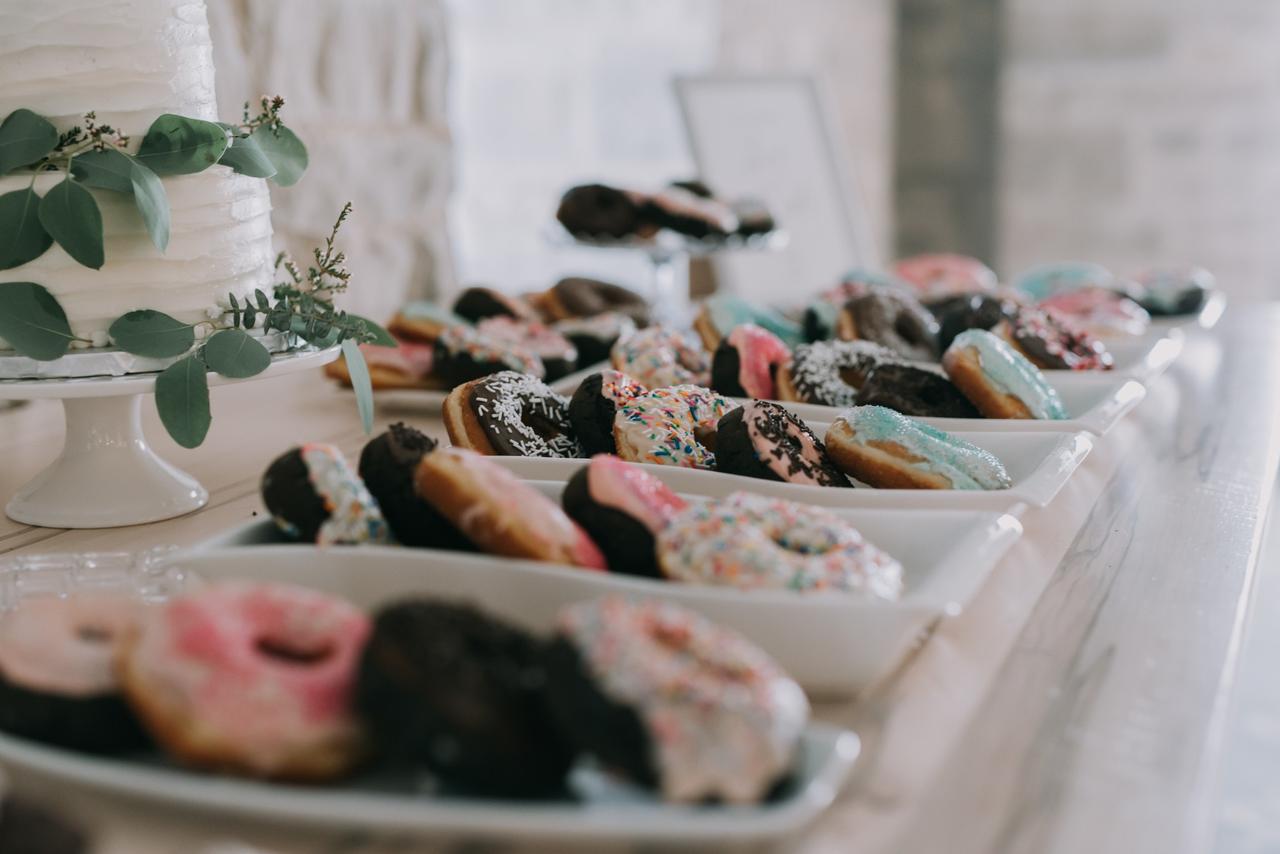 Stack them on pegs
For those in the market for a donut display that's a bit more interesting than your average party platter, there are pegs. Layer your donuts on top of each other to create sky-high stacks that your guests can easily grab. Remember to keep similar flavours on the same peg so that people don't get confused about what flavour they're reaching for!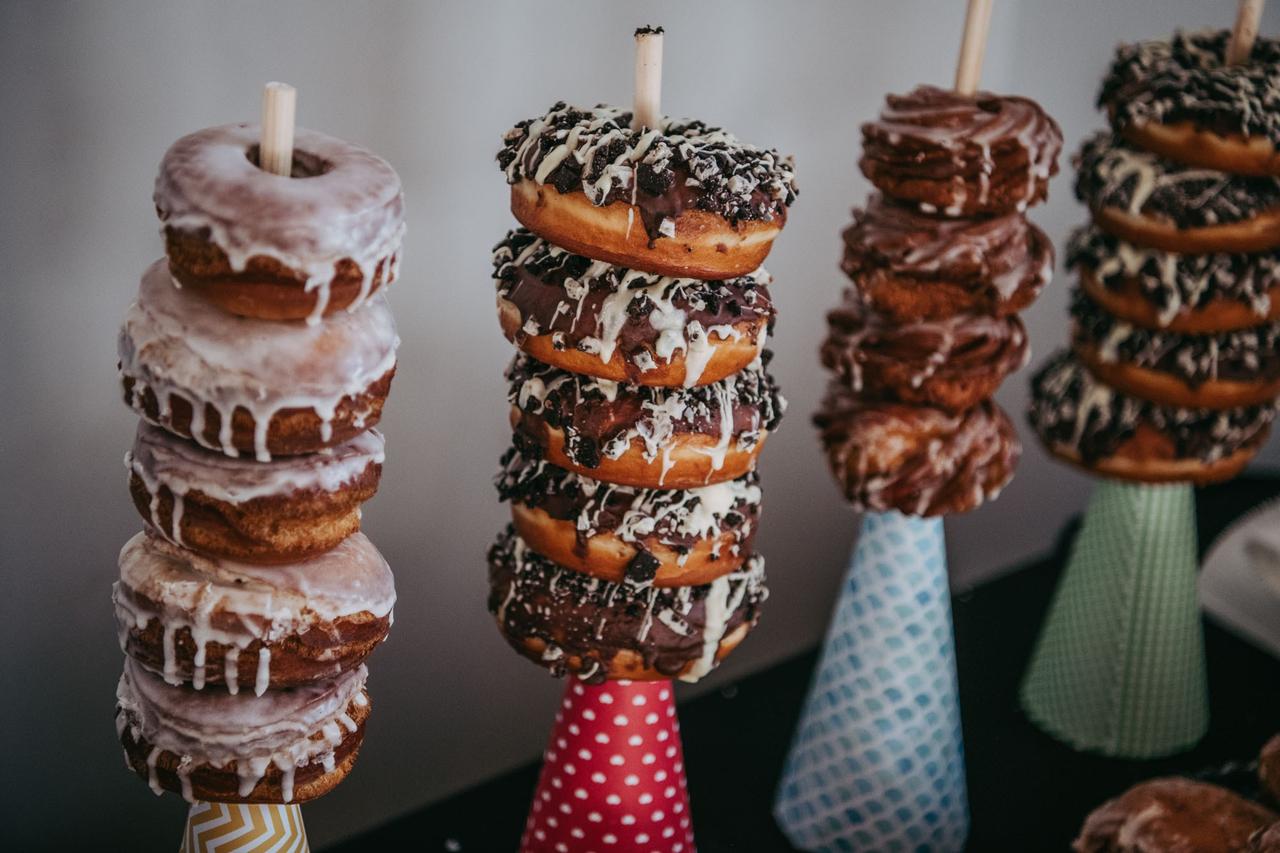 Combine them with a candy bar
If you've got your heart set on offering your guests pick 'n' mix sweets, you don't have to pass on the donut wall — just combine them into one awesome display! Add some treat bags and this can double as foodie wedding favours.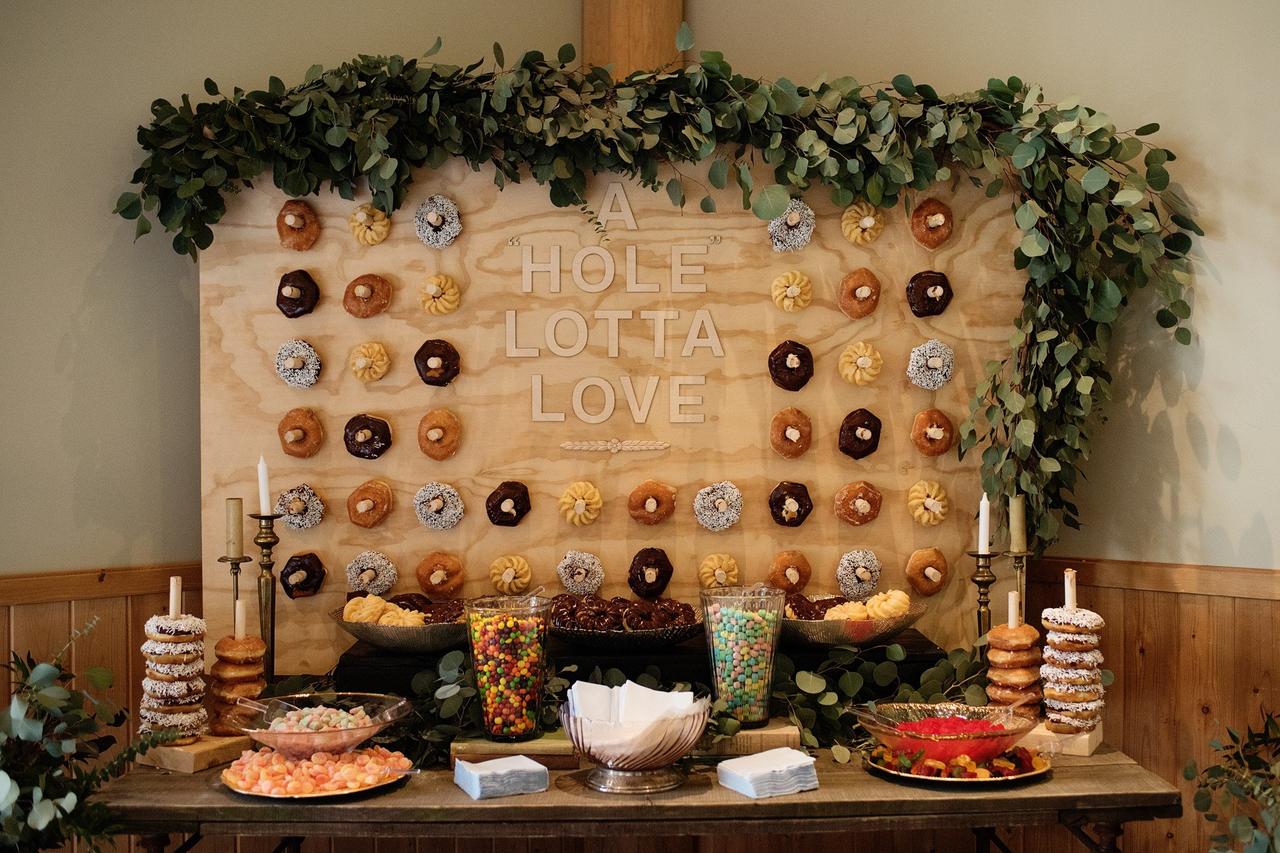 Serve them with a drink
If you love a glass of milk with your treats, here's a cute donut display idea! Hang a donut on a straw with a single-serving bottle of milk (or a shake) for the perfect late-night snack.
Find wedding cake creators and specialized bakeries on WeddingWire »