Pictured here: Squish Candies offers yummy gummies in all kinds of boozy flavours including Prosecco Bears, Bourbon Cubes, Perfect Day Sangria and Pina Colada.
There's no need for the party to end once your wedding wraps. Give your guests some boozy wedding favours so that they can keep the celebration going once they leave your reception (or save it for a rainy day). From actual alcohol to themed utensils, there are a few ways you can incorporate your love of cocktails into your guests' gifts. Pro tip: if you're hosting anyone under the legal drinking age you probably want to order a few different types favours, too.
Here are a few boozy wedding favours your guests will love.
Your favourite alcohol
Treat your guests to some post-party booze by gifting them a pint-sized bottle of your favourite alcohol or a bottle of wine. This is a great way to introduce your pals to local distilleries and wineries, so think about trying something crafted in or around your neighbourhood.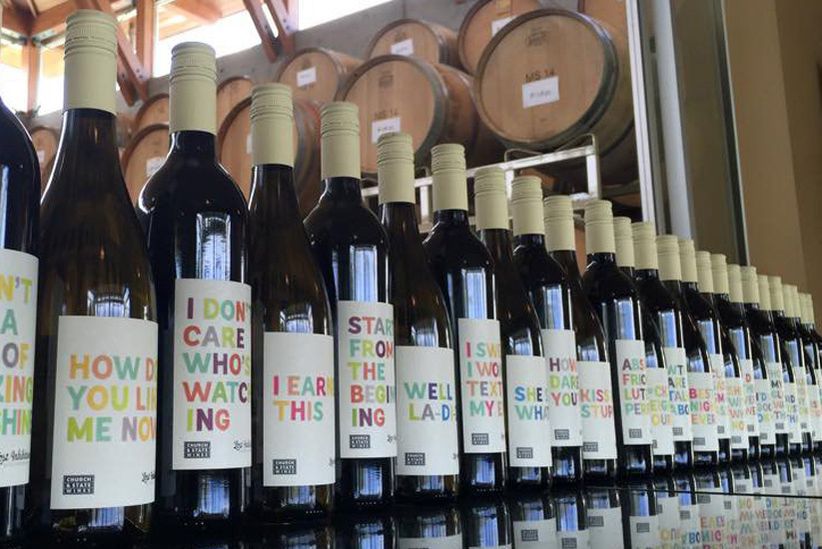 Champagne
Allow your friends and family to keep the party going by giving them their own personal bottle of champagne to pop. No, it doesn't have to be the real deal, itty bitty bottles of prosecco will do just fine (no need to break the bank!). Tie a bow and straw around the neck of each bottle and, voila! You've got some adorable little favours on your hands.
Drink garnishes
No drink is complete without a garnish. Yes, fresh lemon and lime slices are fine for bars, but why not give your guests something a little swankier as favours? Add bottles of artisanal cocktail cherries, preserved orange slices or stuffed olives so that they can take their homemade boozy beverages to the next level.
Bitters
Help your guests up their beverage game by giving them bitters as favours. If they stick strictly to vodka sodas and rye and gingers, these might encourage them to start thinking outside the box. Want to go the extra mile? Consider tacking on a drink recipe for a little bit of inspo.
Boozy treats
Embrace your love for cocktails and sweets with wedding favours that combine both. Gourmet gummies, Mimosa macarons, Gin and Tonic cupcakes and mason jar tiramisu are just a few possibilities - the options are endless.
Shot glasses
These make for great favours because you can tailor them to your wedding theme. Hosting a tropical affair? Find some cute pineapple glasses to gift your guests. Maybe you're doing something on the swankier side? Sleek metallic shots might be just what you need. If you're going for plain and simple glasses, consider stamping them with your monogram to make them a touch more festive.
Bottle openers
Bottle openers come in all shapes and sizes, so get creative. Instead of going for a run of the mill option, hunt for something unique that'll really impress your guests. Keys, antlers, music notes and just about everything in between can be crafted into beautiful bottle openers. Find one that suits your wedding theme or plays off of your favourite hobbies to infuse the keepsake with more meaning.
Find wedding favours on WeddingWire »