6 Ways to Keep the Party Going All Night Long
Your party doesn't need to end after your reception. Here are some tips on getting your guests to party with you until the wee hours of the morning.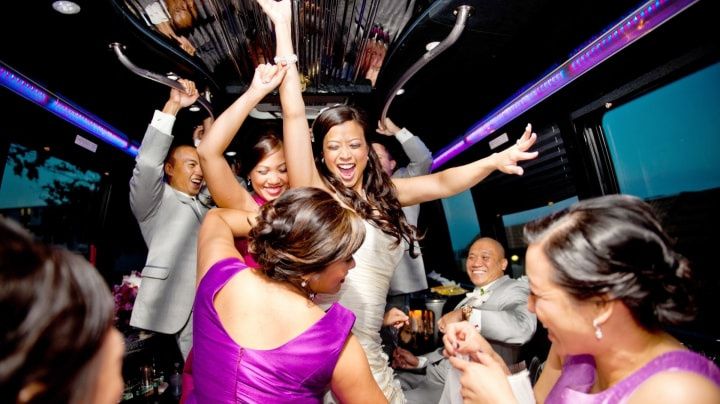 On your wedding night you should be embracing the wise words of Lionel Richie and making your party last all night long. To get your guests to sing, dance and fiesta forever, they may need a bit of extra encouragement. Once the band has started packing up their instruments, the vendor staff has begun clearing the tables and your guests have traded in their heels for flats, use these tips and tricks to entice them into staying.
Here are a few ways to keep the party going all night long.
Make a late night menu
We've all experienced those late night hunger pangs that beckon us out of the bar and toward the closest drive thru like a siren song. Well, swap in the word "bar" with "wedding reception" and you'll see where this is headed. Even the most dedicated partygoers will want to hit the golden arches at some point, so save them the car ride and provide the food right there at your venue before heading out to the after party. You don't need to purchase any fancy shmancy dishes – just go with fun, late night snacks, like pizza, sliders or tacos.
Invite them out
Don't forget to tell your guests about your after party. Post about the bash on your wedding website or task one of your trustworthy (AKA not inebriated) wedding party members with letting your guests know that the party will be going until the wee hours of the morn.
Book transportation
If your guests need to find designated drivers they may be tempted to split early. Want them to stick around until the very end? Hire shuttles, pay for cabs or pony up the extra cash and order a limo or two to take your group from place to place. Not having to worry about transportation is a lifesaver, especially when they've had an extra shot or two.
Rent out your favourite bar
Only able to hang around your reception venue until eleven or twelve? Rent out your favourite watering hole and host an after party for you and all your night owl pals. Your grandparents and baby cousins probably won't be joining you for this part of the evening, so feel free to let loose and go a little wild.
Karaoke!
Karaoke is a surefire way to get your guests to stick around, so if you can book a karaoke bar or rent a machine, do it. Sure, you could let them scream-sing along to your pre-planned playlist but giving them the option to harness their inner Mariah Careys is never a let down. Bonus: you'll be able to capture some pretty hilarious moments on Snapchat.
Move it to the hotel
As a wise man (R. Kelly) once said, "after the show it's the after party, and after the party it's the hotel lobby". While you may not want to kick it in the lobby of your hotel, you should take advantage of its resources. No, we're not suggesting that you bring all your friends to your suite, but you can ask them to play host in their rooms. Make sure you have a few bottles of alcohol at the ready so that you don't rack up impressive mini bar bills.
Search for wedding entertainment and transportation on WeddingWire »