15 Creative Ways to Display Wedding Escort Cards
Don't have a clue how you want to display your wedding escort cards? You'll find all the inspo you need right here.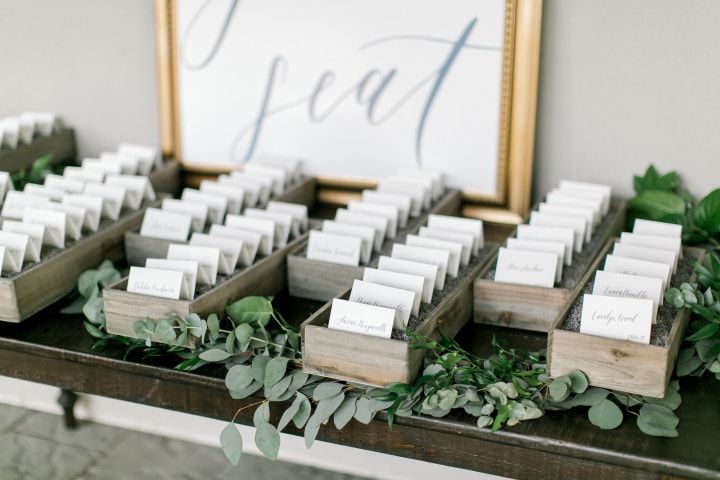 Thinking of going with wedding escort cards instead of a traditional seating chart? Well, we've got a few ideas for you! From hanging them on your welcome sign to creating a unique work of art, there are plenty of ways to show 'em off. These unique ideas from real weddings are sure to get those creative juices flowing, so read on.
Here are a few creative ways to display your wedding escort cards.
On your welcome sign
Give your guests the chance to grab their escort cards upon arrival by fastening them to your welcome sign. Make sure to choose a colour scheme and theme that matches the rest of your wedding decor.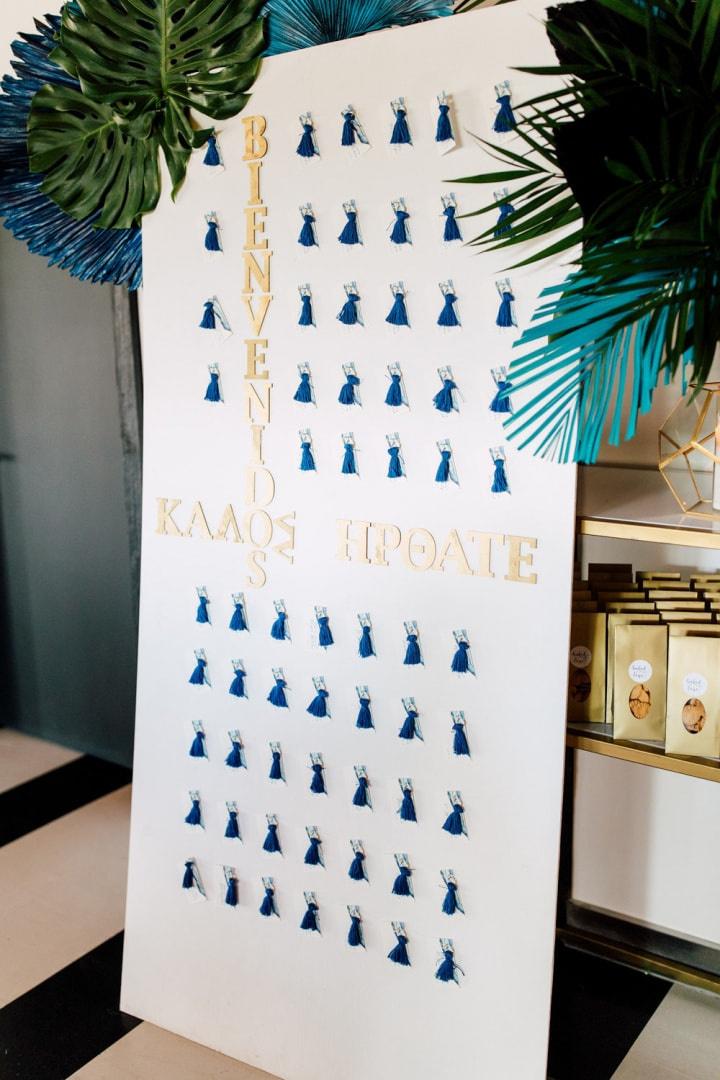 With a treat
Give your guests their seats and a bite to eat by pairing their wedding escort cards with a tasty treat like a donut. This will ensure that no one gets hangry before the first course arrives.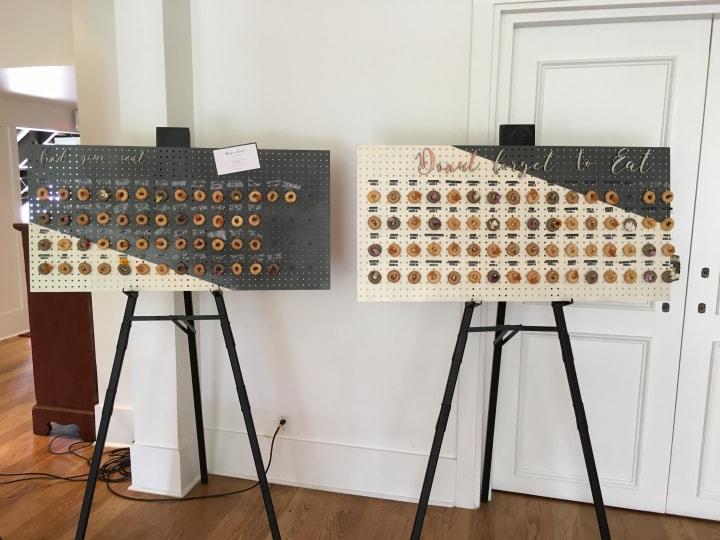 As an art installation
Make your wedding escort cards the main event by turning them into mini works of art and displaying them on a massive canvas. We love these watercolour designs, but you can choose anything that suits your wedding theme and style.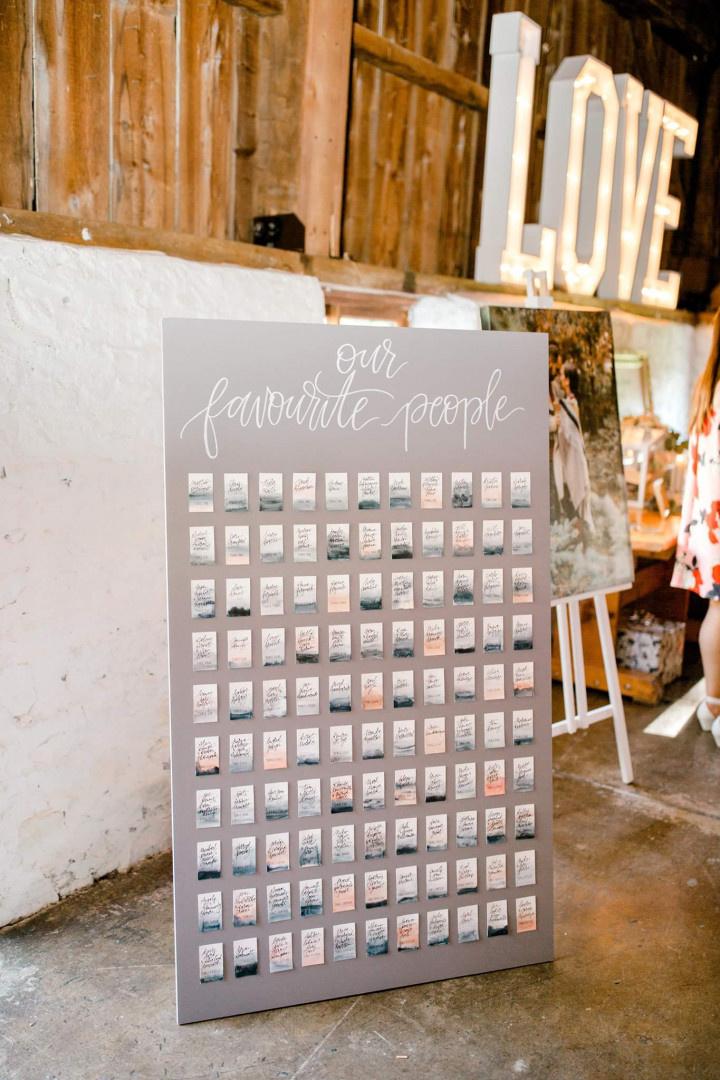 On an industrial-chic metal grid
For those looking to display their wedding escort cards in an edgier way, we recommend using and industrial-chic metal grid. If you want to make it a touch trendier, find a metallic copper, rose gold or yellow gold grate to fasten your cards to.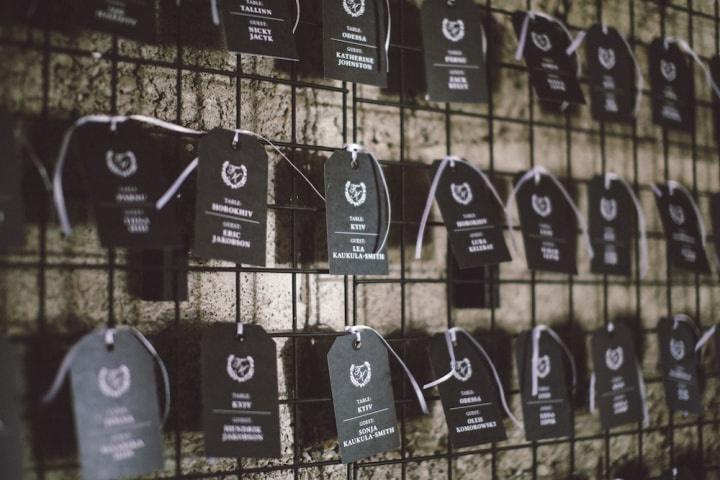 On a rustic chicken wire backdrop
If you're having a countryside or rustic wedding, think about using a sheet of chicken wire to hold your escort cards. For those who want to amp it up, you can hire a calligrapher and add a few blooms, linens or other decorative touches to make it really eye-catching.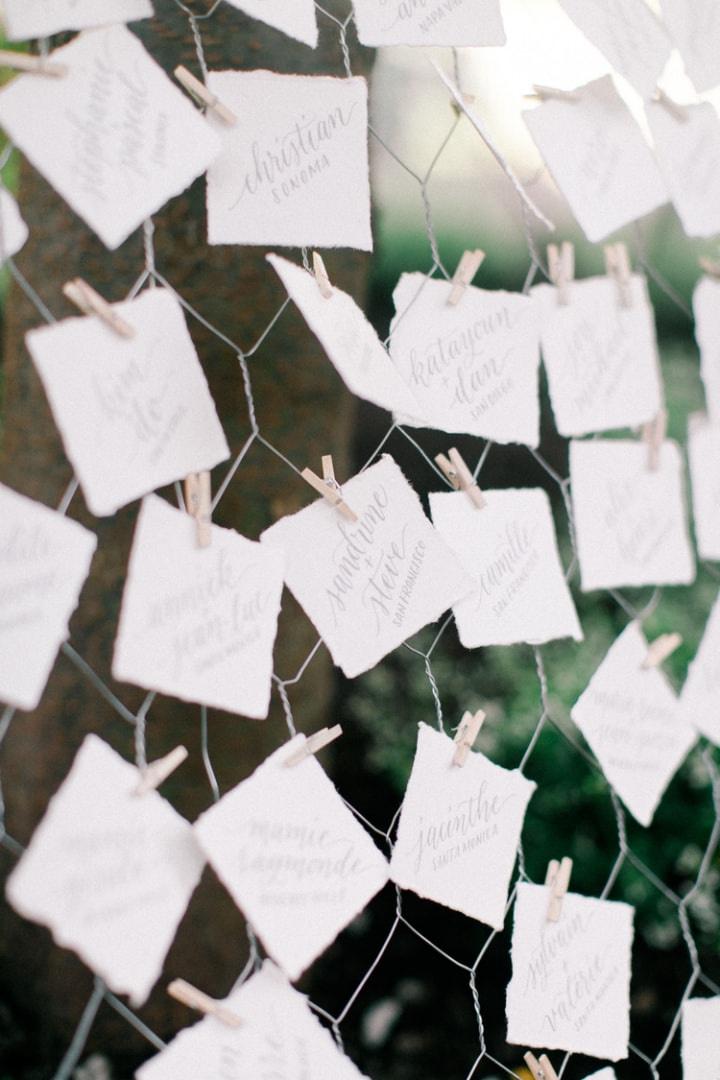 In your own DIY woodland
Hosting a whimsical fairytale wedding? Show off your escort cards on a mossy backdrop with vintage keys and wildflowers. It'll make your table map look like something out of a Disney movie.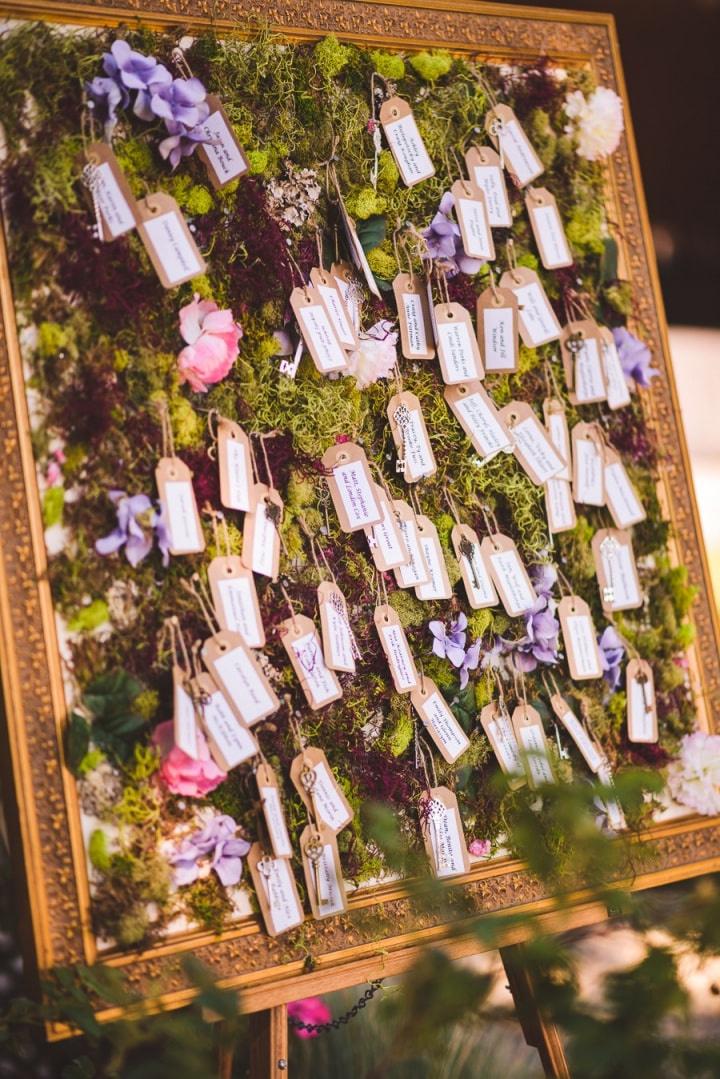 On trees
Create an adorable little forest of perfectly manicured trees and use their branches and leaves to hold up your escort cards. This is an awesome option for a greenhouse or garden wedding but really works for any style of celebration.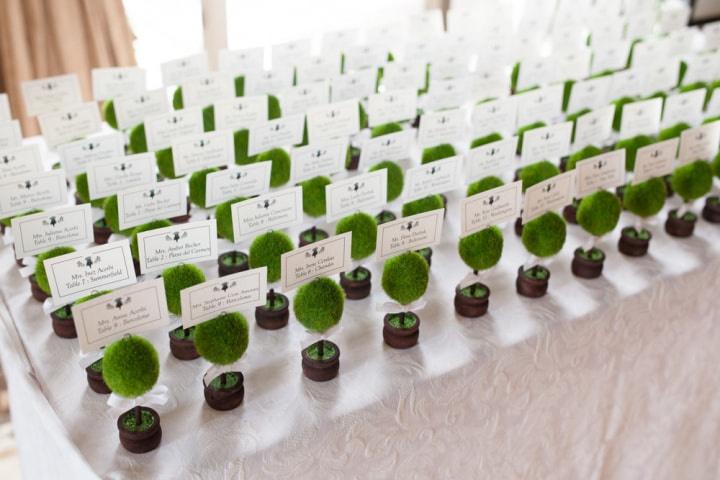 On garlands
Hang garlands or pieces of twine and fasten your escort cards to them using clothespins or colourful clips (whatever suits your style). You can easily jazz them up with some baubles or bits of greenery.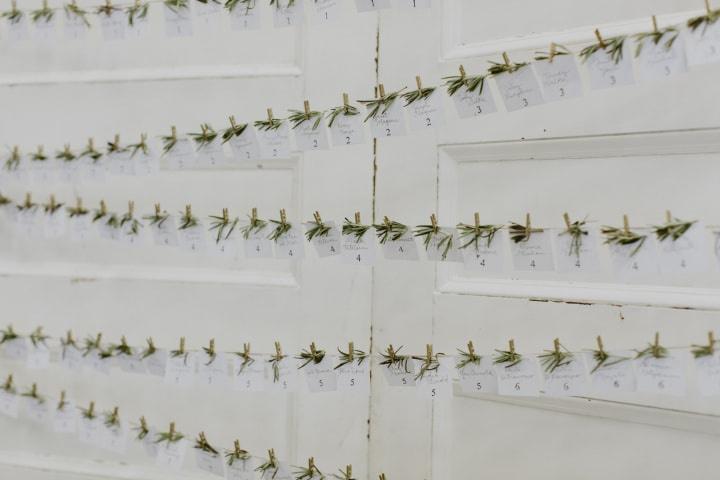 On ribbons
Give your wedding escort card display a dreamy, artsy vibe by fastening each name to a piece of coloured ribbon. You'll want a clean backdrop for this, so we suggest choosing a bare or brick wall.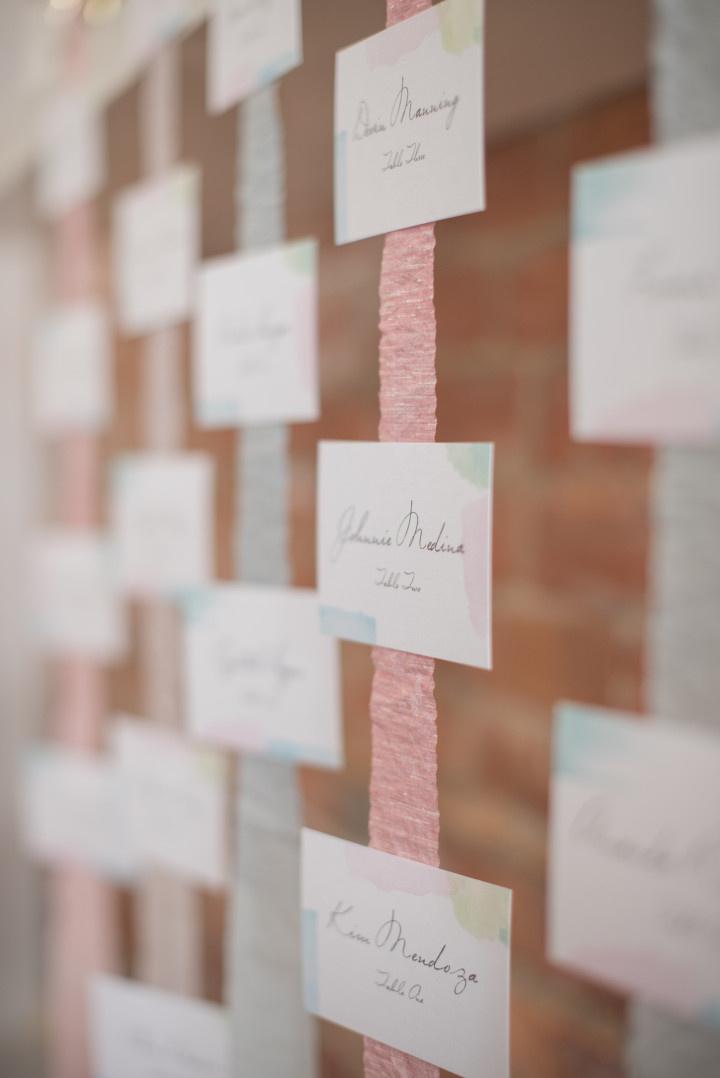 With the help of Lego men and women
Embrace your inner kids and have Lego men and women hold up your escort cards. If you'd prefer to skip the characters, you can create DIY holders out of Lego blocks, instead (but it'll take a little extra work).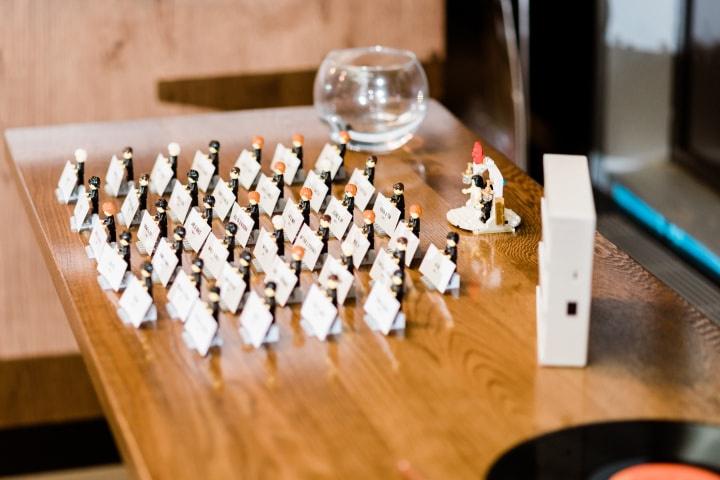 With a round of shots
Want the party to start as soon as your guest arrive at your reception venue? Get everyone in the mood for a good time by offering up a shot of your favourite boozy beverage with each escort card.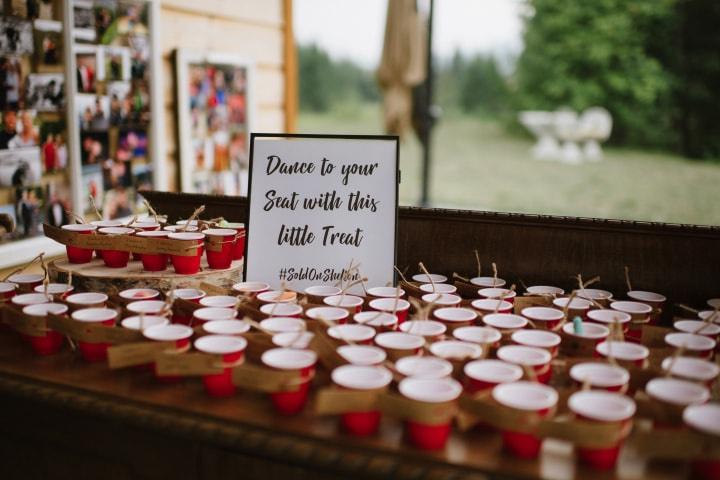 With wine corks
Whether you're having a winery wedding or are simply looking for a creative way to show off your escort cards, wine corks will do the trick. If you want to save a bit of money, you can ask your friends and family to donate their corks in the weeks leading up to your big day.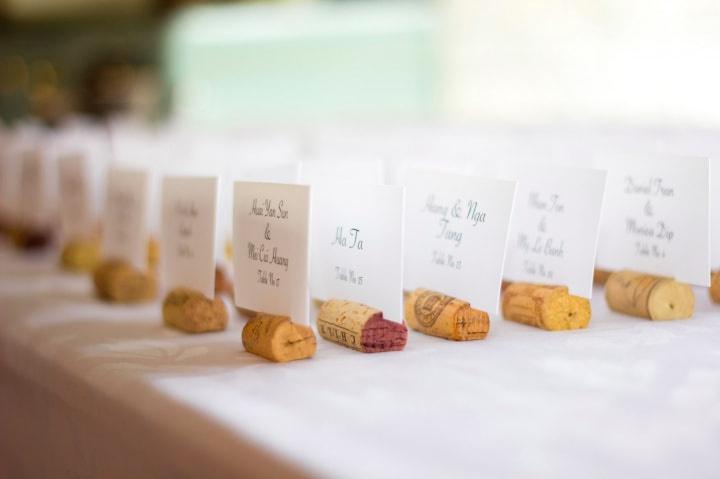 With luggage tags
Show off your love of travel by displaying your escort cards with luggage tags. These double as wedding favours, so make sure your guests know to take them home at the end of the night!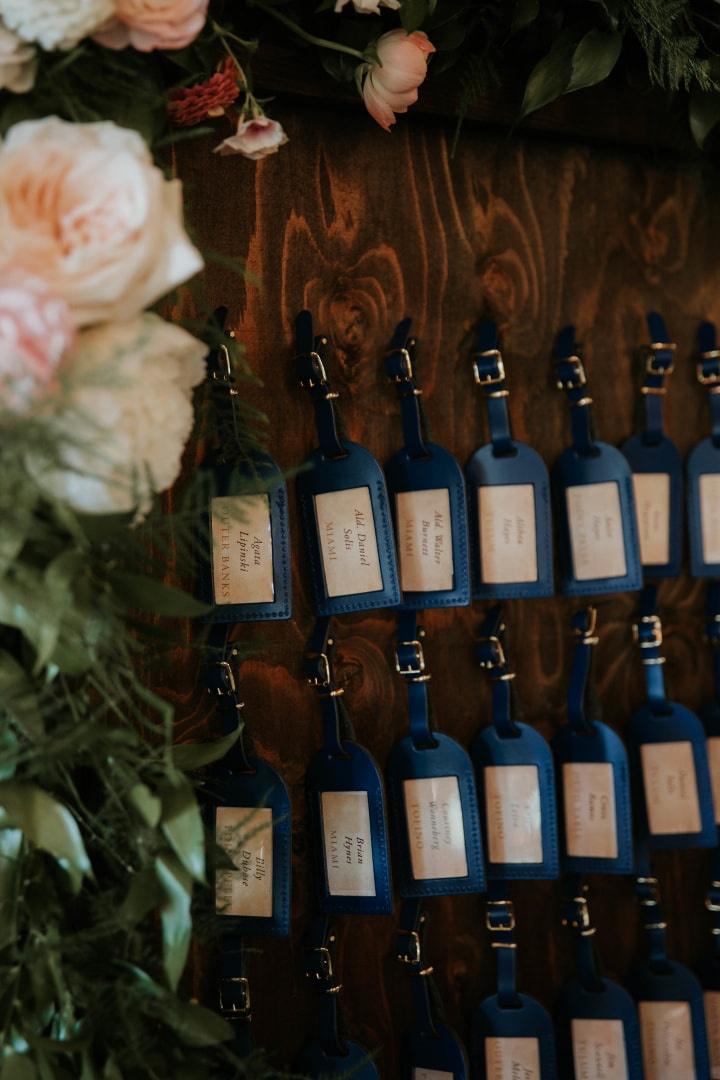 With a mini zoo
If you and your partner are total animal lovers, follow this couple's lead and use tiny elephant, lion and giraffe figurines to hold up your escort cards. Of course, you can use whatever wild things suit your fancy - be that dogs, cats, fish, dinos or something completely different.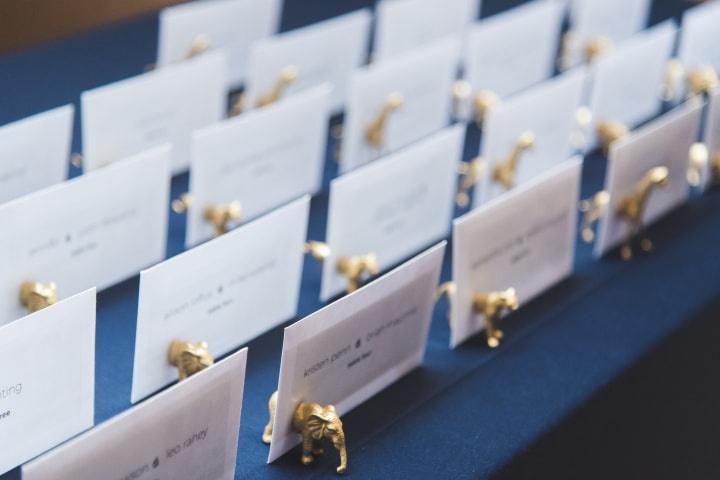 With twigs and sprigs
Give your escort cards a woodsy element by displaying them with the help of tiny twigs and sprigs. This option is perfect for rustic-chic, woodland or winter weddings and is super easy (and inexpensive) to DIY if you have the time.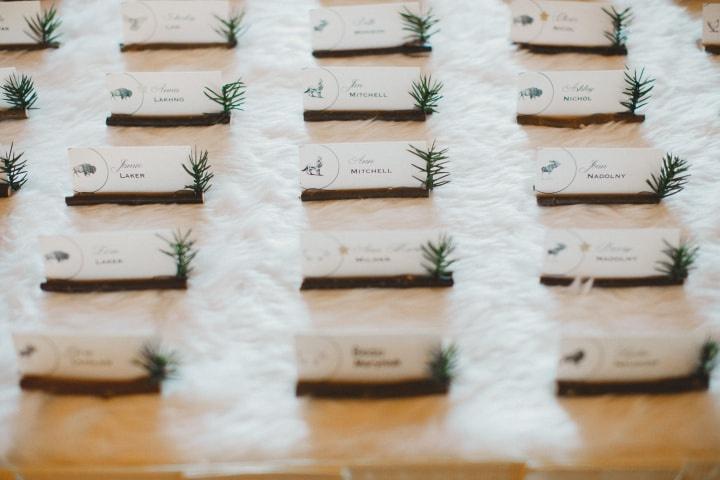 Find wedding decorations, stationers and event rentals on WeddingWire »