21 Awesome New Year's Eve Wedding Ideas
Planning on hosting your wedding on the last day of the year? Here are a few New Year's Eve-worthy ideas for you.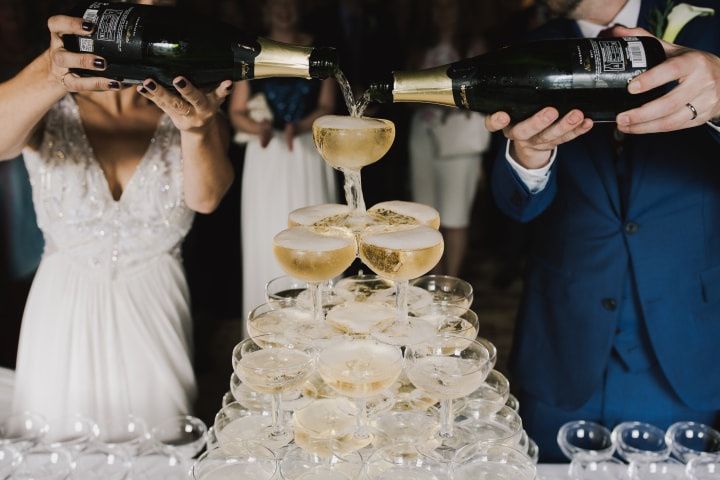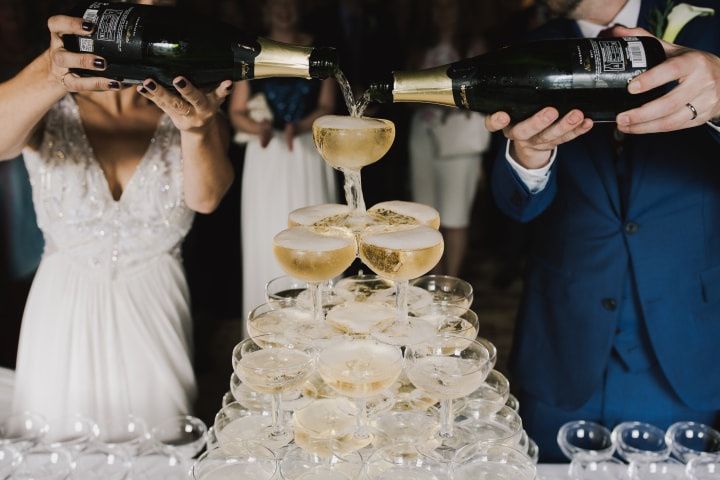 New Year's Eve soirees are awesome, but do you know what's even better? A New Year's Eve wedding. It gives you an excuse to really go wild and take your party to the next level. Speaking of which, we've got a few suggestions for you. From New Year's Eve wedding reception decorations and dress suggestions to wedding stationery designs and menu tips, you'll find it all here.
Here are a few awesome New Year's Eve wedding ideas.
Clock-themed stationery
Once you've hammered out important details like your wedding venue and exact times for your ceremony and reception, you can get to work on your wedding stationery. We suggest going with a clock-themed design to give a nod to the holiday.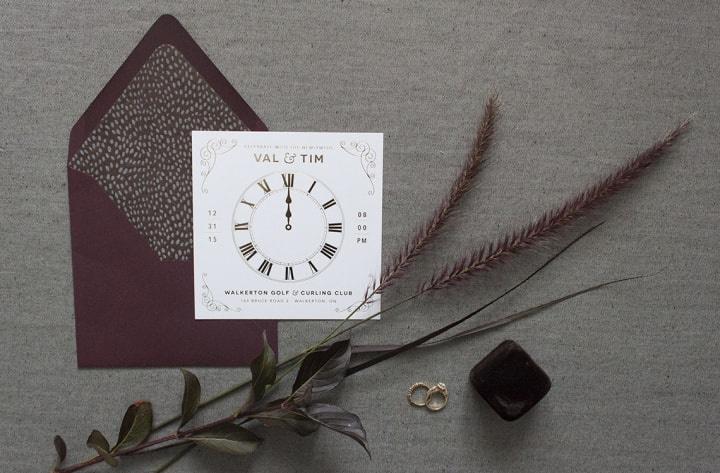 Bold wedding dress
Take your bridal ensemble above and beyond with a blinged-out or gold wedding dress. If ever there was a time to be a bit extra it's your New Year's Eve wedding.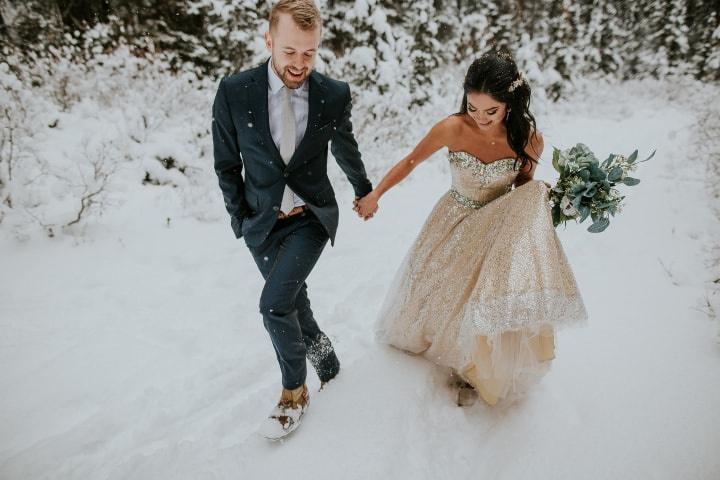 Gold wedding shoes
Complete your look with a pair of shiny wedding shoes. If you don't do well in sky-high heels, you can always rock a pair of blinged-out Converse or boots, instead.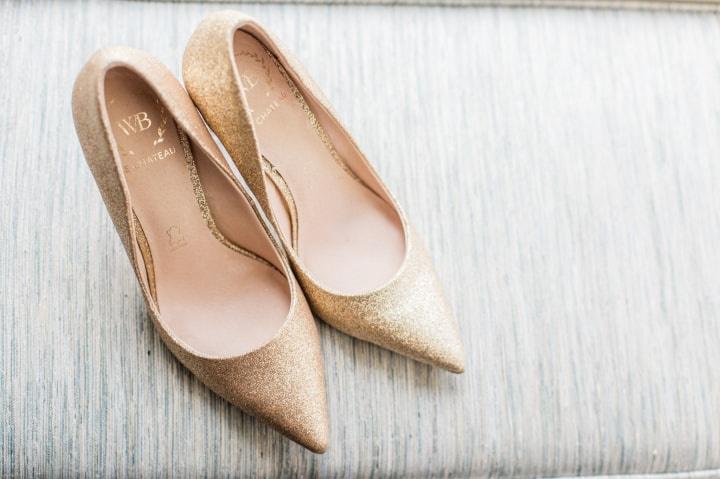 NYE-worthy bridesmaid dresses
You want your squad to look as glam as ever on your big day, so ask them to wear shimmering, short party dresses instead of floor-length gowns. Your girls will look amazing and be able to bust a move on the dance floor without ripping any hems.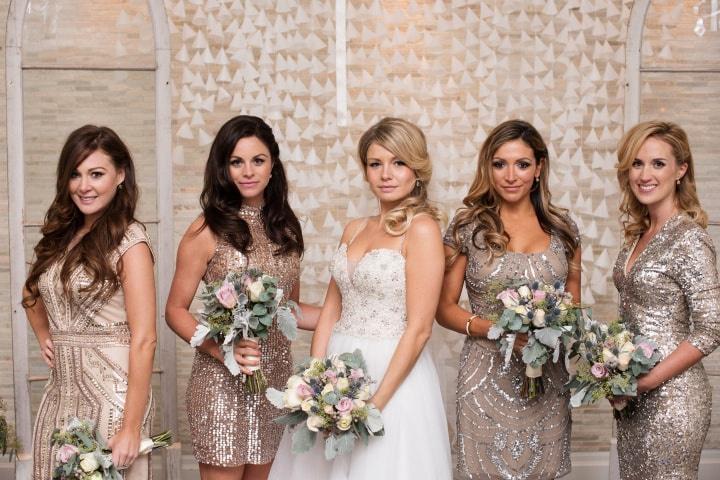 Clock altar backdrop
Because it's NYE, everyone is bound to be watching the time. To make sure their eyes stay fixed on you (not their watches) during your ceremony, use a giant clock as your wedding altar backdrop.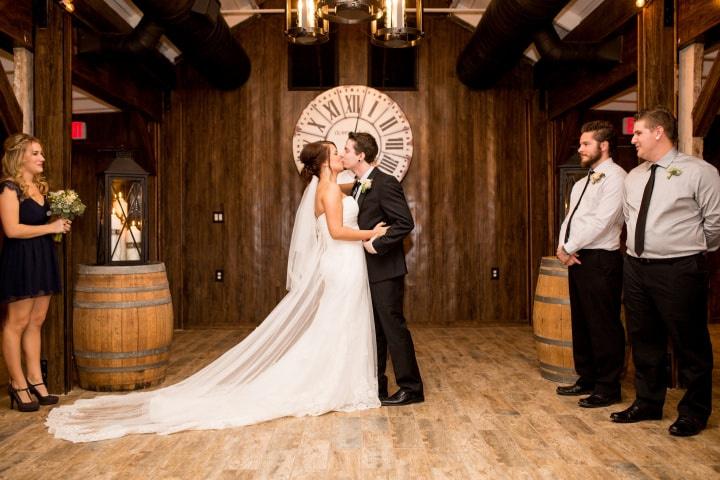 Chandeliers
New Year's Eve wedding decor is all about elegance and extravagance, so we suggest trading in your basic lighting fixtures for luxurious chandeliers.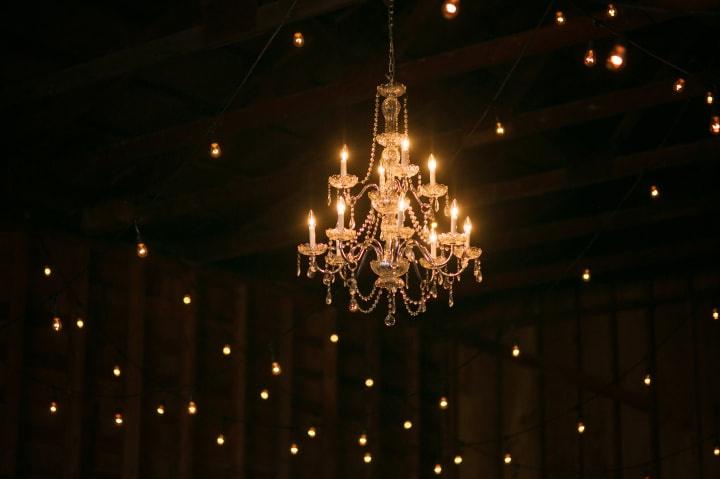 Cocktail-style catering
Skip the formal plated dinner and opt for cocktail-style catering for your New Year's Eve wedding menu so that your guests can mix and mingle while they munch on canapés, sliders and bite-sized versions of their favourite foods.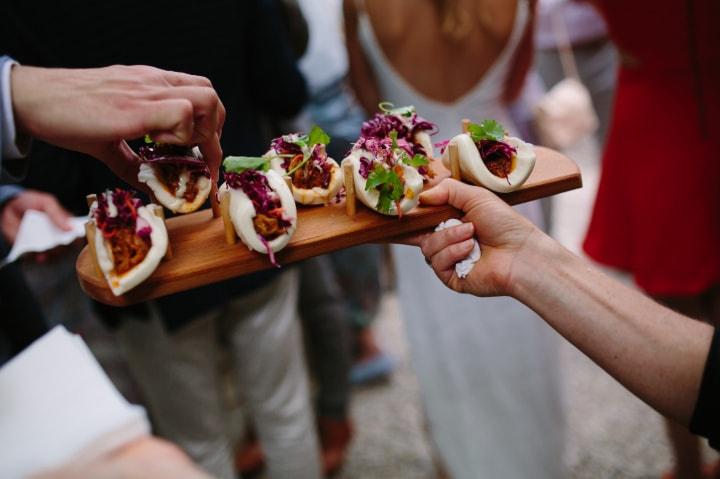 Plenty of champagne
As for drinks, champagne (or sparkling wine) is an absolute must. We suggest adding a festive champagne-based cocktail to your menu, too, for something a touch more special.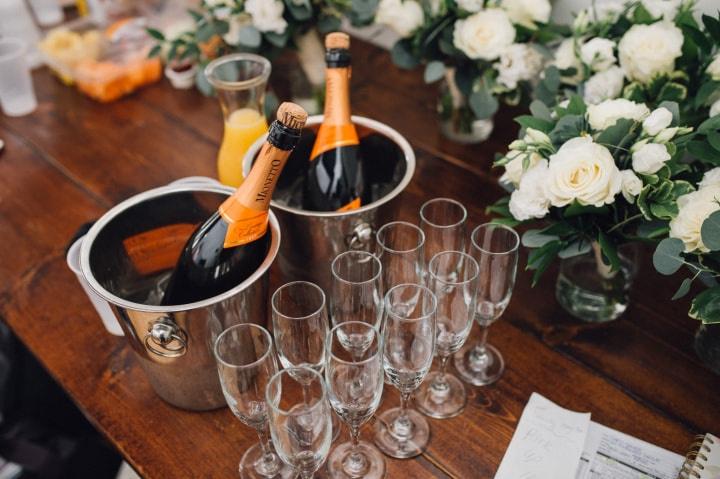 Metallic wedding cake
Dress up your winer wedding cake in a celebratory metallic shade to make it really stand out among the other sweet treats on your dessert display. Bonus: Here are 7 Metallic Wedding Cake Ideas We're Totally Obsessed With.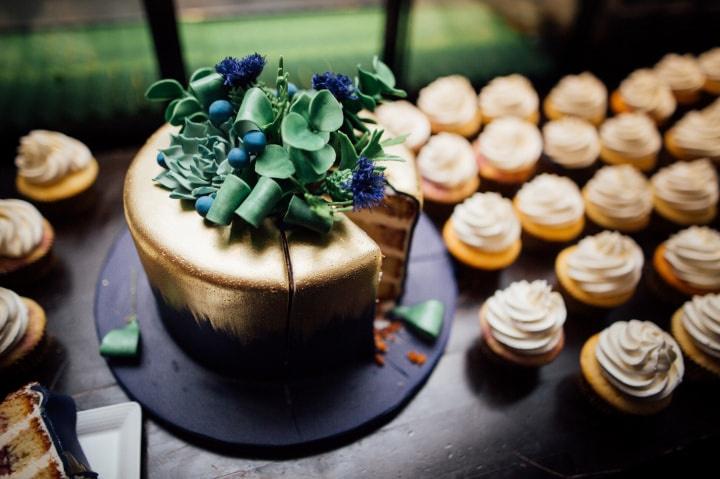 Clock centerpieces
Forget the floral centerpieces - use clocks as the prime decor for your reception tables so that everyone knows when the midnight hour is approaching.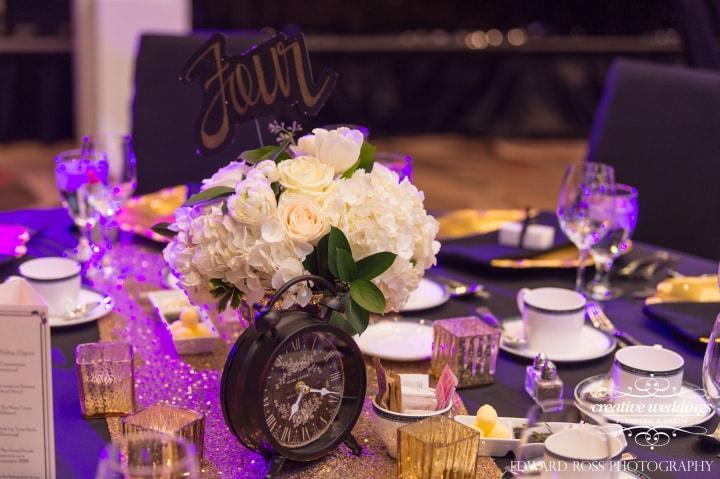 Glittering tablecloths
Amp up your tablescapes by opting for metallic tablecloths instead of plain 'ol white linens for dazzling New Year's Eve wedding decor. Pro tip: These can get pretty expensive if you're hosting hundreds and hundreds of guests, so you may want to save them for important tables, like your buffet, dessert display and head or sweetheart table.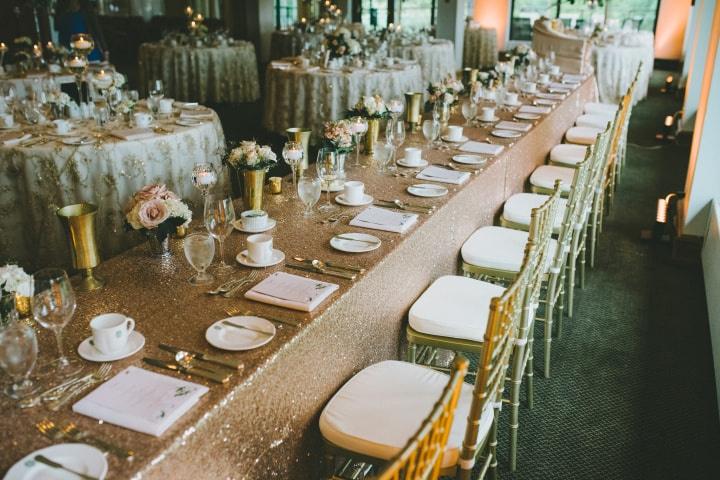 Party hats
Get everyone in the mood to celebrate by giving out party hats at your reception!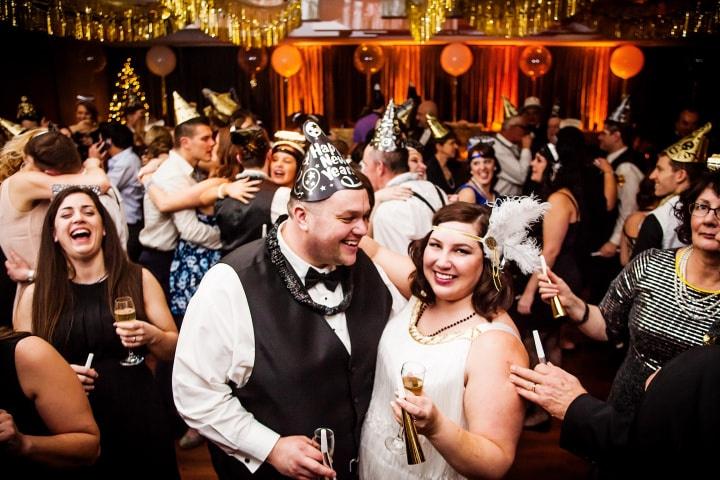 Photobooth
What's a party without a wedding photobooth? Make yours NYE-worthy with a metallic or sequin backdrop and fun props like champagne glasses and party hats.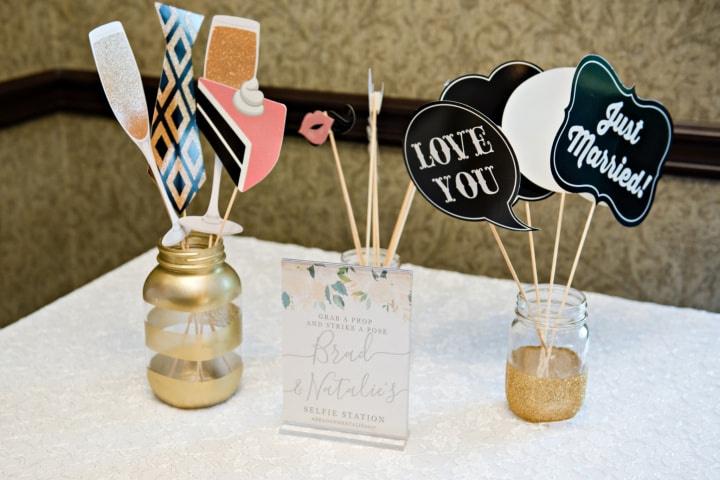 Balloons
For celebratory New Year's Eve wedding reception decorations, fill your space with balloons that match your colour scheme (gold, silver, white and black are super popular for NYE). If you want to go that extra mile, order number balloons that display the upcoming year and use them as the backdrop for your altar or head table.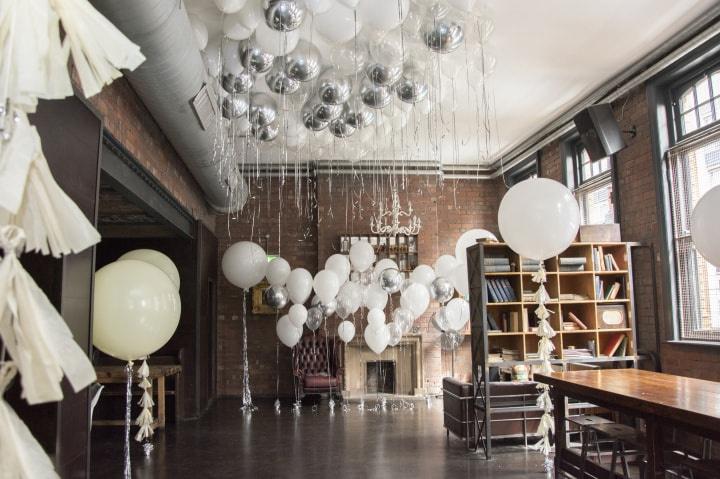 Sparklers
Light up the night by giving your guests sparklers to play with at your reception. You'll definitely want your photographer around to snap pics - they look awesome on film.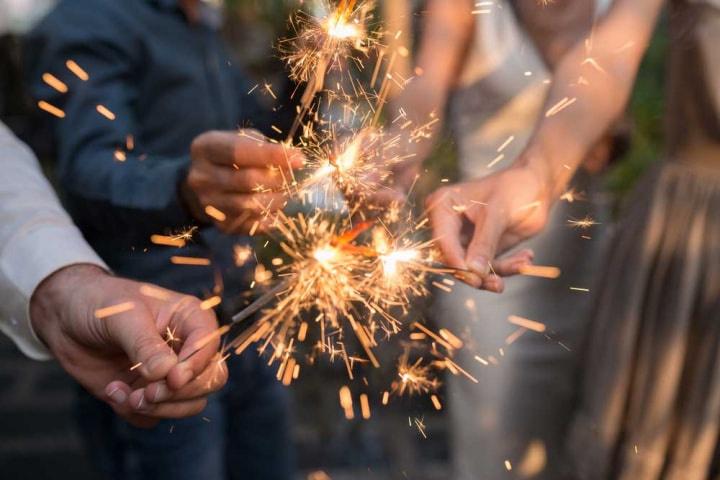 Confetti
When the clock strikes midnight, drop confetti and streamers on your guests to make the moment extra special.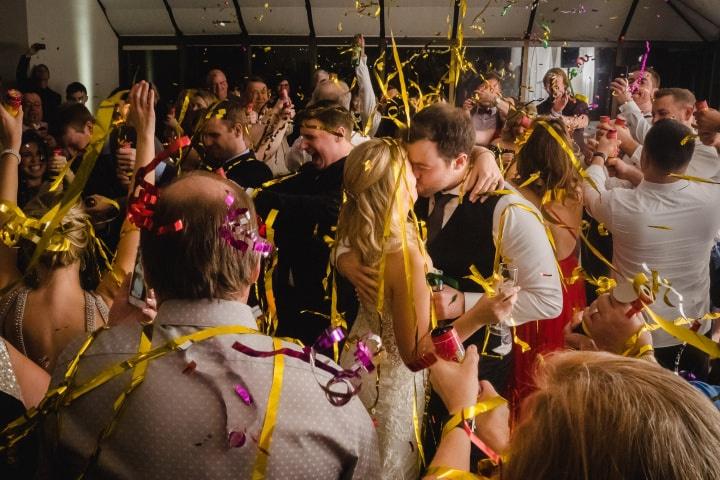 Glitzy candy
Make your sweet table sparkle with some glitzy, glittering candy that doubles as decor, like these gold rock candy sticks. P.S. they can totally serve double duty and act as wedding favours, too.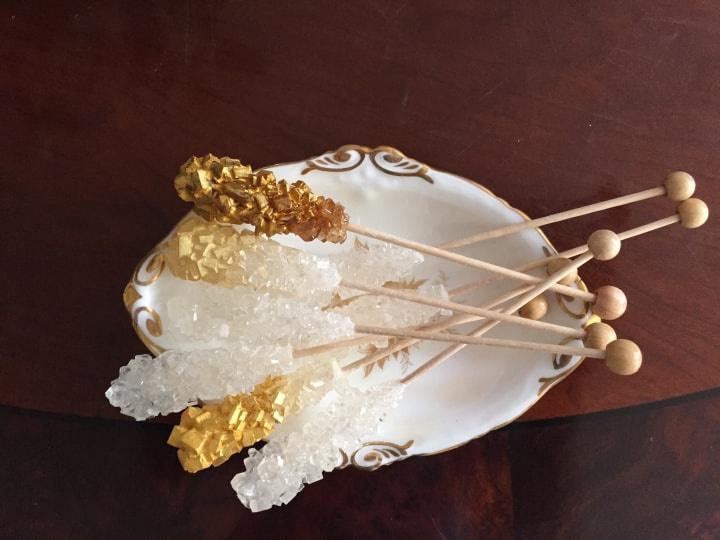 Champagne wedding favours
On the hunt for boozy wedding favours worthy of your NYE celebration? Itty bitty bottles of champagne will do the trick. You can even stamp them with your wedding monogram if you want to go take them to the next level.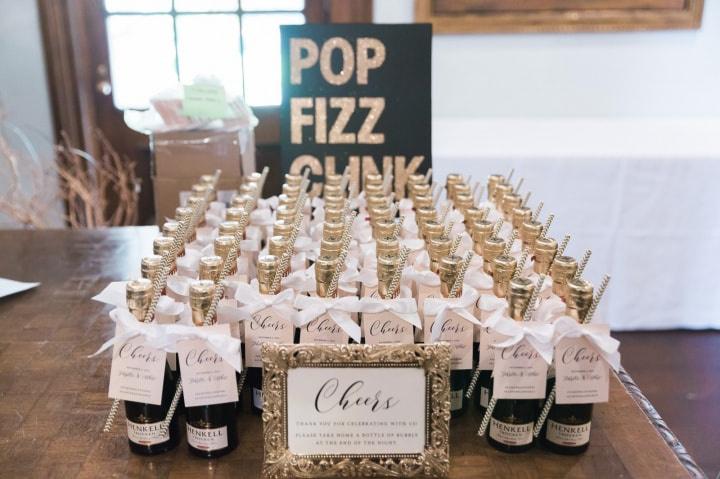 Party dress code
There's a good chance your guests don't want to spend their NYE wearing conservative cocktail wear, so ask that they come party-ready. Make sequins, glitter and LBDs welcome at your wedding - but keep white off-limits, obvi,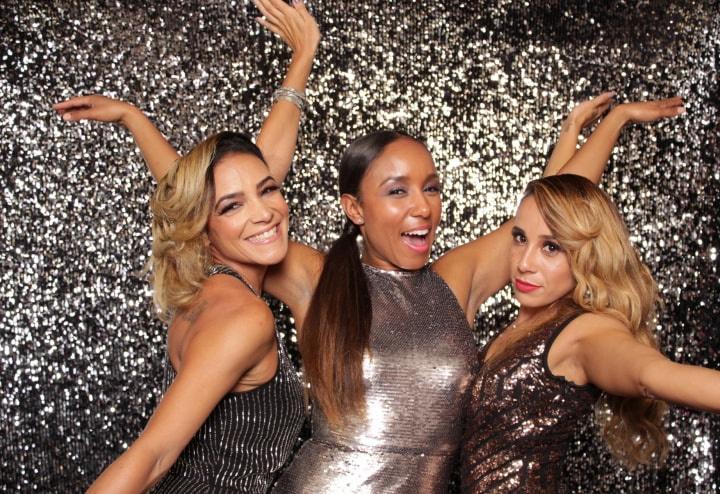 Fireworks
Make the grand finale to your New Year's Eve wedding one to remember by painting the sky with fireworks.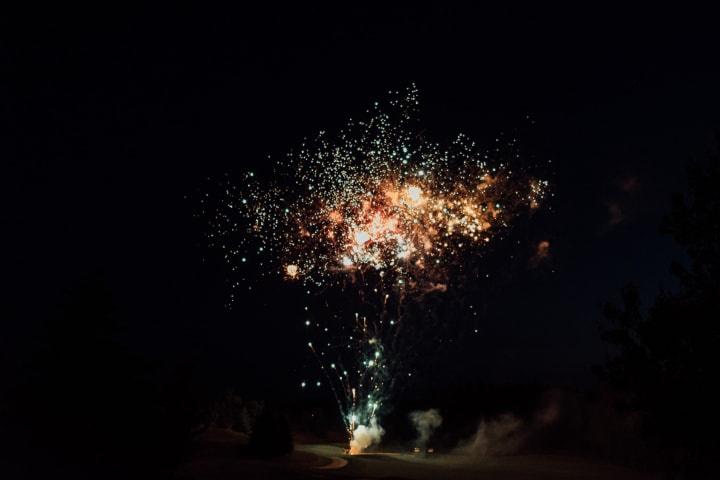 Hangover kits
Your guests are guaranteed to have fun at your wedding, but they may wake up feeling less than blessed after a night of partying. Hand out hangover kits complete with water and Advil at the end of the night to help them out the next morning. Trust us, they'll thank you.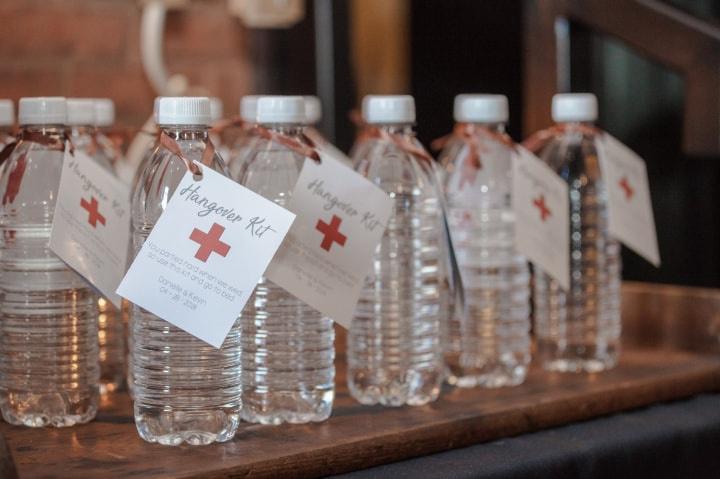 Find more winter wedding inspiration in our Real Wedding galleries »