The Ultimate Jazz Wedding Reception Playlist
Trying to create a killer playlist for your wedding reception? Jazz is a tried and true way to please every generation on your guest list.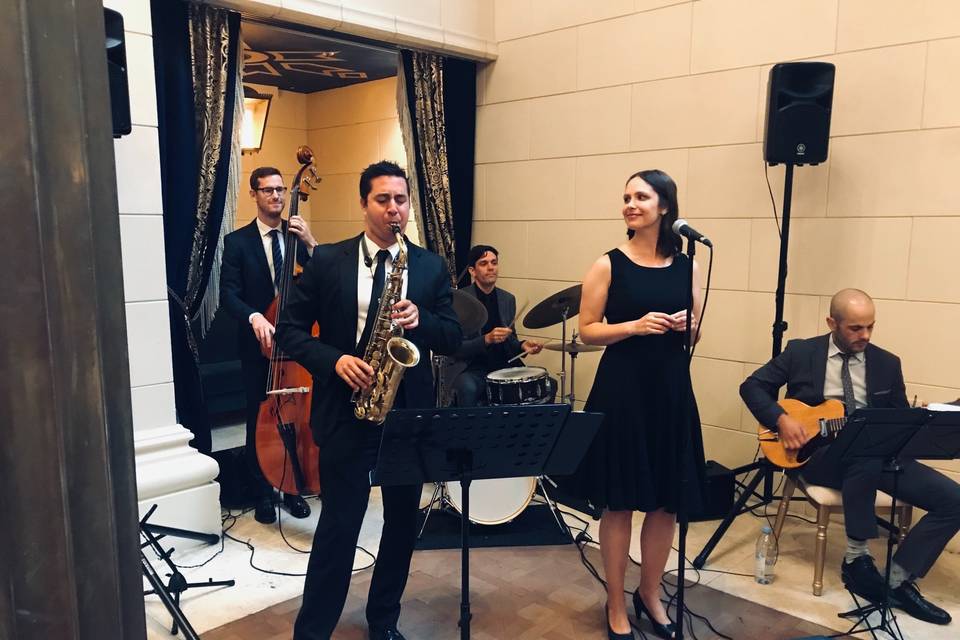 If you're on the hunt for the perfect jazz wedding music to pair with your Gatsby-esque reception, look no further. This jazz wedding playlist is filled with romantic ballads and big band hits from greats like Ella Fitzgerald, Etta James, Michael Bublé, Diana Krall and more. These songs are perfect for first dances, shimmying and shaking, garter tosses and everything in between.
Here is your ultimate jazz wedding reception playlist.
Never Quit Loving You - Jill Barber
I'm In The Mood For Love - King Pleasure
At Last - Etta James
Cheek To Cheek - Ella Fitzgerald
Beyond The Sea - Bobby Darin
The Way You Look Tonight - Frank Sinatra
Dream A Little Dream Of Me - Ella Fitzgerald & Louis Armstrong
Let's Fall In Love - Diana Krall
They Can't Take That Away From Me - Ella Fitzgerald & Louis Armstrong
S' Wonderful - Diana Krall
It Had To Be You - Harry Connick Jr.
Can't Take My Eyes Off Of You - Andy Williams
Come Fly With Me - Frank Sinatra
Isn't It Romantic - Tony Bennett
On The Street Where You Live - Dean Martin
Let's Fall In Love - Buddy Rich All Stars
Walking On Sunshine - Jazzystics
Every Breath You Take - Karen Souza
Nobody But Me - Michael Bublé
To Love Somebody - Michael Bublé
A Wink And A Smile - Harry Connick Jr.
I've Got A Crush On You - Steve Tyrell
Ain't That A Kick In The Head - Dean Martin
Our Love Is Here To Stay - Natalie Cole
Come Away With Me - Norah Jones
As Long As She Needs Me - Sammy Davis Jr.
A Love That Will Last - Renee Olstead
When You're Smiling (The Whole World Smiles With You) - Art Pepper, Larry Shay, Joe Goodwin & Mark Fisher
Fever - Peggy Lee
Let's Get Lost - Frank Sinatra
What A Wonderful World - Louis Armstrong
Dancing In The Dark - Artie Shaw
My One And Only Love - John Coltrane & Johnny Hartman
Once Upon A Dream - Laika
When You Wish Upon A Star - Gregory Porter
Make It Last - Nicole Henry
Things I Want To Hear (Pretty Words) - The Shirelles
I'm Glad There Is You - Julie London
L-O-V-E - Nat King Cole
You And I - Michael Bublé
Listen to our jazz wedding playlist, here.
Find your wedding DJ or band on WeddingWire »