The Ultimate Country Wedding Reception Playlist
Everyone loves a country song, here is a wedding reception playlist stacked with hits that'll make your big day even more memorable.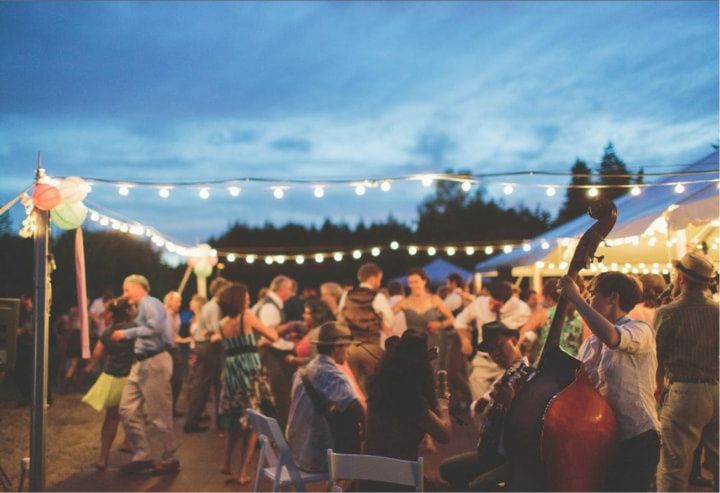 Whether you want to amp up your cocktail hour with a few square dances or use banjos and fiddles to get your guests onto the dance floor at your reception, you're going to need the best country wedding songs to make your playlist pop. From Taylor Swift and Dolly Parton to Tim McGraw and Keith Urban, we've stacked this list of country wedding songs with slow dance-worthy tracks, upbeat numbers and everything in between to make your country music playlist more magical than ever.
Here is your ultimate country wedding reception playlist.
H.O.L.Y. - Florida Georgia Line
Body Like A Back Road - Sam Hunt
More Girls Like You - Kip Moore
John Cougar, John Deere, John 3:16 - Keith Urban
House Party - Sam Hunt
Dibs - Kelsea Ballerini
Nobody But Me - Blake Shelton
Love Me Like You Mean It - Kelsea Ballerini
Life is a Highway - Rascal Flatts
Today Was A Fairytale - Taylor Swift
Country Girl (Shake It For Me) - Luke Bryan
I Like It, I Love It - Tim McGraw
Somethin' 'Bout A Truck - Kip Moore
Good Time - Alan Jackson
Cruise - Florida Georgia Line
Man! I Feel Like A Woman - Shania Twain
Leave The Night On - Sam Hunt
Red Solo Cup - Toby Keith
Islands In The Stream - Dolly Parton and Kenny Rogers
Gonna Wanna Tonight - Chase Rice
Mine - Taylor Swift
Sweet Home Alabama - Lynyrd Skynyrd
Follow Your Arrow - Kacey Musgraves
Your Everything - Keith Urban
Nothin' Like You - Dan + Shay
You're My Better Half - Keith Urban
What A Beautiful Day - Chris Cagle
Stat Of The Show - Thomas Rhett
We Got Us - Canaan Smith
Your Man - Josh Turner
Say - Raelynn ft. Dan + Shay
All-American Girl - Carrie Underwood
Honey Bee - Blake Shelton
Mine Would Be You - Blake Shelton
Drink In My Hand - Eric Church
Don't Ya - Brett Eldredge
Here For A Good Time - George Strait
This Kiss - Faith Hill
All I Want To Do - Sugarland
These Boots Are Made For Walking - Loretta Lynn
I Want Crazy - Hunter Hayes
What I Love About Your Love - Jana Kramer
How Country Feels - Randy Houser
Chicken Fried - Zac Brown Band
When She Says Baby - Jason Aldean
Song About A Girl - Eric Paslay
I Met A Girl - William Michael Morgan
She's Desire - Brett Kissel
In Case You Didn't Know - Brett Young
My Girl - Dylan Scott
You Look Good - Lady Antebellum
Wanna Be That Song - Brett Eldredge
Play It Again - Luke Bryan
Somebody Like You - Keith Urban
Die A Happy Man - Thomas Rhett
Sunshine & Whisky - Frankie Ballard
Stay A Little Longer - Brothers Osborne
Get Me Some Of That - Thomas Rhett
I'm Comin' Over - Chris Young
I Like The Sound Of That - Rascal Flatts
Sure Be Cool If You Did - Blake Shelton
Butterflies - Kacey Musgraves
Baby Be My Love Song - Easton Corbin
Gold Love - Maren Morris
Unforgettable - Thomas Rhett
My House - Kacey Musgraves
10,000 Hours - Da+ Shay & Justin Bieber
Ladies In The '90s - Lauren Alaina
The Bones - Marin Morris
Loving You Is Easy - Zac Brown Band
Kiss You In The Morning - Michael Ray
Golden Hour - Kacey Musgraves
Good Woman - Maren Morris
God Made Girls - RaeLynn
My Church - Maren Morris
90's Country - Walker Hayes
Yours If You Want It - Rascal Flatts
Take Your Time - Sam Hunt
Rich - Maren Morris
Wanted Hunter Hayes
She's Everything - Brad Paisley
Ridin' Roads - Dustin Lynch
Small Town Girl - Seth Alley
Prayed For You - Matt Stell
Every Little Thing - Russell Dickerson
Big, Big Plans - Chris Lane
Look What God Gave Her - Thomas Rhett
Beautiful Crazy - Luke Combs
Church Bells - Carrie Underwood
Raised On Country - Chris Young
Greatest Love Story - LANCO
For more country wedding song ideas, consult with the wedding DJs and bands on WeddingWire »