The 12 Best Harp Songs for Your Wedding Ceremony
Dream of walking down the aisle to some dreamy harp music? Here are a few songs worth adding to your ceremony playlist.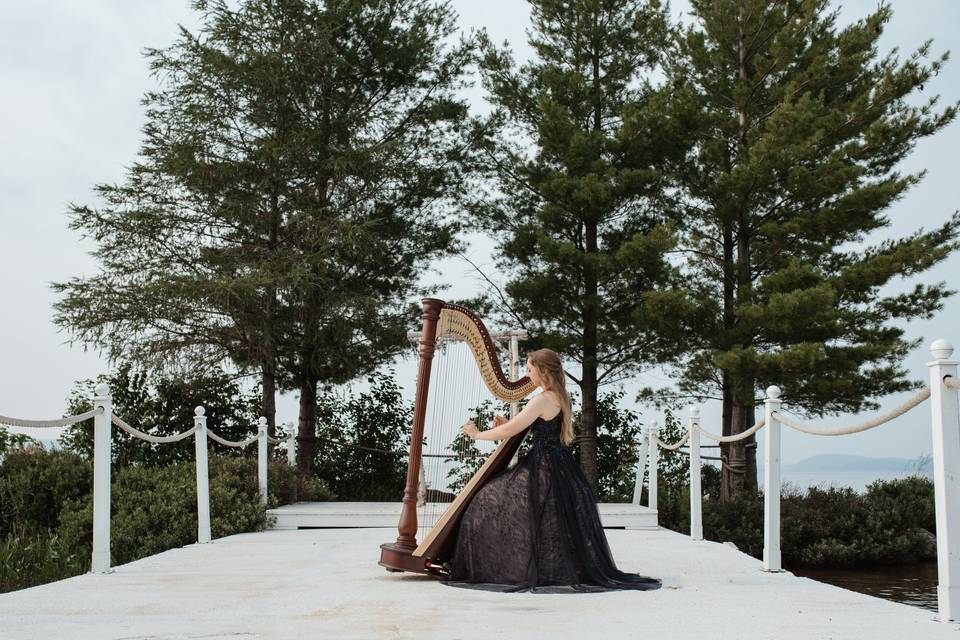 Let's talk wedding music! While many couples these days are leaning toward non-traditional wedding ceremony songs played by DJs or through speakers, others want to return to the basics. If you're in the latter category, think about hiring a harpist to play one of the best harp songs for a wedding ceremony. Keep in mind, just because your going old school with your instrument, doesn't mean you can't go modern with your tracks. We've chosen some of our favourite harp songs for wedding ceremonies to help you choose the right music for your grand entrance (or exit). P.S. Many of these make for solid first dance songs, too!
Here are the best harp songs for your wedding ceremony.
All of Me by John Legend
"All of Me" by John Legend is a very popular wedding song for a first dance. in fact, Legend dedicated it to his wife, Chrissy Teigen. However, when you listen to the ballad played on a harp, it sounds like it was always meant to be played this way as the romantic melody lends itself beautifully to strings. The harp version is ideal for any moment of your wedding ceremony. Video by Divine Harp.
When You Say Nothing At All by Alison Krauss
When you think of a harp wedding processional song, a 90s country hit probably doesn't come to mind. However, this harp rendition of "When You Say Nothing At All" by Alison Krauss is stunning. The sweet and versatile song was also performed by Keith Whitley as the soundtrack for the Romantic Comedy, Notting Hill, so you may recognize the melody from the film. Video by Rachel Easson, Easson's Harp Services.
A Thousand Years by Christina Perri
Christina Perri's hit song, "A Thousand Years", is tried and true wedding song in all formats, but sounds especially dreamy when played on the harp. It's the perfect pace for a procession, so it's a great choice for when you make your grand entrance at your ceremony. If you listen closely while you walk down the aisle, you may even hear some of your guests singing along under their breath. Video by Chantal Dube, The Harpist.
Beauty and the Beast by Celine Dion and Peabo Bryson
Want to bring a bit of Disney magic to your wedding ceremony? What better song than the title track from Beauty and the Beast. Waltz down the aisle to a harp rendition and create some serious fairy tale magic of your own. If you've chosen to carry red roses and wear a wedding dress inspired by Belle's iconic yellow ball gown, you totally get brownie points for sticking to your theme. Video by The Soenen Sisters Harp, Flute a Cello Trio.
Perfect by Ed Sheeran
Take a dip into Ed Sheeran's discography and you'll find a treasure trove of wedding-worthy tracks. "Perfect" is without a doubt one of the best harp songs for a wedding thanks to its uber-romantic lyrics, but also thanks to its melody (that's why it's great for a solo harp song for a wedding). If you love yourself some Ed Sheeran, "Thinking Out Loud", "Kiss Me", and "Photograph" also make for great wedding ceremony songs (and would probably sound amazing on the harp). Video by Chantal Dube, The Harpist.
Can't Help Falling in Love by Elvis Presley
On the hunt for a throwback wedding track that'll bring happy tears to everyone's eyes? Look no further than Elvis Presley's beloved ballad, "Can't Help Falling in Love". The song's lyrics may be syrupy sweet, but so is its instrumental. Your guests will know what song it is as soon as your harpist begins to play, no matter what age they are. Video By Rachel Easson, Easson's Harp Services.
Love Me Like You Do by Ellie Goulding
If you're looking to shake up your wedding ceremony soundtrack with something a little different, "Love Me Like You Do" by Ellie Goulding may be the perfect harp song for you. The original track has a strong drum beat, but you eliminate it when it's being played on a harp, which softens it and makes it a bit less dramatic. Of course, if drama is your thing, go ahead and hire a drummer to accompany your harpist so that you get the full effect.
Young and Beautiful by Lana Del Rey
Listen to the orchestral version of Lana Del Rey's "Young and Beautiful" and you'll be sold on it for your big day. While it sounds amazing as a huge production, it sounds just as great when played on just strings. It's got a bit more glitz and grandeur than some of the harp songs on this list, so you may want to hire some accompany artists – maybe a violinist or cellist – to take it to that next level.
Wonderwall by Oasis
If you're on the hunt for something in a different genre, ditch the pop hits and throwback tracks and go for Oasis' "Wonderwall". This is definitely an unconventional pick for such a classic instrument, but sometimes opposites attract. It's recognizable on any instrument, but the harp makes it sound like a track from way, way back, not just the '90s.
Heaven by Kane Brown
Kane Brown's lovey-dovey track "heaven" doesn't lose any of its appeal when stripped down – actually, it may even sound better. Country music and harp music don't seem like a natural fit, but, honestly, this works. Keep in mind that it definitely sounds more like classical music than country pop when played on the harp, but if your guests are familiar with the song, they'll know its real roots.
Halo by Beyoncé
Can you make a list of wedding songs and not mention Beyoncé? Obviously not. The harp version of "Halo" sounds absolutely angelic, but does that come as any kind of surprise (no, no it does not). It's a true chameleon of a song that sounds great on any instrument, so you really can't go wrong with this one.
River Flows in You by Yiruma
"River Flows" sounds absolutely ethereal when played on the piano, but the harp really adds an extra dimension to it (plus, not everyone can do it justice like Yiruma). Since it actually falls under the classical music umbrella in its original format, it's one of the best harp songs for a wedding. Bonus tip: If you really want to take it to the next level, think about asking a pair of performers to do a piano and harp duet, you won't be disappointed by the results. Video by Chantal Dube, The Harpist.
Find wedding musicians on WeddingWire »