5 Reasons to Embrace Social Media on Your Wedding Day
You don't have to ask your friends and family to go on a digital detox on your wedding day! In fact, allowing them to use social media has plenty of perks.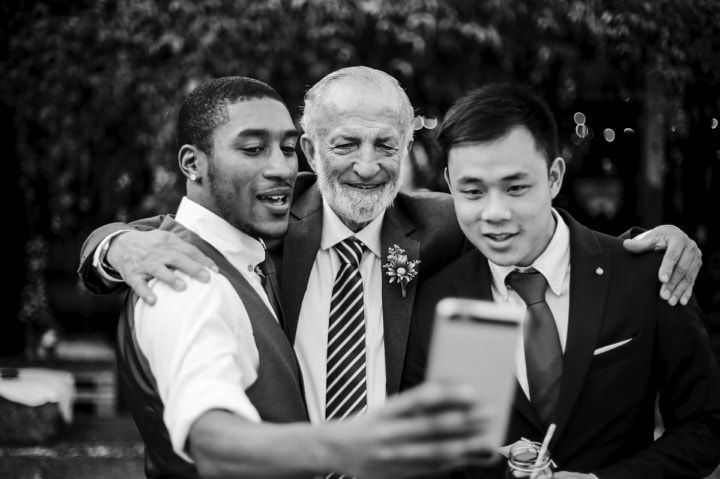 Phone-free weddings certainly have their advantages, but so do phone-filled weddings. If you want social media galore at your wedding, we say go for it! Having a few extra shutterbugs in the crowd will leave you with an (almost) endless supply of wedding photos to choose from - and who doesn't like the sound of that?!. Remember, you should ask them to mute their ringers and turn off their flashes prior to the ceremony so that they don't disrupt the more sentimental moments.
Here are a few reasons to embrace social media on your wedding day.
You'll get to create your perfect #weddinghashtag
We all have that friend who puts about fifty hashtags in their caption, causing us to roll our eyes (just a little), but your wedding day is the day to embrace those tags, no matter how cringe-worthy. Spend a little time crafting the perfect unique hashtag for your wedding so that you can look back on all your memories after your reception has wrapped. Whether you want to blend your names, make it a fun pun or go with something sweet and simple is your call.
You'll get to relive every moment
...even those that you weren't a part of. If your friends can't get enough of 'gramming, they'll be taking pictures of everything from candids of their tablemates to your beautiful dessert display, so you'll get to see it all. Yes, you'll have a photographer to capture all the important moments, but with larger weddings it really does take a village. Pro tip: our Wedshoots app will let all your guests contribute to an album from their phones - a keepsake you'll have for years to come.
You'll get to feel like a celeb
Have you ever wondered how it feels to be Taylor Swift? When that red-lipped vixen steps out of a car, goes to dinner or even makes a coffee run there are fans and photographers waiting to capture it. Well, now it's your turn. Your guests will be lining up to snap photos with you and will be clicking away when you say your vows, share your first kiss and bust a move on the dance floor.
You'll have even more photos to add to your wedding album
You know what they say, the more the merrier! Having everyone snap photos at your wedding will leave you with plenty of options for your album. No, this doesn't mean you should skip hiring a photographer (they'll handle portraits and professional shots) but a few candids from your friends' camera rolls will make it even more special.
Guests who couldn't make it can still watch your wedding
Thanks to Instagram stories, Snapchat and our Wedshoots app real-time photo feed, even guests who couldn't make it to your big day can see everything that's going down. Your nearest and dearest will most likely be sharing milestone moments like your first dance and cake cutting, and everyone can watch along - no matter how far away.
Download WeddingWire's Wedshoots app to store all your wedding guests' photos in one place »