6 Tips for Having an Unplugged Wedding
Asking your friends to ditch their iPhones and androids for a day is a totally reasonable request. Here are some tips for throwing the ultimate unplugged wedding.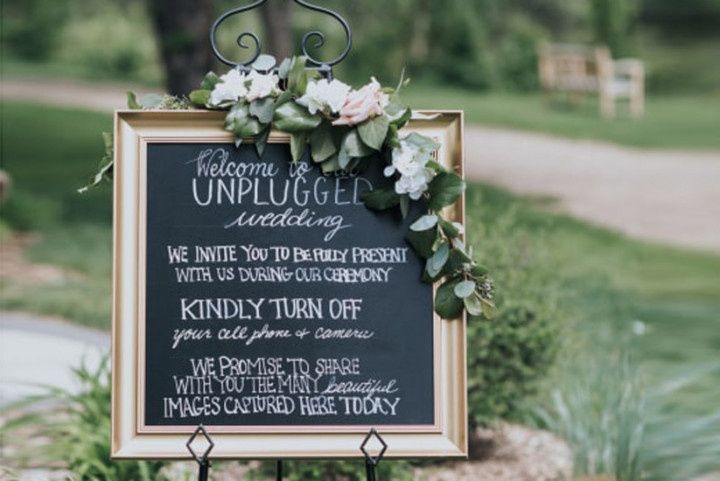 Want your guests to go on a digital detox on your big day with an unplugged wedding? Totally understandable. If your friends and family are glued to their cell phones they may miss some pretty important moments or (even worse) interrupt the wedding ceremony with their ringtones. While you don't have to ask them all to surrender their phones at the door, you'll want to school them on etiquette before they arrive (and maybe even a few times after).
Here are a few tips for having an unplugged wedding.
Prep your wedding photographer
...and maybe hire backup. Your guests won't be snapping any candids with their cell phones if you're having an unplugged wedding, so your wedding photographer will have to be on high alert. Make sure that they know they'll be the only one(s) taking photos during your ceremony, and provide them with a list of all the shots you're hoping to get for your wedding album.
Remind them on your wedding website
Your wedding website is where all the important info about your wedding lives, so naturally, you'll want to include this rule. We suggest adding it to the FAQ page so that none of your guests miss the unplugged wedding message. This will let them know to check their emails and texts or take any calls before they head inside your wedding venue.
Include it in your wedding ceremony program
Your guests will probably leaf through your ceremony program a few times while they wait for the ceremony to get underway, so remind them on the first or second page about your no phone rule. Simply add in unplugged wedding wording that says something like, "We ask that you switch off your cell phone and camera during the ceremony and reception". At the very least this will get them to check if they've turned their volume all the way down.
Put up unplugged wedding signs
Really want the message to hit home? Add unplugged wedding signs around your reception and ceremony venues reminding your guests to put their devices away. You'll want to place them strategically so that everyone can see them - the entryway to your ceremony and reception spaces are good places to start.
Hire an enforcer
Give your best man, MOH or another trusted member of your wedding party the job of asking texting/emailing/snapping guests to kindly put their phones away. Honestly, some people may not even realize they're doing it because it's such a regular thing for them. You even can request that your "enforcer" give an announcement before the ceremony kicks off, just to remind your friends and family that your wedding will be a phone-free event.
Go with the flow
If one or two of your guests don't want to play by your rules and just won't put their phones away, try your best to not let it mess with your mood. I know it's annoying, but this is supposed to be one of the happiest days of your life! A couple of phone-wielding friends shouldn't bring you down off cloud nine.
Set up your FREE wedding website and find your wedding photographer on WeddingWire »