Wedding Videography Checklist
Want to preserve your big day on film? Make sure your videographer gets everyone (and everything) important by passing along this wedding videography checklist.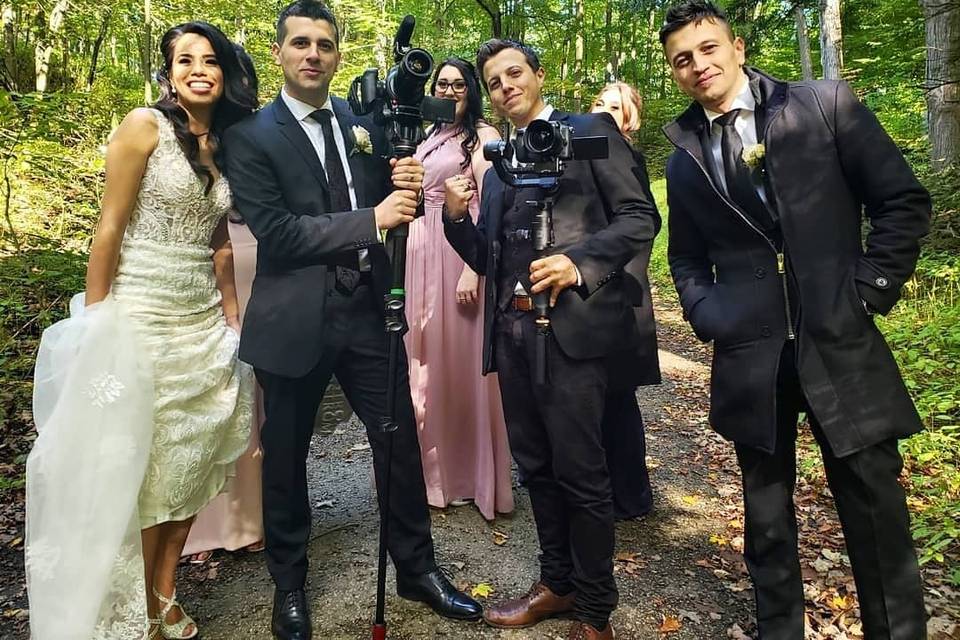 Capturing the most important moments of your big day is a must. While it's easy enough to preserve everything in wedding photographs, you may also want to hire a wedding videographer to help get those sentimental moments on film. If they are experienced with weddings, your videographer probably already knows the ins and outs of who and what to film. If you have any doubts, pass along this wedding videography checklist.
Remember that each and every wedding is different, so you may have more or less to get on film. As a rule of thumb, more is more. You can always dial back the number of shots when editing it together for the final cut.
Pro tip: If you plan to livestream your wedding, talk to your videographer about having a dedicated cameraman/producer to handle the virtual component.
Here is your go-to wedding videography checklist.
Pre-ceremony videography checklist
A lot happens before the bride and groom meet at the altar, and your videographer should be up to the task of getting all that prep work on film. You'll want a medley of getting ready shots of both the bride and the groom, venue shots and arrival shots.
Bride/groom prep (shots of the couple getting ready pre-ceremony)
Wedding party prep (shots of the bridal party and groomsmen getting ready pre-ceremony)
Exterior of the ceremony venue
Landscape around venue (i.e. for a beach wedding, shots of water, sand, pebbles)
Interior of the ceremony venue
Guests arriving to the ceremony venue
Bridal party arriving at ceremony venue
Video: Elegant spring wedding at Evergreen Brickworks in Toronto captured by Wild and Free Films.
Wedding ceremony videography checklist
Once everyone has made it to the venue, your videographer should make their way inside. You'll want everything from your flower girls to your "I do's" on film. Remember to point out key guests to your videographer, as you'll probably want a few crowd shots as well.
Guests being escorted down the aisle
Decorations, including close ups
Musicians performing
Groom waiting at the alter
Mother of the bride
Bridal party walking down the aisle
Flower girl(s)
Processional
Vows
Exchanging of rings
The first kiss
Introduction as a married couple
Recessional
Bride and groom leaving the venue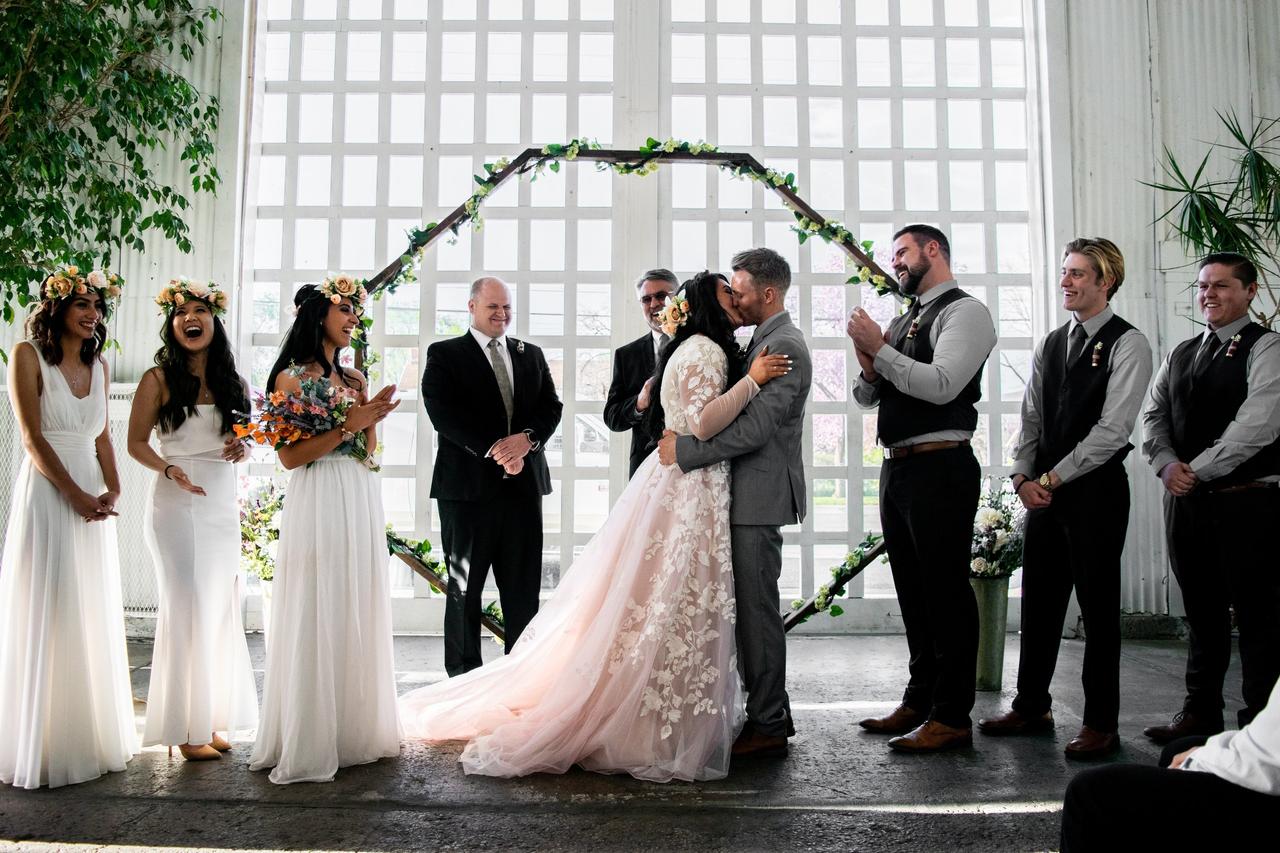 Wedding reception videography checklist
Now it's time for the party. There's a lot of moving pieces, so make sure your videographer has a list of all the necessary shots. The cake cutting, the first dance, toasts and the bouquet toss are among the most important.
Exterior of the reception venue
Interior of the reception venue
Wedding reception decor
Table settings
Menu
Meal/Bar
Guests at the cocktail hour
Introduction of the bridal party
First dance
Bridal party dances
Blessing
Toasts
Cake cutting
Parent dances
Anniversary dance
Guests dancing
Bouquet
Garter
Last dance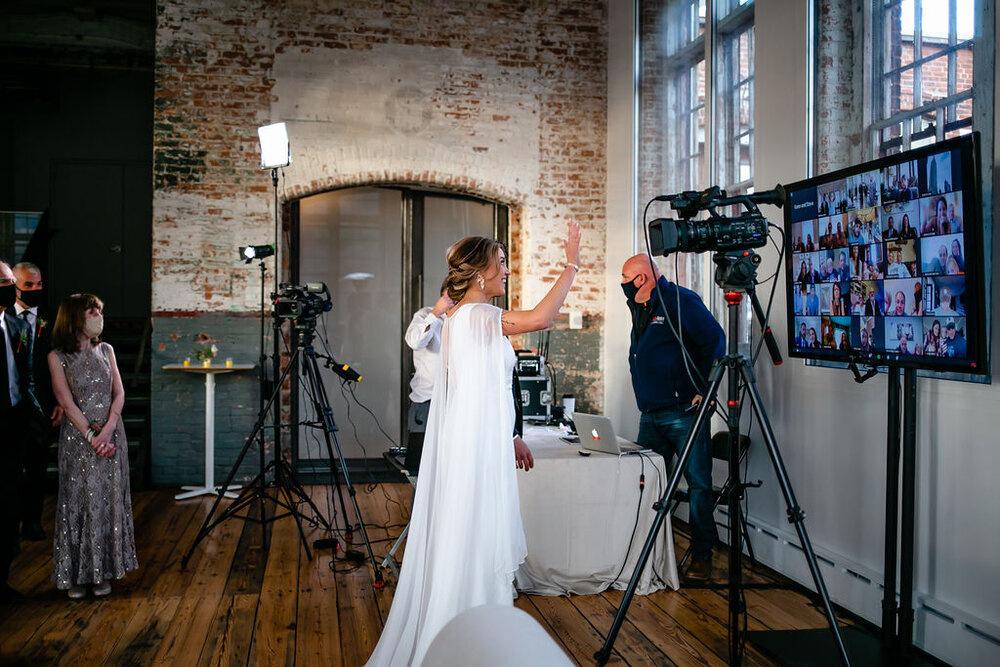 Find your wedding videographer on WeddingWire »