How to Tell Your Friends and Family You've Eloped
Did you and your partner tie the knot on the low low? Here's how to let your nearest and dearest know about your elopement.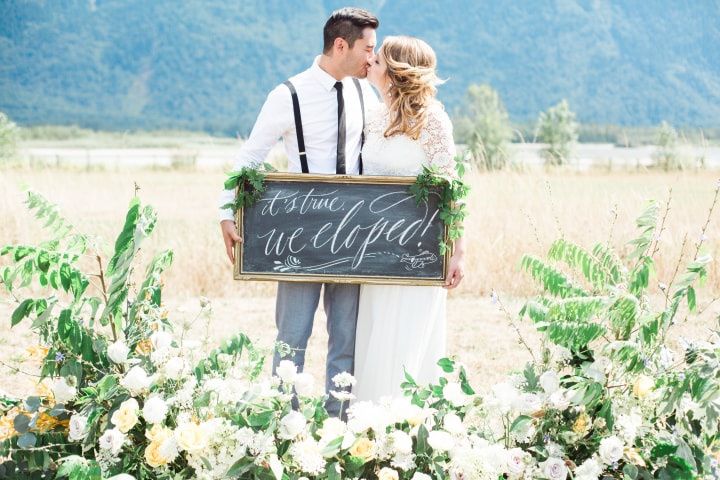 Ah, eloping. It's not for everyone, but it really does suit some couples better than an extravagant celebration. If you and your S.O. decided to skip getting hitched the old fashioned way and elope, you're going to have to let your inner circle know pretty soon after you say your "I dos". Yes, breaking the news about your elopement to your parents and closest pals can be tricky, so you've gotta be tactful about it.
Here's how to tell your friends and family you've eloped.
Don't post on social media beforehand
Even though you probably want to scream about your marriage from the rooftops, you should keep your lips sealed and fingers away from Facebook until you've told your close friends and family that you've eloped. Seriously, the last thing you want is for your mom and dad to find out your tied the knot via Instagram. Besides, if you wait it out you'll have even more time to nail the perfect post (#bless).
Time it right
You know what they say, "timing is everything". If your family and friends seem busy, preoccupied or stressed out, it's probably not a great time to drop the "I just got married" bomb on them. Finding out your BFF or child has tied the knot is big news, and you want to share it with them when they're in high spirits, not when they're on the brink of a breakdown. We suggest organizing a family dinner or a group game night and easing them into the elopement discussion.
Brace yourself for a bit of backlash
Your nearest and dearest might not be too thrilled that you eloped and had your wedding without them. Know that their frustrations are coming from a place of love - after all, they probably dreamed of standing by your side on your big day - and try your best to be understanding (empathy is key in this situation!). They'll come around, you just have to be patient.
Explain "why" you decided to elope
Your inner circle may not understand why you chose to elope, but I'm sure you had your reasons. Before meeting with them, sit down with your new spouse and make a list of all the reasons you chose to forego a traditional ceremony. It'll be much easier to handle being bombarded with questions if you've prepared your answers in advance.
Bring photos of your elopement
Now, even if they're a little bit salty because they couldn't be at your wedding, your friends and family will probably definitely want to see how it all went down. Bring along pictures or prepare a slideshow of your elopement for them so that they can see everything from your wedding vows to your first kiss. You'll probably want to have a box of Kleenex on hand, too (the waterworks may start flowing).
Find elopement packages and wedding venues on WeddingWire »