5 Pre-Wedding Events You Can Totally Host Online
If you can't host your pre-wedding events IRL, you've still got options. Here are the celebrations you can totally host online.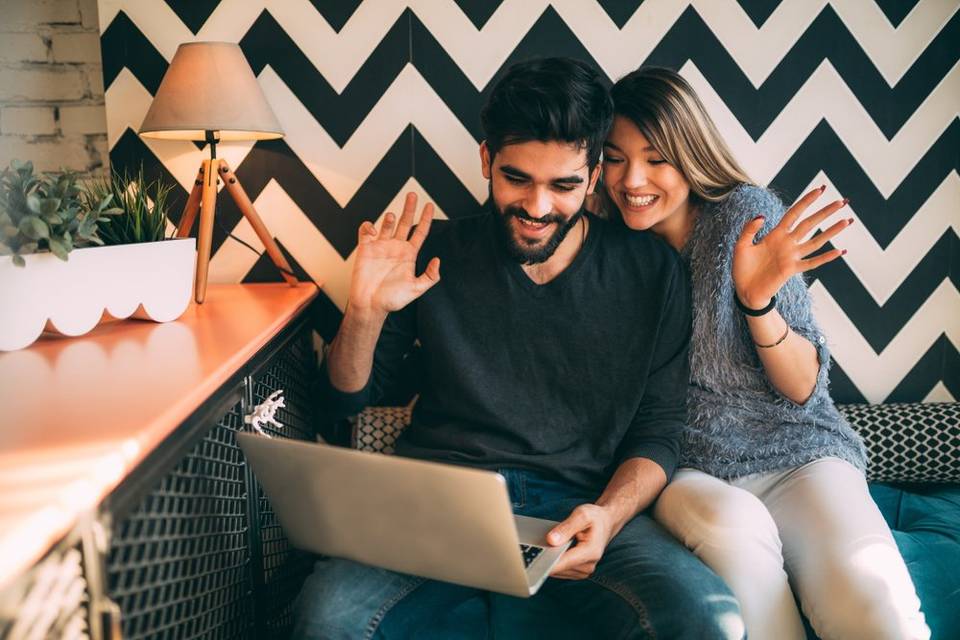 If you just got engaged, your wedding isn't the only major party on the horizon. In fact, there are typically several pre-wedding events that go down before the big day arrives (and that's great because you're probably in the mood to celebrate). If you don't live close to your nearest and dearest or are socially distancing at the moment, you don't need to put those parties on hold, but they may need to take place online instead of IRL. Don't worry though, there are plenty of ways to enhance your digital celebration, and we've got all the tips and tricks for you right here. P.S. All these digital pre-wedding party ideas are much less expensive than throwing an actual party, so you'll be saving money to put toward your wedding, too!
Here are a few pre-wedding events you can totally host online.
Engagement Party
So, your proposal just went down and you're ready to party? That's awesome! We suggest splurging on your favourite foods, ordering a bottle (or two) of champagne, and gathering your nearest and dearest in a virtual chatroom to celebrate. You can even write a little speech for the occasion to share how everything went down. Pro tip: If your parents, grandparents, and closer family members haven't heard the news yet and you're surprising them, you may want to have a separate online party with just them so that they don't get blindsided in a massive chatroom with all your friends. Also, if you're sharing the news with a lot of people you should think about separating your event into a bunch of smaller parties with different social circles so that you can actually interact with everyone in your chat.
Bridal Shower
The bridal shower is a party just for the bride-to-be (no grooms allowed, so get outta here!). The point of the event is to celebrate with all the influential women (and sometimes gents) in your life and receive presents. Now, if you're hosting this party online and are anticipating gifts, you're going to need to give your friends and family your mailing address. You're also going to want to double-check that all those prezzies have arrived before inviting everybody to a video chat so that no one feels left out when you're opening them on camera. You may also want to plan some party games that everyone can do at home. If you're going this route, send along packages with the supplies they'll need so that everyone can get in on the action.
Bachelor or Bachelorette Party
Hosting your bachelor or bachelorette party online isn't ideal, but it doesn't have to be a total snoozefest. You can actually party just as hard from a distance if you have the right tools at your disposal. First things first: making your guest list. Choose a small group of friends that'll have a blast, even from afar. Once you've sent out the invite to them, stock up on supplies, and send some for them too. For example, if you have a signature cocktail in mind, get ingredients delivered to yourself and to them so that you can all sip on the same thing. Then, select a few fun activities. You could all watch a movie on Netflix Party and play the same drinking game, you could attempt a Pinterest craft together, or you could make a shared Spotify playlist and dance it out. The options are truly endless.
DIY Decor Parties
Have some DIY ideas for your big day that you still want to tackle? Get your friends and family members involved by hosting a digital DIY decor party. Ask everyone to pop their favourite bottle of wine, send along supplies and instructions, and then get to crafting together. This stuff is so much more fun to do as a group, even if you're doing it from afar. Oh, and don't stress if you have a few #Pinterestfails, they may not have a place at your wedding, but they're pretty funny!
Planning Parties
If you want a few of your VIPs to help you make tough wedding decisions, host a planning party online. Invite three or four of your nearest and dearest to a chat room to hash out which linens you'll use, what style of food you want to serve, and what songs you want on your party playlist. You can even create an online poll for them to fill out before your meeting and then talk it all out when you get together. P.S. Remember that you get the final say! Their two cents are important, but if you love something that they don't, that's A-OK. It's your wedding, so you make the rules.