9 Things You Need to Know About Tent Wedding Venues
Thinking about having a tent wedding venue in the great outdoors? Here is everything you need to know before you start planning.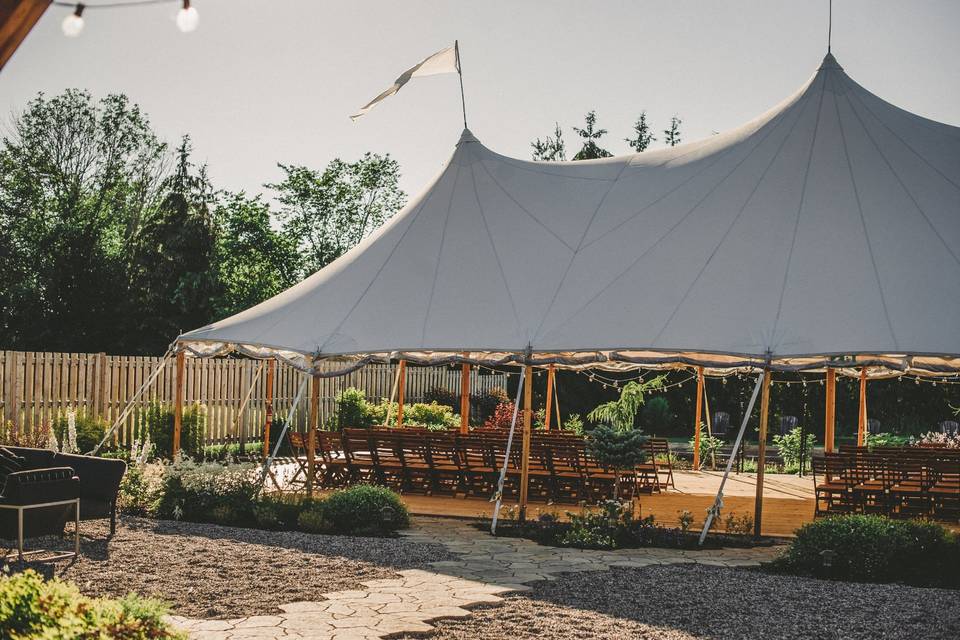 If you're hosting your wedding in the spring or summer, you probably want to take advantage of the nice weather and have your celebration in the great outdoors (Canada only gets a few months of it, after all!). While having part of your wedding under the sunny or starry skies is great, you definitely want to create a comfortable shaded spot for your guests to dine, dance, and drink — that's where wedding tents come into play. A tent will give you access to the sun, warm breeze and trees and give you cover when you need it. To help you out, we've rounded up all the planning essentials to help you plan an epic and stress-free open-air event.
Here's your guide to wedding tents.
Wedding tent styles
Unless you've hosted a massive outdoor party, you probably don't know much about wedding tents (hint: they are nothing like what you take camping). Frame tents are definitely the most popular, but there are a bevy of other styles to choose from if that doesn't suit your fancy. We've created this guide to clear tops, pole tents, stretch tents, yurts, and everything in between in this guide right here. When searching for "the one" keep in mind that certain styles are better suited for smaller events, potential rain, and other factors, so do your research!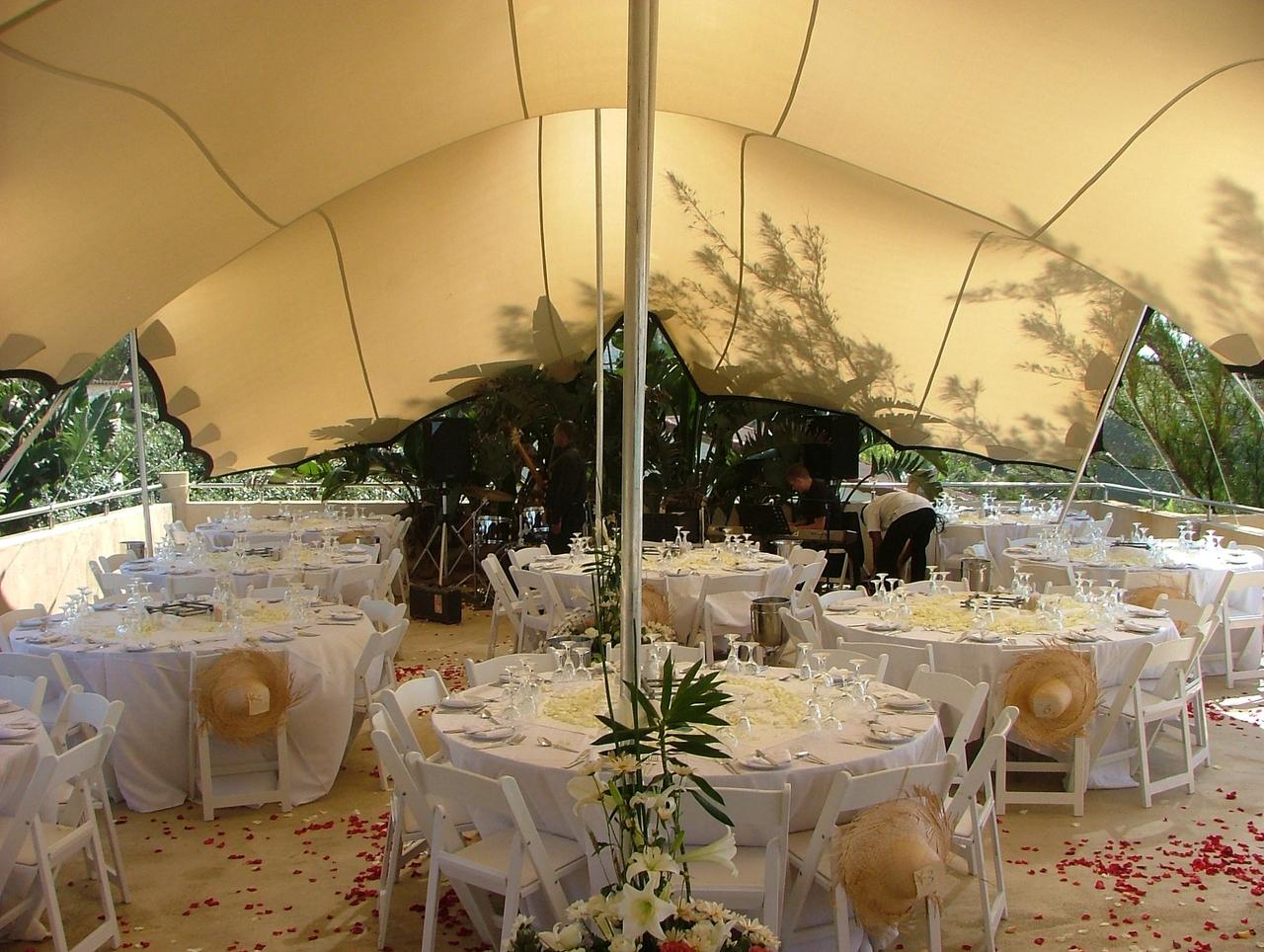 Wedding tent sizes
The last thing you want is for your tent wedding venue to be too small to fit all of your friends and family, so don't start looking at tents until you've finalized your guest list. When you've gathered some potential winners, create some sample floor plans inside to ensure that everything fits. Remember, it's not just tables and chairs you need to factor in — there's also food stations, a DJ booth or band stage, a dancefloor, and whatever other magical extras you want to include. Pro tip: you don't need to fit everything under one tent, you could have a food truck outside for your food station or an outdoor lounge under the starry skies where your guests can escape after a bit of dancing.
Level ground
Once you've figured out just how big your tent needs to be, you can sort out where it will go. You'll want to find a spot with level ground that's kept in pretty good shape (i.e. mowed lawn). Small bumps and dips can be fixed with the right flooring, so you don't have to stress about those.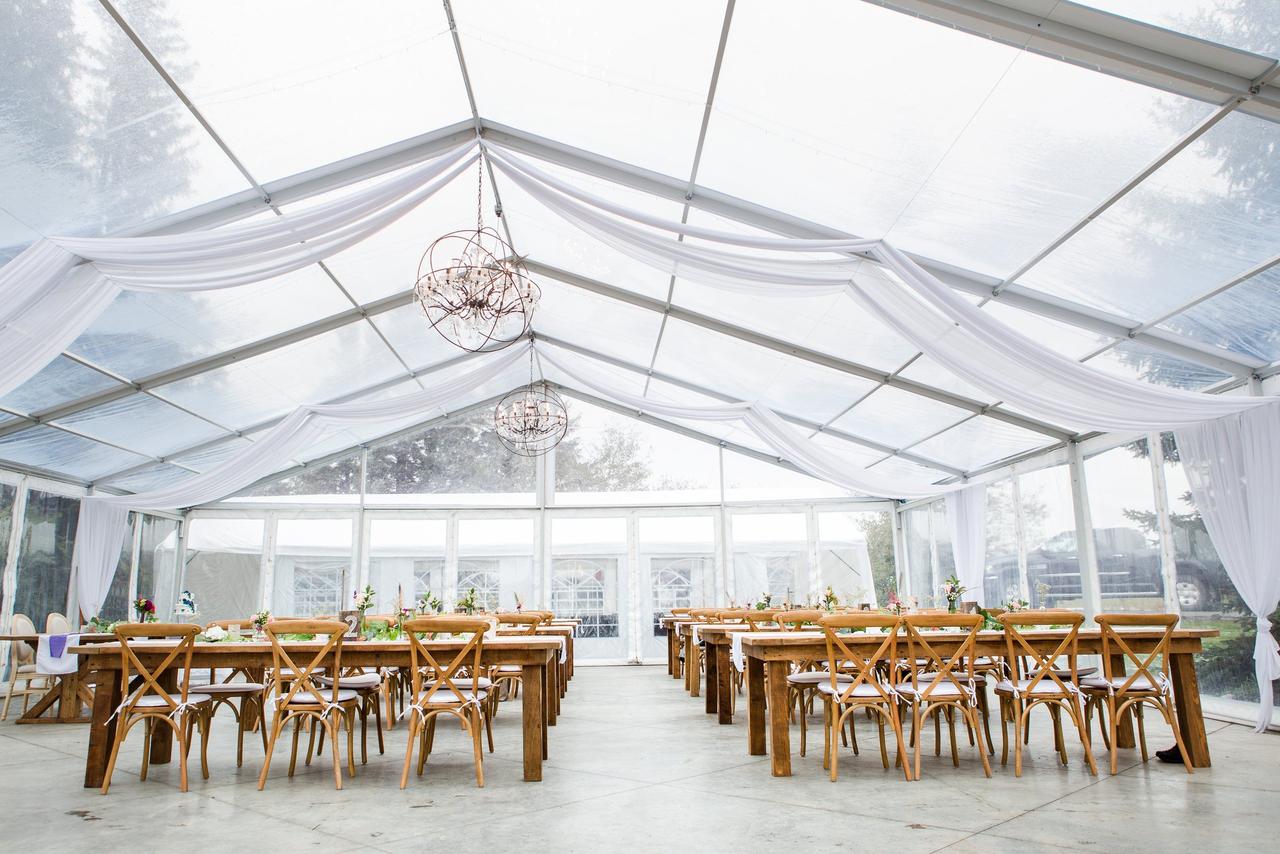 Wedding tent flooring
Speaking of flooring... if you're cool with hiking around the grass in heels, go ahead and skip it, but most couples like to put down a base layer so that guests can easily and comfortably walk around inside the marquee tent, without sinking into the grass. Canvas, carpet, and wood are all solid options and will make the outdoors feel a bit more like the indoors. P.S. most wedding tent vendors include flooring in their rental packages, so you won't have to search it out on your own.
Restrooms
Obviously, marquee wedding venues don't come equipped with bathrooms (though that would be awesome). If you're hosting your wedding in the middle of the countryside or on the lawn of a venue that doesn't allow building access for guests, you'll need to rent portable toilets. Don't forget to factor these into your budget and the space you're looking at. P.S. if you're using the lawn of an estate home or a country club, remember to ask the venue coordinator if your guests are allowed to use the indoor facilities.
Food and drink
Serving cold dishes exclusively? Your catering company shouldn't have a problem whipping those up. However, if they need ovens, hot plates, access to water, and space for prep, you'll need to work with them to find room in your tent. Some venues allow caterers to use their lawn and kitchen facilities, giving them all the supplies and space they need without the extra cost, but if you're hosting your event in the middle of a field or forest, you may need to set up a second tent exclusively for catering. Pro tip: Food trucks and portable drinks stations are great options for this type of event, if you want to sidestep potential kitchen issues.
Power
You may also need to book a generator so that your DJ, catering company, and decor suppliers can actually do their jobs without leaving you and your guests in the dark. Seriously, you don't want your fairy lights and music to die out halfway through your reception because you overdid it with the electronics. A generator will also come in handy if you need fans or heating lamps, which are essential if the nights are beginning to get a bit chillier.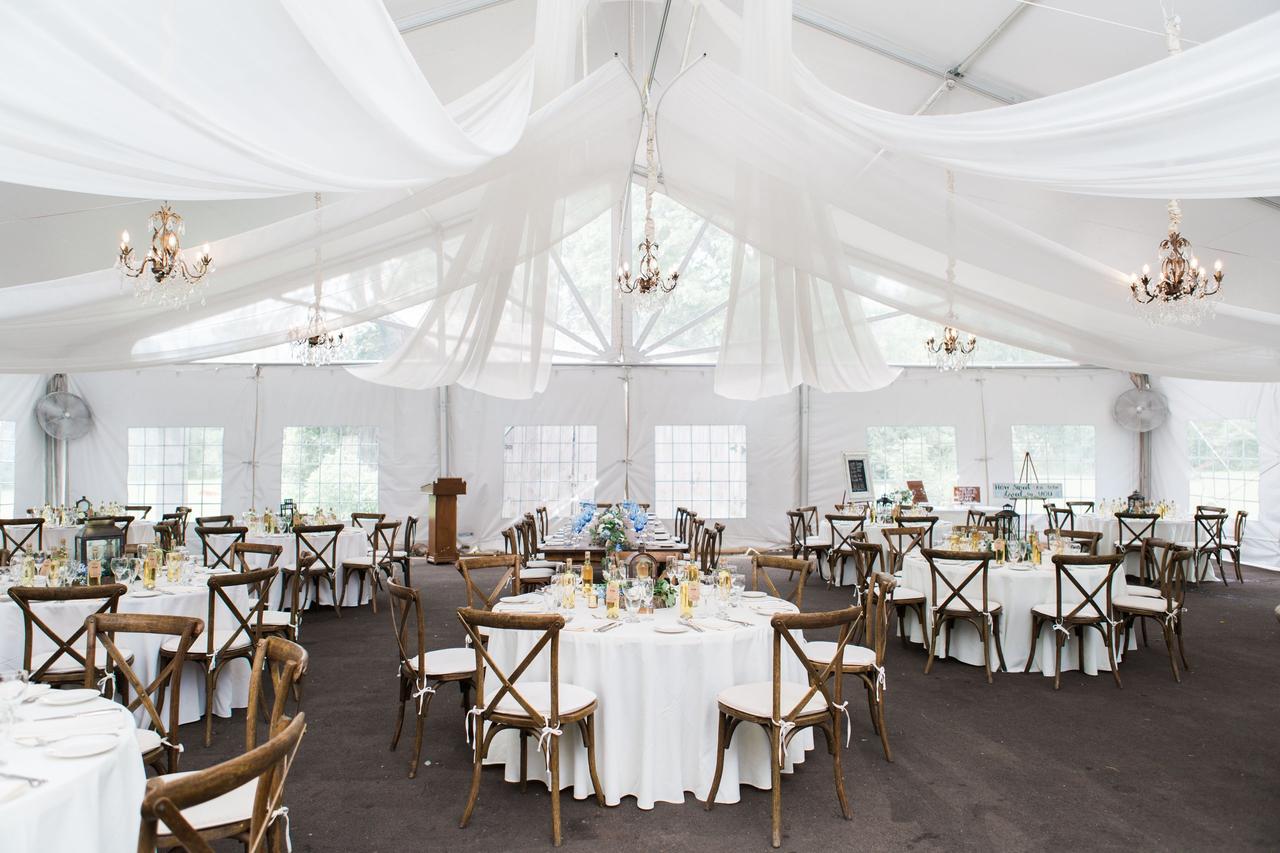 Wedding tent decorations
So far as spaces are concerned, tent wedding venues are the most bare-bones. You'll have a blank canvas to work with, which is great but you'll need to have a vision. If deciding on everything from the colour of your flooring to the linens to what type of lighting you'll use sounds super stressful, you probably want to consider hiring a wedding designer to help you put everything together. Before you meet, spend some time putting together vision (or Pinterest boards) of your hopes and dreams, so you have a clear picture of what you want.
Parking
If you're hosting your wedding in the middle of nowhere, you'll also need to sort out parking for your guests. If there's a significant amount of space between where they can park and the tent, you'll want to light their way with lamps or lanterns and maybe even lay down a runner or offer shuttle rides to and from your event space (key if you're hosting older folks or guests with accessibility issues).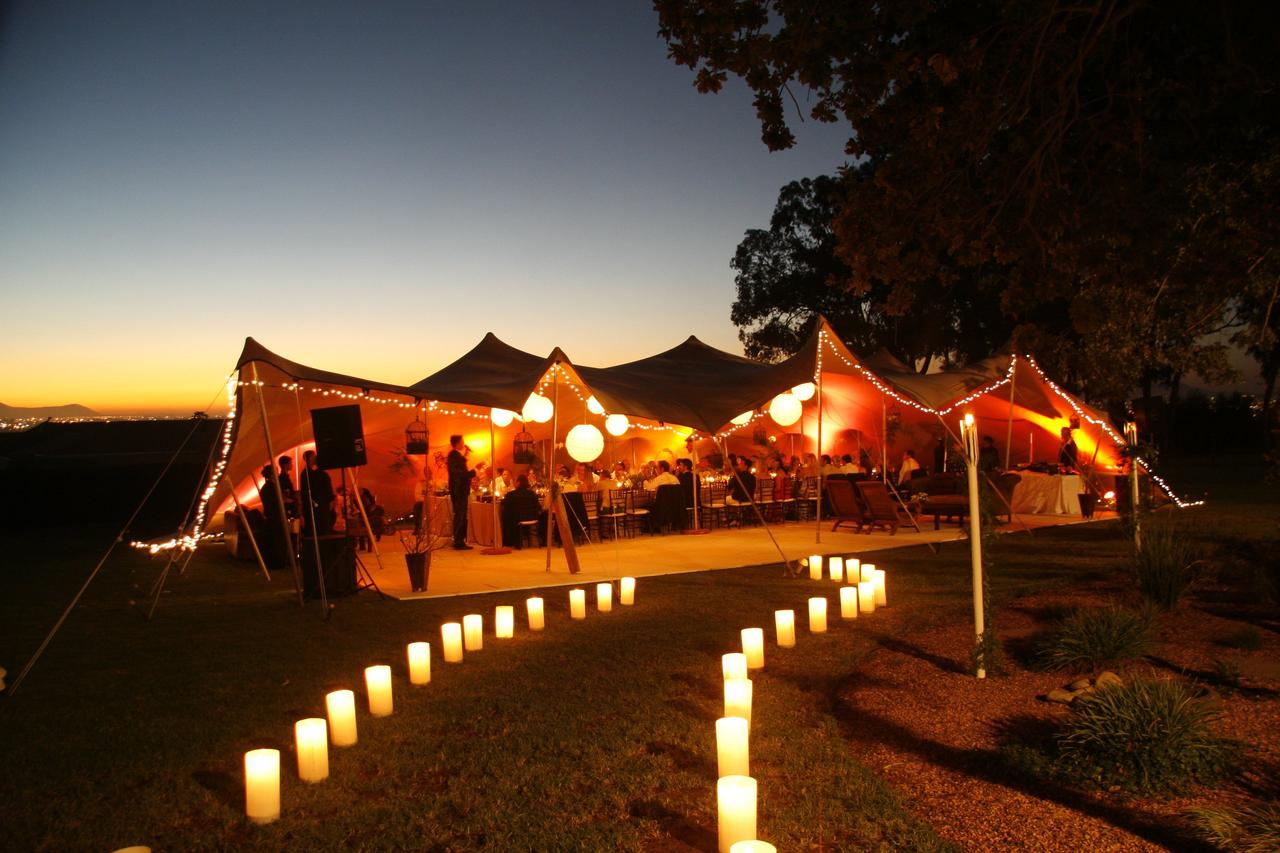 Find wedding tent rentals and wedding venues on WeddingWire »