19 Muskoka Wedding Venues That'll Make You Want to Get Married in Cottage Country
Are you on the hunt for a cottage-y wedding venue in Muskoka or The Kawarthas? Here are a few of our favourite locations.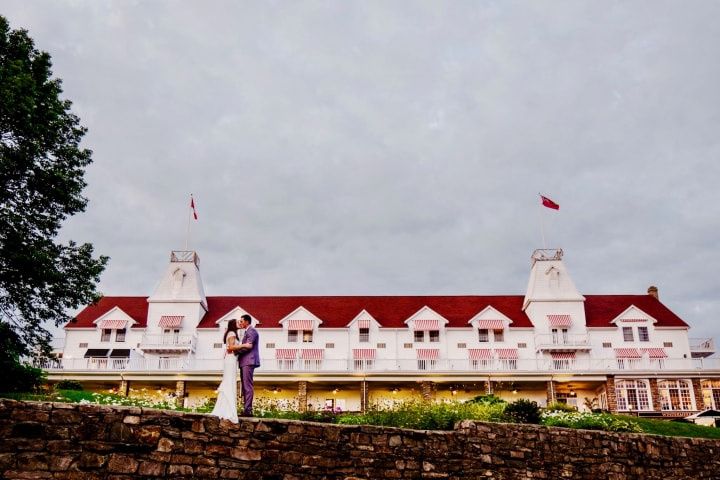 Want to say your wedding vows far far away from the hustle and bustle of city life? Muskoka or The Kawarthas may just be the Ontario destination for you. If you don't have enough room to fit your friends and family onto your cottage dock, why not bring them to one of these gorgeous Muskoka wedding venues? From breweries to golf resorts to inns, you've got plenty of wedding-worthy options to choose from.
Here are Muskoka wedding venues that'll make you want to get married in cottage country.
Severn Lodge
This Port Severn wedding venue offers a luxurious cottage experience for couples and their guests. Severn Lodge is located right on the edge of Gloucester Pool and offers stunning views of the water and surrounding woodlands (great backdrops for wedding photos). It has both indoor and outdoor spaces available for ceremonies and receptions, so you can pick what suits you best. The largest space (the lakeside tent) is able to accommodate up to 200 guests, so it's a great choice for midsize to large celebrations. As an added bonus, it has tons of activities for you and your guests to enjoy, like swimming, tennis, volleyball, canoeing, kayaking.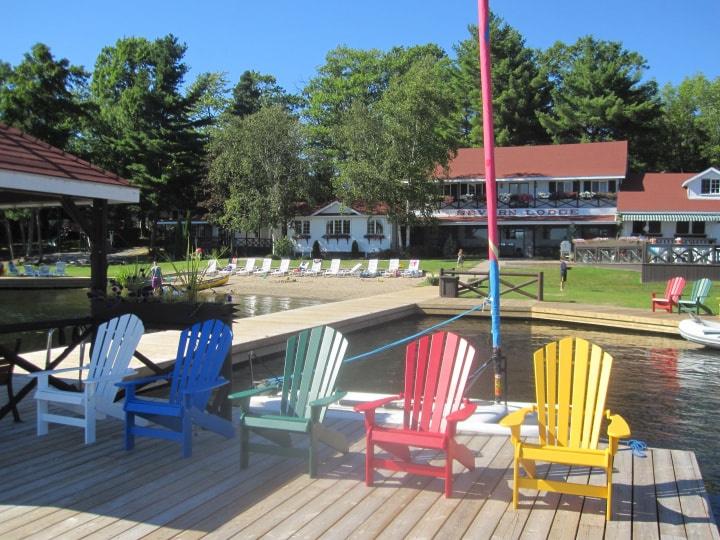 Windermere House
If you're on the hunt for a vintage Muskoka wedding venue, look no further than Windermere House. The Victorian-style hotel was built in 1870 and will bring your guests back in time with its charming decor. On your big day you can make use of the Island View ballroom, grand veranda, and/or front lawn (all offer awesome views of Lake Rosseau). The largest space can fit up to 150 people, so you shouldn't have to cut down your guest list.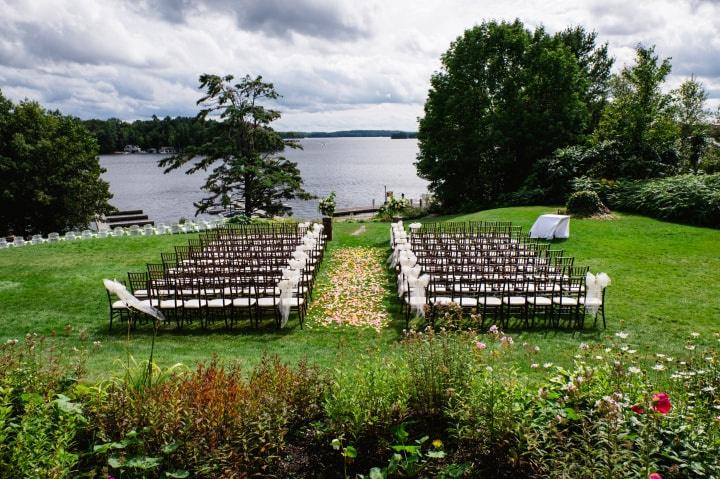 Morgan House Bed and Breakfast
For an intimate celebration of up to 25 people, be sure to check out Morgan House Bed and Breakfast—a quaint and charming wedding venue nestled in the woods just outside Huntsville. The property features a beautifully-restored stone house, historic barn, a pond, and terraced country gardens. The event space rental includes outdoor spaces, the covered open-air pavilion, and the barn with large sliding doors—all designed to offer spectacular views of the gardens and rustic landscape. An onsite wedding planner will help coordinate event rentals and outside vendors. You can also stay overnight by booking a guest room in the traditional bed and breakfast situated in the stone house.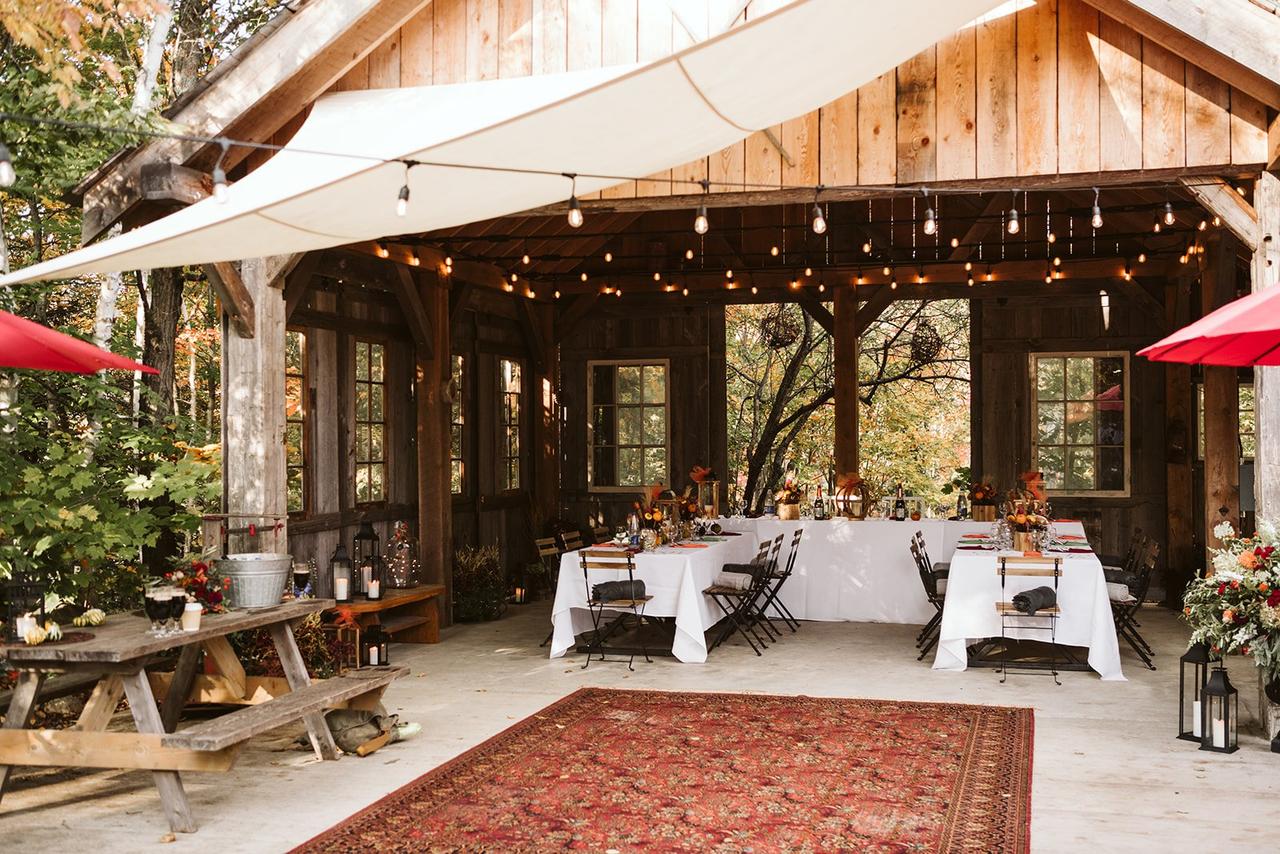 Sawdust City Brewing Company
Looking for a unique Muskoka wedding venue? Sawdust City Brewing Company may just be the spot for you. The Gravenhurst-based brewery is a massive 20,000 square foot operation with a brewhouse, canning line, barrel-aging room, retail store, taproom and Saloon (plenty of options for your wedding portraits). The Saloon is the perfect spot for your ceremony or reception, boasting rustic wood-heavy decor and enough room for 60 of your nearest and dearest (so it's best suited for smaller events).
Muskoka Foundry
Is your guest list on the larger side? Head to Bracebridge to host your wedding in a historic landmark—Muskoka Foundry. The industrial-style event hall is 10,000 square feet and can seat up to 400 guests. The impressive space features 40-foot ceilings, exposed brick, steel beams, massive windows and an outdoor terrace and gardens. You'll also get a bridal suite for you and your wedding party to get ready for the festivities. The event team can help you plan all the details—rentals, food and beverage, lighting, sound and vendor setup.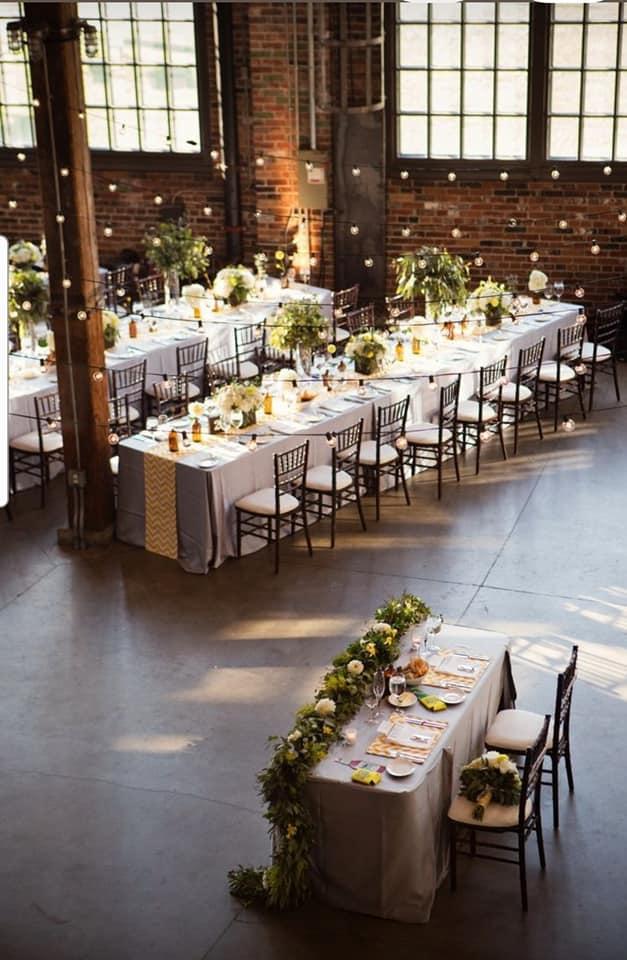 Camp Muskoka
If you're nostalgic for your summer camp days, bring your guests to this Bracebridge-based venue for your big day. The 400-acre estate is available from September through June and will have your guests feeling like tweens and teens again. Camp Muskoka offers stunning views of lakes, the Boreal forest and the Canadian Shield and has plenty of rustic indoor and outdoor spots where you can say your 'I dos'. It can accommodate up to 220 of your friends and relatives, meaning you should be able to add a few plus ones to your guest list.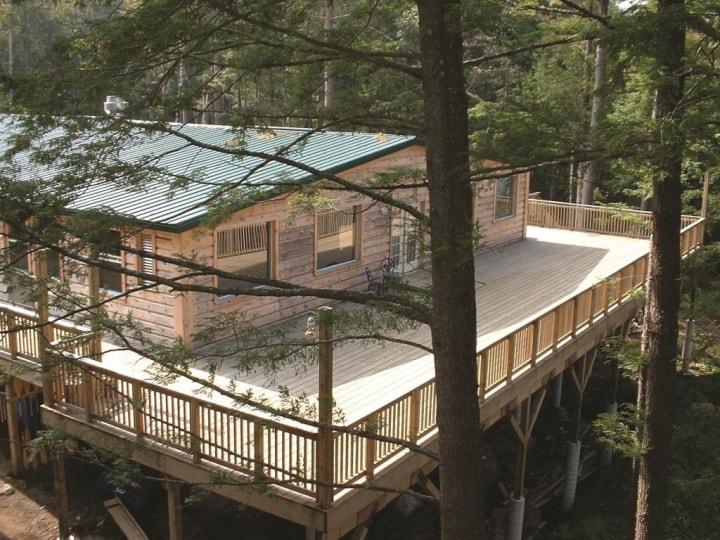 Sherwood Inn
This picturesque Port Carling getaway is the ideal spot for couples who are in the market for a rustic Muskoka wedding venue. The beachside Sherwood Inn sits right on the shores of Lake Joseph and offers beautiful views of the water and surrounding woodland. Inside you'll find shabby-chic function rooms and accommodations, perfect for those who prefer homey venues over elegant event halls. It can fit up to 130 guests, so don't go too crazy with your invites.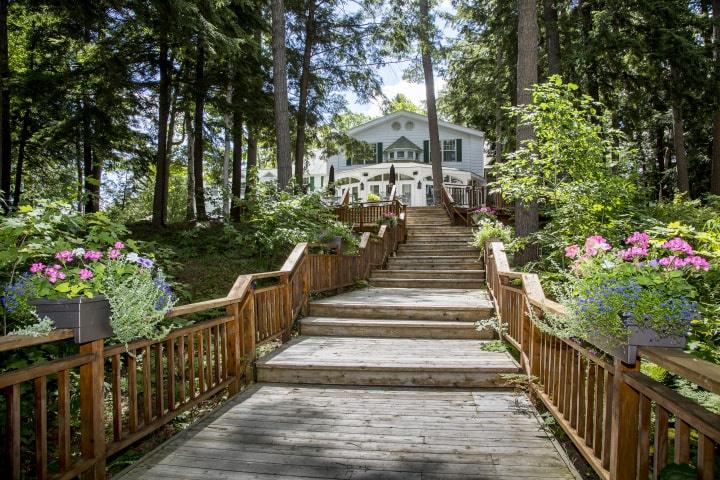 Lumina Resort
Lumina Resort is another lakeside option with some serious wedding potential. It's located in Dwight, Ontario at the edge of Lake of Bays, so you can count on having a picturesque backdrop for your wedding. It has indoor and outdoor event options, so your wedding is guaranteed to go off without a hitch, rain or shine. Its beautiful rustic dining room has enough space to seat 160 people, making it a good option for midsize weddings.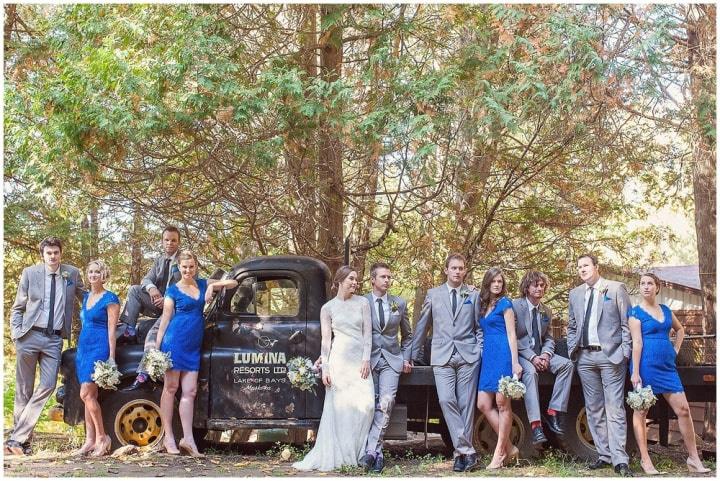 Deerhurst Resort
If you're in the market for a Muskoka wedding venue with a bit more glitz and glam, Deerhurst Resort needs to be on your radar. From shimmering chandeliers to stunning waterfront views, this place seriously does have it all. The resort is equipped with scenic outdoor spaces and elegant indoor ballrooms and event halls up for grabs, meaning it can cater to any kind of event. It can accommodate intimate weddings or huge events with over 1000 guests, so you have options with your guest list.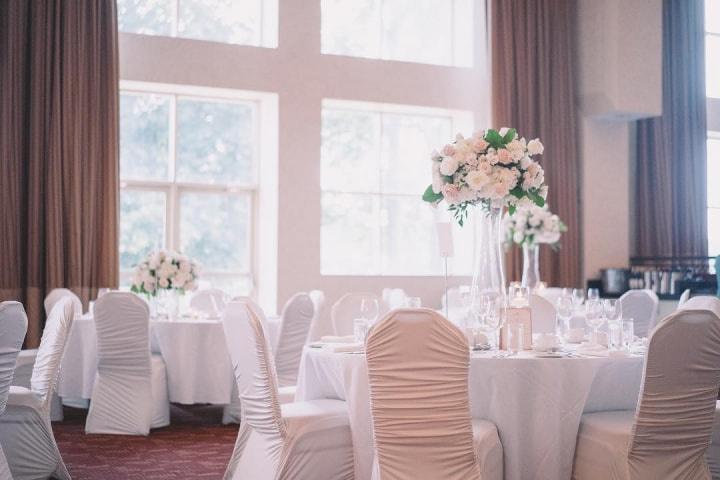 Clevelands House Resort
Clevelands House Resort is a beautiful 408-acre estate that sits on the edge of the Lake Rosseau. It flaunts gorgeous gardens, breathtaking views and a wedding-worthy restaurant where you can tie the knot and/or hold your reception if you don't want to make use of the great outdoors. It has a capacity of 180 guests, so you should be able to squeeze in all of your friends and relatives (and probably a few acquaintances, too).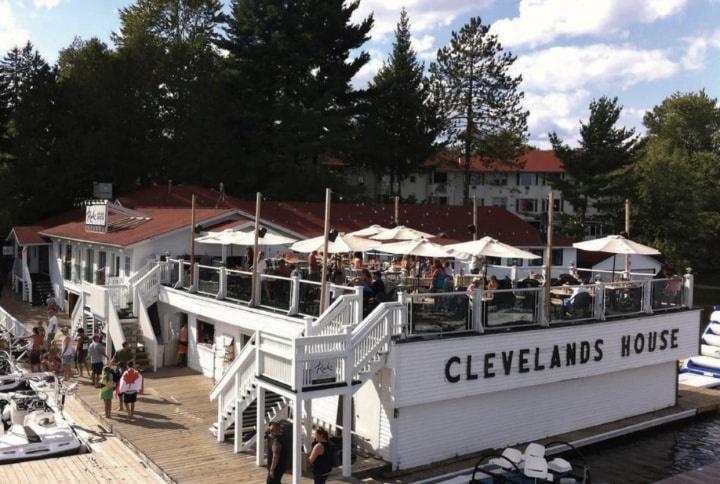 Rocky Crest Golf Resort
Have you got your sights set on a country club wedding? Well, the Rocky Crest Golf Resort is definitely worth considering. It's located in Mactier and has amazing views of both Lake Joseph and Armishaw Lake. Inside you'll find a beautiful banquet hall where you can party the night away after your dockside ceremony. It can accommodate groups of up to 180 and has plenty of space for you and your guests to mix and mingle.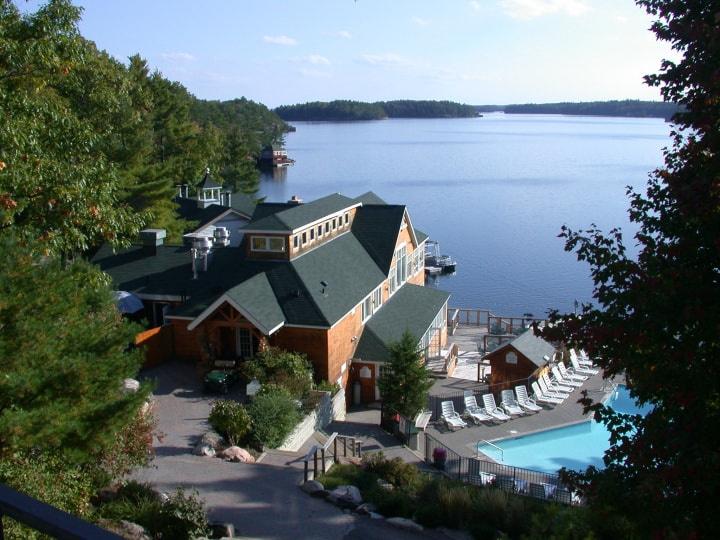 Touchstone Resort
Bracebridge's Touchstone Resort is without a doubt one of the best Muskoka wedding venues available. With stunning modern-meets-rustic accommodations and event rooms, dock cabanas and plenty of lawn and beach space, it's basically the cottage you've always wanted but could never afford. It has a seated capacity of 80 guests, so it's best suited for more intimate weddings.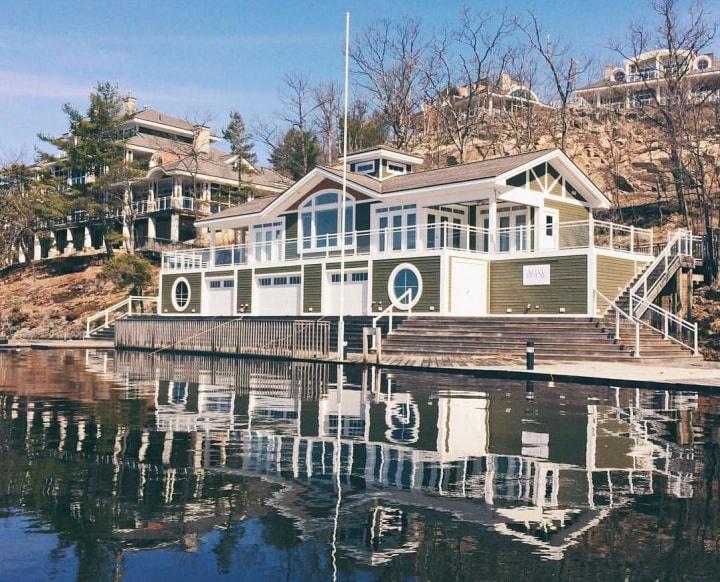 Brooklands Farm
Just outside of Bracebridge you'll find one of the most gorgeous wedding venues in the Muskokas, Brooklands Farm. This spot has been around since 1876 and boasts a drop-dead gorgeous renovated barn, a lodge house that you can use as your bridal suite, and plenty of outdoor space (if an open-air wedding is more up your alley). Its surrounded by manicured gardens, lush forests, sprawling fields, and lakes, giving you one epic wedding backdrop. It can accommodate anywhere from 6 to 140 guests.
Muskoka Highlands Golf Links
If a country club wedding is more your speed, you need to check out the Muskoka Highlands Golf Links. It's located in Bracebridge and has both indoor and outdoor spaces available for celebrations. The manicured green has plenty of open space where you can put up a wedding tent, but there's also a beautiful timber-frame clubhouse that has an awesome cottage-y vibe. It can accommodate 100 indoors or 160 if you'd prefer to celebrate in the open air.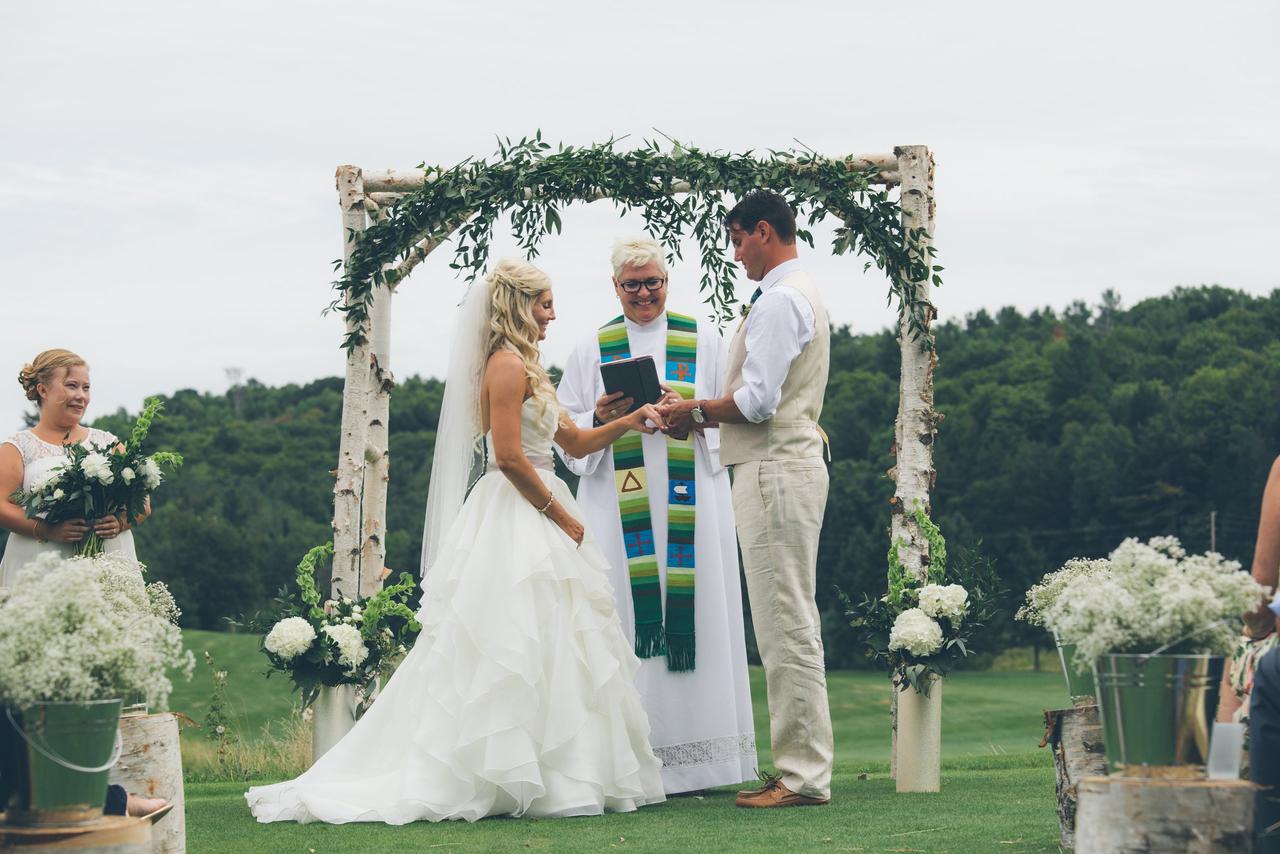 Muskoka Bay Resort
The Muskoka Bay Resort is another scenic golf course venue that offers immaculate, sprawling lawns and a clubhouse with a cozy feel and expansive patio. The interior flaunts modern decor with stone and wooden accents but can be dressed up to suit your specific wedding theme and colour scheme. It's large enough to accommodate up to 175 guests, making it a great choice for midsized weddings.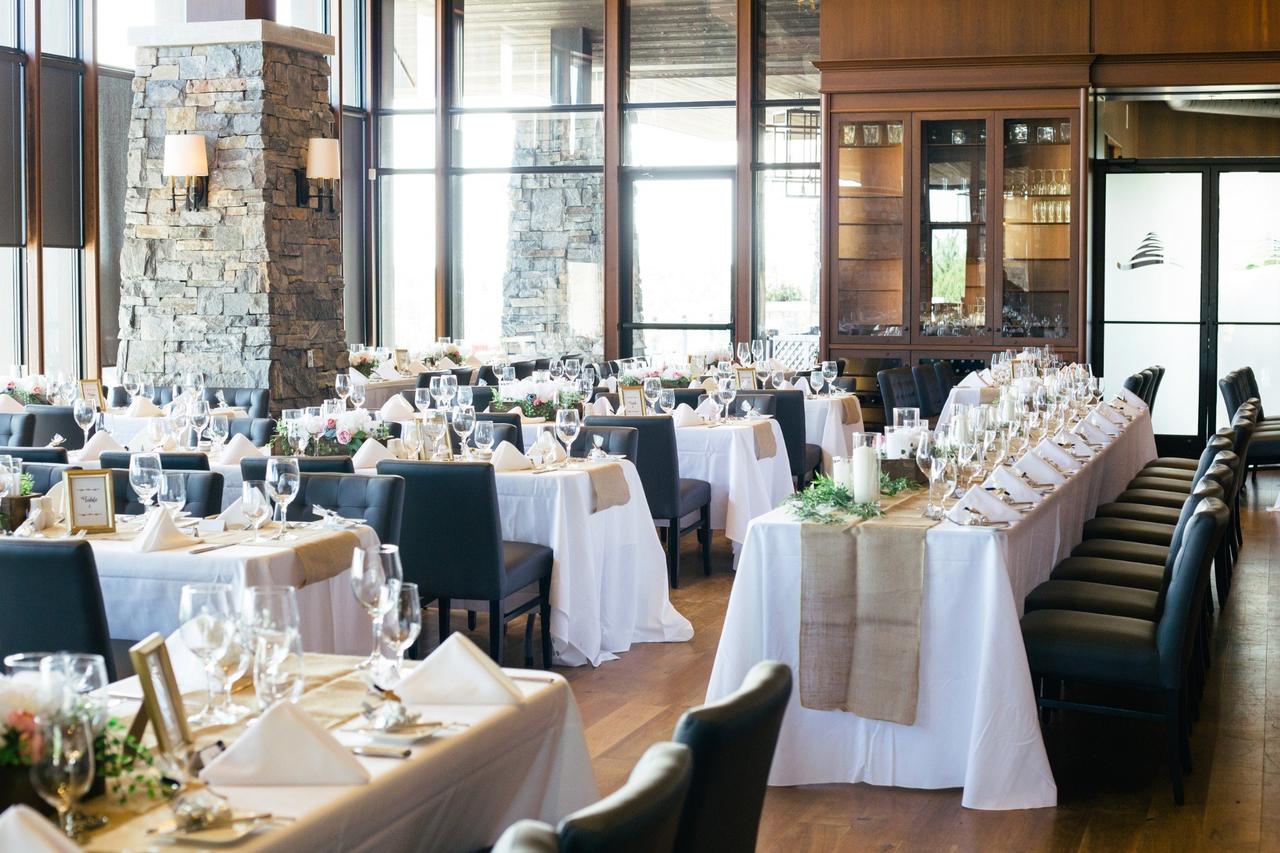 Bayview Wildwood Resort
Bayview Wildwood Resort is a Severn Bridge wedding venue right on the shores of Sparrow Lake. The waterfront lawn is the perfect spot to host your ceremony and it has plenty of space for a reception dinner in its banquet room. Its wedding packages as Muskoka destination wedding weekends, so you and your guests won't have to kiss it goodbye after one evening of fun. Whether you're looking for an indoor venue, an outdoor venue, or a bit of both, this spot can make your dreams come true. It's large enough to fit up to 225 seated guests.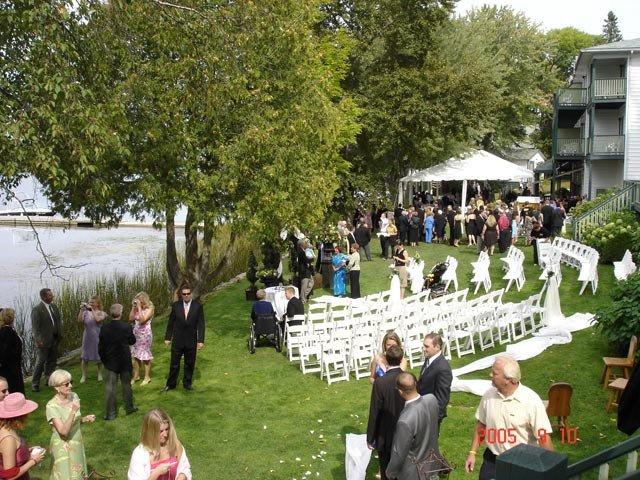 Highlands Estate
Head a little south of Muskoka to Kirkfield and you'll find Highlands Estate, a stunning woodland wedding venue. It covers 12 acres of land and has several outdoor wedding venues nestled among its trees (perfect for nature lovers!). It's also home to an elegant ballroom with glowing chandeliers and ornate moulding where you can host your dinner and reception. The space is large enough to accommodate up to 150 guests but can accommodate much smaller celebrations, too.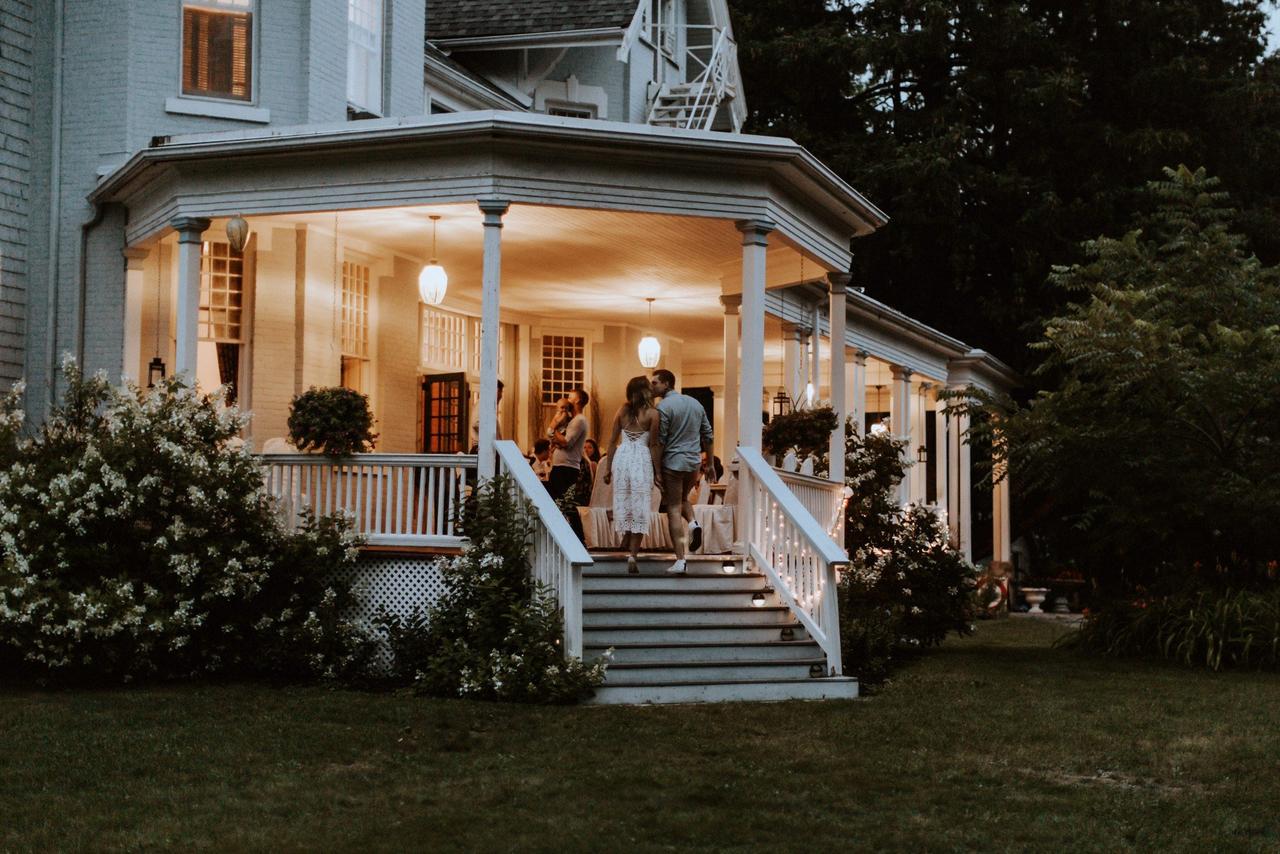 The Briars
The Briars is another great option for couples who are down to look slightly outside the Muskokas. The luxurious lakefront estate is located in Jacksons Point and has all the amenities you could want and need for your big day. It has equally gorgeous indoor and outdoor spaces on offer and is committed to environmental conservation and locally-sourced food (great, if you're looking to host an eco-friendly event). It can accommodate elopements, massive weddings with up to 400 guests, and everything in between.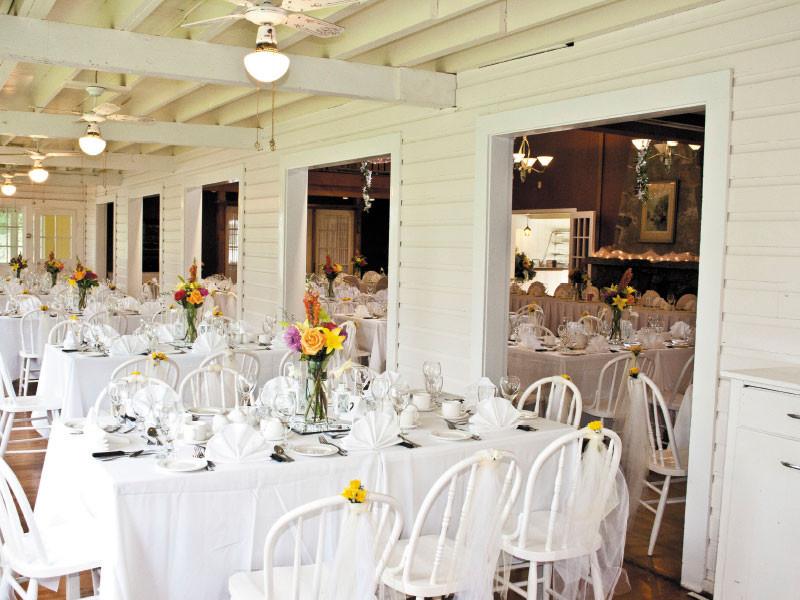 Eganridge Resort, Golf Club & Spa
Eganridge Resort, Golf Club & Spa is another great cottage-country option situated northeast of Toronto in the Kawarthas. Located in Fenelon Falls, the property features a variety of indoor and outdoor spaces overlooking Sturgeon Lake. Exchange vows lakeside under the tree canopy then host guests with an intimate, vintage-style reception in the 200-year old mansion, a tent wedding reception on the lawn, or a larger celebration (up to 300 guests) in the rustic Treetops ballroom in the main clubhouse. The team here can look after everything from award-winning menus to open bar packages to event rentals. A variety of accommodations, golf and spa services lets you and your guests celebrate and relax together all weekend long.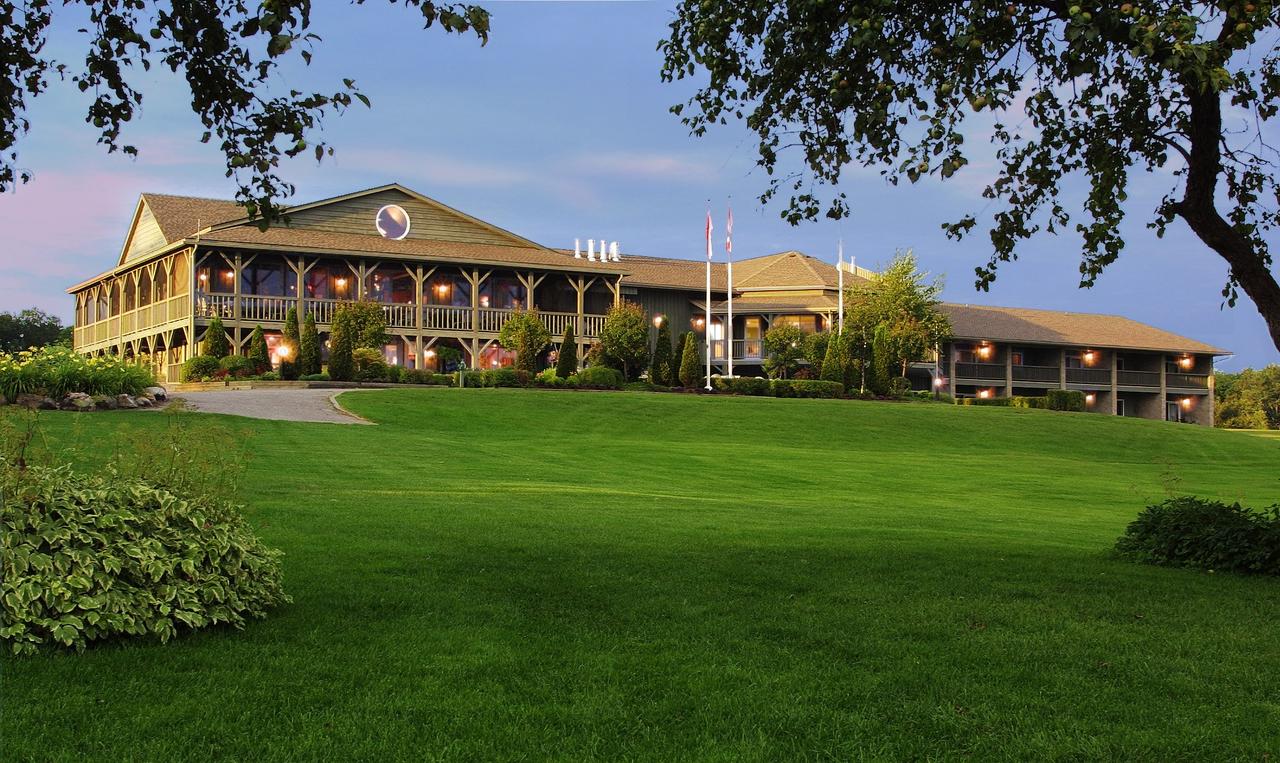 Find more Ontario wedding venues on WeddingWire »