20 Unique Wedding Venues in Toronto for Every Type of Couple
Haven't stumbled upon your dream wedding venue in Toronto just yet? We've got some great suggestions!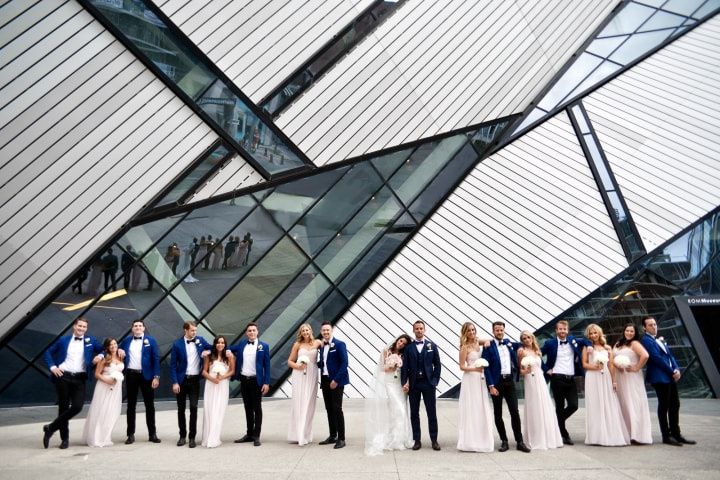 Finding the perfect place for your big day can be tricky. Luckily, if you're on the hunt for a unique wedding venue in Toronto, you've got options. The city is filled with event spaces, galleries, and ballrooms for every type of couple - from art lovers to beer fanatics. If you need a hand finding the best of the best for your celebration, read on.
Here are unique wedding venues in Toronto for every type of couple.
For the couple who wants to feel like royalty: Casa Loma (1 Austin Terrace)
Swap your shoebox-sized condo in for a unique wedding venue worthy of kings and queens on your wedding day. Casa Loma, one of Canada's few castles, offers an escape from the cities melange of towering office buildings and apartment complexes, harkening back to a simpler time. The gothic revival-style residence is equipped with sprawling estate gardens, a kickass view of the Toronto skyline and plenty of space for you and your guests to party the night away. Its capacity is 300.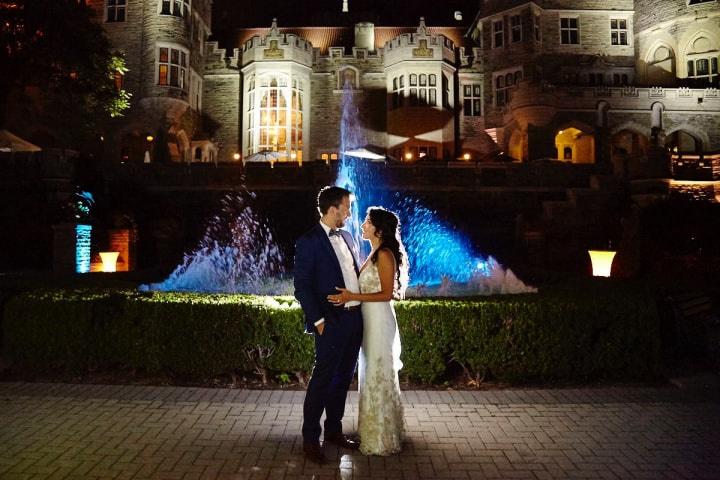 For the art lovers: Art Gallery of Ontario (317 Dundas Street West)
The Art Gallery of Ontario is the perfect unique wedding venue in Toronto for artsy duos who spend their nights off gallery hopping and creating their own masterpieces. The AGO comes pre-decorated with awe-inspiring works, so you won't have to spend days searching for bunting, fairy lights and candelabras to wow your guests. It has several event spaces available and can accommodate anywhere from 50 to 350 guests.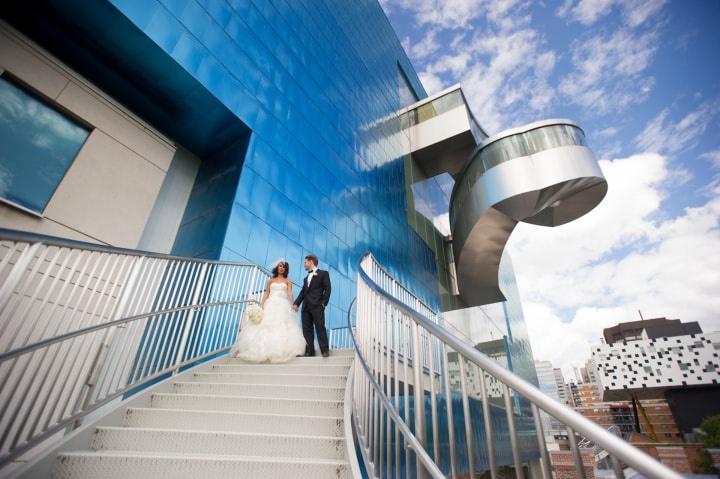 For the bookworms: Toronto Public Library (789 Yonge Street)
Give your wedding a dash of literary flair by hosting it at the Toronto Public Library, one of the city's best and biggest athenaeums. If you want to have your first smooch in the stacks, rent out Level One or Level Two (both can accommodate up to 500 guests). Prefer something a little more modern? Go with the Bram & Bluma Appel Salon (it can accommodate up to 575 guests). Note: the Bloor/Gladstone Library, Fort York Library and Scarborough Civic Centre Library can also be rented out for weddings if you're in the market for something outside of downtown.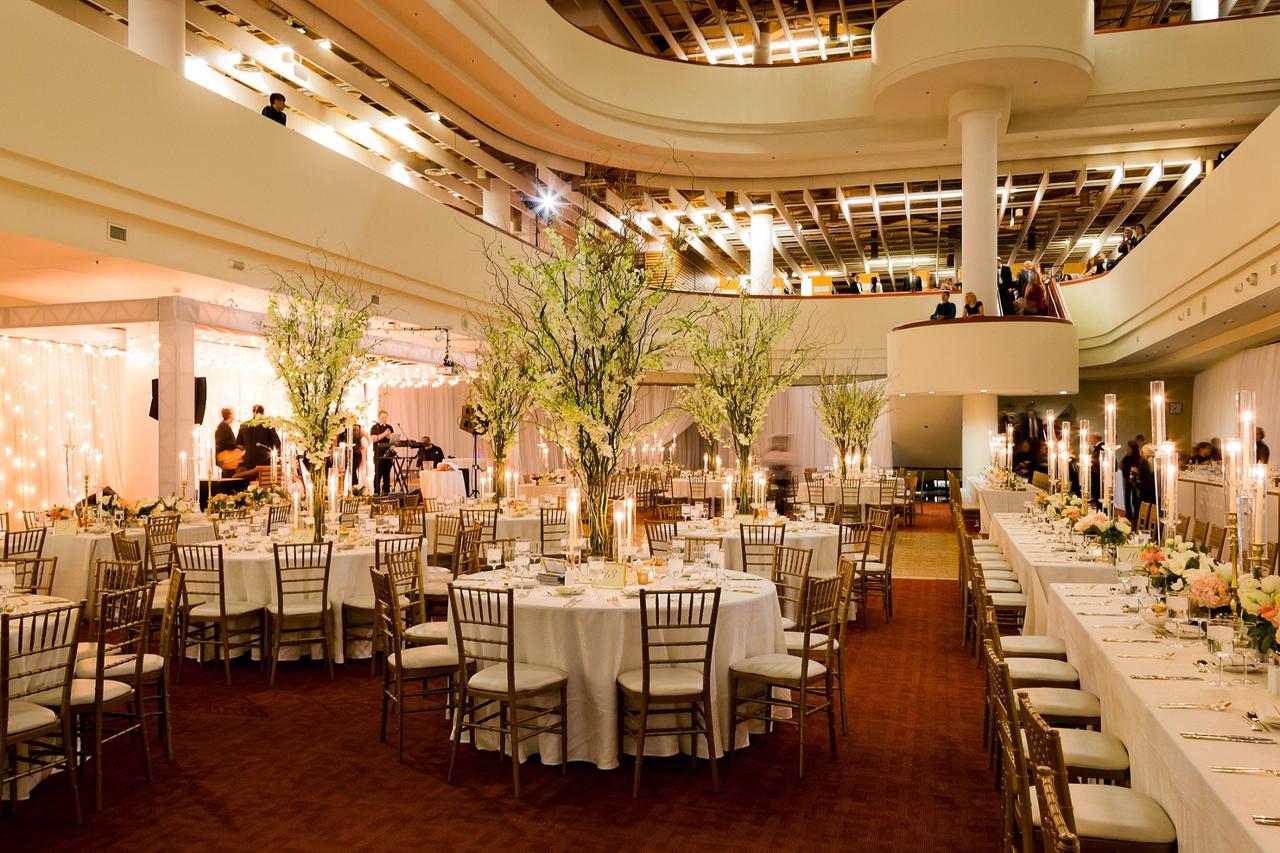 For the eco-friendly couple: Evergreen Brick Works (550 Bayview Avenue)
Do you and your S.O. want to throw the ultimate green wedding? The Evergreen Brick Works is calling out your name. The former industrial site has be transformed into an eco-friendly paradise dedicated to making city living sustainable. It's filled with flora and fauna and has plenty of stunning event spaces available. Whether you're looking to host a 2000 person reception or a handful of guests, it's got your back.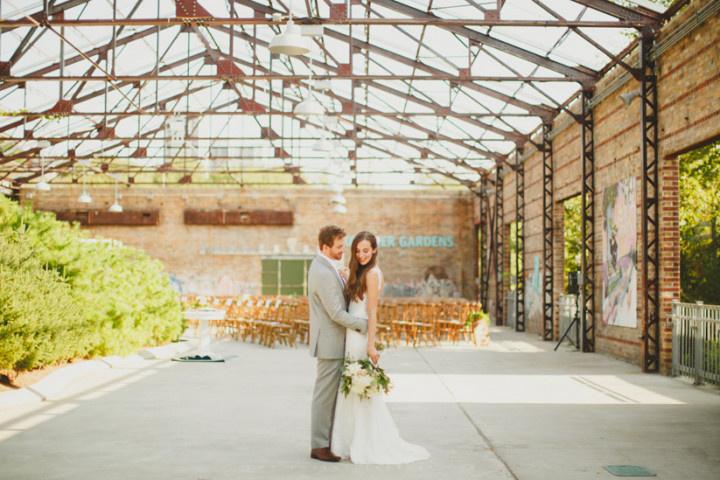 For the foodies: Bymark (85 Hanna Avenue)
Toronto really is a food lover's city, so you should have no trouble hunting down the perfect restaurant wedding venues for your big day. While there is no shortage of eateries to choose from, we suggest taking a look at Bymark in the heart of downtown. The Financial District restaurant's culinary team and mixologists are known for crafting custom gourmet seasonal menus and signature cocktails for private events. Its sophisticated interior design and variety of indoor and outdoor event spaces provide plenty of options when it comes to your guest count.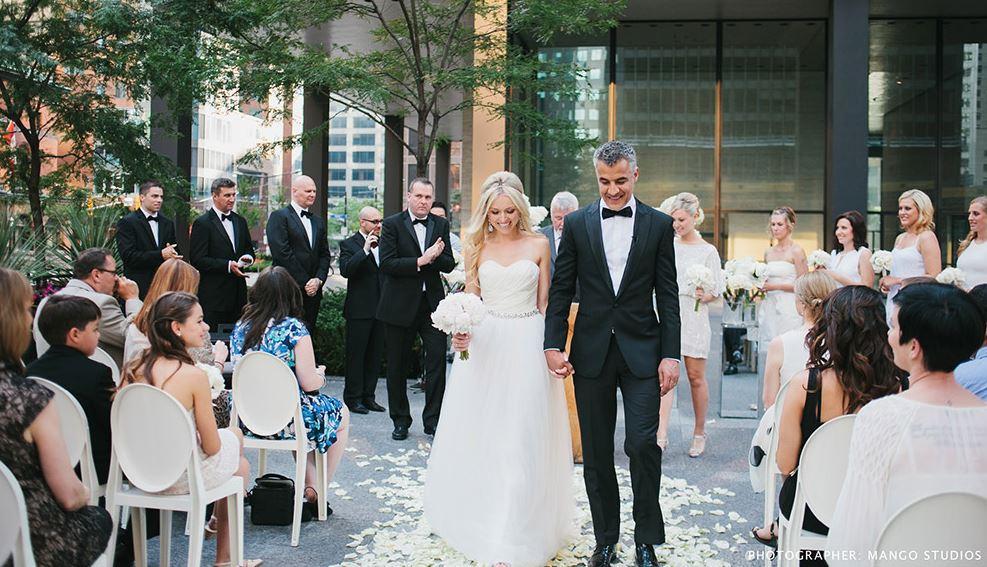 For the gardeners: Toronto Botanical Garden (777 Lawrence Ave E)
If you and your partner love a good nature walk, always keep your home outfitted with fresh floral arrangements and can't get enough of cherry blossom season in High Park, Toronto Botanical Garden may be the unique wedding venue in Toronto for you. This charity organization is committed to connecting people to plants—inspiring us all to live in harmony with nature. Their green-certified building featuring an impressive 5,000 square foot glass pavilion, houses two main halls with adjoining courtyards available to book. They also have several other outdoor spaces among the impressive botanical gardens.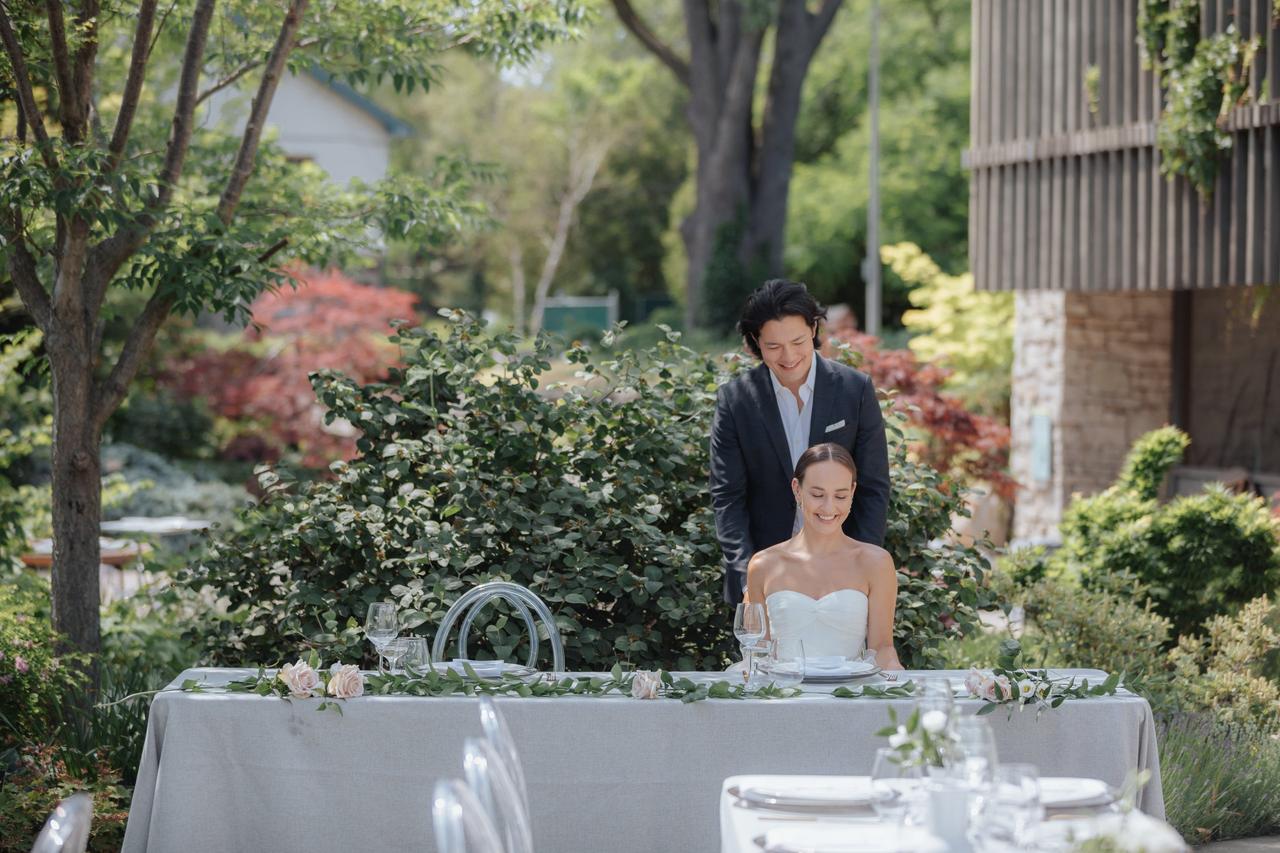 For the historians: Royal Ontario Museum (100 Queen's Park)
For all the history buffs, the Royal Ontario Museum is the obvious choice. Whether you want to say your vows in the presence of dinos or get hitched while surrounded by European treasures, the ROM has got you covered. Capacity varies from room to room, but it can host intimate dinners of 80, massive cocktail parties for 2000 and pretty much everything in between.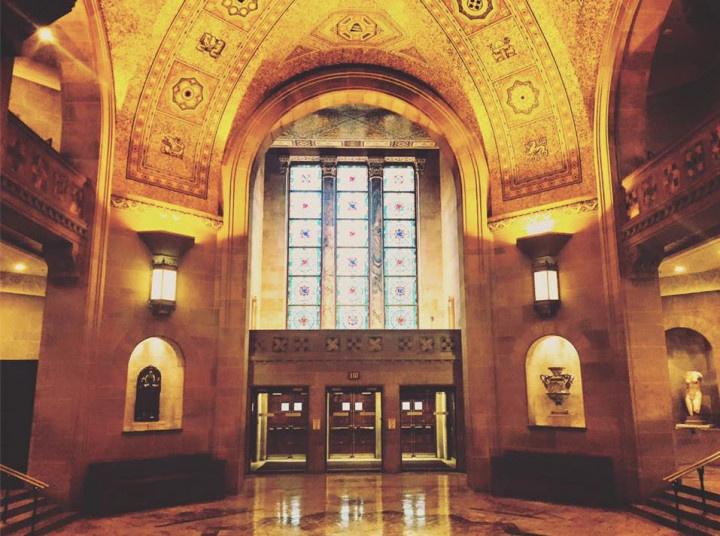 For the aquatically-inclined: City Cruises (207 Queen's Quay West)
Bid farewell to the hustle and bustle of city streets and hop aboard a boat wedding venue (cruise ship or yacht) to say your "I dos" on the water. City Cruises has six wedding-worthy boats available that can cater to both intimate and extravagant affairs between 40 and 560 guests. They're outfitted with glossy floors, expansive decks and offer some stellar views of the Toronto skyline. The largest boat of the bunch, the Northern Spirit, has a capacity of 560 passengers, so don't feel pressured to cut back your guest list.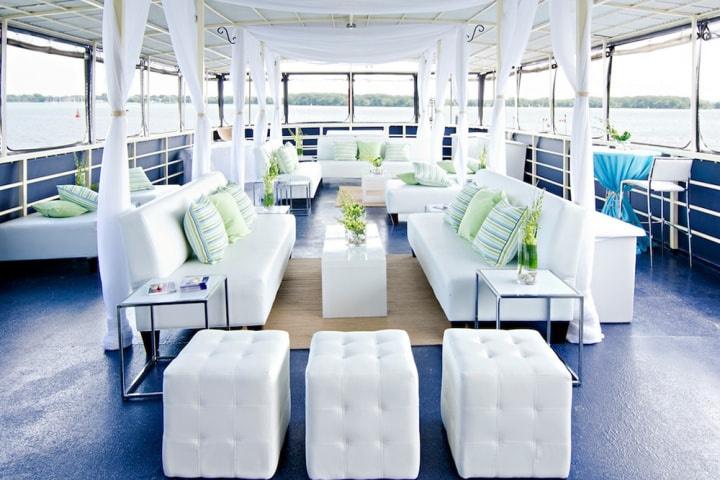 For the scholars: Hart House (7 Hart House Circle)
U of T students were gifted with a beautiful campus, so why not put it to good use one more time post-graduation? Paying homage to the early days of your relationship by tying the knot at your alma mater is a cute idea that takes care of your "something old". While the university has a ton of amazing rooms and halls to choose from, we suggest heading to Hart House for your nuptials. The gothic revival building, established nearly a century ago, has a few impeccably-designed event spaces up for grabs. The largest can fit 400 guests, so feel free to add a few extra names to your list.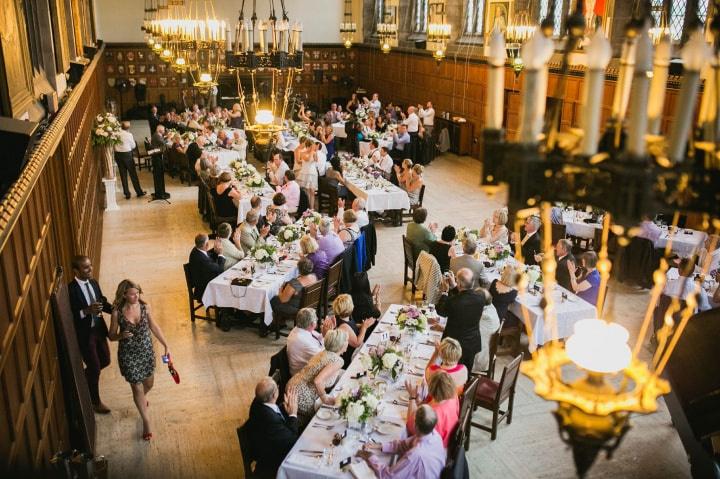 For the beer fanatics: Steam Whistle Brewing (255 Bremner Boulevard)
Do you and your S.O. spend your weekends grabbing pints at Indie Alehouse? Are gastropubs your go-to date night spots? Well, a brewery wedding may be in the cards for you. Head to Roundhouse Park, and you'll find Steam Whistle Brewing, a Toronto favourite. It's located inside of a decommissioned roundhouse and boasts sky-high ceilings, massive multi-paned windows and exposed brick walls (plenty of photo-ops here!). The space can accommodate anywhere from 30-750 people, so you can be pretty flexible with your guest list (if your budget allows).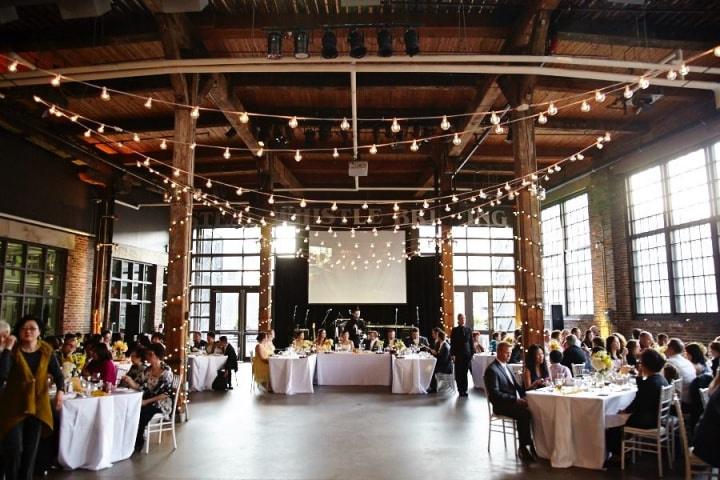 For the coffee-obsessed: Balzac's Café (29 Powerhouse Street)
If you frequent Toronto coffee shops, you've probably set foot in one or two Balzac's Café's locations. Its Powerhouse cafe (right near Davenport and Lansdowne), makes for an amazing, intimate wedding venue. Its interior is trendy and stylish with vintage accents, exposed brick walls and ceramic floors (basically, it's the Toronto apartment you've dream of having but could never afford). It has enough space for 80 guests, so you'll want to keep your guest list on the shorter side.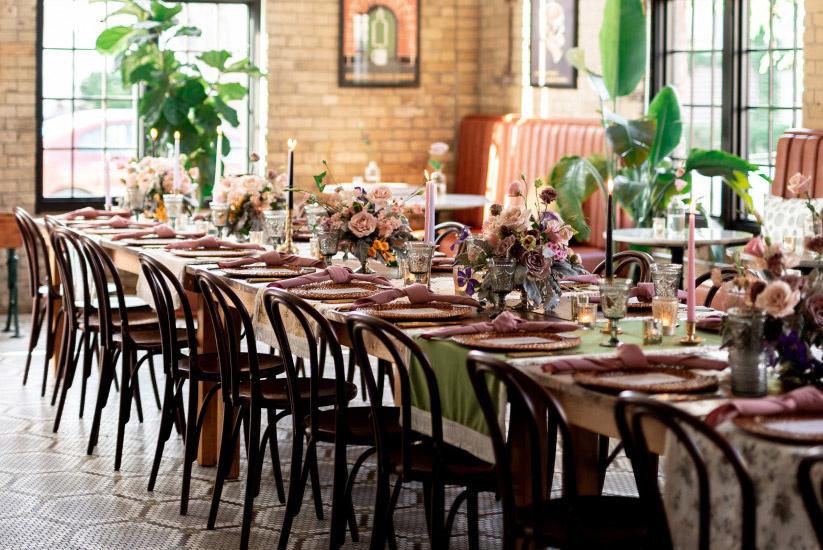 For the islanders: Artscape Gibraltar Point (443 Lakeshore Avenue)
Love taking trips to the island? Well, Artscape Gibraltar Point may just be the best wedding venue in Toronto for you. You can tie the knot in the great outdoors with Lake Ontario right by your feet, on the lawn, surrounded by nature or inside the event hall (perfect for if the weather starts acting up). Inside the maximum capacity is 270 guests, but the outdoor space is large enough to accommodate up to 2000 guests.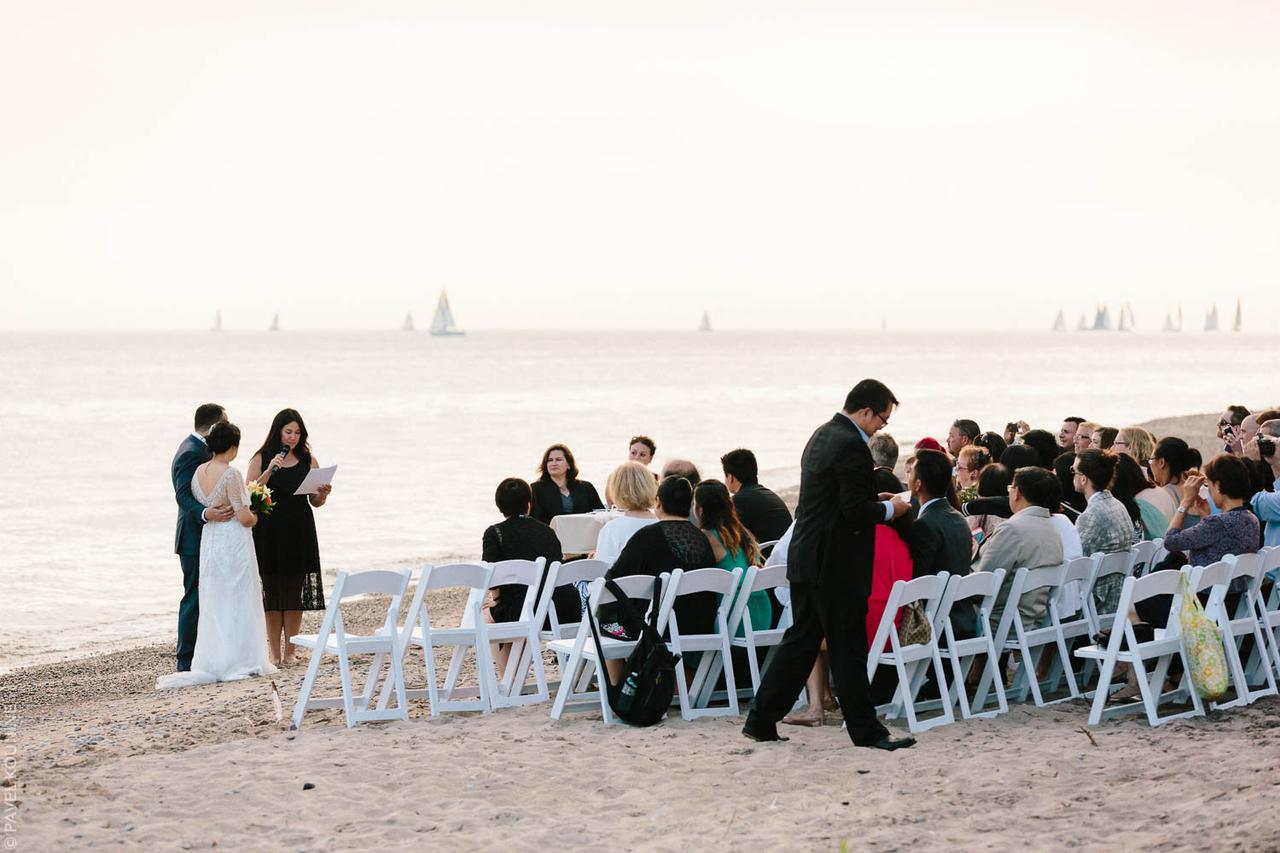 For the thespians: The Elgin and Winter Garden Theatre Centre (189 Yonge Street)
If you've got serious love for the stage, why not get hitched at one of Toronto's most iconic theatres? The Elgin and Winter Garden Theatre Centre is a flexible and unique wedding venue in Toronto with some serious vaudeville style. You can tie the knot and celebrate right on a theatre stage or take advantage of one of the theatres many event rooms or lobbies. The largest space can fit up 700 guests, meaning you should be able to fit all of your nearest and dearest.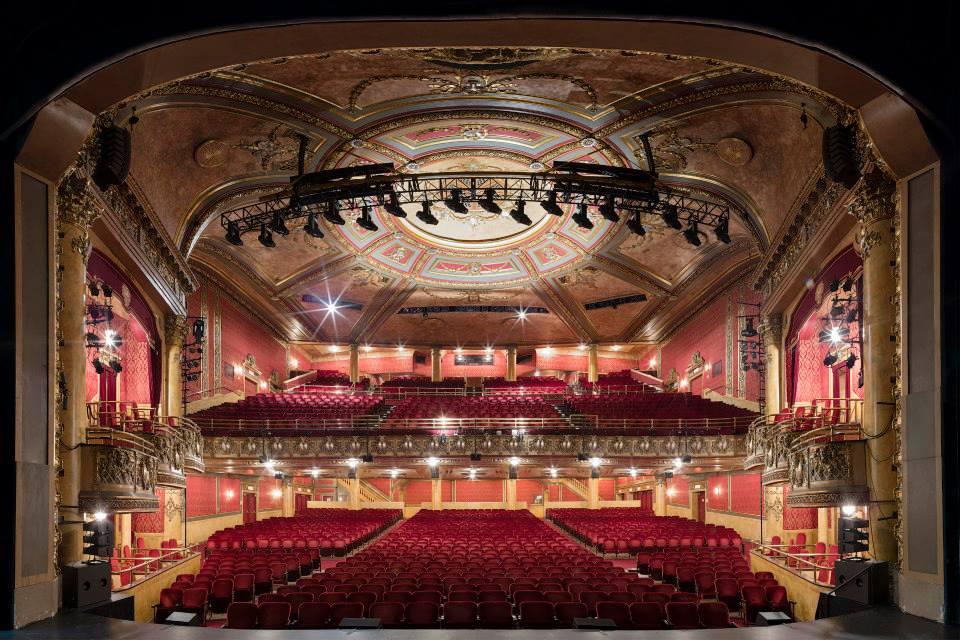 For the hockey fans: Hockey Hall of Fame (30 Yonge Street)
Calling all die-hard hockey fans! If your favourite season is hockey season, I've got some good news for you - you can actually say your vows at the Hockey Hall of Fame. On your big day you can make use of the three levels, the concourse (which has two theatres), its interactive rink zone (great for photo ops), the mezzanine and/or the Great Hall. It can accommodate anything from elopements to massive thousand-person parties, so you have enough room to plan the wedding of your dreams.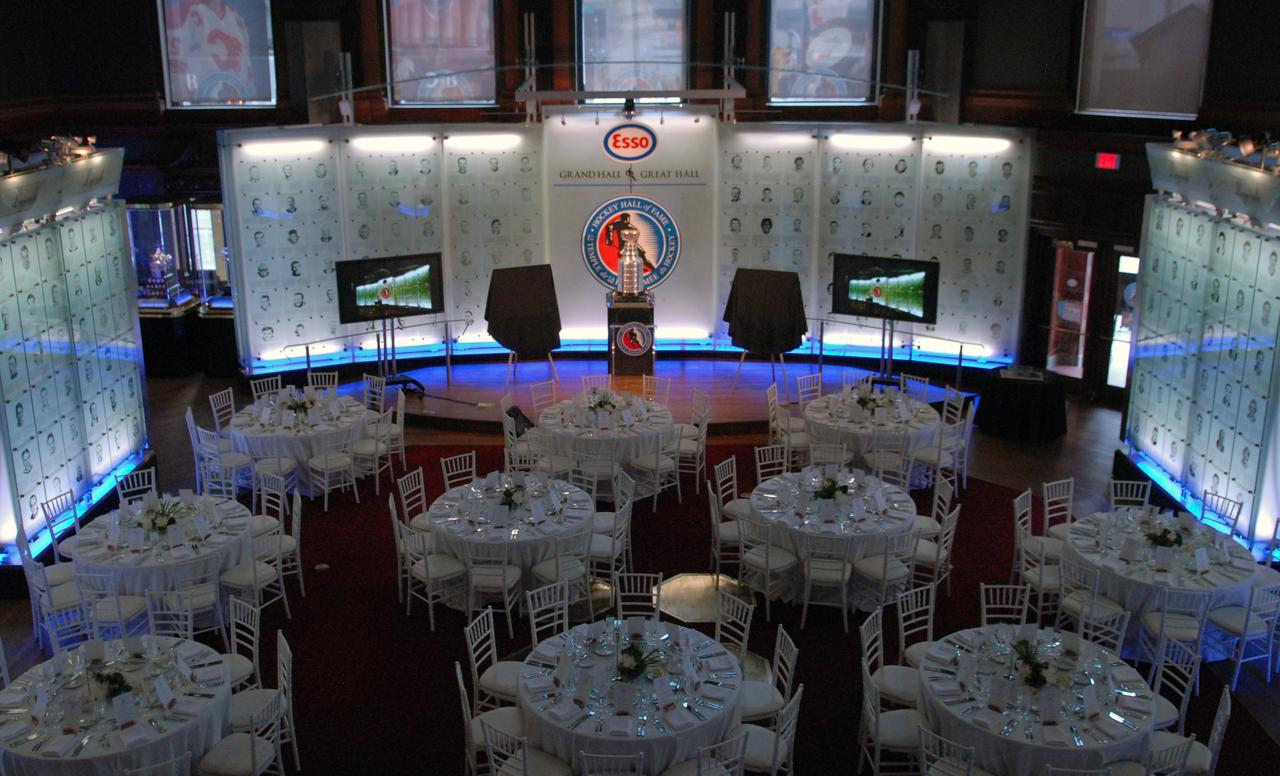 For the cinema buffs: The Eglinton Grand (400 Eglinton Avenue West)
You may not be able to watch movies at The Eglinton Grand anymore, but you can celebrate your big day there! The decommissioned theatre now operates as a full-service event space, so hosting weddings and parties is its specialty. Inside, not much has changed - it's outfitted with art deco furnishings, plenty of mahogany and a healthy dose of marble. You've got two unique rooms to choose from for your celebration: The Gallery (which has a capacity of 220 guests) and the Grand Ballroom (which has a capacity of 550 guests). P.S. You'll also have full access to its bridal suite, so you won't have to get ready at home or in a hotel room.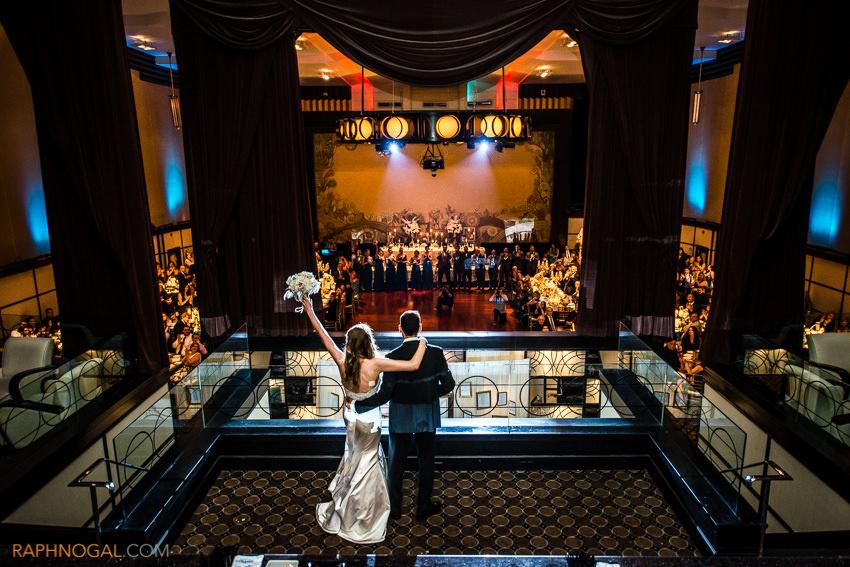 For the vintage couple: Graydon Hall Manor (185 Graydon Hall Drive)
Head north of the city centre to make use of one of the most stunning vintage wedding venues Toronto has on offer, Graydon Hall Manor. It's a Georgian-style mansion with a history that dates back to 1936. Inside you'll find grand fireplaces, shimmering chandeliers, oil paintings and all the trappings of luxury. Outside is just as elegant, with stone terraces, sweeping gardens and fountains. We suggest opting for an indoor-outdoor event so that you get the best of both worlds. Its indoor capacity is 180 guests and its outdoor capacity is 250 guests.
For the industrial-chic duo: Fermenting Cellar (28 Distillery Lane)
The Distillery District is known for its industrial style, so, naturally, it's the place to go if you're on the hunt for an industrial-chic wedding venue in Toronto. The Fermenting Cellar is definitely one of its best. It flaunts massive factory windows (giving you plenty of natural light), sky-high ceilings, exposed beams and limestone walls (giving it a bit of a warehouse vibe). It can fit up to 600 people, meaning you should be able to accommodate your dream guest list without making any cuts.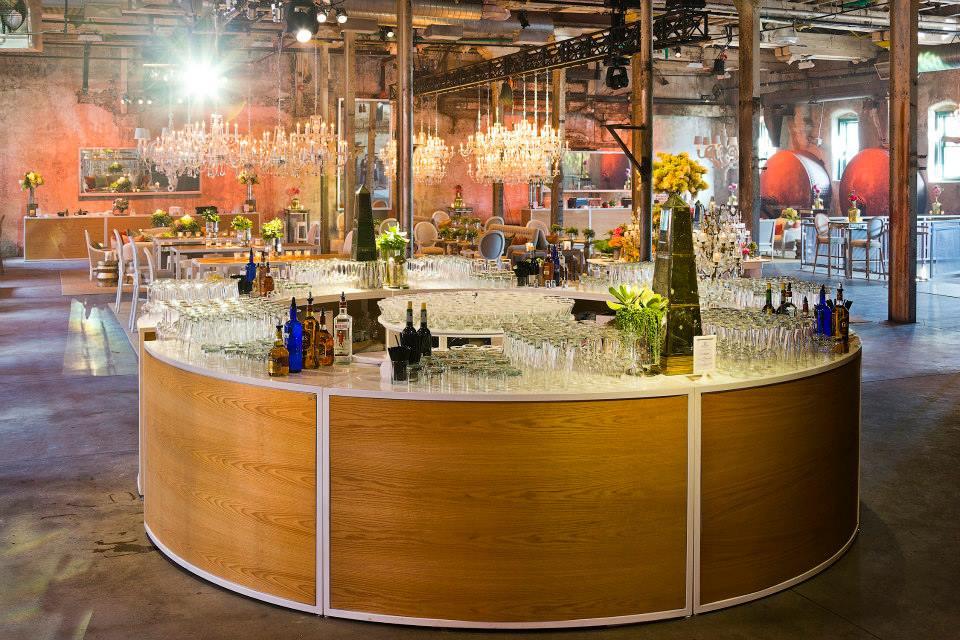 For the modernists: District 28 (28 Logan Avenue)
Tired of elegant ballrooms? Bored of vintage mansions? Don't think a stage or garden is good enough for you? Well, we suggest skipping all that and going with a completely modern venue, like District 28. It's located in the heart of Toronto's Studio District and has taken over what used to be an abandoned warehouse. Naturally, it's been prettied up with renovations and a few coats of paint, but it still has some industrial-chic sparkle. Inside you'll find three studios, and in-house screening room, a restaurant, and a reception area - so you have plenty of options for your celebration. The largest space has a capacity of 400 guests.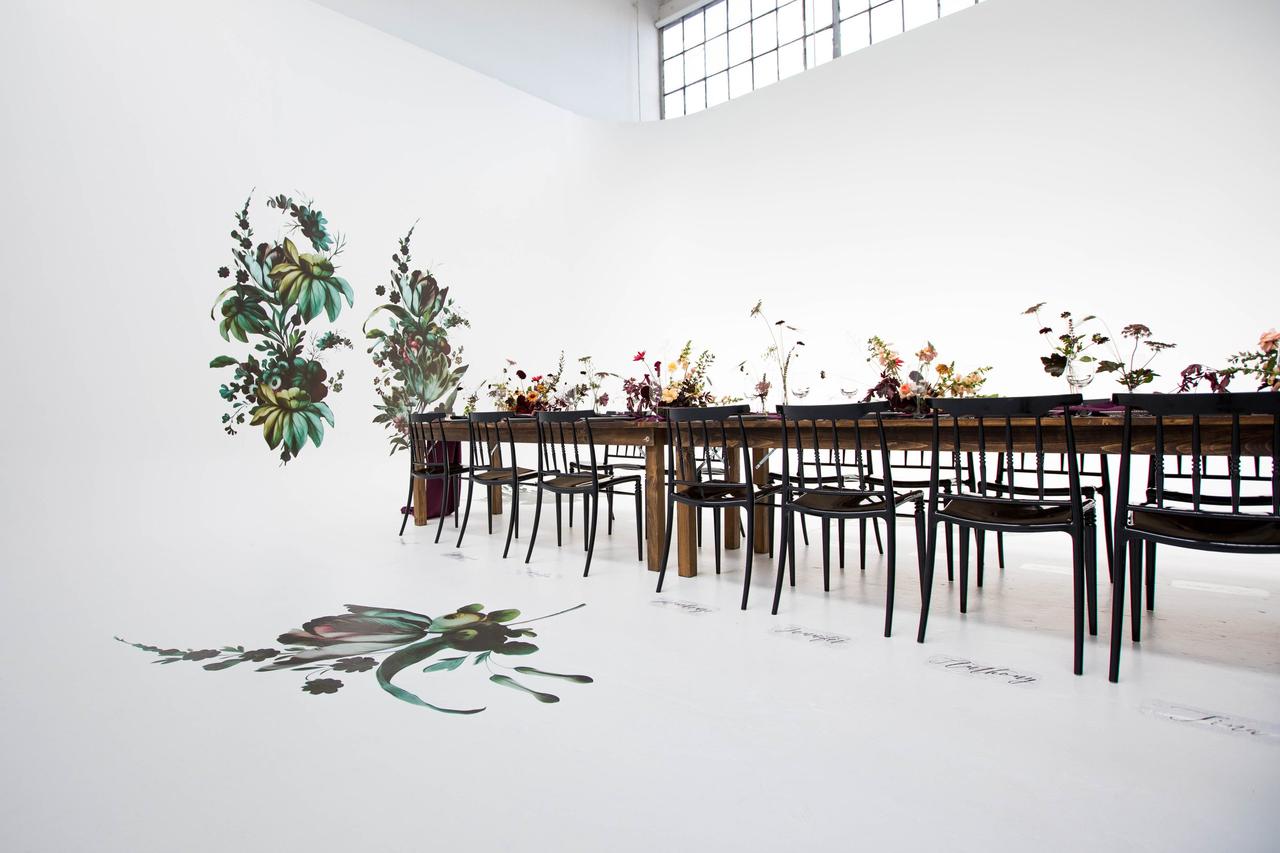 For the nature lovers: Kortright Event Space (9550 Pine Valley Drive)
Take the trip north of the city to Vaughan to immerse yourselves in nature at the Kortright Event Space. The conservation centre is situated in the middle of a forest, giving you some serious fairytale vibes. It has indoor and outdoor event options, so you can say your vows under a canopy of trees or look out onto the woodlands from the comfort of the indoors. The largest space can fit up to 150 guests, so it's a great option for a midsize wedding. The decor is ever-changing,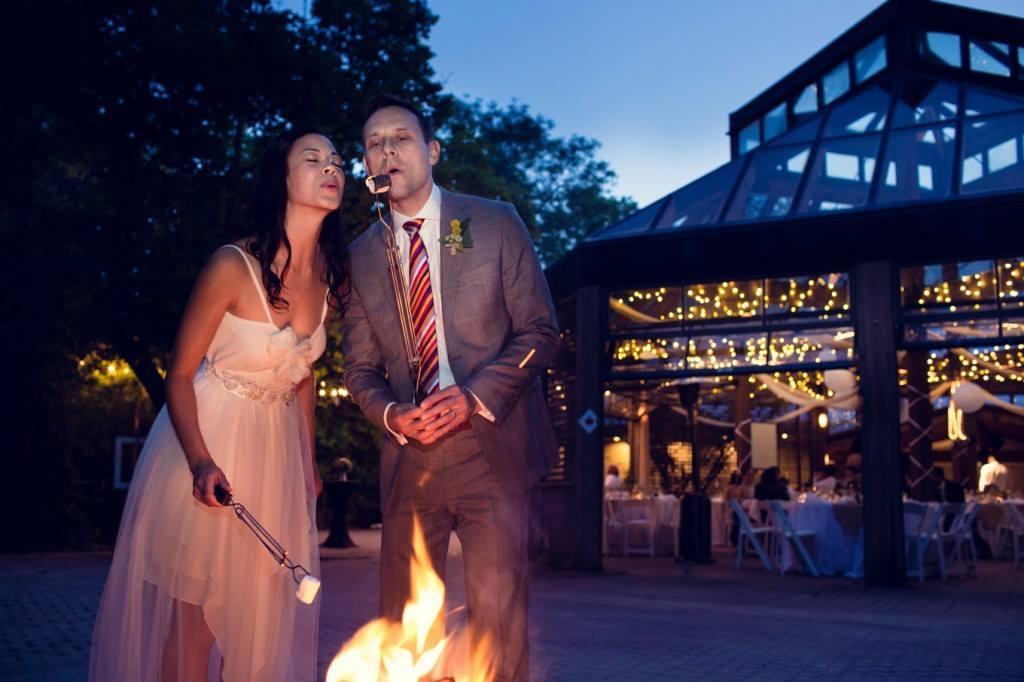 For the trendsetters: The Drake Hotel (1150 Queen Street West)
Toronto has its fair share of hotel wedding venues, but if you're searching for something that's artsier and trendier than a big-box chain hotel, The Drake Hotel is where it's at. This Queen West hot spot is known for hosting concerts, hip parties and epic events, so you know you're getting the best of the best from its team. As for spaces, you can use The South Lounge, The North Lounge, The Underground, The Sky Yard, Room 222, The Cafe Bistro and/or the South Patio (basically, the entire hotel).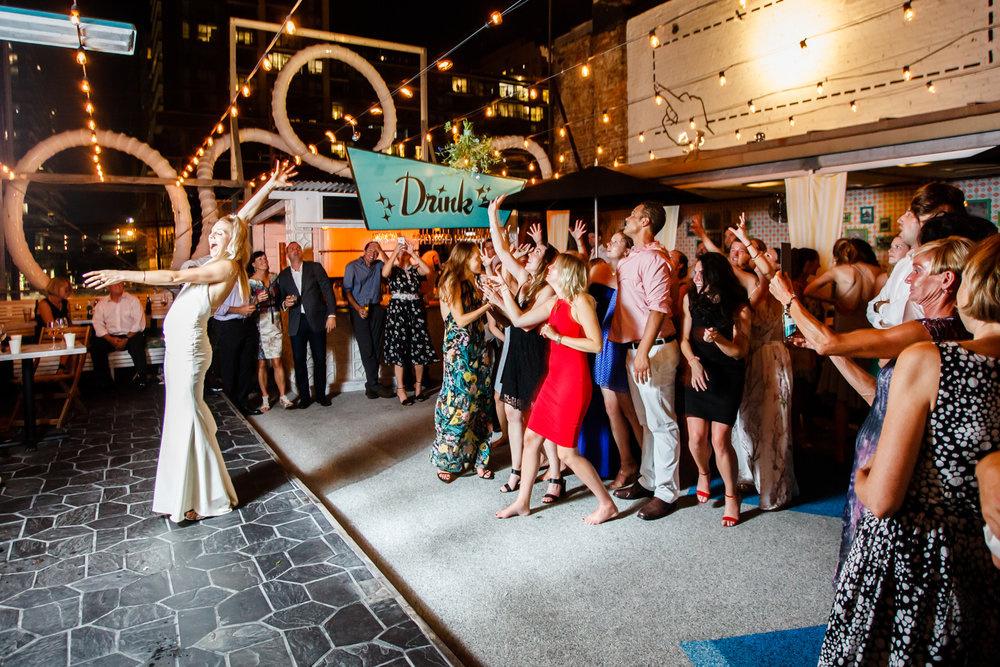 Find more unique wedding venues in Toronto on WeddingWire »