19 Stunning Industrial Chic Wedding Venues in Toronto
If you're looking to infuse your big day with some industrial chic vibes, these Toronto wedding venues are worth checking out.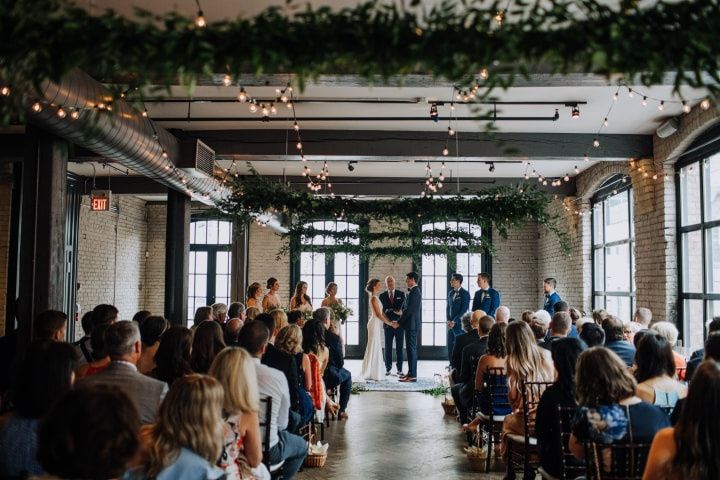 Looking for an industrial chic wedding venue in Toronto? Well, you're in luck! This city is brimming with stunning exposed brick and beam spaces perfect for your reception and ceremony. From galleries to breweries to hotels, the 6ix really does have it all. P.S. if you want to see a few more spots with a similar vibe, take a look at these Toronto loft wedding venues.
Here are some stunning industrial chic wedding venues in Toronto.
Junction Craft Brewing (150 Symes Road)
Junction Craft Brewing is the perfect place for beer lovers to tie the knot. Nestled inside an Art Deco building from the 1930s, it's more beautiful than your average brewer's setup. On your big day, you'll get to make use of its entryway and an upper level, which sport large windows and exposed brick walls. P.S. since you'll be hosting your wedding right inside the brewery, you won't have to worry about what drinks to serve.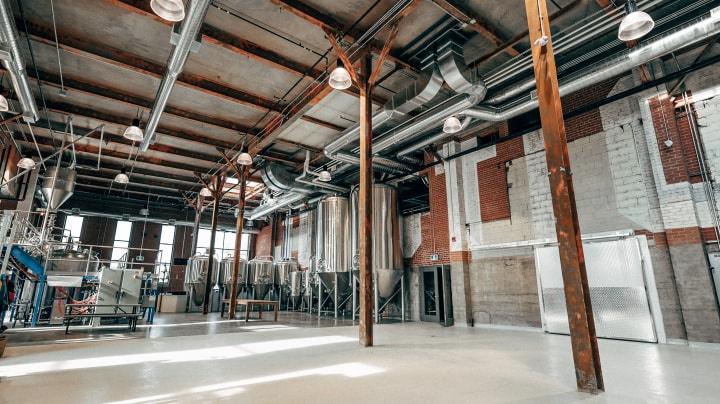 Arta Gallery (14 Distillery Lane)
Obviously, the Distillery District is home to a few amazing industrial chic wedding venues in Toronto - after all, that's the vibe of the entire neighbourhood. Arta Gallery is one of its best, flaunting light-filled spaces with exposed brick walls, concrete beams and works by local artists on display (built-in decor FTW!). It can accommodate up to 175 guests, so you can leave room for a few plus ones.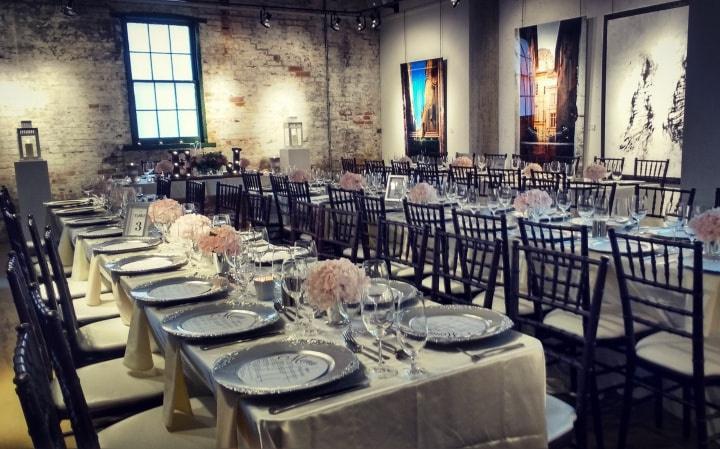 Fermenting Cellar (28 Distillery Lane)
Just a hop, skip and a jump away from Arta Gallery sits the Fermenting Cellar, an equally stunning industrial chic wedding venue in Toronto. If the word "cellar" is throwing you off, don't stress, this space is anything but cavernous - it's got large windows and sky-high cathedral-esque ceilings. It also boasts exposed timber beams, trusses, and limestone walls - all the hallmarks of a solid warehouse-style venue. It can fit up to 600 guests, so you can add pretty much all of your Facebook friends to your guest list.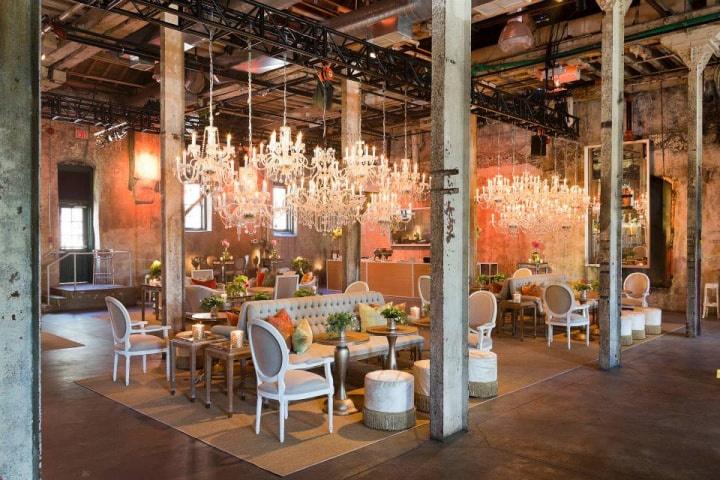 The Wedding Space @ Studio V (87 Wade Avenue)
Looking for a small wedding venue in Toronto? In The Junction, you'll find The Wedding Space @ Studio V—an industrial-chic loft wedding venue featuring hardwood floors, exposed brick and beam and plenty of natural light. Designed for mirco weddings and elopements with a capacity for 50 people, their wedding packages include the use of dressing rooms, The Chapel and The Lounge which boasts a 12-foot bar made of hand-hewn ash that is available for full service or BYOB.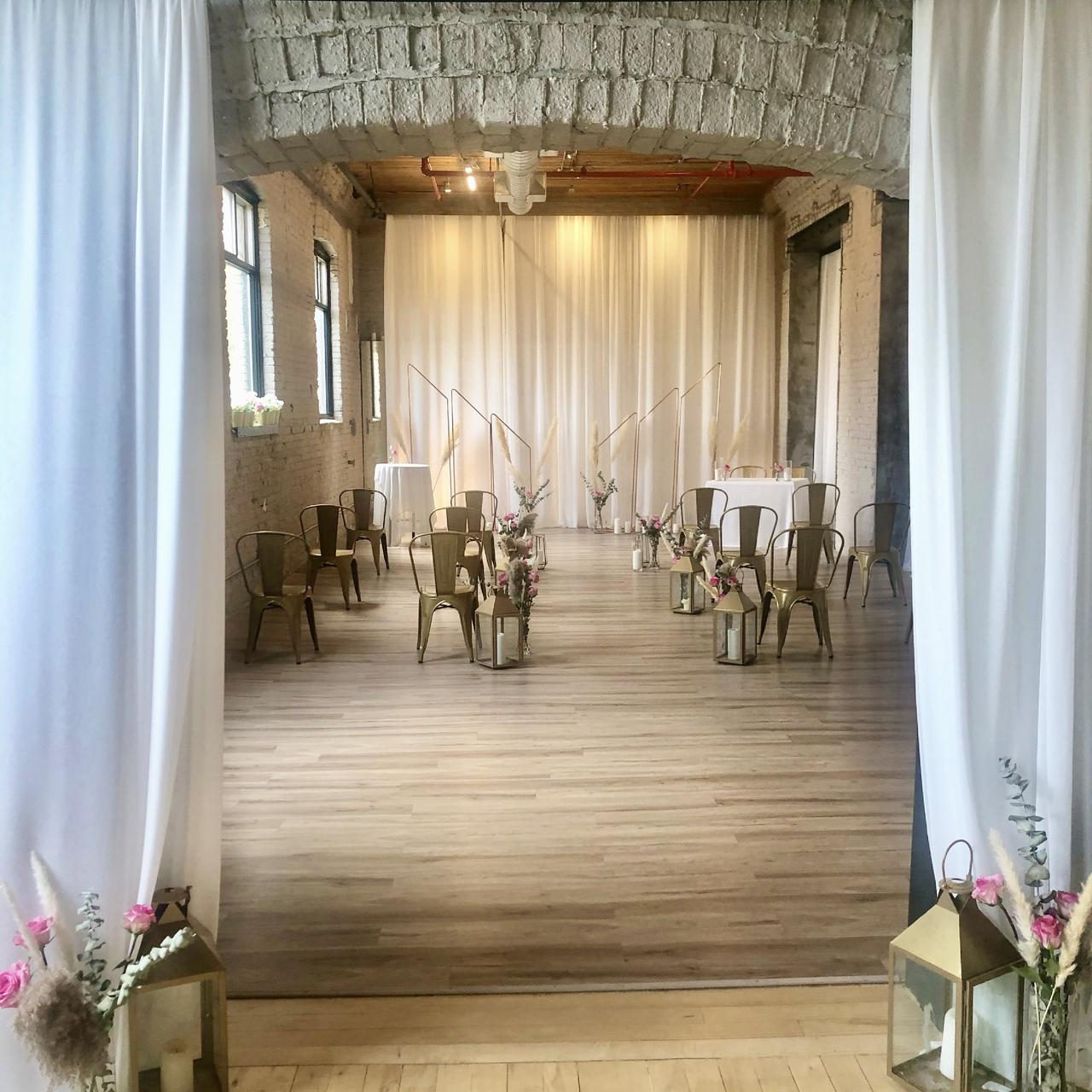 Hotel Ocho (195 Spadina Avenue)
Toronto is home to its fair share of ritzy hotels, but if you're looking for something with a bit more character, Hotel Ocho will be right up your alley. You won't find extravagant ballrooms and banquet halls here, its opted to embrace the industrial vibes and keep its white brick walls and visible wooden beams. Its capacity is only 30 guests, so it's ideal for intimate events. Psst! If you love the idea of an artsier wedding venue, check out these boutique hotels.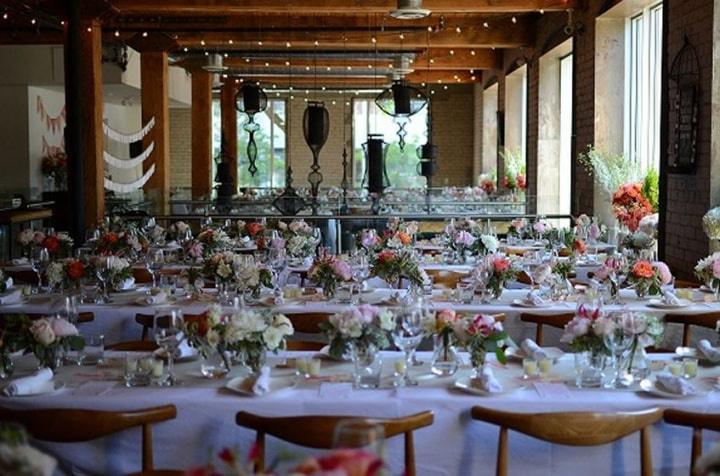 Just a few doors west of Dovercourt and Queen you'll find Twist Gallery, a stunning light-filled venue that's more than worthy of your wedding. It's a New York-style loft decked out with French Arch windows, skylights and wooden beamed ceilings - basically everything you could wish for in an industrial chic wedding venue. The event space is 5000 square feet and can accommodate 250 guests for a standing reception or 140 seated guests for a dinner, so go ahead and add a few extra names to your guest list.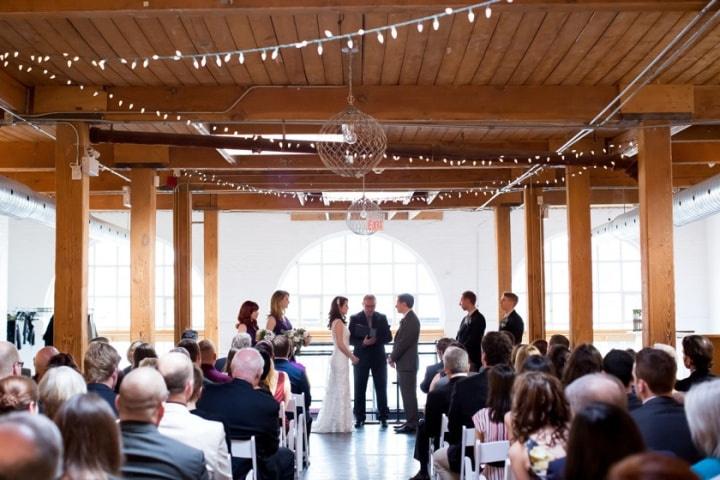 Artscape Wychwood Barns (601 Christie Street)
In the market for an industrial chic wedding venue in Toronto on the lighter and brighter side? Artscape Wychwood Barns may be just what you're looking for. The former transit facility has five unique spaces to choose from, including sprawling outdoor courtyards and beautiful indoor event rooms. In keeping with the style of most warehouse-inspired venues, you'll find plenty of exposed bricks and beam work. It can accommodate both intimate and enormous weddings, with a capacity of up to 600 guests in its largest space.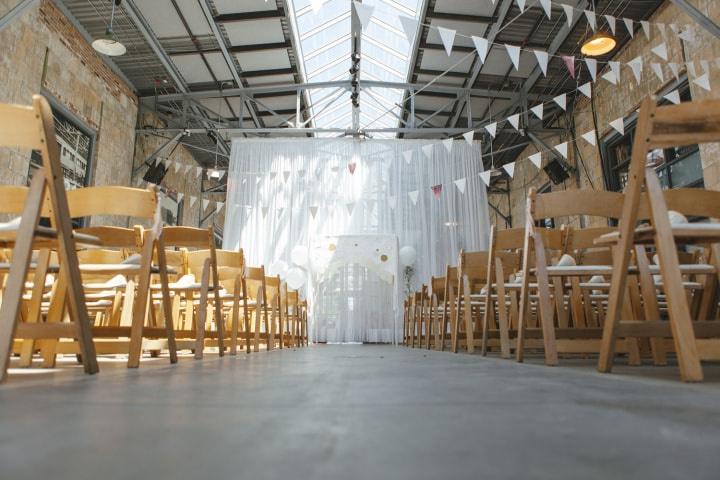 Storys Building (11 Duncan)
If you're looking to host your wedding in the heart of downtown Toronto, the Storys Building is worth adding to you scouting list. It definitely errs on the chicer side of industrial chic but has all exposed brick and ductwork that you could ever want. It can play host to 225 guests for a cocktail-style reception or 165 guests for a seated dinner.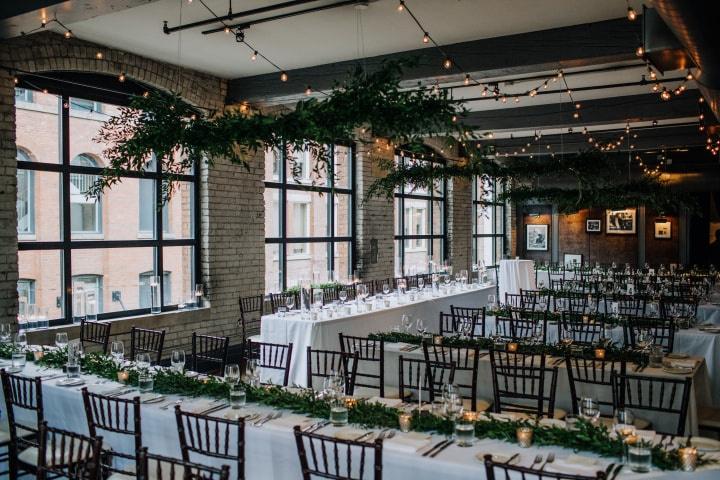 Grace (150 Symes Road)
This Toronto wedding venue is as beautiful as the person it's named after, Grace Kelly. Grace is located in a heritage building on Symes Road and boasts exposed brick walls and ductwork, huge windows, polished floors, and is truly a gorgeous blank canvas that you can make your own. It definitely errs on the more chic side of industrial-chic, so don't expect too much grit. As for space, it has a main room and a lounge, both of which you can put to use on your big day. Together they can fit up to 150 guests.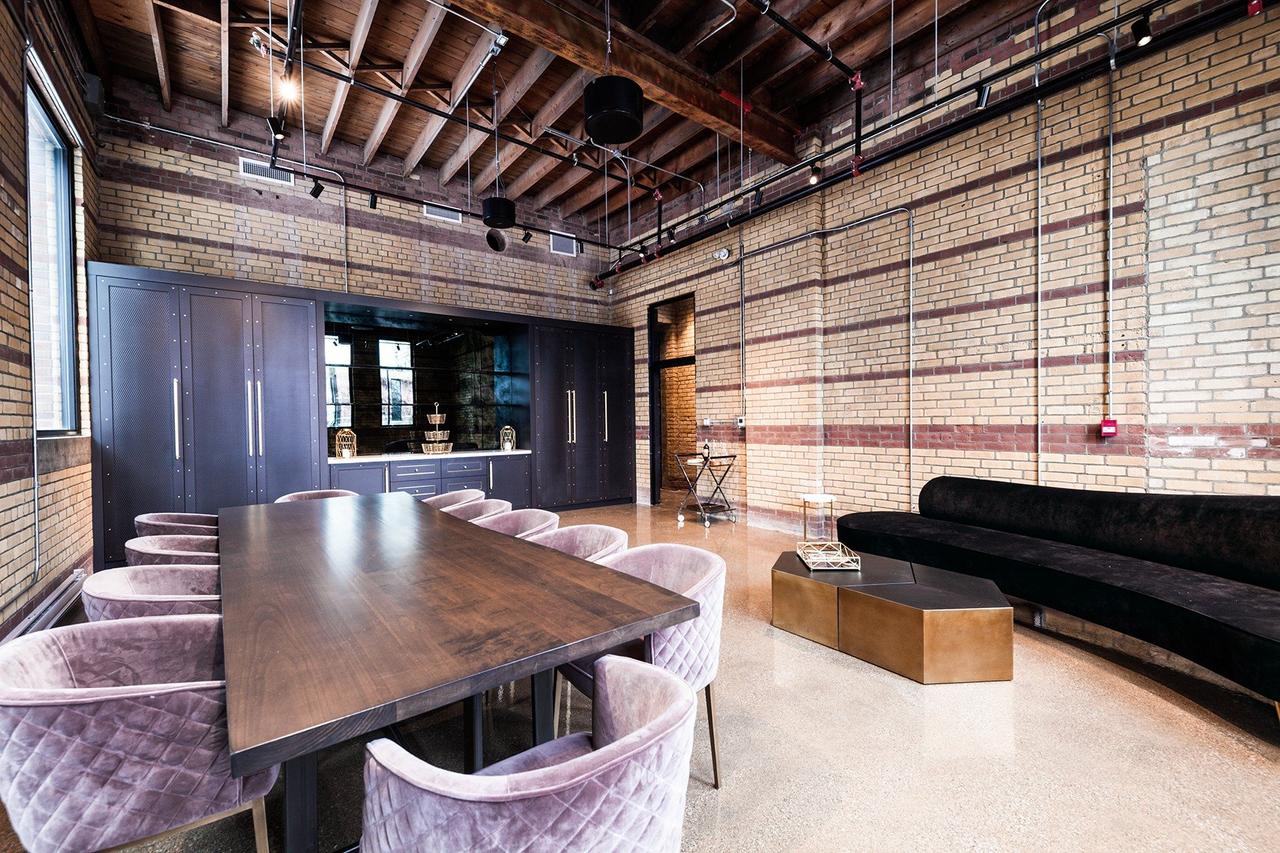 Airship37 (37 Parliament Street)
Airship37 is a Distillery District gem that's sure to make you swoon. It's a 25,00 square foot event space that's totally unique. The Hangar (its main room) is home to a genuine aircraft rotary blade and is decked out in wedding white, making it perfect for your big day. But that's not all - you can also make use of its wood-heavy Gooderham Lounge and its Astroturf outfitted patio (complete with a vintage Airstream trailer). It can fit up to 180 guests in the main space and an additional 60 in the lounge, so it's great for celebrations both big and small.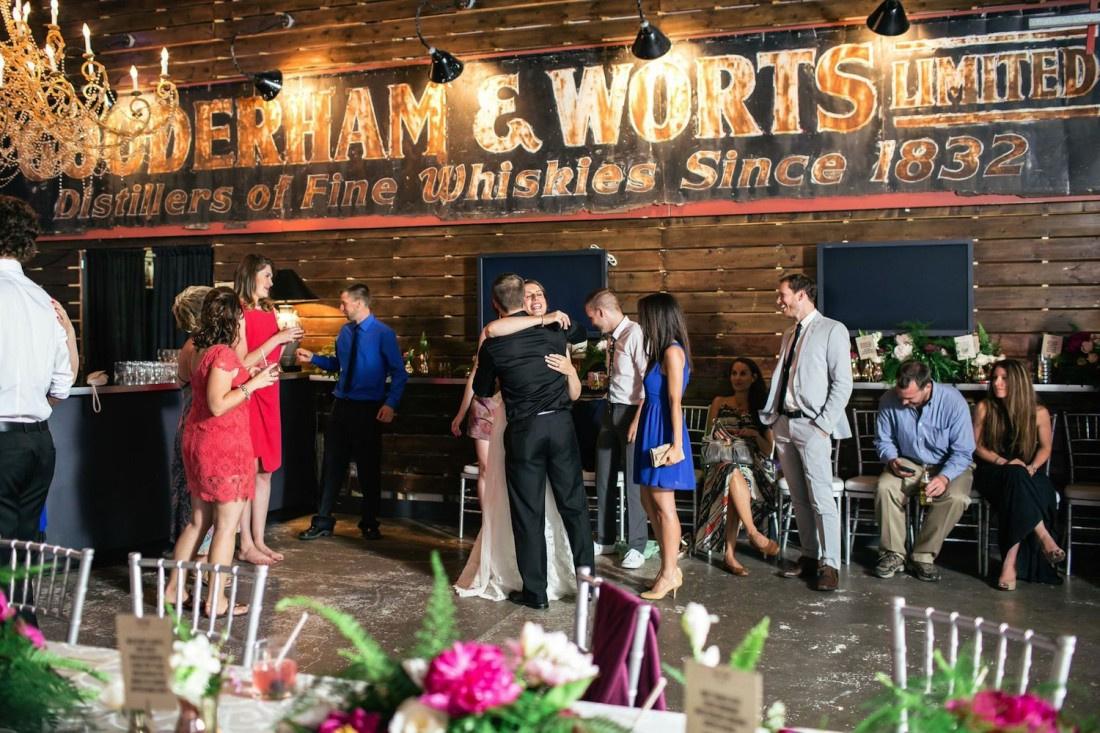 5 Brock Events (5 Brock Avenue)
Dream of tying the knot in a gallery in the oh-so-trendy Queen West area? Well, you'll be head-over-heels for 5 Brock Events. The loft-style venue has all the hallmarks of an amazing industrial-chic space: concrete flooring, exposed red brick walls, and visible ductwork on the ceilings. It has massive windows, but if you want even more natural light for your photos, you can open up its mammoth garage-style door. If you rent out the entire space, you can invite up to 235 guests.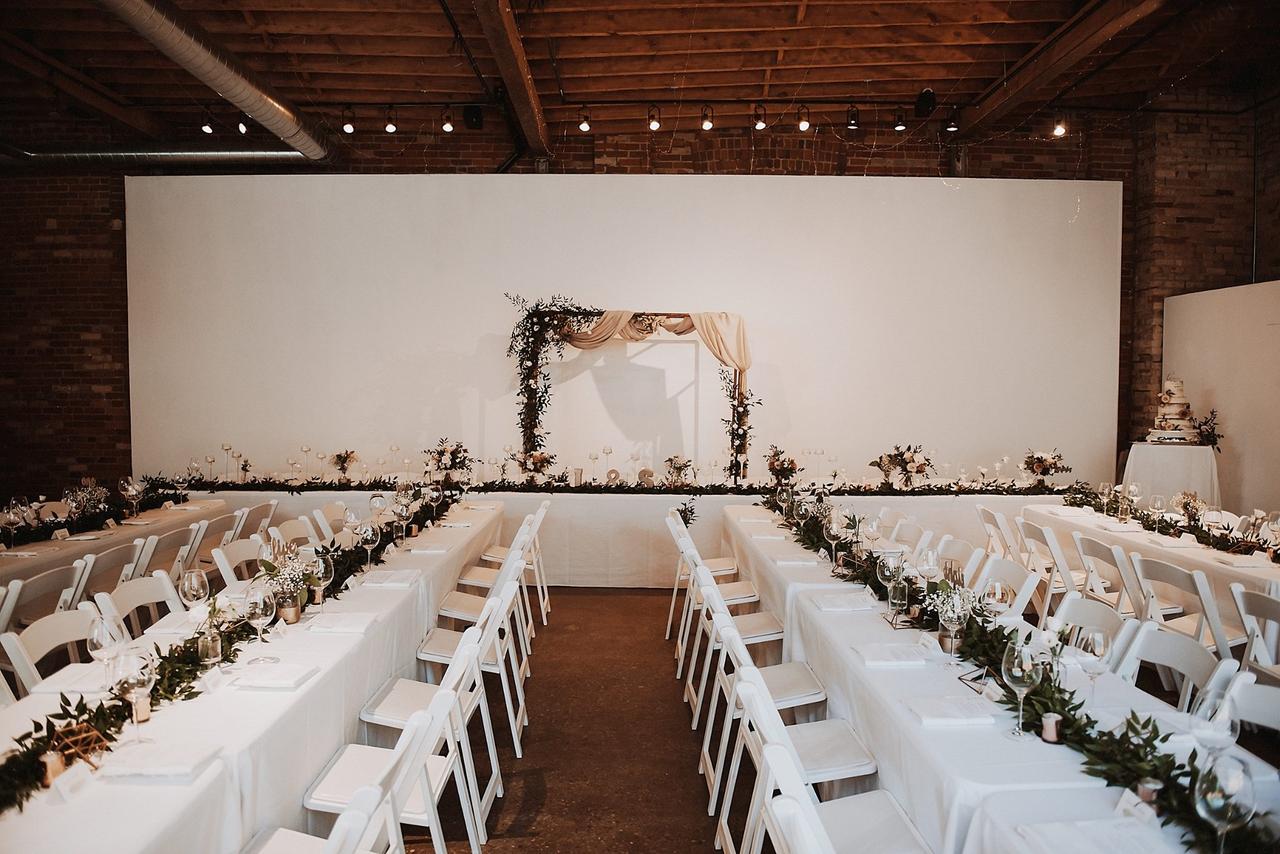 York Mills Gallery (1885 Leslie Street)
The York Mills Gallery is a gorgeous industrial-chic space with both indoor and outdoor venue options available for your celebration. From wood-paneled walls to industrial accents to unique chandeliers to sky-high ceilings, this place has plenty of elegant and industrial quirks that make it one in a million. The interior is separated into two rooms that can be rented out separately or together. If you book them both, you'll have enough space to fit 1000 guests, so you can probably invite everyone you know.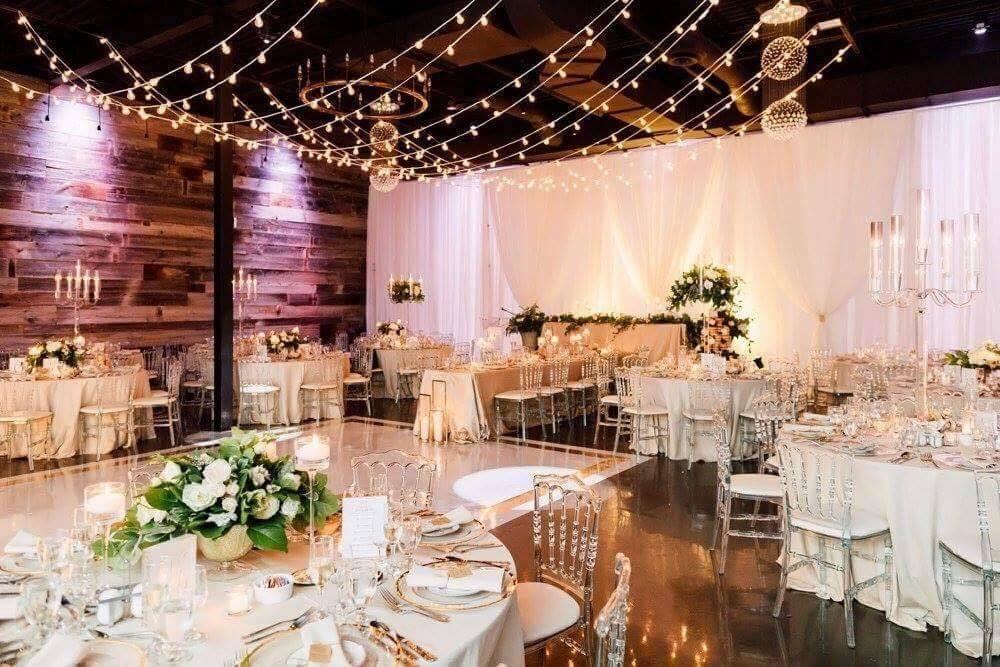 Steam Whistle Brewing (255 Bremner Boulevard)
If you and your partner are big beer fans, Steam Whistle Brewing may just be the Toronto wedding venue you've been dreaming of. It's located in a decommissioned roundhouse and pretty much has this whole industrial-chic thing down. It has 30-foot ceilings, exposed brick walls, factory-style windows and plenty of space for your guests and dancefloor. It can fit up to 600 standing guests or 250 seated guests.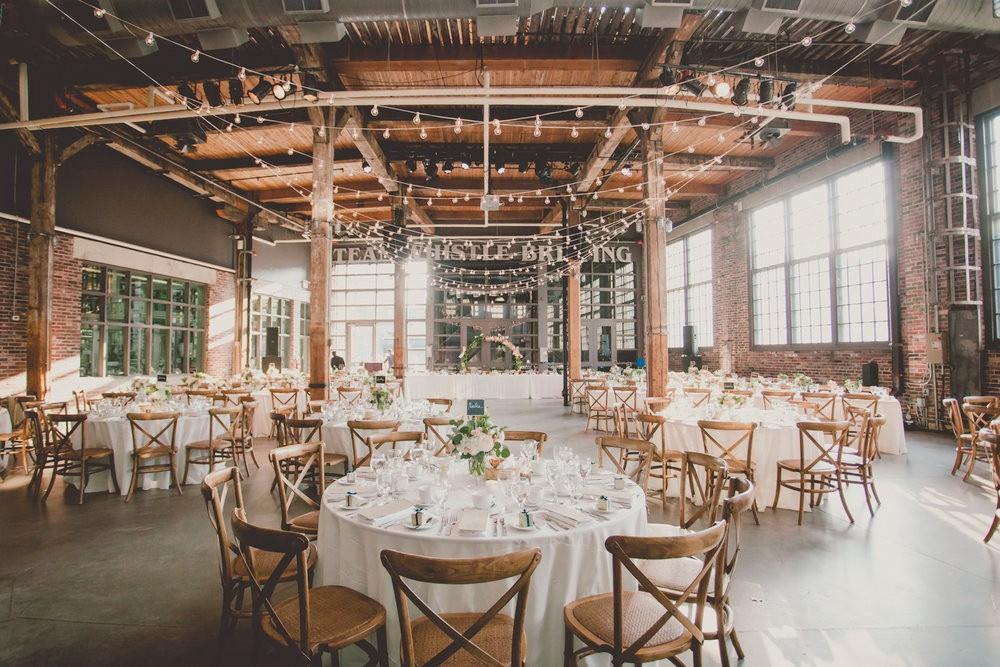 Brunswick Bierworks (25 Curity Avenue)
Brunswick Bierworks is yet another solid option for lovers of brewed, boozy beverages. It's located on Curity Avenue, making it a great choice for those who hail from the east side of the city. Its taproom has an industrial-chic vibe with a modern twist, so it's a little more streamlined than gritty. It has shiny concrete floors, exposed brick accents, and high top tables that you can use for your reception. There's enough room for 150 seated guests, so it's ideal for midsize weddings.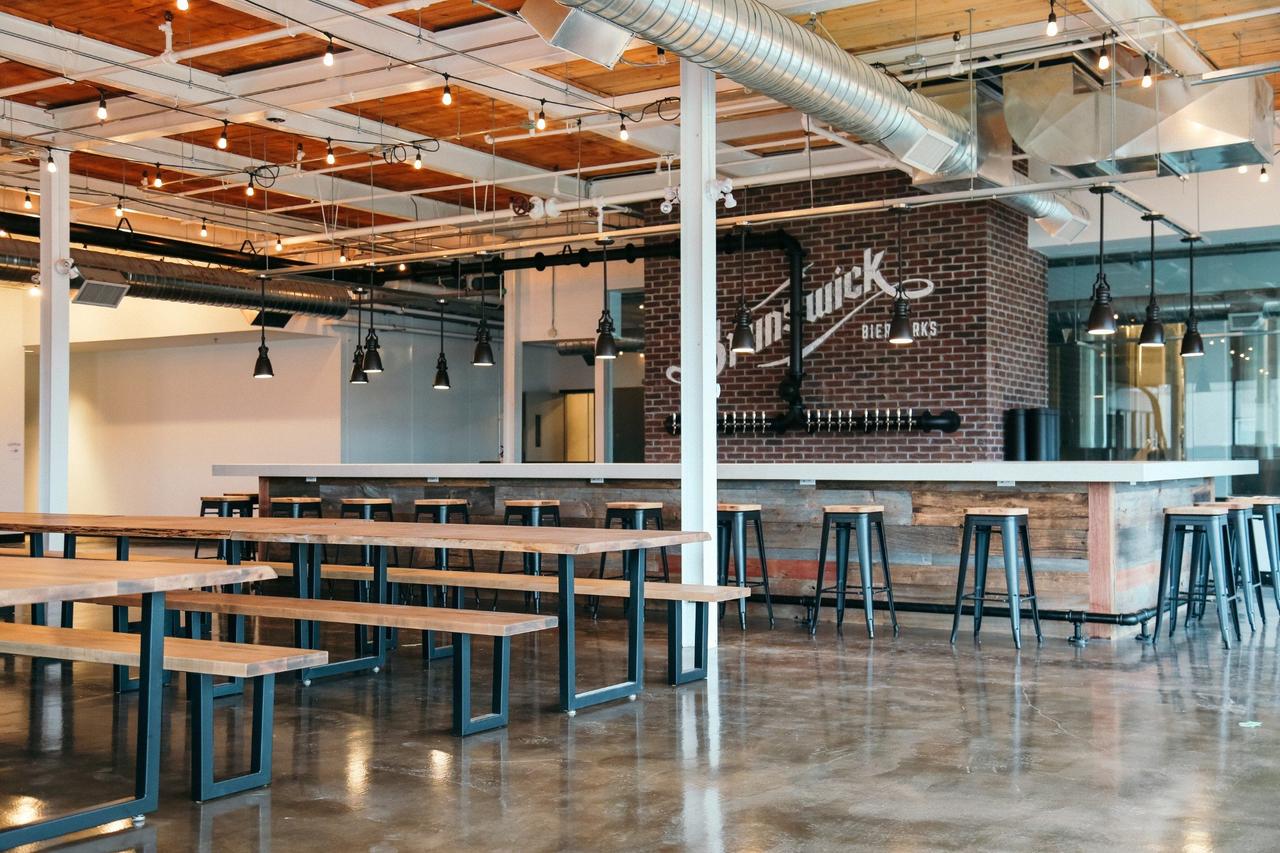 Creeds Coffee Bar (390 Dupont Street)
Creeds Coffee Bar is an Annex favourite that's just as good at weddings as it is at serving up espresso beverages. It has that intimate cafe feel we all know and love, but boasts exposed brick walls, visible beams and concrete floors, making a bit more industrial. It can fit up to 125 people for a cocktail reception, or 75 guests for a seated event (so it's better suited for smaller celebrations).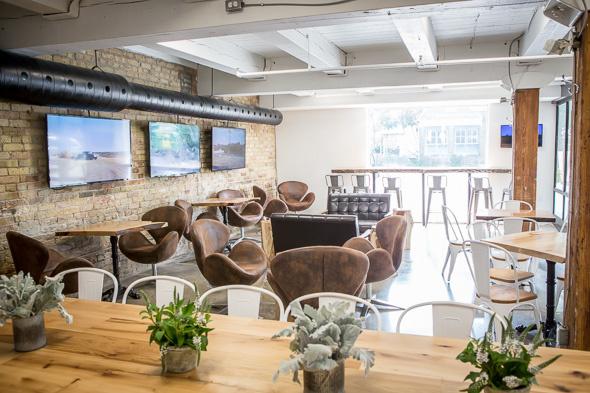 The Tempered Room (1374 Queen Street West)
The Tempered Room is a cafe and patisserie tucked away in a brick building. It takes up two floors and has even been dubbed the "Paris of Parkdale," so you know it's super romantic. The space has 12-foot ceilings and exposed brick walls and is outfitted with hardwood floors and industrial-chic accents. It can fit up to 60 guests for a cocktail party or 35 seated guests, so it's great for intimate weddings.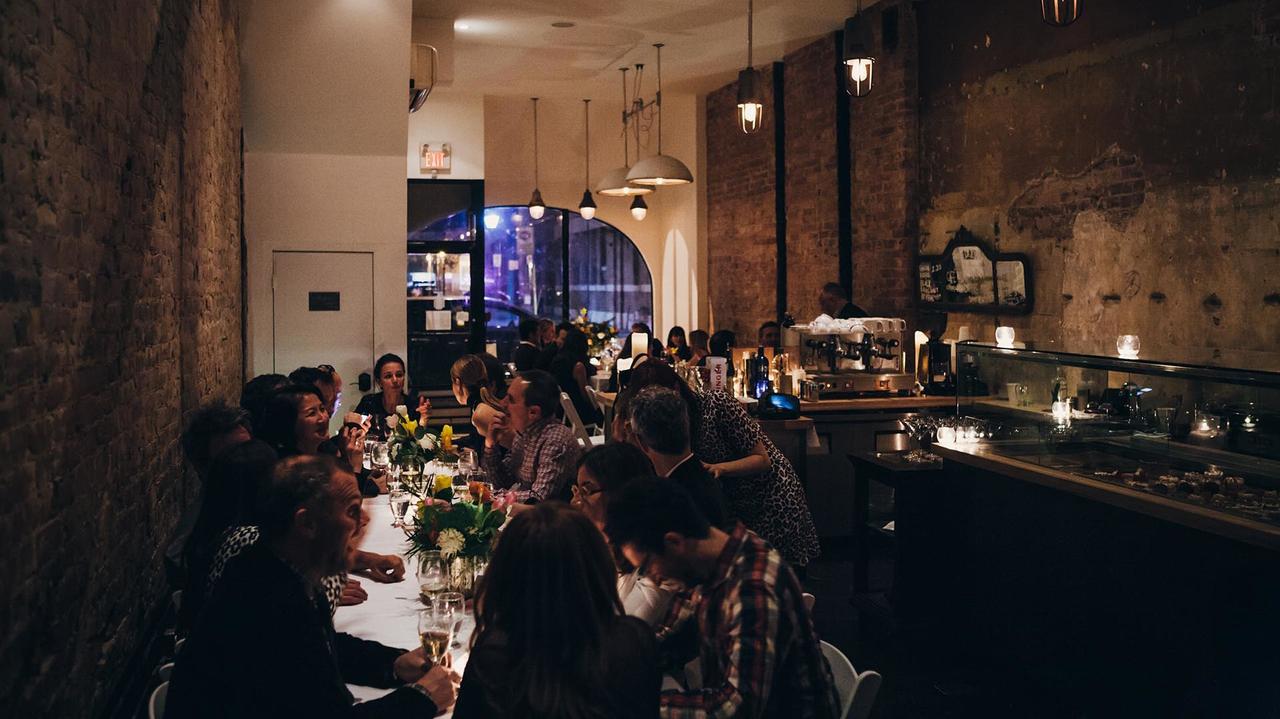 The Distillery Loft (18 Tankhouse Lane)
The Distillery Loft is a newly renovated Toronto event space with all the bells and whistles you could ever want for your wedding. Its style is a happy mix of rustic and industrial, meaning you'll find shabby-chic wooden accents as well as more traditional industrial-chic elements (like concrete flooring and exposed brick). The space is pretty bare-bones, so you can dress it to suit your wedding theme and colour scheme perfectly. As for capacity, it can host up to 120 guests for a cocktail reception or 80 guests for a seated dinner.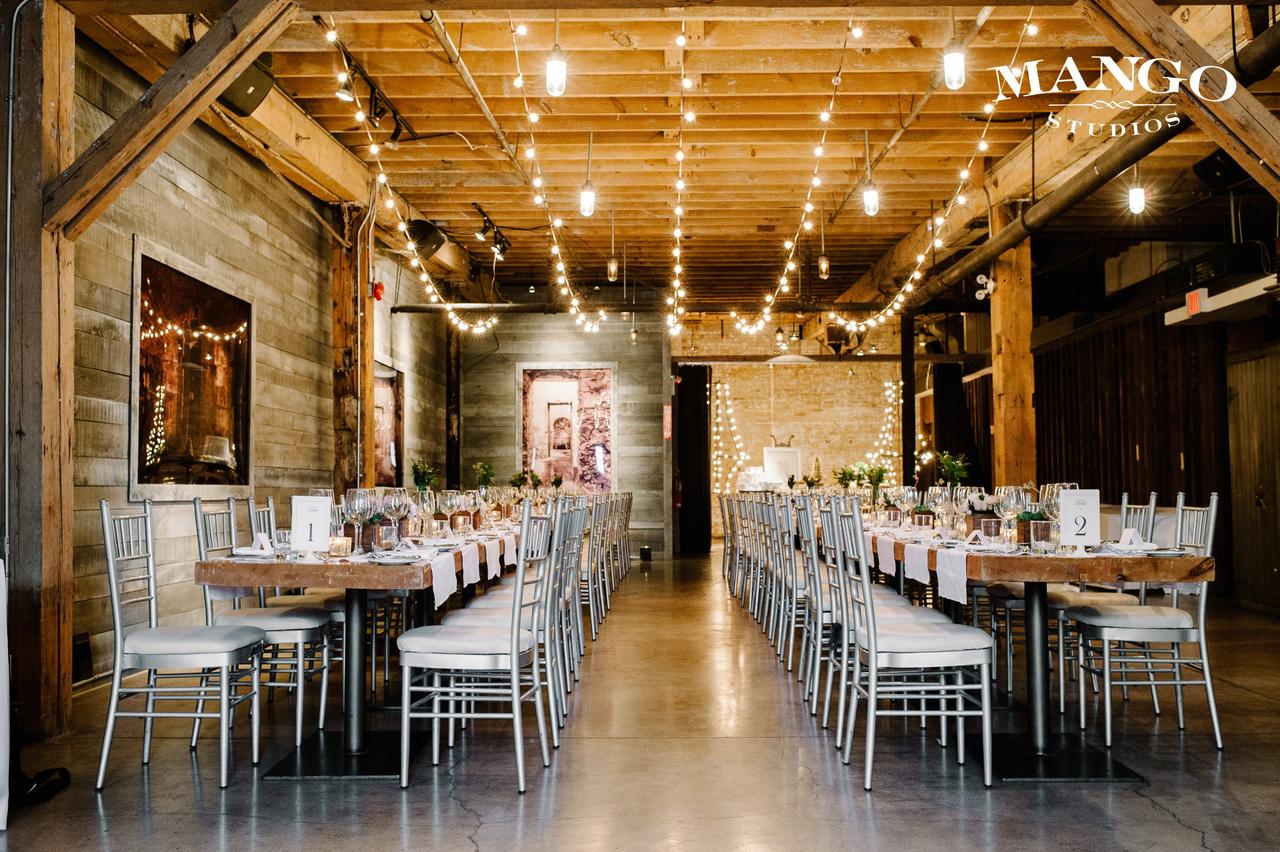 Lodge on Queen (251 Queen Street West)
The Lodge on Queen is a loft industrial-event venue that looks like the apartment you've always wanted but could never afford. It's located inside an old heritage building and has exposed brick walls, distressed wood floors, a retro bar, eclectic furniture, and colourful splashes of Indigenous art. It takes up two full floors and can fit parties with up to 240 guests. P.S. If you're hosting an elopement-style event, it has a boardroom that is large enough for 12 guests that's perfect for intimate celebrations.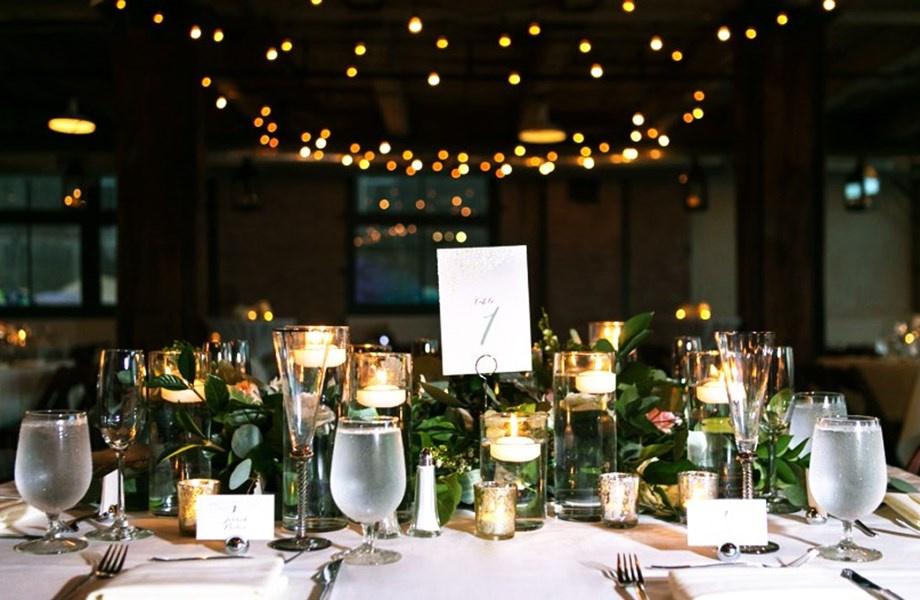 Archeo (31 Trinity Street)
Last but certainly not least is Archeo. This Distillery District eatery, like most in the area, has some serious industrial-chic charm. Inside you'll find gorgeous wooden beam work, exposed brick walls, concrete floors, and industrial art lining the walls. Also, because it's a restaurant you're guaranteed to have a stellar wedding menu (which is definitely a plus in our books). If you do a full buyout, you'll have enough space for 150 guests.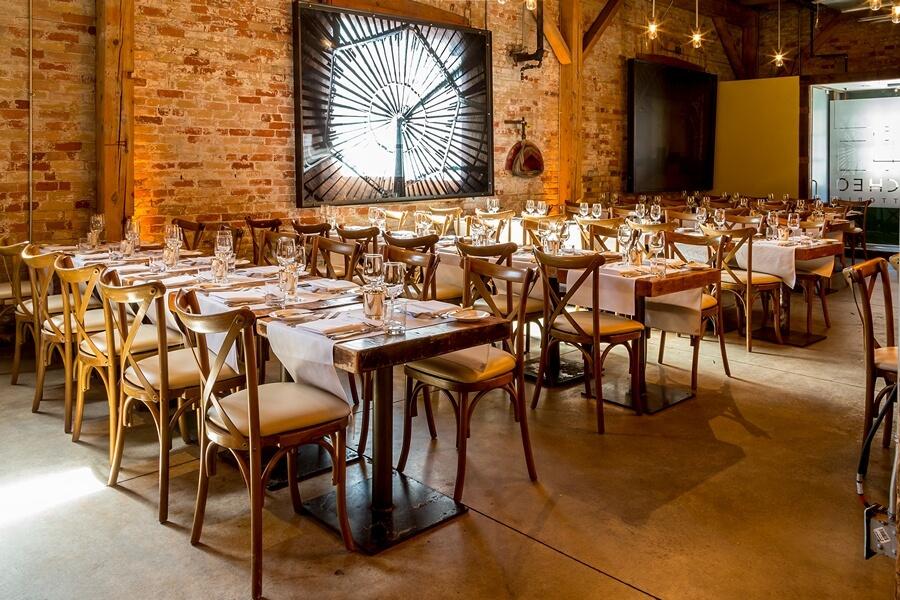 Find more Toronto wedding venues on WeddingWire »