The Top 20 Loft Wedding Venues in Toronto
Want your wedding day to be an industrial chic dream? Toronto is the place to find loft wedding venues. From revamped warehouses to renovated heritage buildings, this city has it all.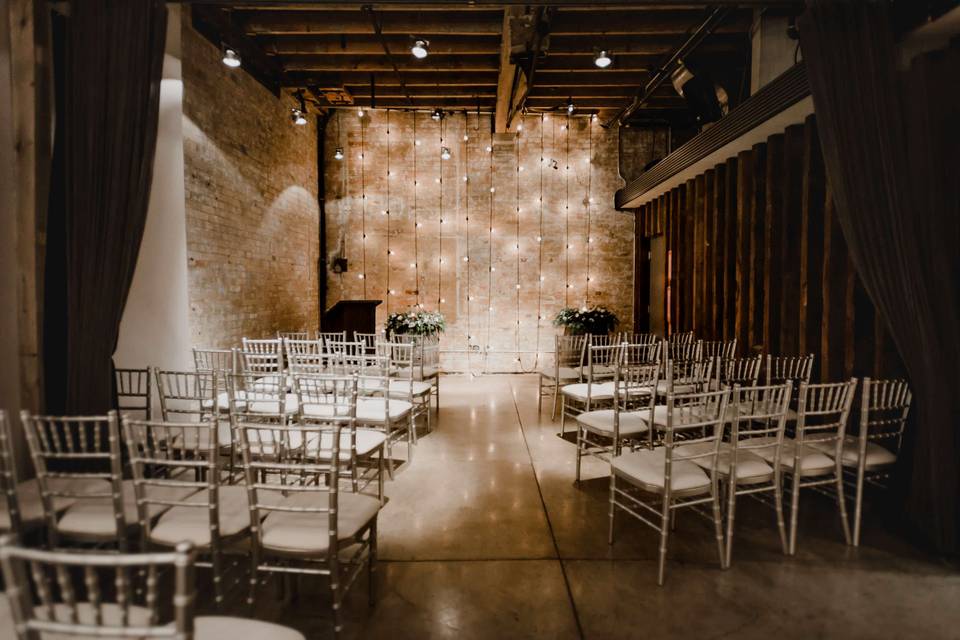 Lofts are chic industrial spaces that can be transformed into stunning wedding locales. With all its refurbished warehouses and heritage buildings, it should come as no surprise that Toronto has plenty of loft wedding venues to choose from. If you're on the hunt for the perfect brick and beam building to say your "I dos" in, read on.
Here are some of the top loft wedding venues in Toronto.
District 28 (28 Logan Avenue)
Smack in the middle of Toronto's Studio District you'll find District 28. The building was once an abandoned warehouse but got a serious makeover that transformed it into a beautiful, modern event venue. It boasts three studios, an in-house screening room, a restaurant and a reception area - giving you options for both your reception and ceremony. Each of the studios are prime picks for weddings, Studio 1 has capacity for 400 guests, Studio 2 has capacity for 70 guests and Studio 3 has capacity for 120 guests. Couples tend to host their receptions in the screening room and reception area to take advantage of all the space.
York Mills Gallery (1885 Leslie Street)
Up in North York, there's the stunning York Mills Gallery, a 22,000 square foot event facility with an industrial vibe. Thankfully, the space comes equipped with plenty of decor, including ballroom chandeliers, floor to ceiling drapery and leather lounge furniture, so you won't need to do a ton of outsourcing. The space is separated into three distinct parts: a banquet hall, ballroom and restaurant - all of which are available for ceremonies and receptions. It can accommodate up to 650 guests (or 850 for cocktail receptions).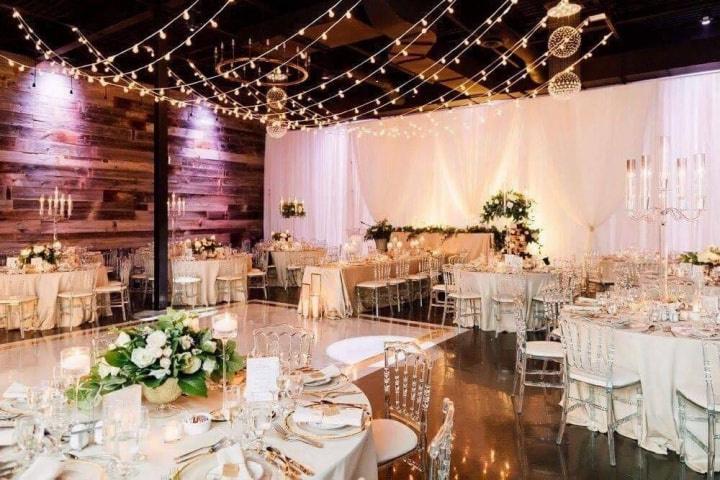 Aperture Room (340 Yonge Street)
Oliver & Bonacini is behind many of Toronto's top eateries, including one of the top rehearsal dinner spots in the city, Canoe. But, good news, the company isn't limited to restaurants, it does amazing event spaces as well. The Aperture Room, located on the third floor of the Thornton-Smith heritage building, is a stunning loft wedding venue that can hold up to 120 seated guests. The building used to be home to The Camera Exchange in 1966, inspiring its current name. Inside you'll find restored hardwood floors, exposed brick walls and massive skylights (perfect for taking your wedding photos).
2nd Floor Events (461 King Street West)
2nd Floor Events is the ideal wedding venue for couples who love the hustle and bustle of downtown T.O. It's located in the heart of the Entertainment District near plenty of other eateries and shops. The 3,000 square foot open-concept venue gets plenty of natural light and flaunts exposed brick walls and a huge 36-foot custom bar. Its capacity is 180 seated guests.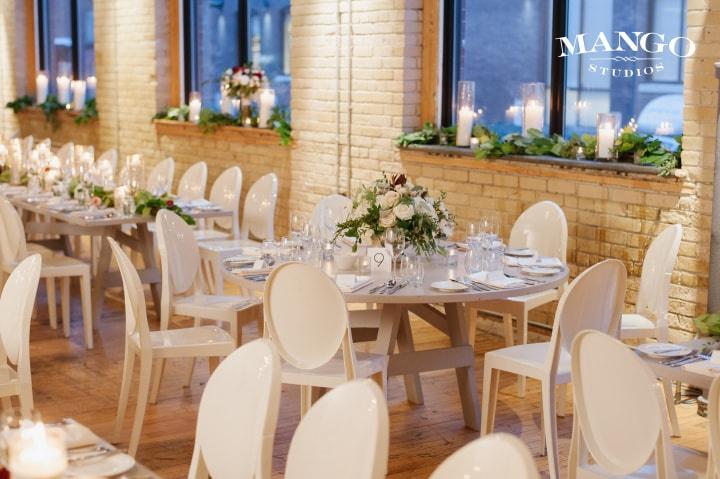 The Burroughes (639 Queen Street West)
The Burroughes has come a long way since its humble beginnings as a department store in 1907. In 2006 the Queen Street Partners purchased and transformed it, filling the building with a gallery, office suites, retail boutiques and – of course – event spaces. While it's undergone quite the facelift, The Burroughes has maintained its original charm with exposed brick walls, restored elevators and wooden details. Depending on which floor you choose to host your big day on, the space can hold up to 450 guests.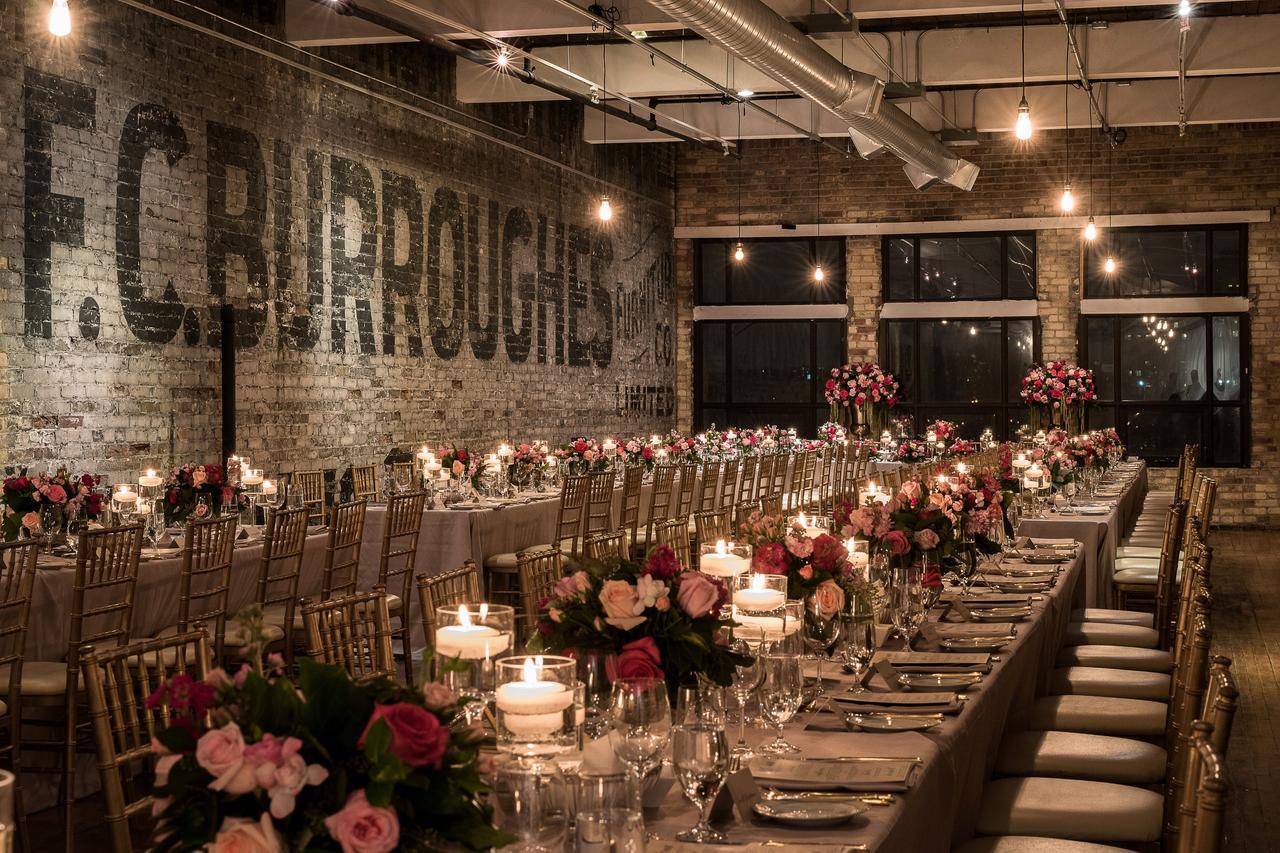 Lodge on Queen (251 Queen Street West)
The Lodge on Queen is a loft wedding venue located inside an old heritage building near Queen West and Duncan. It has exposed brick walls, distressed wood floors, a retro bar, eclectic furniture, and colourful splashes of Indigenous art. It takes up two full floors and can fit parties with up to 240 guests – the main floor can accommodate up to 130 guests and the top floor can hold up to 110 guests.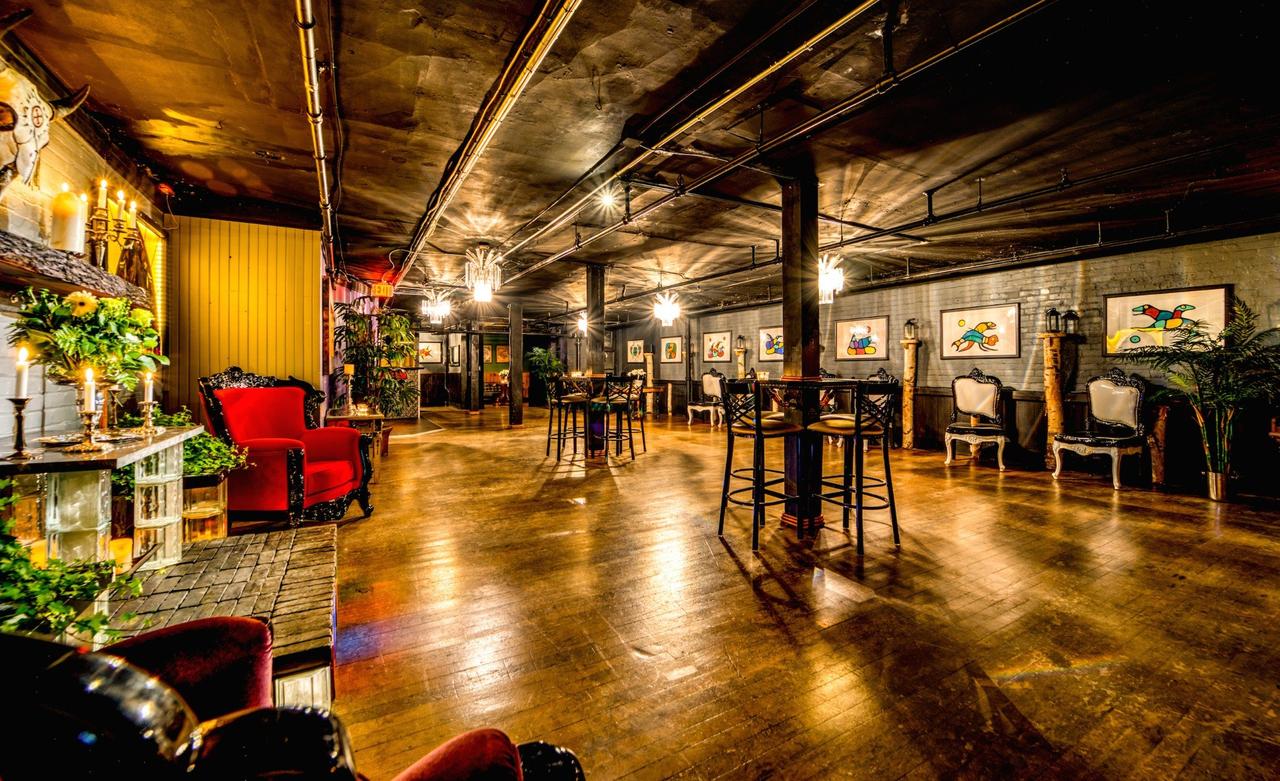 5 Brock Events (5 Brock Street)
Hail from the west side and want to keep your wedding close to home? Try 5 Brock Events. This Parkdale venue has all the bells and whistles: movable art walls, LED lighting and a fully-equipped commercial kitchen, making it a little more interesting than your average loft. The 3,000 square foot space is large enough to fit 150 seated guests.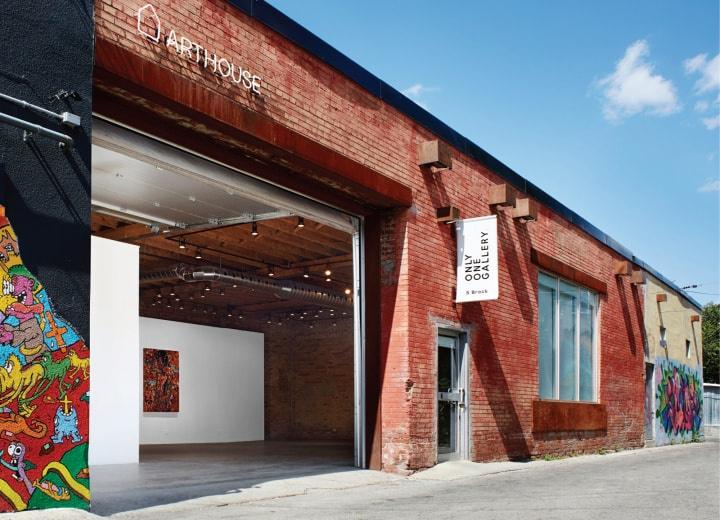 The Distillery Loft (18 Tank House Lane)
Head to the Distillery District and you'll find this aptly named loft wedding venue on the mezzanine level of The Boiler House. The wood-heavy space is the perfect blend of contemporary and industrial, with vintage art and decor as well as a few modern flourishes. The Distillery Loft is one of the cozier options on this list with a capacity of 80 seated guests, making it perfect for those who want a loft atmosphere without the enormous space.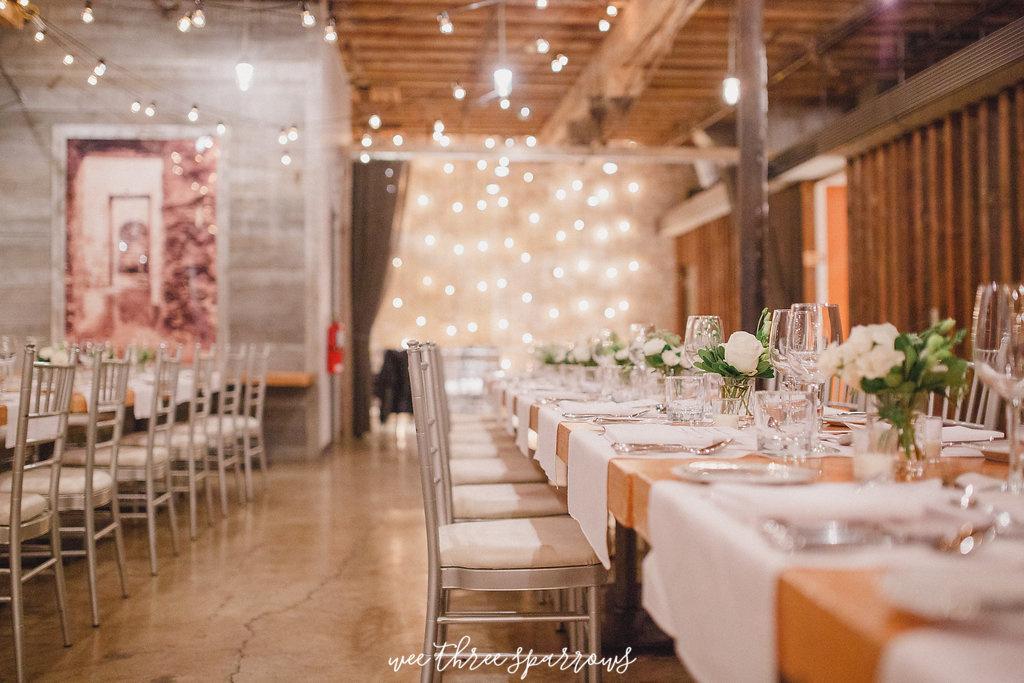 Airship 37 (37 Parliament Street East)
The Distillery District is also home to Airship 37, a 25,000 square foot loft near the corner of Parliament and Mill Street. If you and your soon-to-be spouse are aviation fans, then this is your best bet in the city. The main space, playfully dubbed "The Hangar", features a genuine aircraft rotary blade which adds some interest to the otherwise minimalist space. The venue also boasts a smaller lounge space, a vintage trailer (which you can use to prep for your big walk down the aisle) and an astroturf outfitted patio. Its capacity is 180 seated guests in The Hangar and 60 seated guests in the smaller Gooderham Lounge.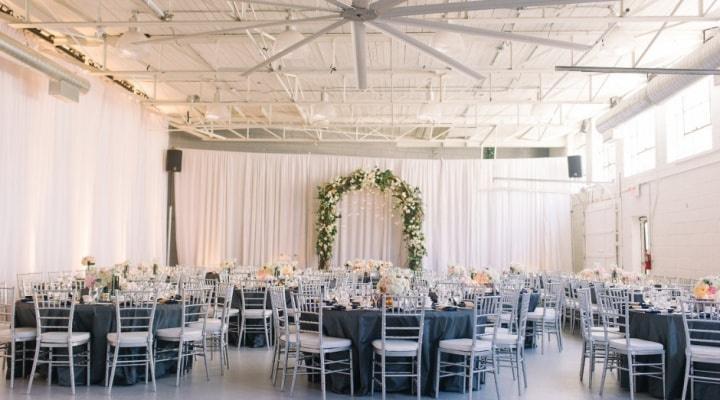 The Richmond (477 Richmond Street)
Make your way to Toronto's Fashion District and you'll find The Richmond on – you guessed it – Richmond Street. Here you won't find any exposed brick, only sleek concrete, differentiating it from the other contenders on this list. The ultra-modern space is a completely blank canvas that can be transformed into your dream venue. It's on the smaller side, with enough room to seat 75 attendees.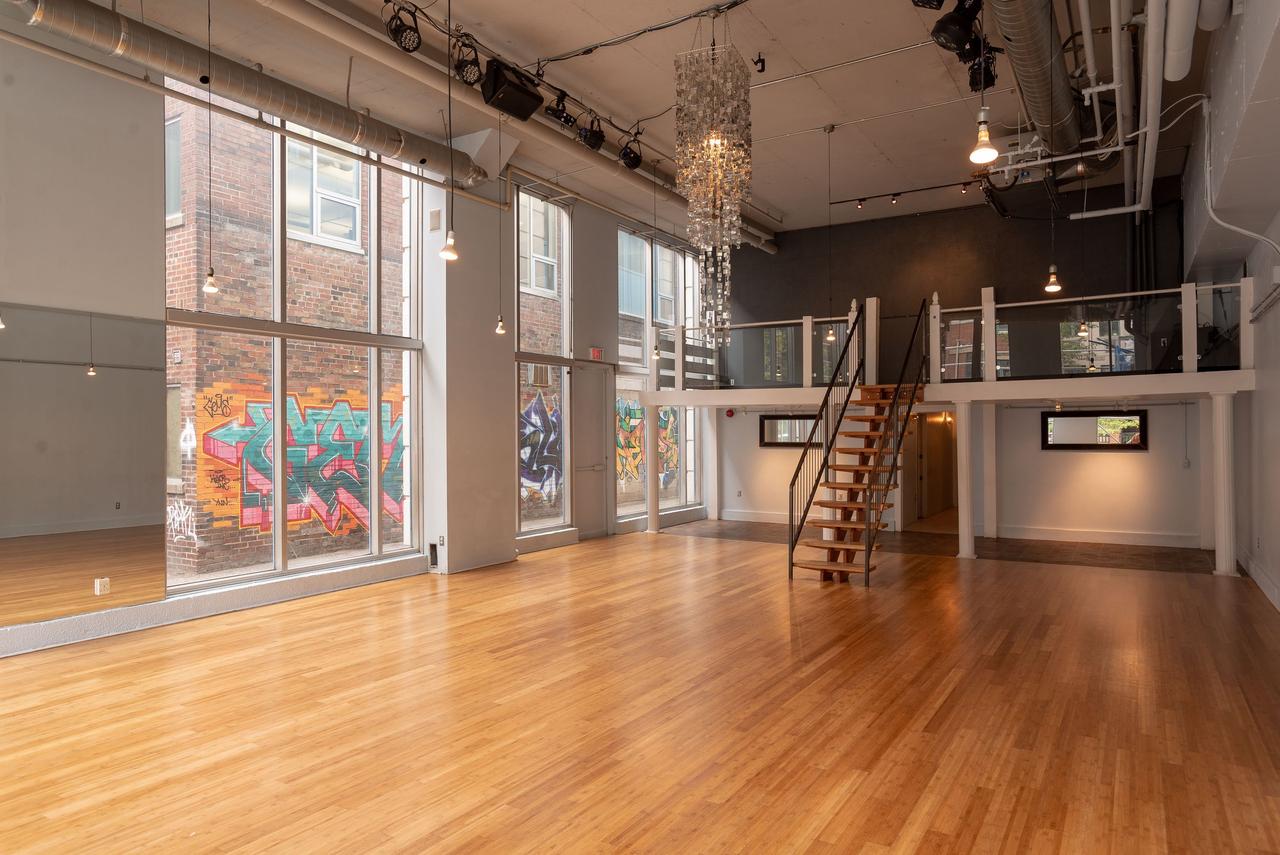 Andrew Richards Design (365 Dupont Street)
Andrew Richards Design is a gorgeous loft event space located just east of Dupont and Bathurst in the Annex neighbourhood. Inside you'll find two-storeys worth of blank canvas space, complete with white exposed brick walls, light wood and concrete flooring, factory-style windows and huge skylights (meaning you'll get plenty of natural light for your wedding photos). The first floor, which is the larger of the two, can fit up to 300 guests for a seated dinner or 700 guests for a standing cocktail reception. The loft is a bit smaller but has the awesome addition of a private patio.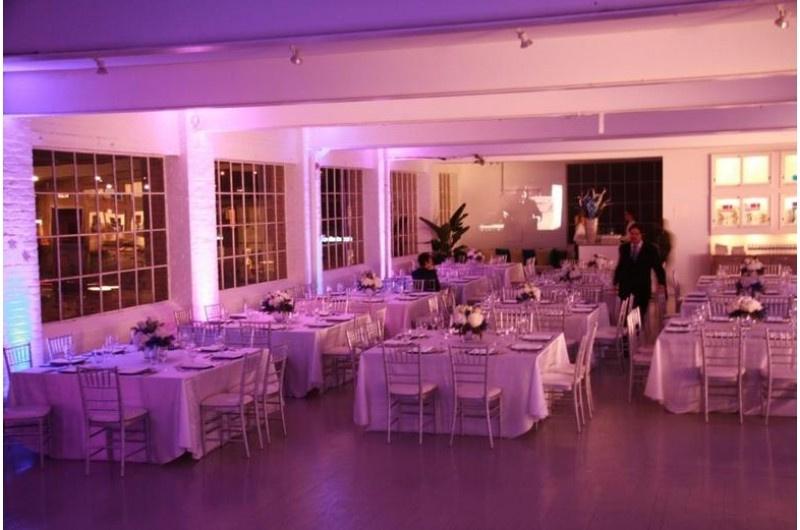 200 Dupont (200 Dupont Street)
Right down the road from Andrew Richards Design, you'll find another wedding-worthy spot: 200 Dupont. It's an 8,000 square foot modern loft venue that is completely open concept, meaning you can set it up any way you like for your celebration. It has white walls, massive storefront windows, a wooden ceiling, and a few contemporary accents, like a tiled bar and silver lighting fixtures. It has enough room to comfortably seat anywhere from 50 to 200 guests, so it's great for celebrations both big and small.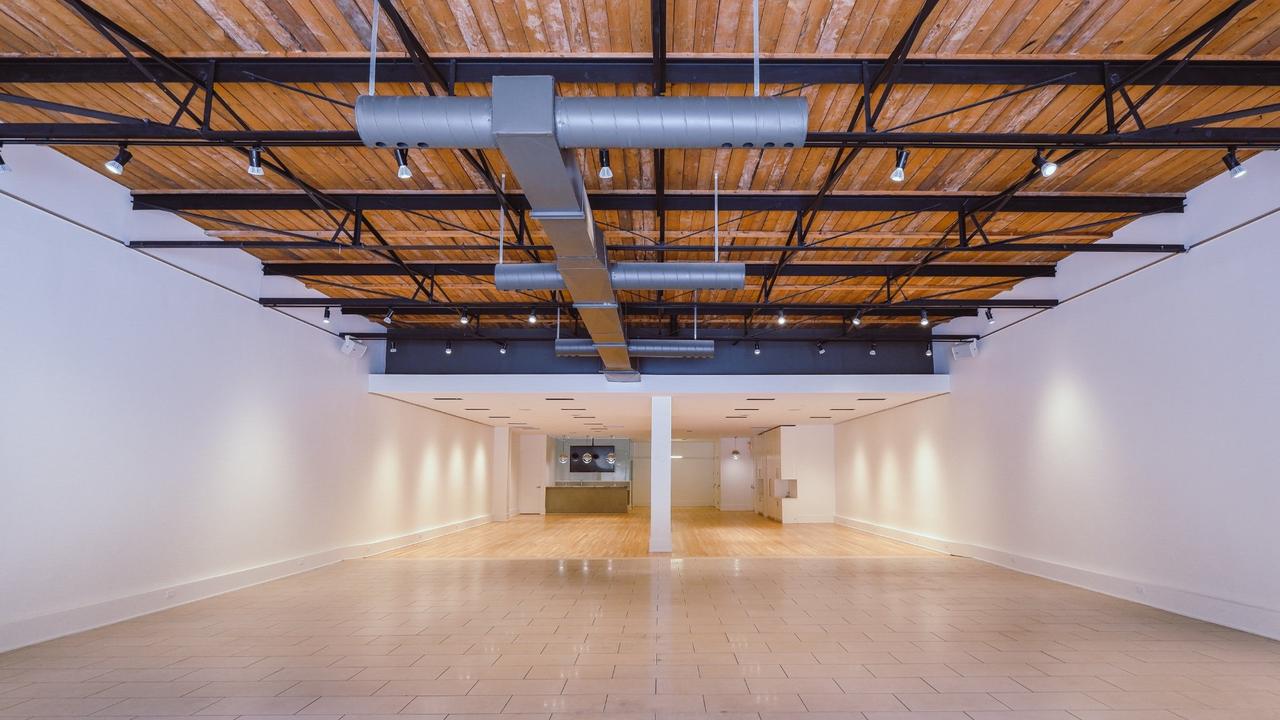 Love Child Social House (69 Bathurst Street)
Love Child Social House is a hip and happening spot that covers 7,500 square feet of space in a heritage building. It has 14-foot ceilings, two full bars, and even a stage, so it's pretty much ready for your wedding as is. As for decor, this spot is on the pulse of all that is trendy and is outfitted with mid-century modern furniture (but not the kind you'd find in IKEA) and eclectic accents, like Persian rugs and marquee signs. It can accommodate groups of up to 130 guests for seated dinners or 500 guests for standing cocktail receptions.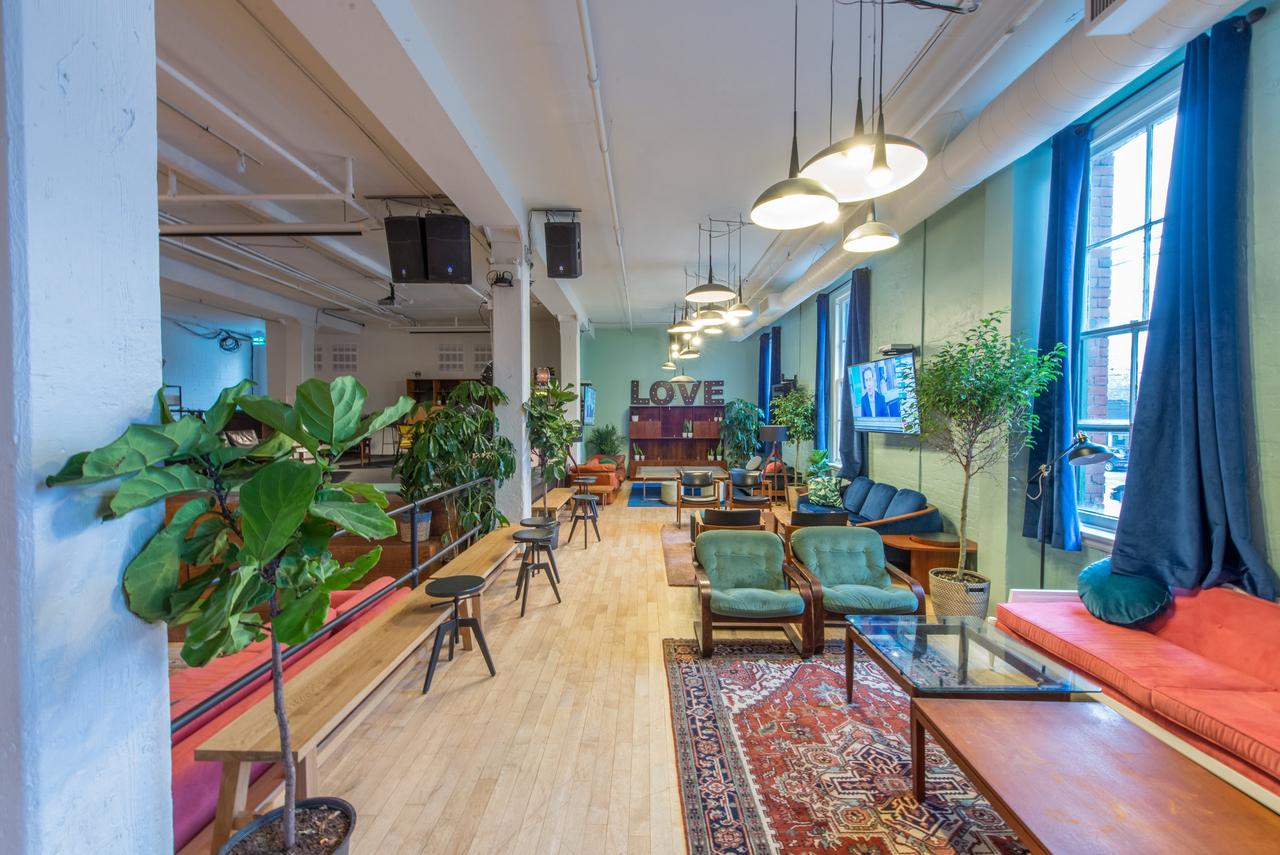 Kontort Production Space (86 Miller Street)
Head to the Junction Triangle and you'll find Kontort Production Space, a contemporary loft wedding venue with a gallery feel. It boasts a garage-style door (which you can keep open if the weather is right), wooden support beams, glossy concrete floors, and hints of exposed brick that have been painted white to match the rest of the space. There are two function rooms that can be used together or separately and both are completely flexible, so you can design your wedding with just about any floor plan you want. Its capacity is 200 guests.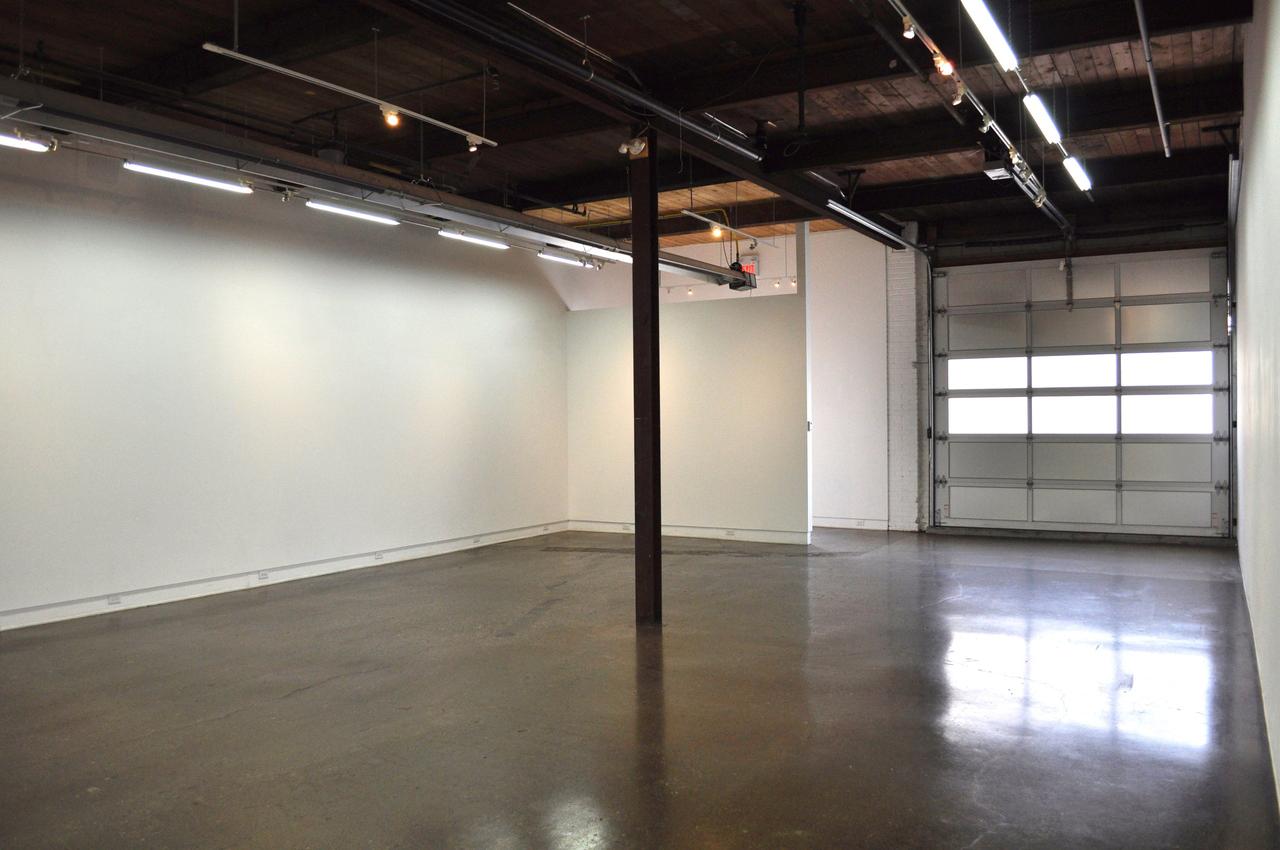 Super Wonder Gallery (584 College Street)
Super Wonder Gallery is a gorgeous space in Little Italy that does a lot more than host art exhibitions. In fact, it makes for a pretty stellar wedding venue. Its style is simple and industrial, with concrete floors, high ceilings, and white walls, meaning you can really infuse it with your personality. Since it's such a blank canvas, you'll probably want to start hunting for inspiration ASAP, so fire up that Pinterest account and get to hearting. It can fit up to 200 guests and can accommodate more intimate parties, too.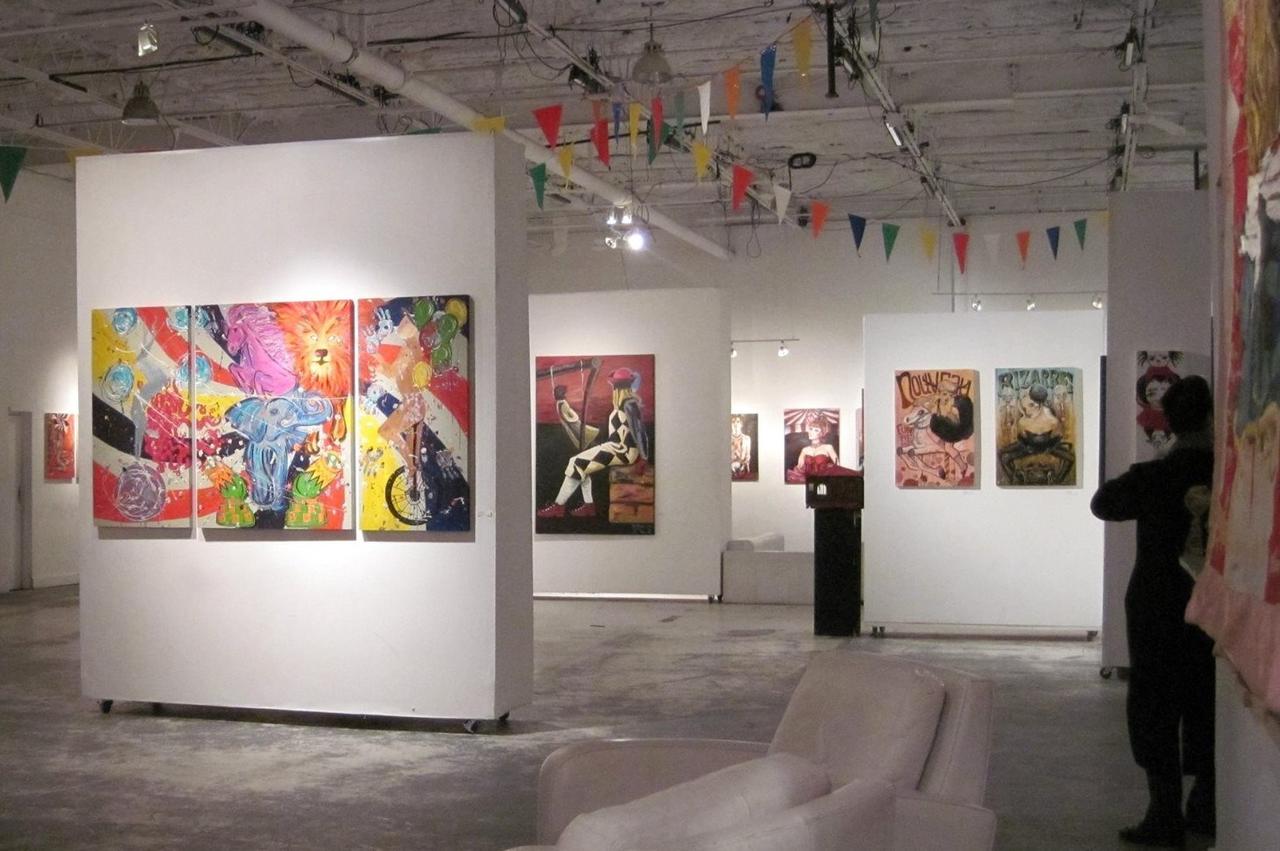 The Costume House (165 Geary Avenue)
The Costume House is a Geary Avenue loft venue that'll make all of your wedding dreams come true. The building has been around since the 1900s and has been recently restored to give it a new life. Now you'll find exposed brick walls that have been painted white and distressed, giving them a bit of a grittier feel, factory-style windows, the original oak wood floors, and little else (meaning the space is completely flexible). It can fit up to 220 guests for a seated event, so go ahead and add a few extra plus ones to your guest list.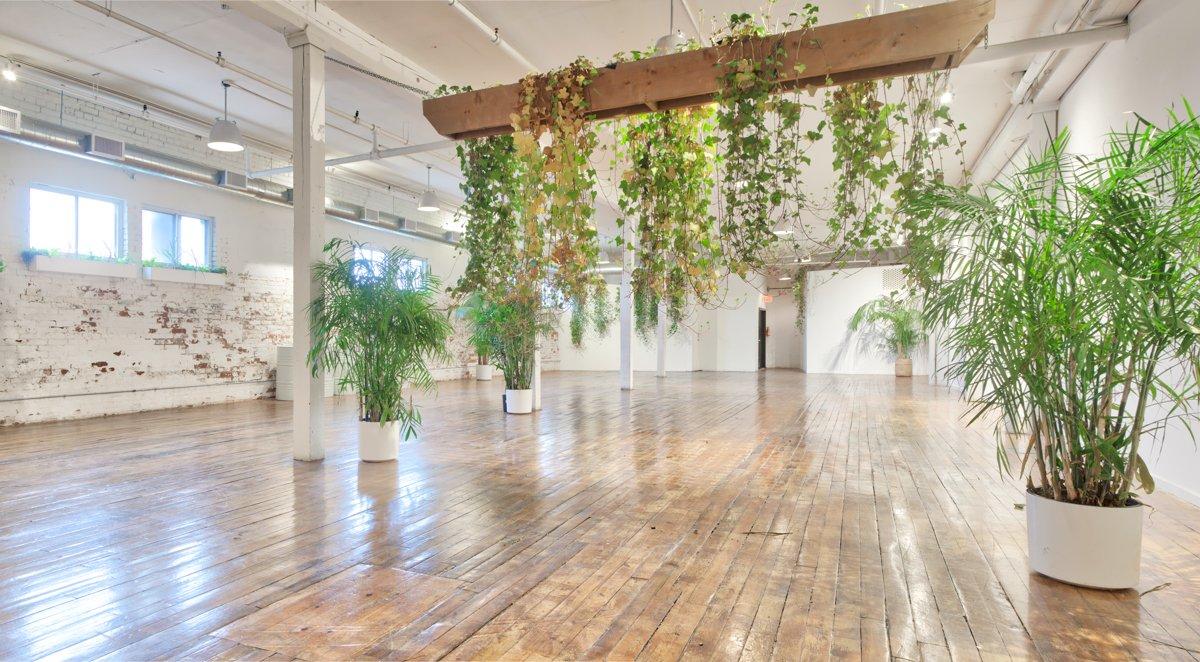 Canvas Event Venue (1381 Castlefield Avenue)
Head north of the downtown core to take advantage of all the beauty that Canvas Event Venue has to offer. It's perched above ELTE Market in a loft-style space and is a stunning, modern place for your celebration. The interior is outfitted with custom installations, reclaimed wood walls, barn doors, and industrial accents. The space itself is open concept, so you can choose the layout for your celebration. As for space, there's enough room for you to host 600 of your nearest and dearest friends and relatives.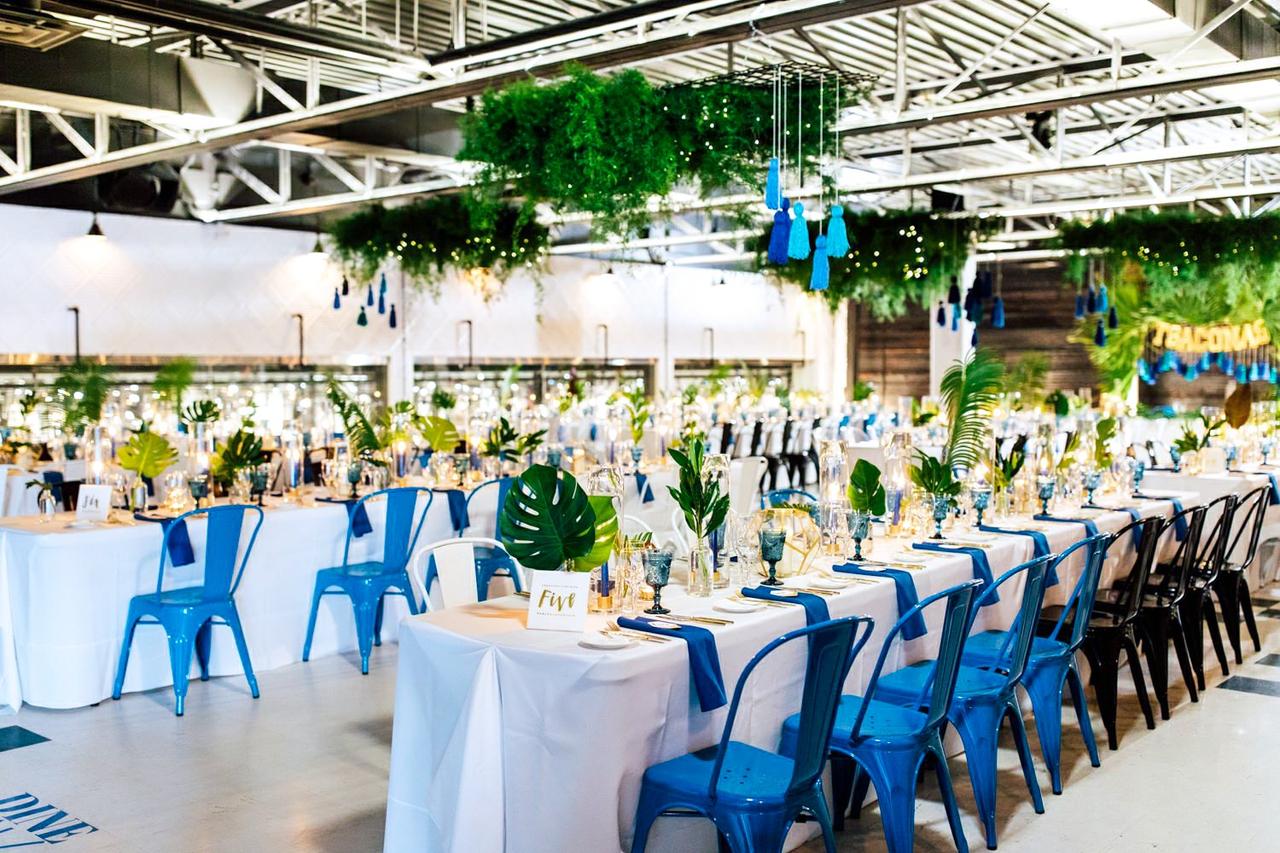 Eglinton West Gallery (2301 Keele Street)
In the market for a Toronto loft wedding venue that's got a bit of rustic-chic charm? Look no further than the Eglinton West Gallery. This spot is truly one-of-a-kind and mixes that cool, modern vibe with some shabby-chic flavour. It's decorated with reclaimed wood, exposed brick, and concrete floors. It also has touches of elegance, like the glimmering chandeliers in its foyer space. Altogether it can accommodate up to 600 guests, so you should be able to squeeze in all your friends and relatives.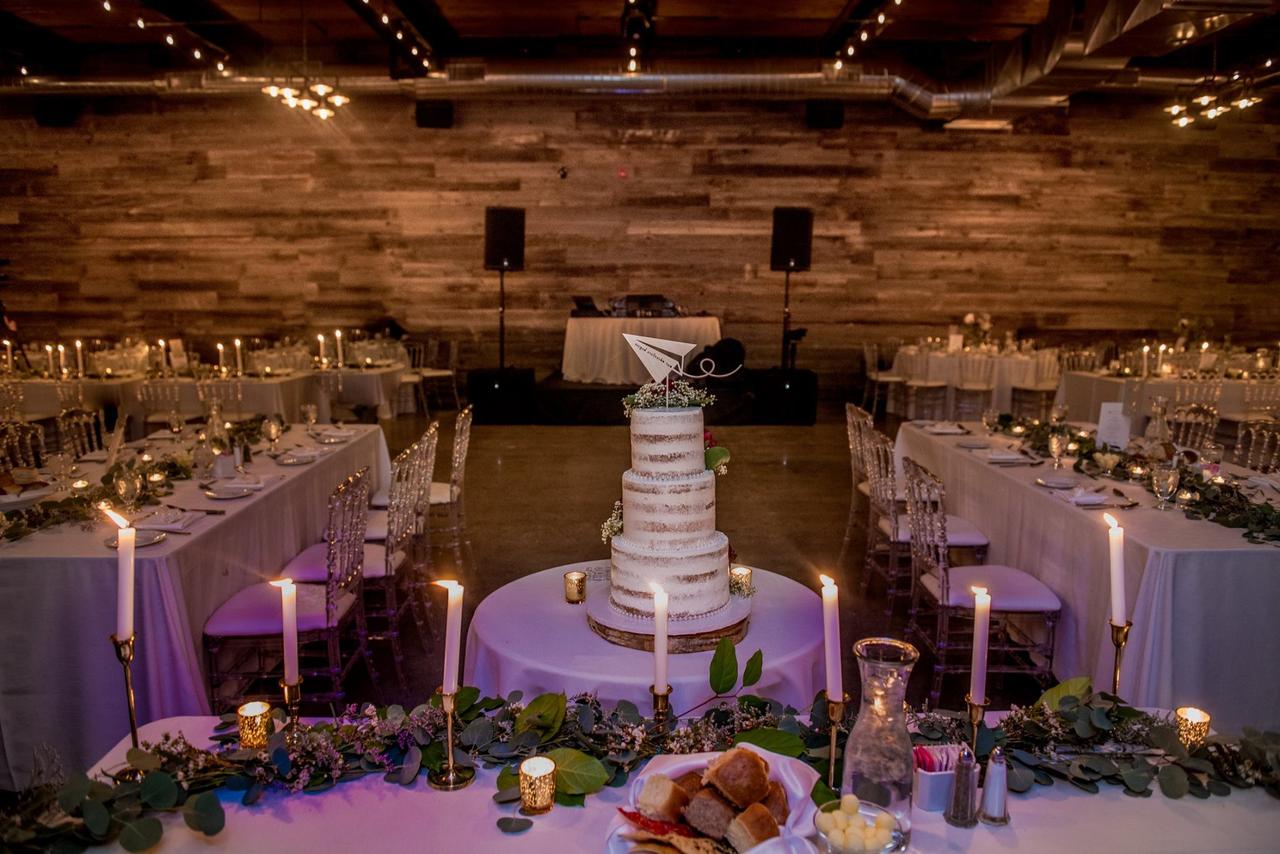 Twist Gallery (1100 Queen Street West)
If the city's trendy west end is your dream wedding destination, Twist Gallery should be on your "must-see" list of venues. It's right near the corner of Dovercourt and Queen West and offers much more than an easily accessible location. The inside has a warmer vibe than many gallery spaces thanks to its wooden accents and wooden floors. It gets plenty of natural light, too, because of its gargantuan factory windows. It can accommodate 140 seated guests or 250 guests for a standing cocktail reception.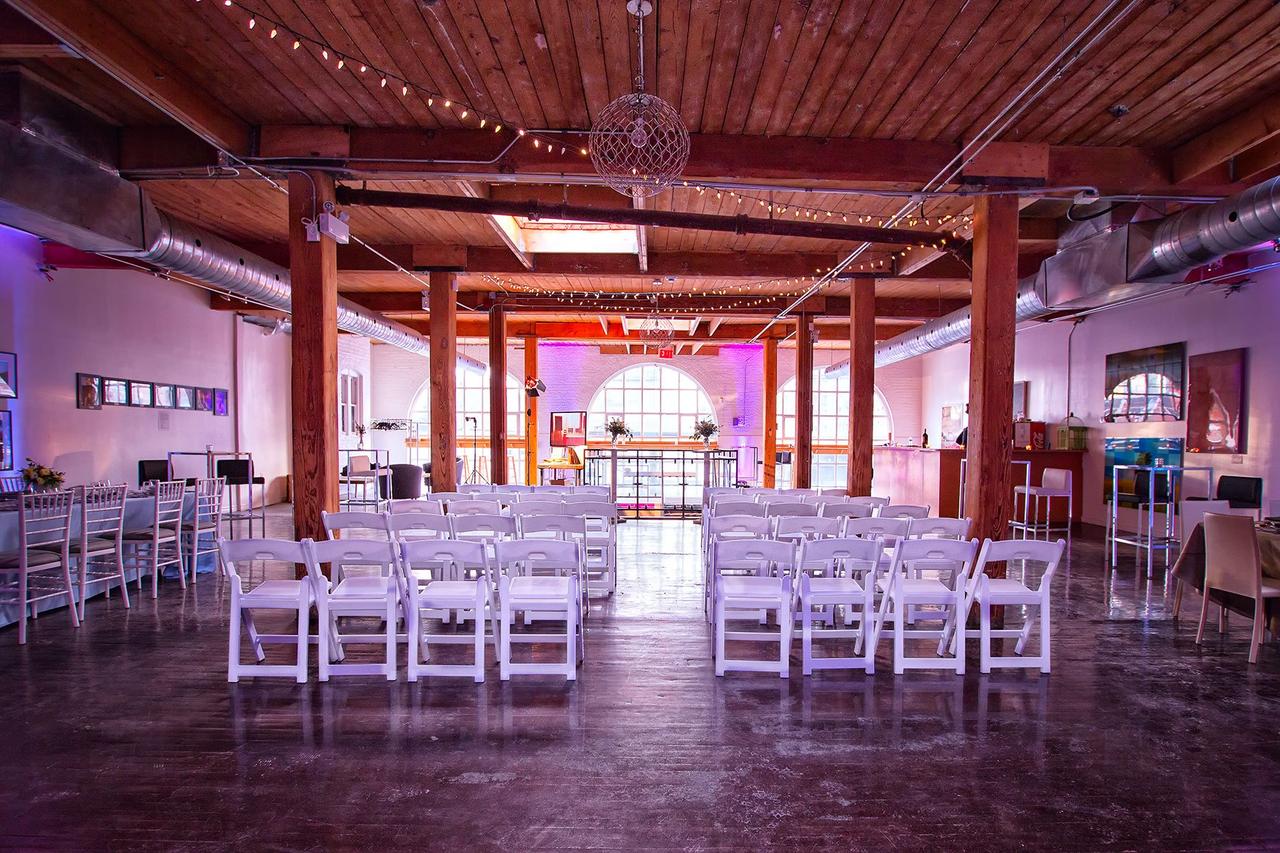 Kipling Gallery (141 Trade Valley Drive)
For those who call Vaughan home, Kipling Gallery is the perfect loft wedding venue. It's a pretty classic exhibition space, with an open concept, high ceilings, white walls, and minimal decor. It's ideal if you're looking for a chameleon space that's ready to be transformed for your big day. Contact venue for capacity.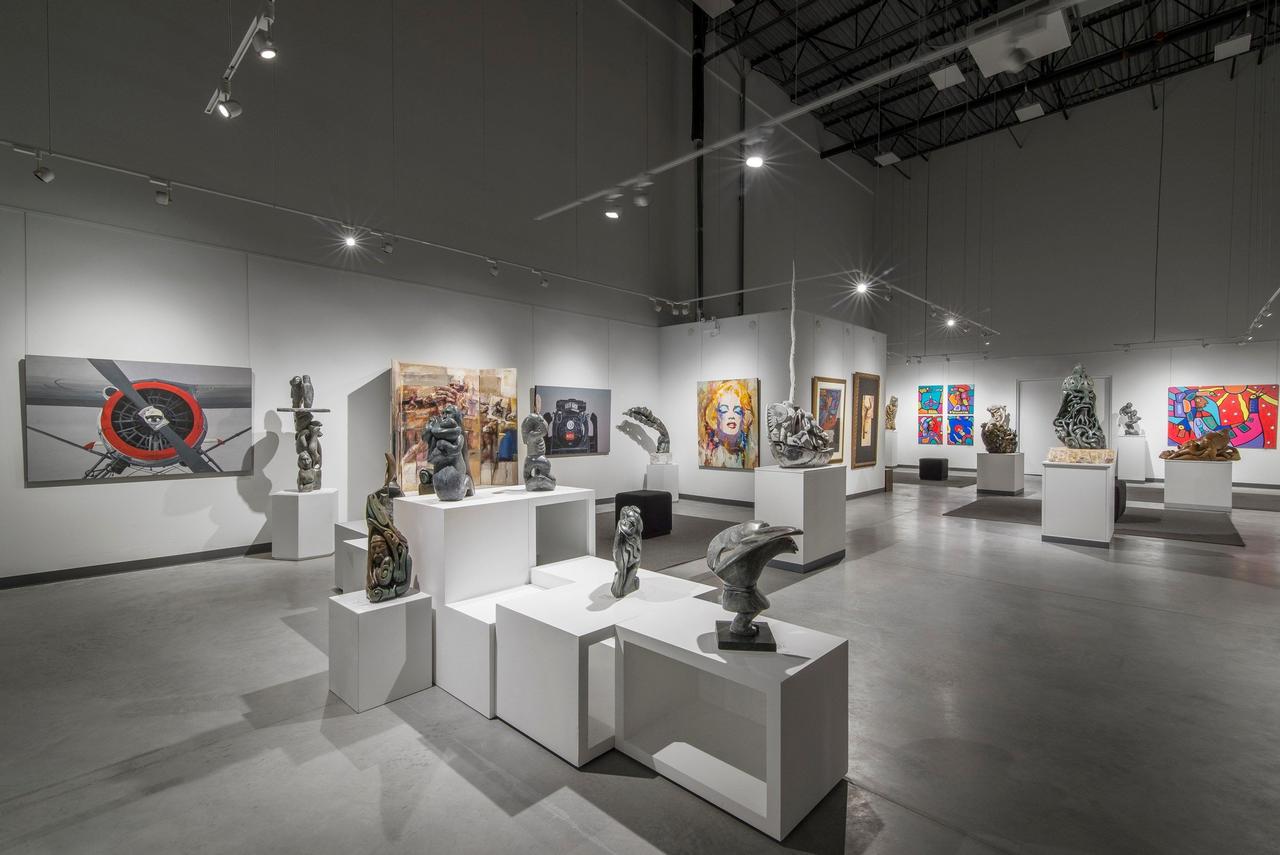 P.S. if you want to see a few more spots with a similar vibe, take a look at these industrial chic wedding venues in Toronto.
Find more Toronto loft wedding venues on WeddingWire »