The Top 23 Wedding Venues With a View in British Columbia
From mountain tops to waterfronts, these picture perfect wedding venues will make your I do's truly magical.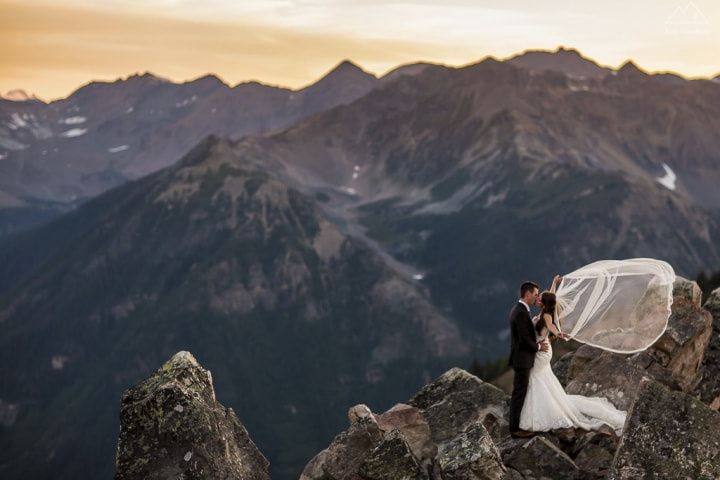 Thanks to its distinct terrain, British Columbia is filled with stunning wedding venues. From mountain top lodges to lakeside resorts, the province has it all and more. If you're looking for a jaw-dropping backdrop for your nuptials that's a bit more interesting than your average wedding venue, read on.
Here are the top wedding venues with a view in British Columbia.
Kicking Horse Mountain Resort (Golden)
Way up at the top of the Purcell Mountains you'll find the Kicking Horse Mountain Resort. Located 7,700 feet from the ground, it's the highest elevated venue in the entire country. To reach the top you and your guests will have to hop aboard the Golden Eagle Express Gondola - but no worries, your ride will be anything but boring. On the way up you'll get to scope out B.C.'s beautiful national parks and mountains. The spot has received rave reviews from couples who have married there in the past, so it's bound to live up to your expectations.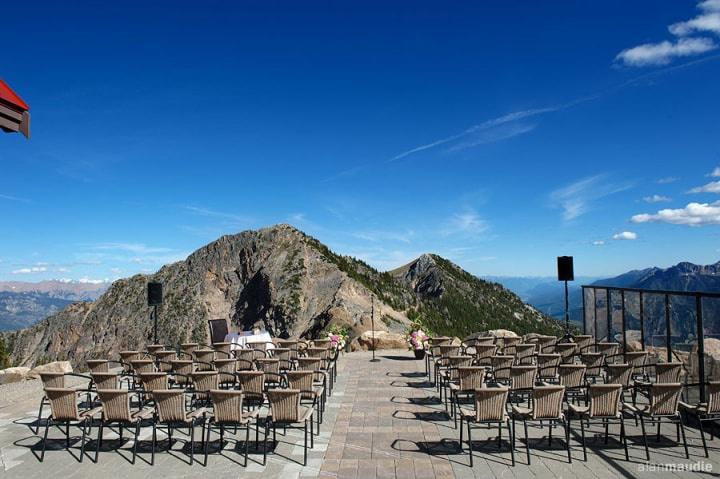 Beaverfoot Lodge & Resort (Golden)
Golden is also home to the Beaverfoot Lodge & Resort, a rustic venue tucked away in the Rockies. The lodge generates its own electricity, making it a far cry from city lofts and hotel ballrooms. It boasts cabins, covered pioneer wagons, hiking trails and more. Aside from the forest, mountain and lake views on the property, you'll also see horses roaming around the resort. If you're a seasoned rider you can even enter your ceremony on one.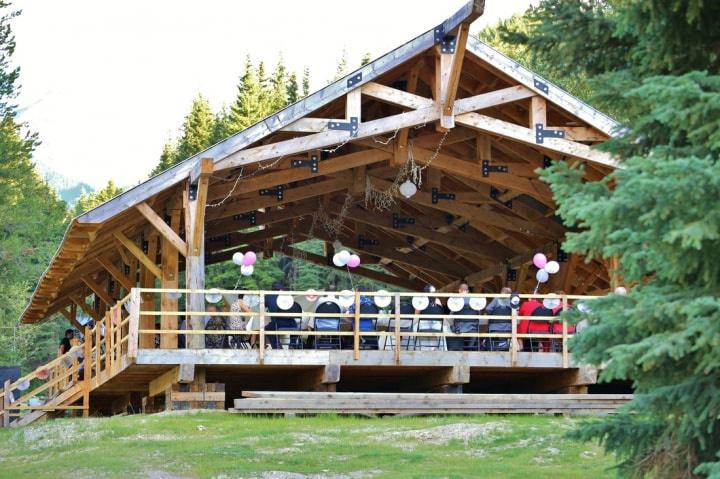 Kimberley Alpine Resort (Kimberley)
This ski town is the ideal alpine escape in East Kootenay. You and your guests will board the Express Chairlift which climbs all the way to the top of the North Star Mountain - the home of the Kimberley Alpine Resort. Ceremonies are typically hosted under the Maverick T-Bar Arch which has a view of the Rockies that cannot be beat.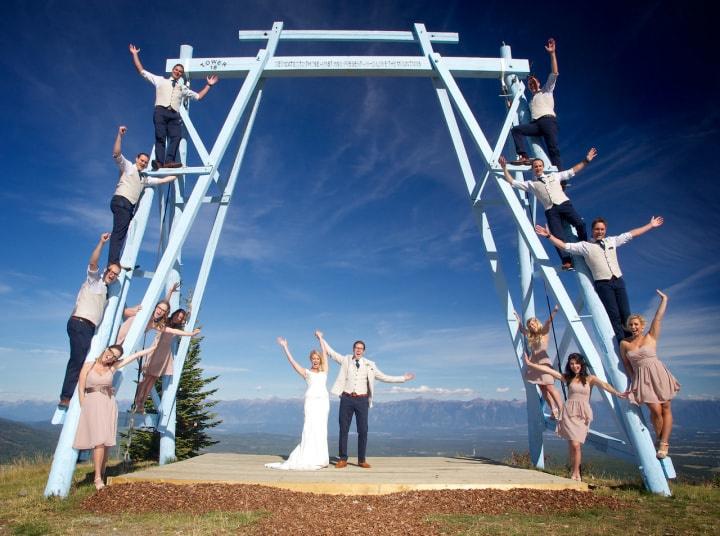 John M.S. Lecky UBC Boathouse (Richmond)
Think there's nothing more gorgeous than the ebb and flow of open water? The John M.S. Lecky UBC Boathouse may be the venue for you. The ultra-modern building floats on the Fraser River and has amazing views of both the water and the North Shore Mountains. If it's too chilly to say your "I do's" outdoors, the inside flaunts massive floor to ceiling windows that allow you to soak in the scenery even when the weather is acting up.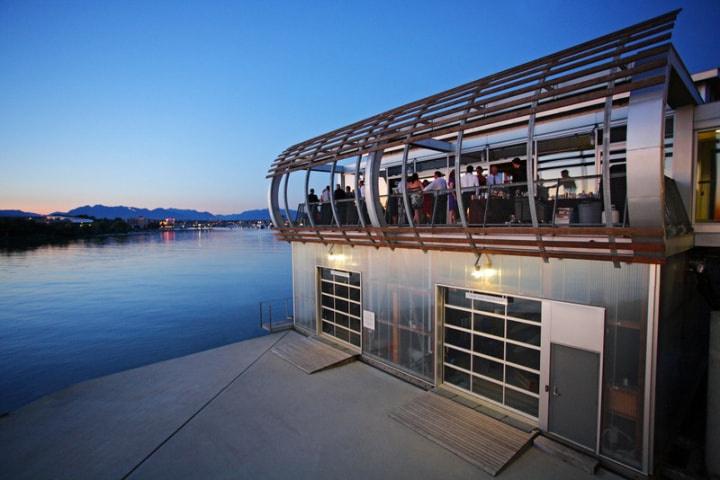 Furry Creek Golf & Country Club (Furry Creek)
The Furry Creek Golf & Country Club has one-upped just about every country club thanks to its impressive sights. Forested islands, mountains, clear blue river waters and The Furry Creek Waterfall can all be seen from its impeccably manicured lawns. Could you ask for a better backdrop?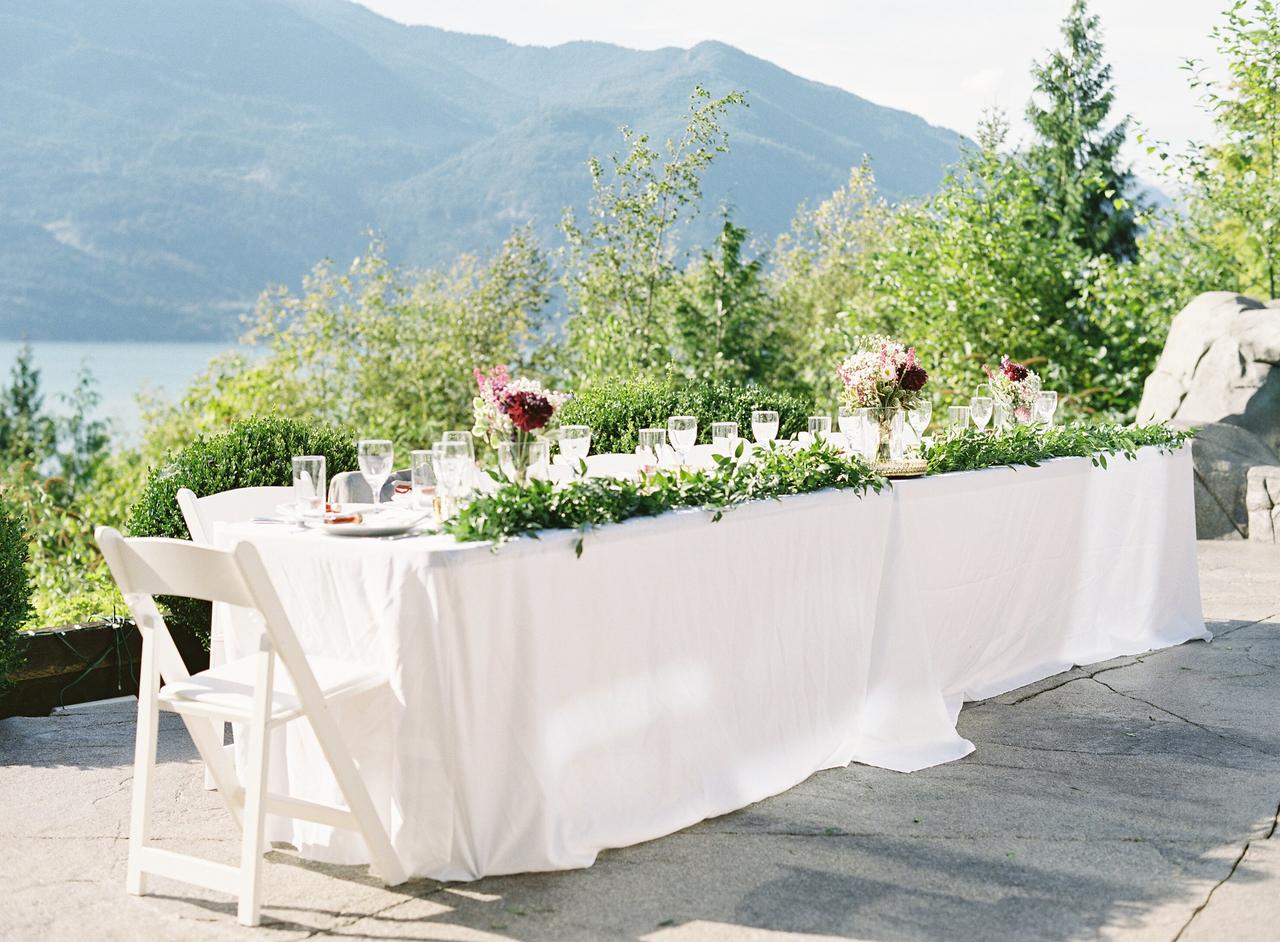 Sutton Place Hotel (Revelstoke Mountain)
Situated right at the base of Mount Mackenzie sits the luxurious Sutton Place Hotel. The slopeside venue offers amazing views of the Columbia River, giving you glimpses across to the Monashee and Selkirk Mountains. If you're looking to plan any ski adventures for you and your guests, you're in luck. Mackenzie Mountain flaunts North America's tallest lift-serviced vertical.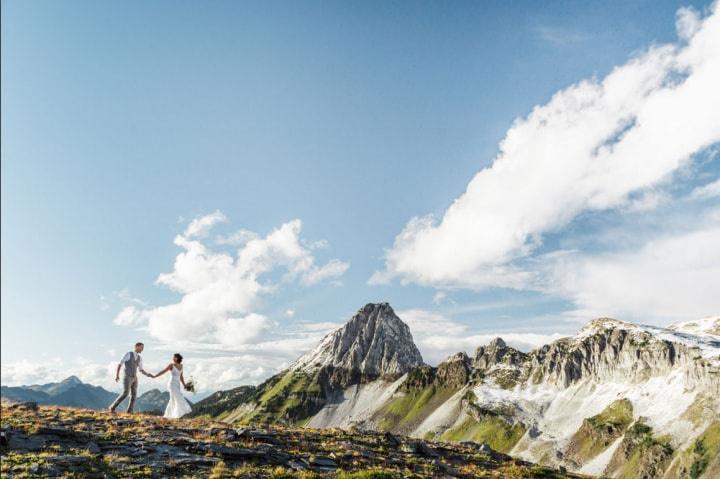 The Wickaninnish Inn (Tofino)
Want to get away from it all? Tofino is the place to go. The small Island district is home to under 2000 residents and the beautiful Wickaninnish Inn. Here you'll be treated to views of Chesterman Beach and parts of the Pacific Rim National Park Reserve. If you want to host a beach wedding unlike any other, this spot won't disappoint.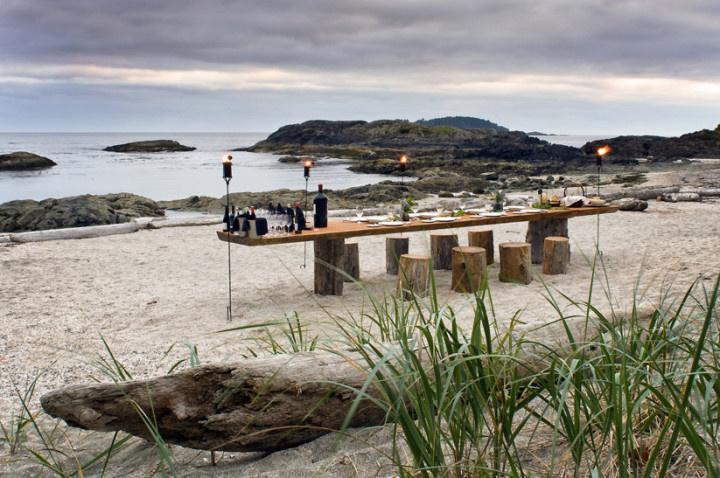 Grouse Mountain (North Vancouver)
Escape the hustle and bustle of city life in Vancouver by hosting your wedding atop Grouse Mountain. Its collection of venues are a mere 15 minutes outside of the downtown core, giving locals easy access to them. It has nine indoor venues in total, each with its own unique vibe, and tons of outdoor space. Aside from the stellar sights of the forest and alpine peaks, you'll get to see the twinkling city lights of Vancouver from high above. If you want to get some truly beautiful shots, hop on the chairlift or take a helicopter ride to the peak with your photographer.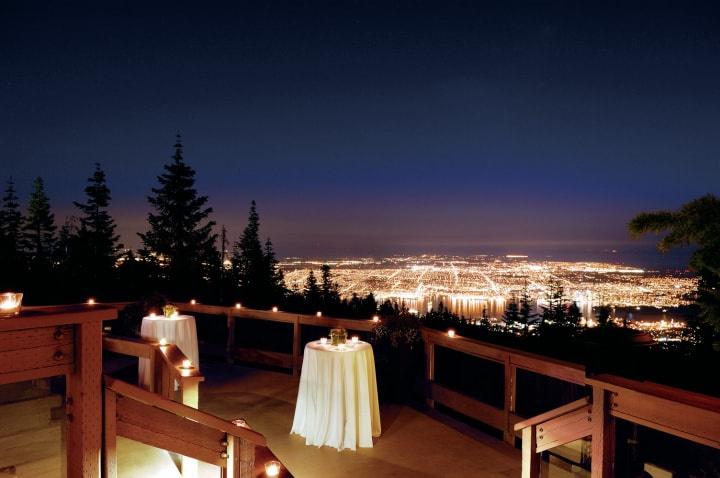 Island Lake Lodge (Fernie)
When it comes to views, Island Lake Lodge really has it all. From its grounds you can see the stunning sights of Elk Valley, Island Lake and the Lizard Range mountains. With so many gorgeous photo ops, you'll want to make sure your photography has extra memory cards on hand!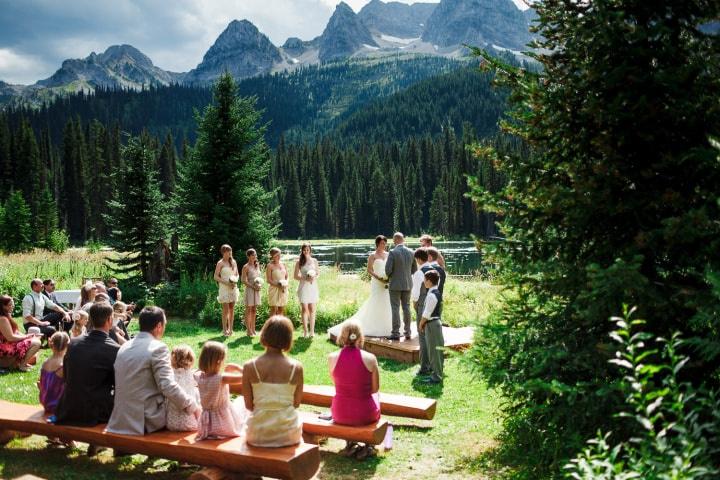 Emerald Lake Lodge (Field)
Located on the shores of Emerald Lake sits the aptly named Emerald Lake Lodge. Though its upscale accommodations are more than welcoming, you'll definitely want to spend the majority of your wedding outdoors. Among its impressive vistas are the glistening waters of the lake, forests and the Rockies.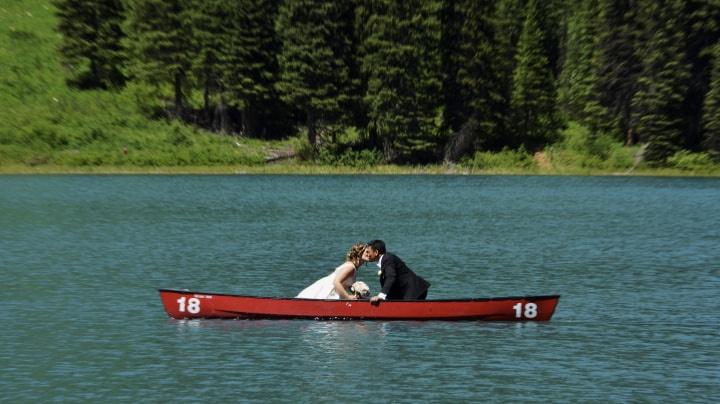 Pinnacle Hotel at the Pier (North Vancouver)
Want to tie the knot in a Vancouver at a wedding venue with killer waterfront views, look no further than Pinnacle Hotel at the Pier. It has 8,000 square feet of event space and can host intimate elopements, massive weddings and everything in between. The largest space has room for 350 guests, so you should be able to fit all of your nearest. P.S. Because it's a hotel wedding venue, you have your accommodations built right in!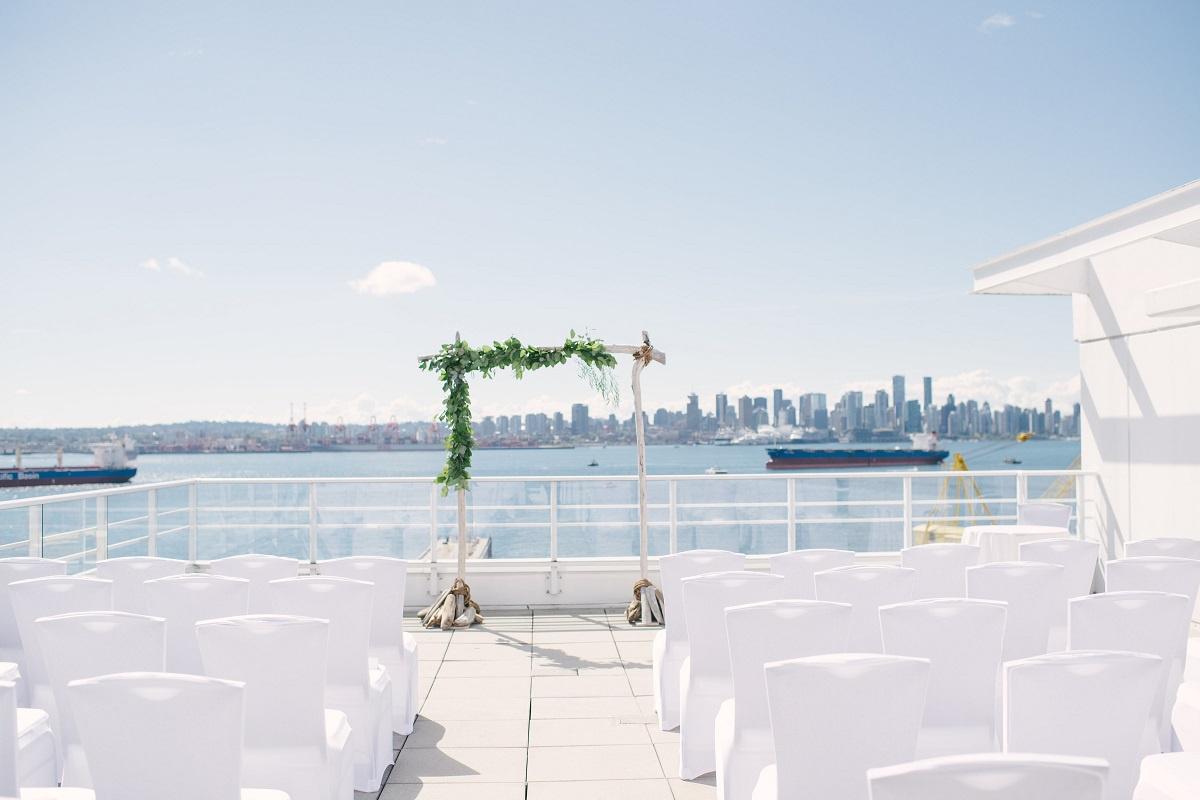 Brock House Restaurant (Vancouver)
Another solid Vancouver wedding venue with a view is Brock House Restaurant. It's located right by the shores of Jericho Beach and looks out onto the water and North Shore Mountains. You can tie the knot and celebrate in the great outdoors or move your party inside of the heritage mansion (it has floor-to-ceiling windows, so you'll still be treated to an awesome view). The venue is large enough to accommodate up to 280 guests, making it a great choice for larger events.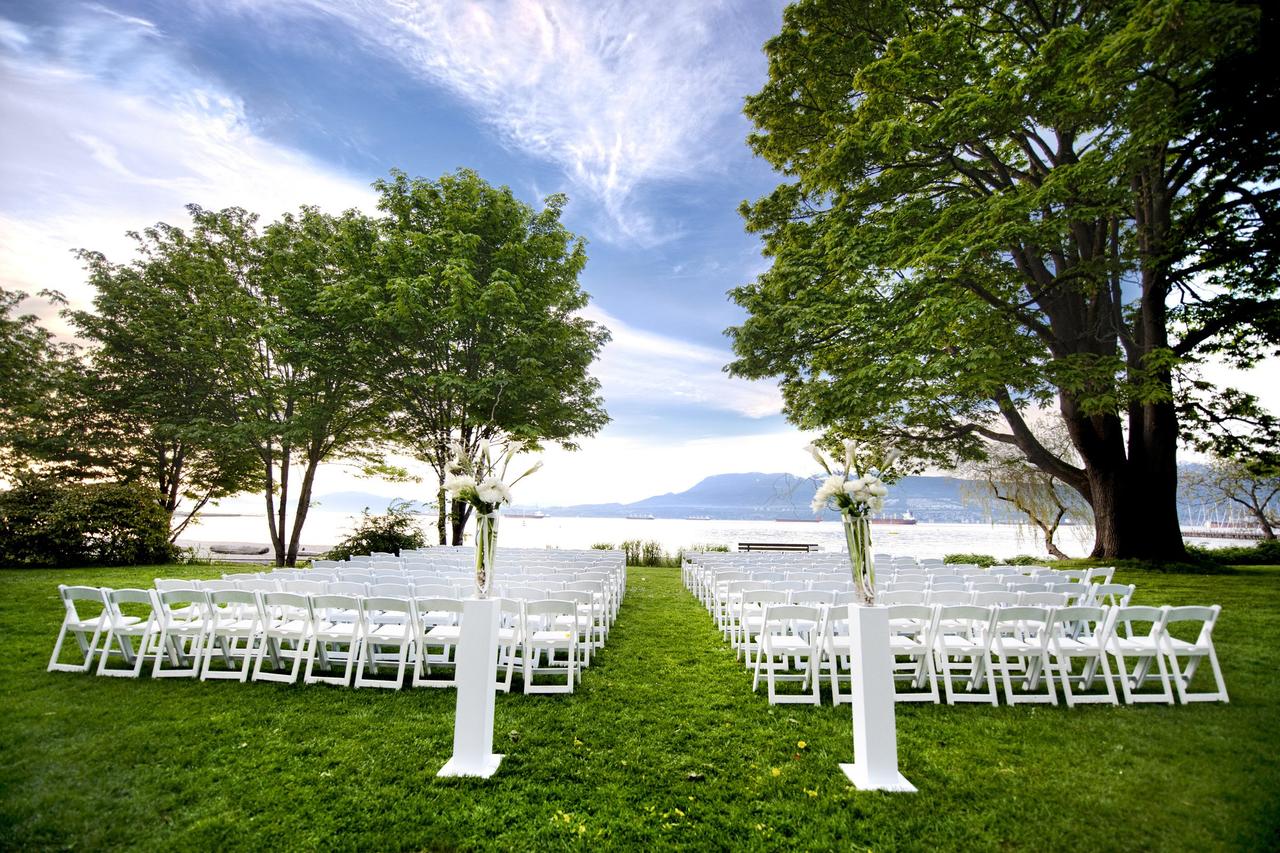 Poets Cove Resort & Spa (Pender Island)
Poets Cover Resort & Spa is a romantic getaway with some amazing sights to see. It sits right on the water's edge, so you can look out on to the surrounding islands and glistening waters. It has three function spaces to choose from, including the Seaglass Ballroom and Terrace, the Executive Cottage, and the Aurora Dining Room and Wine Room. The largest space can fit up to 120 guests for a seated dinner.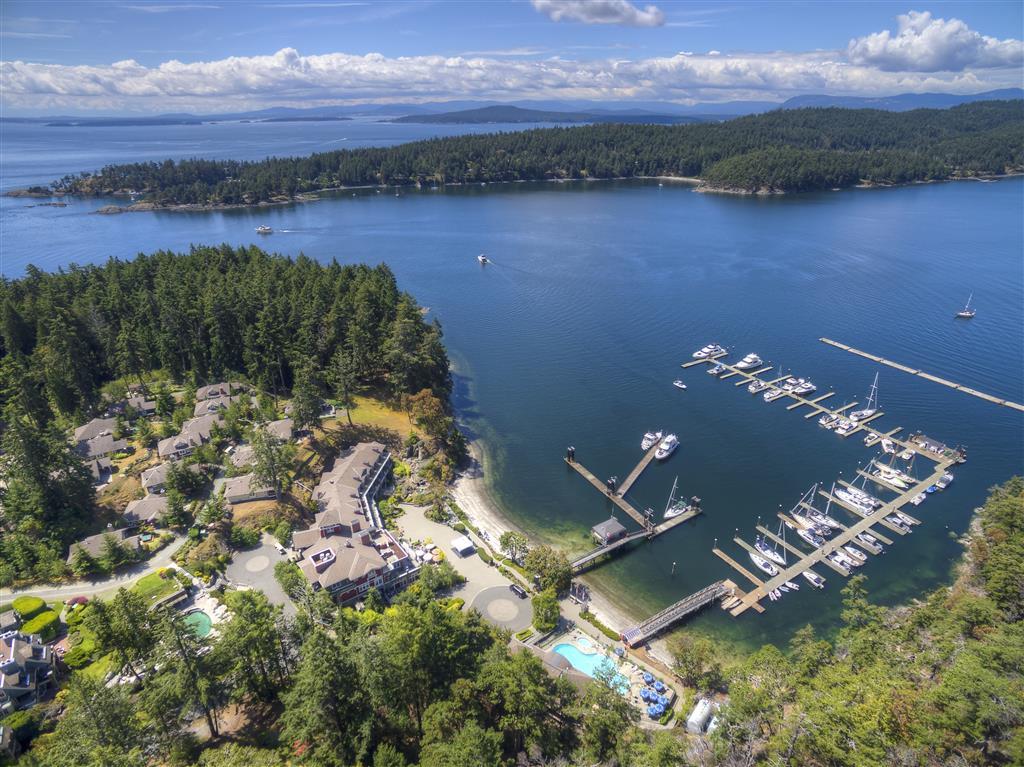 Painter's Lodge (Campbell River)
Head to Campbell River and you'll find a British Colombia wedding venue worth traveling for. Painter's Lodge is a rustic escape with options for both indoor and outdoor celebrations. If you really want to take advantage of the view of Discovery Passage, we highly suggest hosting your wedding on the lawn. It's large enough to host a group of 120, making it best suited for small to midsize weddings.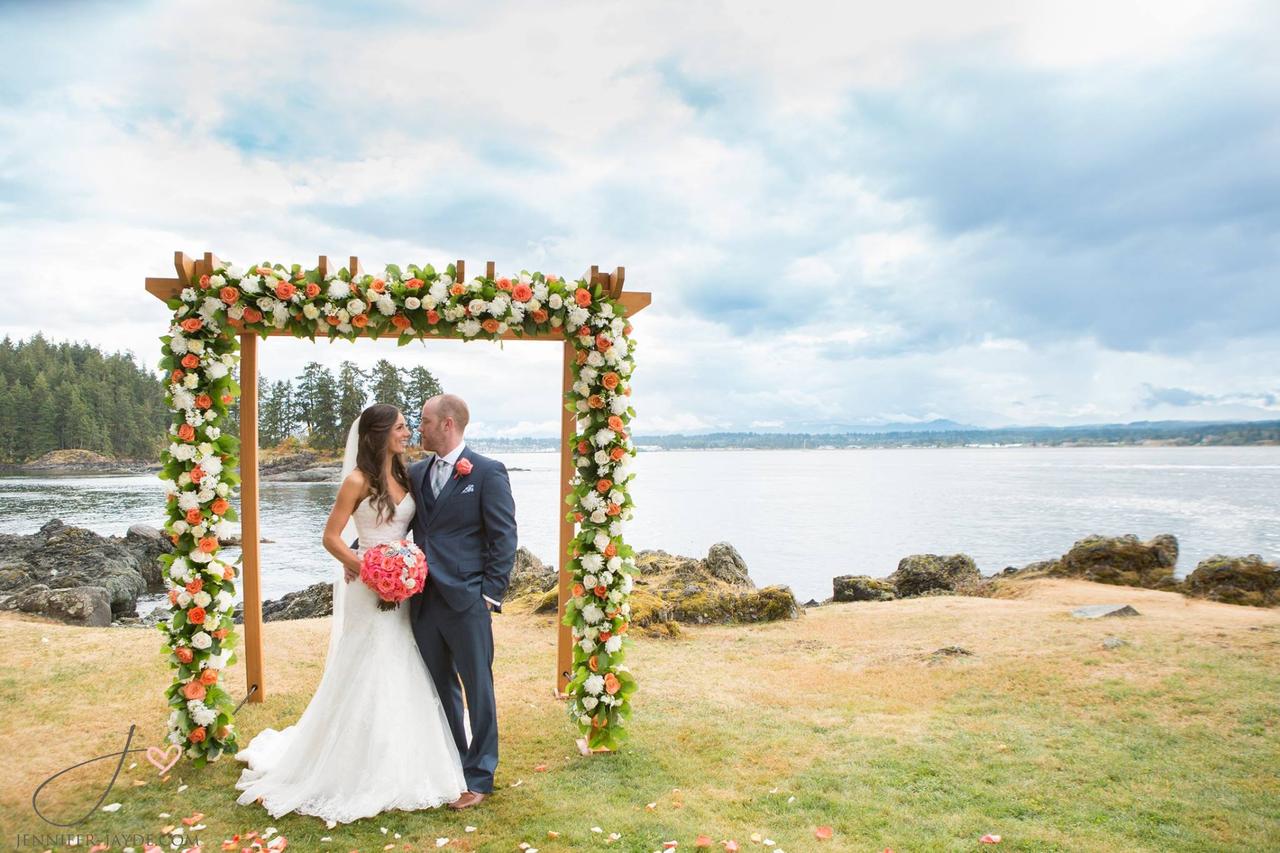 Arbutus Ridge Golf Club (Cobble Hill)
Arbutus Ridge Golf Club is a drop-dead gorgeous wedding venue with manicured grounds and gardens and an equally stunning, elegant clubhouse. From its lawns you can see mountains, forests and more, giving you the best of what Mother Nature has to offer. Its largest space can fit up to 200 people, so it's great for midsize celebrations.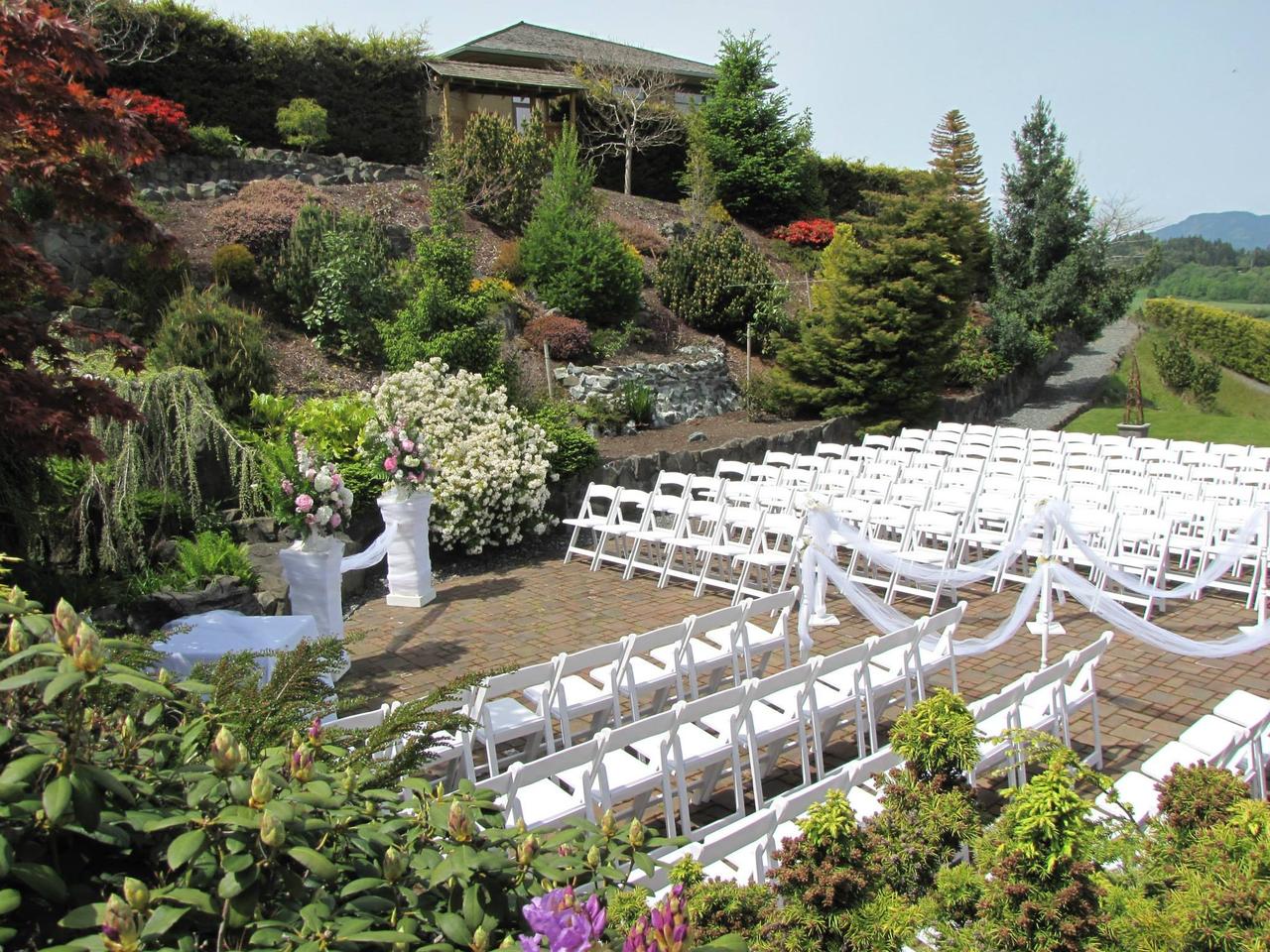 Sun Peaks (Sun Peaks)
Dream of tying the knot at a forest wedding venue with views of mountains, trees, and more? Head to Sun Peaks. It's tucked away in the heart of the Okanagan and is the perfect blend of nature and romance. It has six indoor and outdoor ceremony spaces and eleven indoor and outdoor reception spaces to choose from, so you're pretty spoilt for choice. It can accommodate everything from intimate elopements to parties of 300.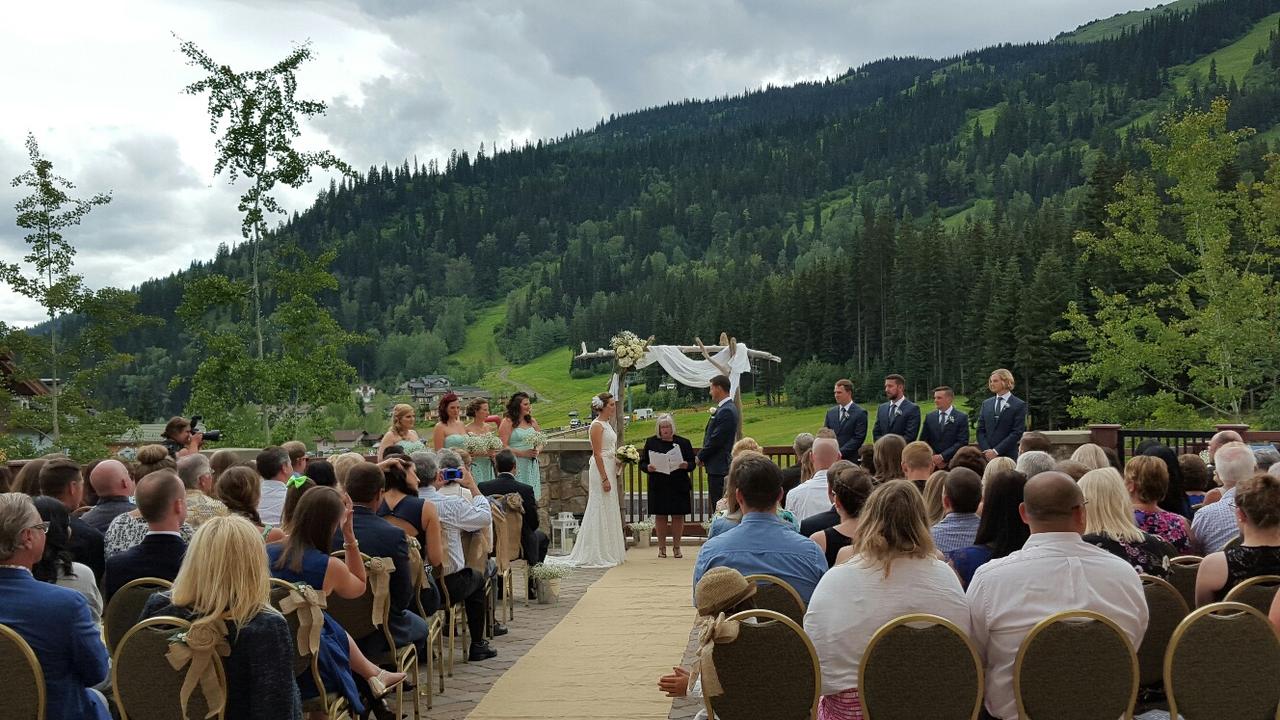 Predator Ridge (Vernon)
Predator Ridge may sound like something straight out of Jurassic Park, but, trust, us, it's a lot more romantic. It's located in Vernon and boasts killer views of the forested Okanagan Valley. It has two elegant, luxurious event spaces to choose from for your celebration: The Commonage Ballroom (capacity of 150 guests) and The Hockey Canada Cabin (capacity of 12 guests), both of which are stunning. P.S. Because it's a golf course, the grounds are immaculate, so we highly suggest using them as the stage for your wedding photos.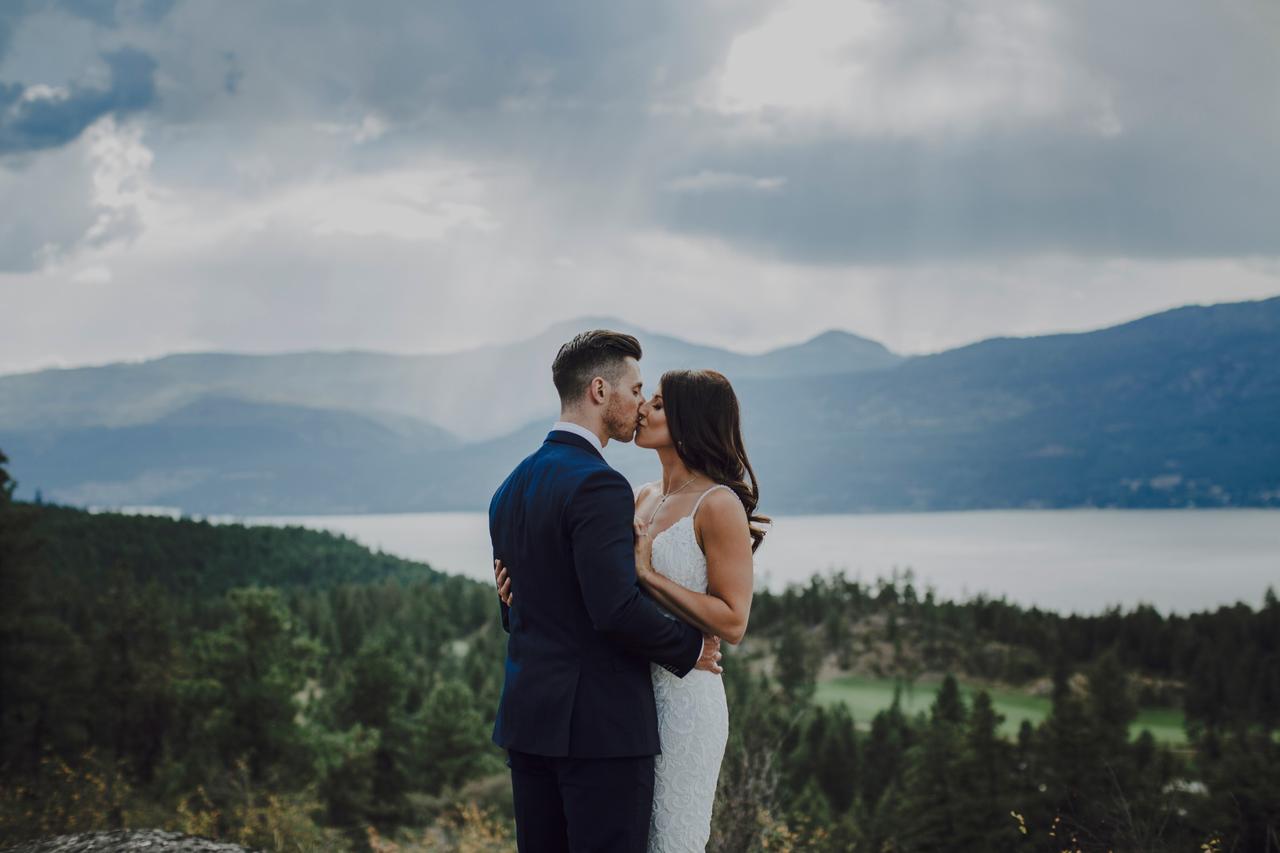 American Creek Lodge (Hope)
Soak up the beauty of the Eastern Fraser Valley by bringing your wedding to the American Creek Lodge. The modern-meets-rustic venue has options for indoor celebrations and open-air events, giving you the best of both worlds. Whichever you choose, we highly suggest making use of its triple-tiered outdoor deck, as it offers some of the most amazing views in the area. The venue has a capacity of 150 guests.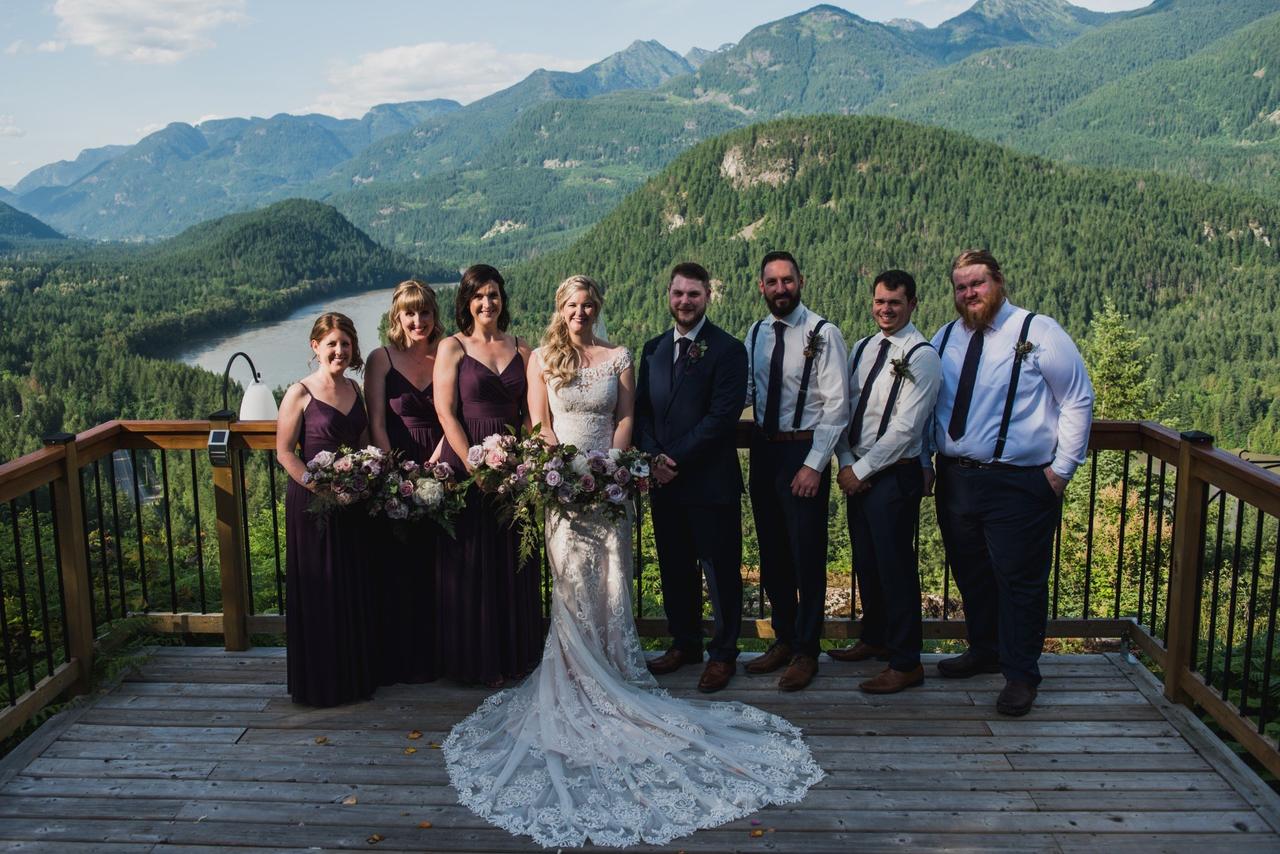 The Bayside Oceanfront Resort (Parksville)
If a beach wedding is in the cards for you, head to The Bayside Oceanfront Resort for your big day. To make the most of the scenery, tie the knot in the gazebo and then host dinner under the stars with the waves crashing in the background. It has a capacity of 220 guests and 59 guests rooms, so some of your nearest and dearest can stay the night.
Tigh-Na-Mara Seaside Resort (Parksville)
The Tigh-Na-Mara Seaside Resort is another gem of a beach wedding venue in Parksville. It boasts an oceanfront gazebo, five kilometers of private beach, charming gardens and forest views. If the weather starts acting up, you can move your celebration indoors to one of its flexible, rustic function rooms. The largest can fit up to 220 guests.

Golden Eagle Golf Club (Pitt Meadows)
Golden Eagle Golf Club in Pitt Meadows is a five-star venue with all the bells and whistles you could ever want or need for a truly memorable event. Aside from amazing views of the great outdoors, it has a massive deck (perfect for both ceremonies and receptions) and a gorgeous all-white event space indoors that you can make use of on your big day. Its capacity is 150 people.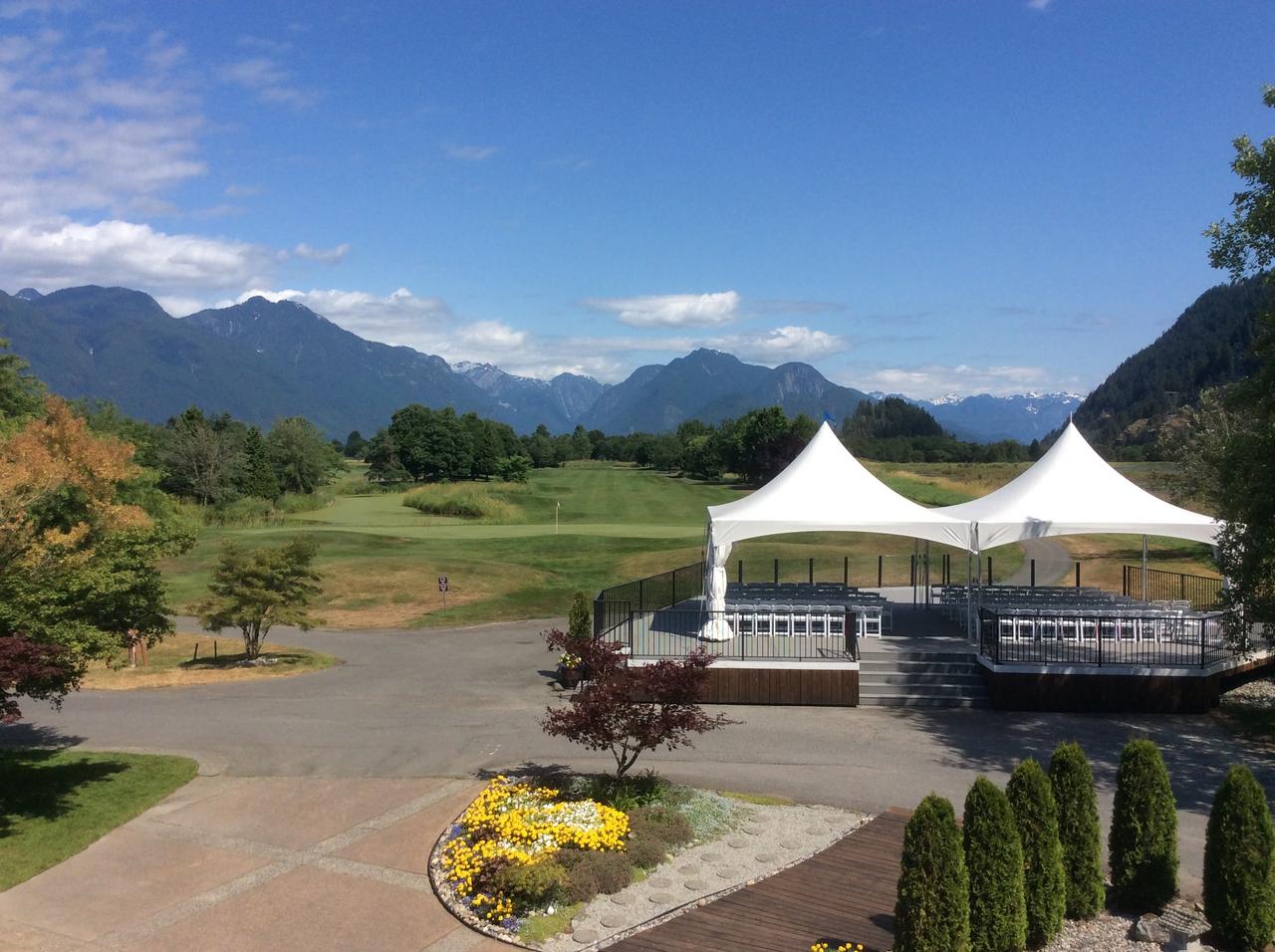 Fraser River Lodge (Agassiz)
At the foothills of the majestic Cascade Mountains, you'll find the Fraser River Lodge, a British Columbia wedding venue that's bound to take your breath away. Its indoor hall can accommodate up to 200 guests, but if you want something a touch more intimate, you can opt for the lounge (which can seat 35 people). As for outdoor space, there's an expansive deck with room for 100 people and the field which is large enough for 200 guests. All are gorgeous and can easily be made over to fit your wedding theme, so you really can't go wrong.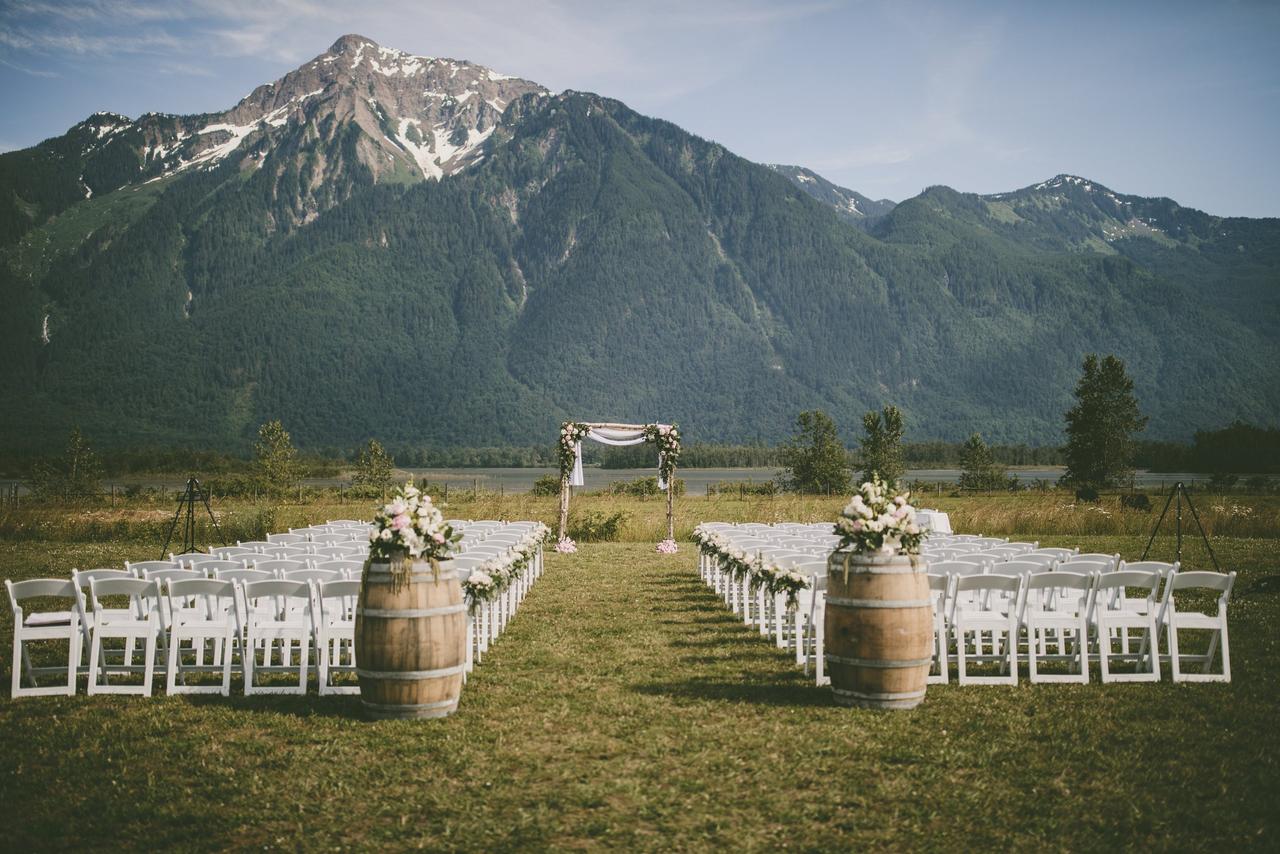 Summerhill Pyramid Winery (Kelowna)
If you and your partner love nothing more than kicking back with a glass of wine, Summerhill Pyramid Winery is the ideal Kelowna wedding venue for you. Not only does it make some top-notch boozy beverages, but it also offers great views of water, mountains and forest (Mother Nature's trifecta). You can bring your wedding inside to its ballrooms, or if you want to embrace the great outdoors, celebrate on one of its expansive lawns. Its maximum capacity is 500 guests.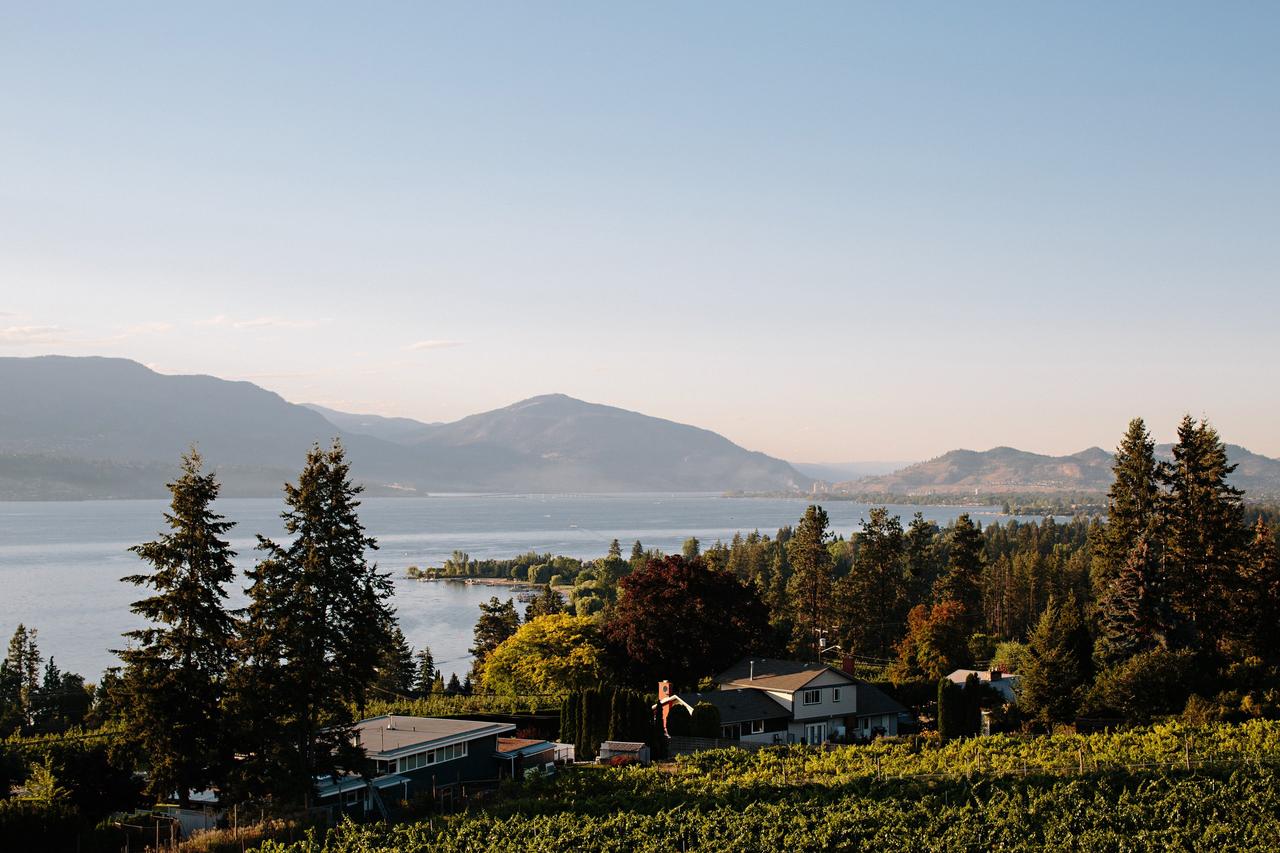 Planning a wedding in Whistler? Check out these 10 Drop Dead Gorgeous Whistler Wedding Venues.