How to Get a Marriage License in British Columbia
Planning on getting married in beautiful British Columbia? Here are the important steps you need to take.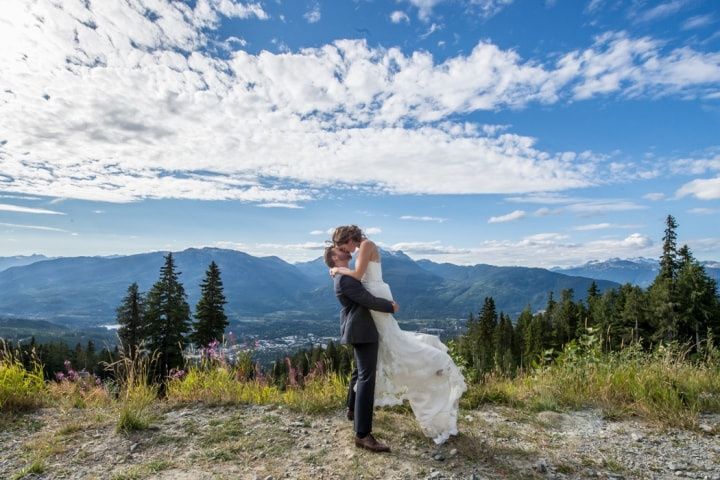 If you're anything like me, the fun of wedding planning lies in trying on bridal gowns, eating my weight in cake samples, and crafting floral arrangements - not signing papers. I'd much rather spend my days slipping into Vera Wang wedding dresses than hashing out which documents need to be delivered to whom. However, you're gonna need to get that pesky marriage license taken care of if you want the British Columbia government to recognize your nuptials as legit.
Here's how to get a marriage license in British Columbia.
Before we get into the nitty gritty of marriage licenses, you'll want to make sure you're actually able to get married in British Columbia, and that means being of age. If you and/or your spouse is under the age of 19, you'll need signed parental consent. Unfortunately for younger lovebirds, no one under the age of 16 can be married in the province. Good to go? Let's get into the details of B.C. marriage licenses.
The government requires you to secure a marriage license within the three months prior to your wedding date. Only one member of the couple needs to be present during the application process, so you'll have to draw straws if you don't want to go together. All you'll need to bring along is the primary identification (birth certificate, IMM/immigration form, permanent resident card or citizenship card) of both yourself and your fiancé(e) and $100.
Now that you know the details, it's time for some action. Head to a marriage license issuer to get your application underway. The government has created a search engine on the B.C. government site that'll direct you to all the issuers nearby if you're clueless about where to go.
To finish off the paperwork you'll need the signature of a religious representative or a non-religious marriage commissioner. You can use our directory of wedding officiants in British Columbia to scout out some options. Remember, your commissioner must be registered with the Vital Statistics Agency to make it legal. Use the government search tool to find an eligible marriage commissioner in your area.
The base cost to hire a commissioner is $78.75 (including GST). This accounts for one hour for wedding ceremony prep, meeting with the couple, rehearsal time, travel time, and - of course - performing the ceremony. Additional charges may be added to your bill if more than one hour is spent preparing for the civil ceremony ($25/hour extra), he or she has to use their own means of transportation ($0.53/km) and/or if he or she must pay to take a ferry or park.
After you've said your "I do's", you and your partner, two witnesses and your commissioner must sign the marriage license and registration. Within 48 hours of your ceremony, your commissioner will submit your Registration of Marriage to the Vital Statistics Agency. After that it will become a permanent legal record. You won't want to miss this step as Vital Statistics will not issue a marriage certificate until the deal has been registered.
Once your marriage has been registered by Vital Statistics, you'll receive your marriage certificate in the mail (this takes an average of three weeks). If you lose your certificate, getting a new copy only costs $27 (it can be ordered online or by mail).
While it's doubtful that these steps will be more fun than designing the four-tiered cake of your dreams, they are absolutely necessary. Luckily, the whole process is pretty painless, so don't get too worked up about it and look forward to the fun parts of planning your big day.