How to Get a Marriage License in Ontario
So you've decided to get hitched and need to know what steps to take to make this union legal? Here is what you need to do to get a marriage license in Ontario.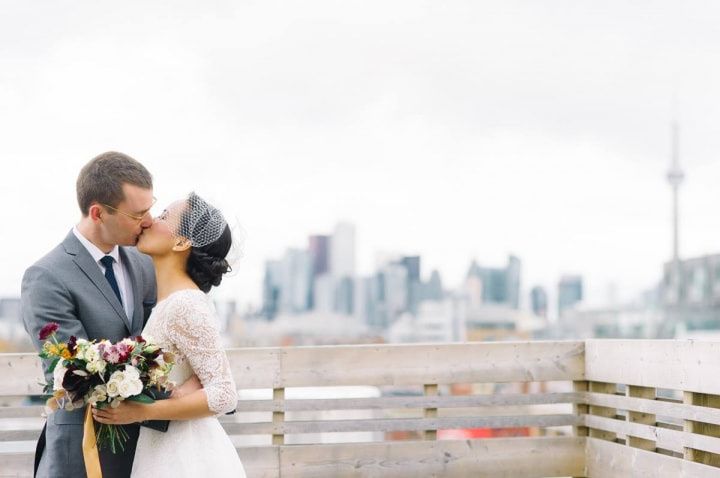 So you've decided to get hitched and need to know what steps to take to make this union legal? Well, lovebirds, you're going to need a marriage license to make the deal official in the province of Ontario. While snagging the best of the best when it comes to wedding planning and finding the perfect venue may be at the top of your to-do list, be sure to secure an Ontario marriage license and an authorized official to ensure that your marriage is performed properly and legally.
Here's how to get a marriage license in Ontario.
In Ontario, there are two types of ceremonies: a religious marriage performed by a recognized religious official (check Ontario's religious marriage officiants list to ensure yours is legit) or a civil marriage performed by a judge, justice of the peace, authorized municipal clerk or other licenced individuals (a.k.a. wedding officiants and celebrants). You can verify that an officiant's licence is in good standing by asking them to show you a document as proof of their status or you can contact the Ontario Office of the Registrar General at 1-800-461-2156 (or in Toronto at 416-325-8305) and request verbal confirmation. Wedding offficiants and wedding celebrants are a popular choice as most will perform a marriage in whatever venue type the couple chooses - from city lofts to country farms.

Good to go? Ready to sign some papers? Well let's clarify which papers, shall we?

You've got two options: a banns form and a marriage license.

A couple can get a banns form when they announce their marriage during a religious service (you may be eligible if you're going the traditional church wedding route). As a plus, the place of worship will handle publishing this declaration, so you can leave the hard work to the holy people. Just an FYI, if your beau or belle has been hitched before, you'll have to skip the banns and opt for a marriage license.

Your other option is a run-of-the-mill marriage license issued by the Province of Ontario. If you've settled on this one for secular or personal reasons, relax, the process isn't actually difficult at all. All each of you really need is two pieces of government-issued ID (birth certificate, valid passport, record of immigrant landing, Canadian Citizenship Card, valid driver's license or an Ontario Photo Card), a bit of cash (fees vary from city to city), a signed application, and a ride to your nearest city hall, town hall or municipal office to get the wheels in motion.

The form is downloadable from the Ontario Government website and is much less stressful to fill out than a passport application. You don't require any guarantor signatures and it's a mere one page long. One catch: the document is only valid for 90 days from the date it was issued, so you'll want to get it in your final phases of planning.

Just a friendly reminder, if you're looking to remarry after a divorce, you'll need to bring official proof of the divorce when you apply for your new license. That means you'll have to dig up an original or get your hands on a court-certified copy of the final decree, the final judgment or certificate of divorce to bring along with you.

Regardless of whether you go for a banns form or a marriage license, it will need to be signed by you, your spouse, witnesses and the person who performed your marriage right after your ceremony wraps. 

After you've sorted out your marriage license, the one document you've got left to tackle is your marriage certificate (AKA the legal record of your marriage). This is the grand finale to all your paperwork and you'll need it to show proof of your marriage, apply for certain social benefits, settle an estate and/or change your last name.

Luckily, you don't play a huge role in this. The person who performed your marriage will send off your signed marriage license to the fine people at ServiceOntario and the deal is done. If you want a copy of your marriage certificate for yourself, it'll cost you between $15 and $22 to get your hands on it (depending on what size of document you want).

While this process won't be anywhere close to as fun as indulging in chocolate cake samples or picking out your bridal bouquet, it's definitely not difficult. So don't sweat the small stuff, remember to get those signatures taken care of and get ready to say "I do".
Image: Tara McCullen Photography