10 Drop Dead Gorgeous Whistler Wedding Venues
If you're thinking of tying the knot in Whistler, you need to check out these drop dead gorgeous wedding venues.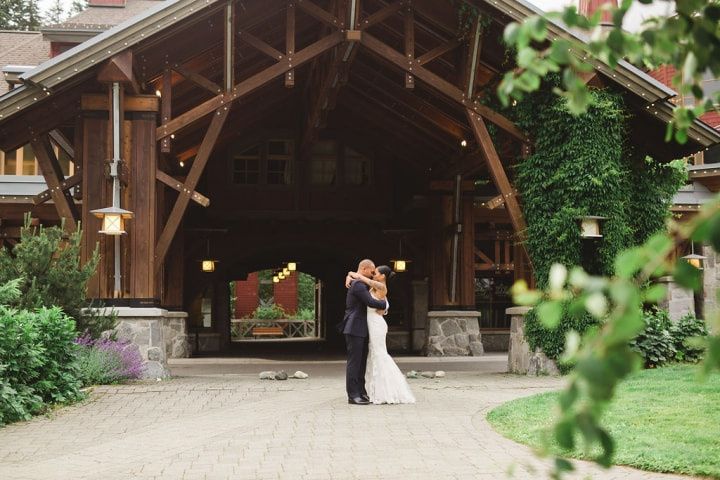 Whistler wedding venues are perfect for couples who want to celebrate their big day at an outdoorsy, rustic wedding escape. The area's dreamiest destinations include an art gallery, a cultural center and, of course, a ski resort. Whether you're in the market for something artsy, elegant or one-of-a-kind, there's something on this list for you. P.S. We've also got you covered if you want to host a Whistler bachelorette party or honeymoon in the area.
Here are a few drop dead gorgeous Whistler wedding venues.
Squamish and Líl'wat Cultural Centre
The Squamish and Líl'wat Cultural Centre is perfect for couples who want a Whistler wedding venue that's equal parts modern and rustic. You'll get to tie the knot in its Great Hall among cultural exhibits on the Squamish and Lil'wat Nation, making your day even more special. The space boasts sky-high floor-to-ceiling windows, exposed wooden beams, colourful concrete floors and can be tailored to fit your unique vision. It has enough room to accommodate up to 200 guests, making it ideal for midsize weddings.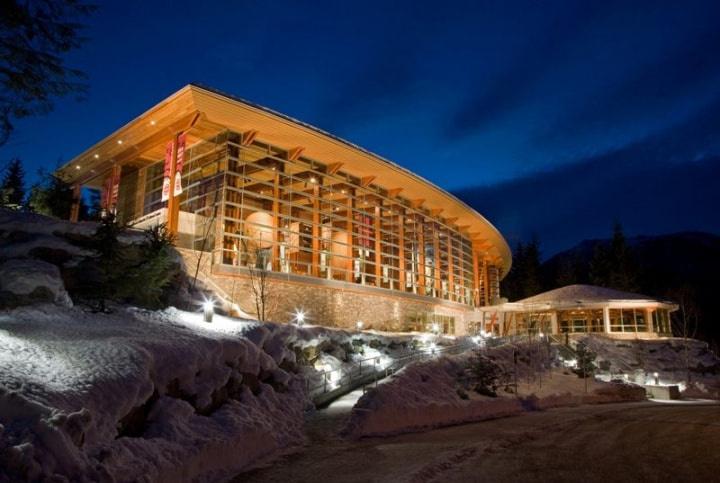 Whistler Blackcomb
Naturally, Whistler Blackcomb, North America's largest ski resort needs to be on this list. While winter sports are its main draw, it's also a pretty sweet wedding destination. It offers a variety of different rustic-style spaces that you can put to use on your big day, the most popular being The Steeps (which can fit up to 80 guests) and Glacier View (which can fit up to 400 guests). If you want to go all out, you can even do a whole venue buyout (which can fit over 800 guests).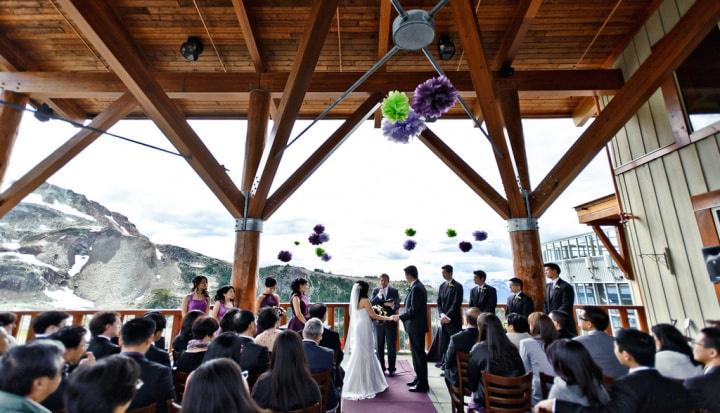 The Venue
The Venue is a rustic eatery that makes for an awesome reception and ceremony space. Its interior is warm, homey and is large enough to seat up to 100 of your nearest and dearest. Since it's first and foremost a restaurant, you and your guests will also be treated to amazing eats prepared by its in-house team (its sample menu includes saffron risotto, sesame crusted ahi tuna, antipasto charcuterie and more - yum).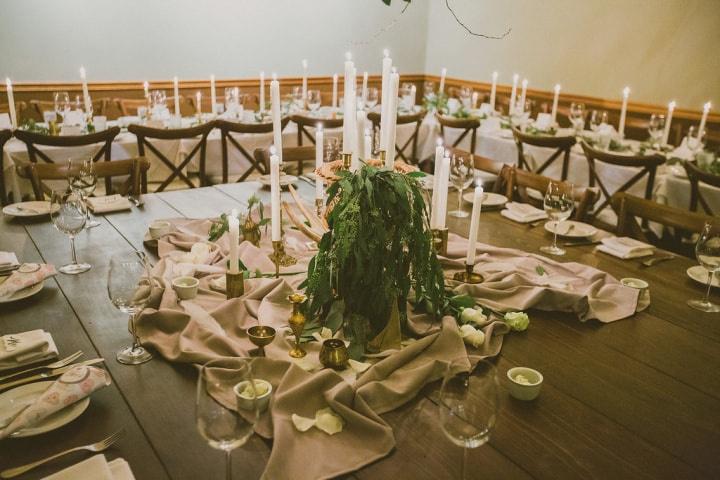 Bearfoot Bistro
Bearfoot Bistro is another solid option for those who have been dreaming of a restaurant wedding. It's an upscale eatery that specializes in local eats and has some serious style. There are a number of spaces to choose from for your celebration, including its full dining room and its underground wine cellar. Its largest space can accommodate 150 seated guests, making it best suited for small to midsize weddings. Bonus: It's just a hop, skip and a jump away from the Listel Hotel, where you and your guests can stay the night once you're done partying.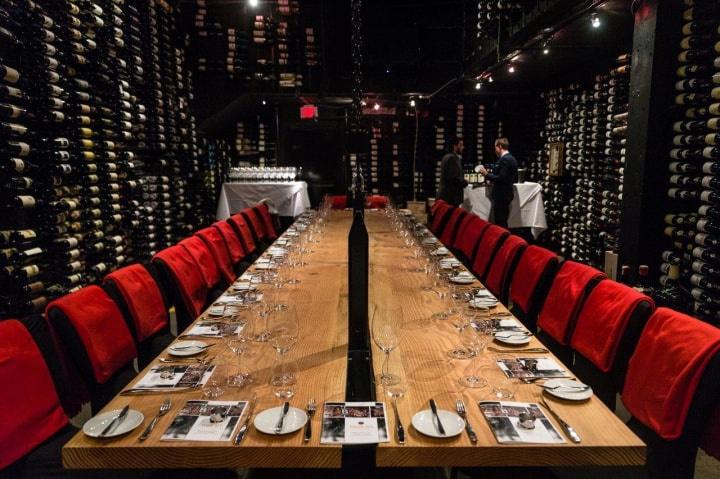 Whistler Golf Club
Whistler Golf Club is an absolutely stunning spot to say your vows. It has both indoor and outdoor venues, giving options no matter what Mother Nature has in store for your big day. Its interior has floor-to-ceiling windows, wood-heavy decor and exposed posts and beam work. Its outdoor space, the patio, overlooks the 18th green and surrounding mountains (great photo backdrops!). There's enough space for up to 180 guests, so it's perfect for midsize weddings.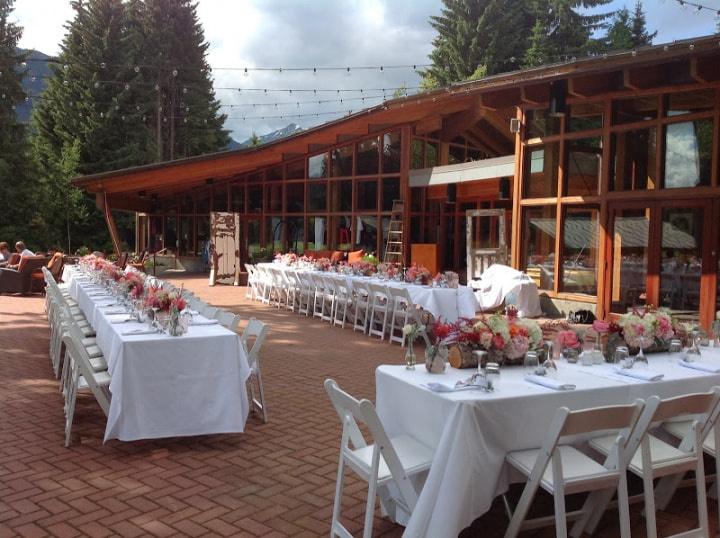 Whistler Sport Legacies
Whistler Sport Legacies may sound like it's just for athletes, but trust us, it's not! It has two gorgeous facilities, Whistler Sliding Centre and Whistler Olympic Park, that are perfect for weddings. Both have a rustic-chic chalet feel, indoor/outdoor capabilities and are ideal for larger weddings (the former can accommodate up to 640 guests and the latter can accommodate up to 250 guests). Another great thing about this venue? All proceeds from weddings support athlete training and sports programs, so you'll be giving back with the funds for your big day.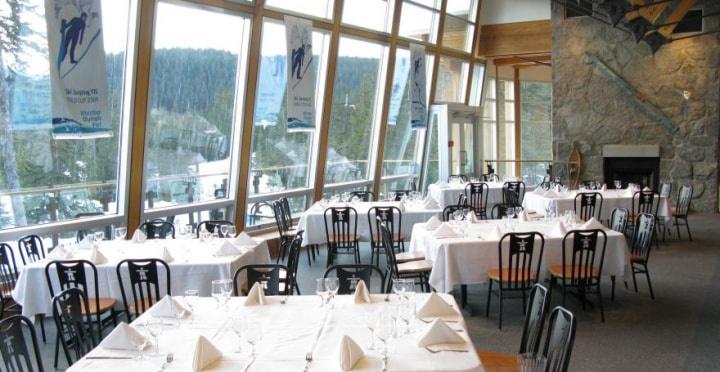 Audain Art Museum
If you're looking for something on the artsier side, the Audain Art Museum is the Whistler wedding venue for you. It's definitely the most modern option on this list, but still has a bit of rustic flair thanks to wooden accents. As for event rooms, the gallery is home to four wedding-worthy spaces: Cressey Hall (capacity for 250 guests), the Temporary Galleries (capacity for 219 guests), the Education Room (capacity for 60 guests) and the Audain Art Museum Board Room (capacity for 22 guests). Whether you want something intimate or extravagant and massive, you can make it work at this spot.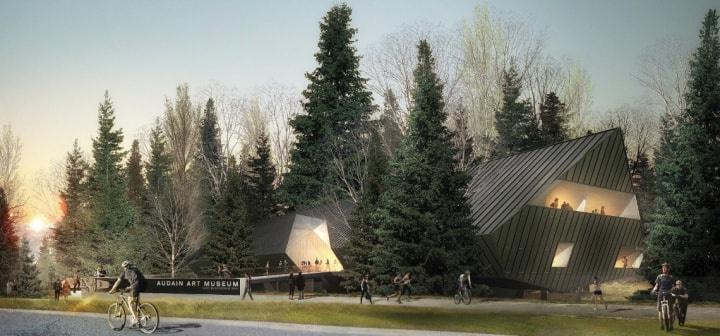 Nita Lake Lodge
Perched on the shores of Nita Lake, you'll find the aptly named Nita Lake Lodge. This Whistler Wedding venue is the perfect getaway for couples on the hunt for a serene, waterfront location with killer views. It has several unique ceremony and reception spaces, including a library, a ballroom, a patio and a private dining room. All are equipped with massive windows that look out to the lake, forests and mountains, so you'll have amazing views no matter what you choose. Its largest room, the Grand Ballroom, can fit up to 150 guests, while the other spaces are best suited for smaller, more intimate affairs.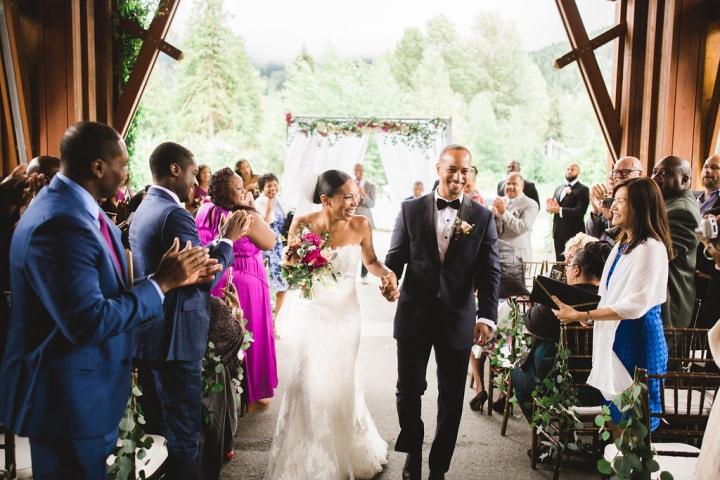 The Brew Creek Centre
The Brew Creek Centre is the ultimate forest escape. The venue is hidden away deep in the woods, so you'll be surrounded by nature's beauty on your big day. It has a number of different cabins that can be used for your event: The Main Lodge,The Gathering at Brew Creek and The Halcyon (which can each accommodate up to 100 guests). There's also plenty of space outdoors if you'd prefer an open-air reception and/or ceremony.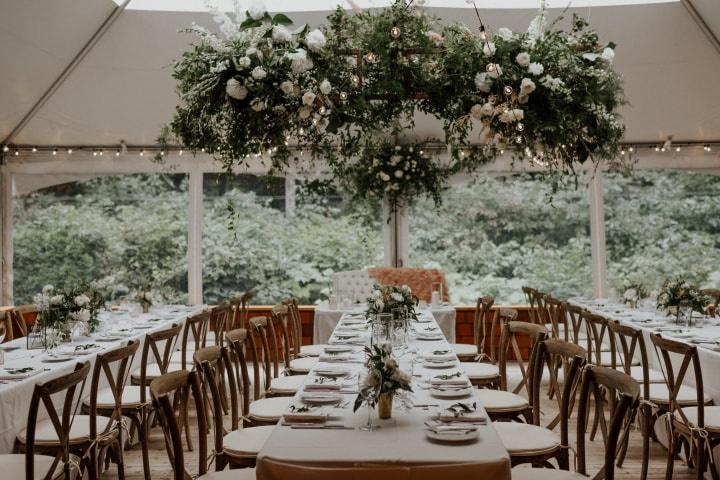 Westin Resort and Spa Whistler
If a hotel wedding is in the cards for you, the Westin Resort and Spa needs to be on your radar. It has a whopping 19 elegant event rooms, so you're spoilt for choice in that department. The largest has capacity for over 1000 guests, so you can invite all of your friends, family members and followers to your celebration.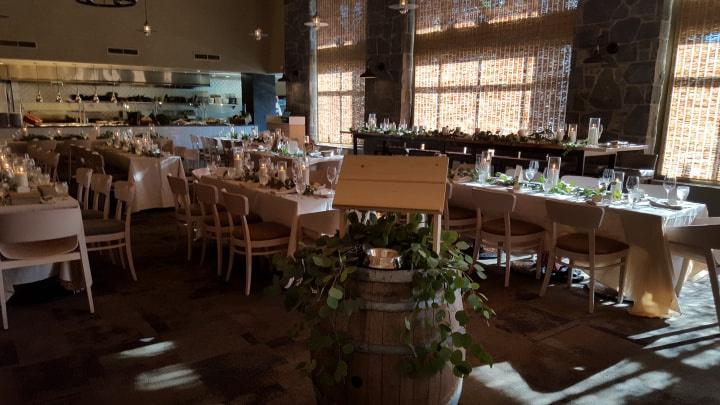 Find more British Columbia wedding venues on WeddingWire »