6 Drop Dead Gorgeous Oakville Wedding Venues You Need to See
Looking for a drop dead gorgeous Oakville wedding venue for your big day? Here are a few of our favourites.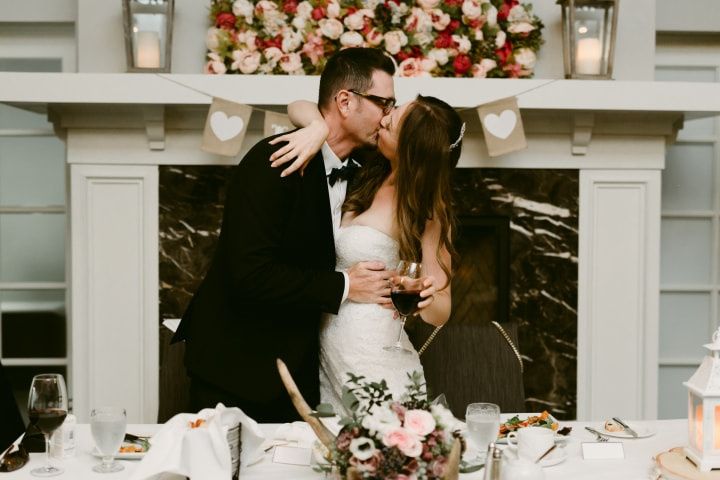 On the hunt for your dream Oakville wedding venue? Well, you're in luck. This suburban Ontario town has a lot to offer lovebirds when it comes to spots to tie the knot. From picturesque waterfront banquet halls to stunning hotel ballrooms, there's no shortage of wedding venue styles to choose from. We've rounded up a few of our favourites in the area to help you find 'the one'.
Here are a few drop dead gorgeous Oakville wedding venues you need to see.
Le Dome (1173 North Service Road)
Le Dome is the perfect Oakville wedding venue for couples who are in the market for something elegant. From ornate columns to crystal chandeliers, this place has all the bells and whistles you could ever want and more. It has three event rooms available for weddings: Angelo's Room (capacity of 530 guests), Jeana's Room (capacity of 270 guests) and Caterina's Room (capacity of 100 guests), so whether you're planning an intimate event or something massive, this spot has you covered.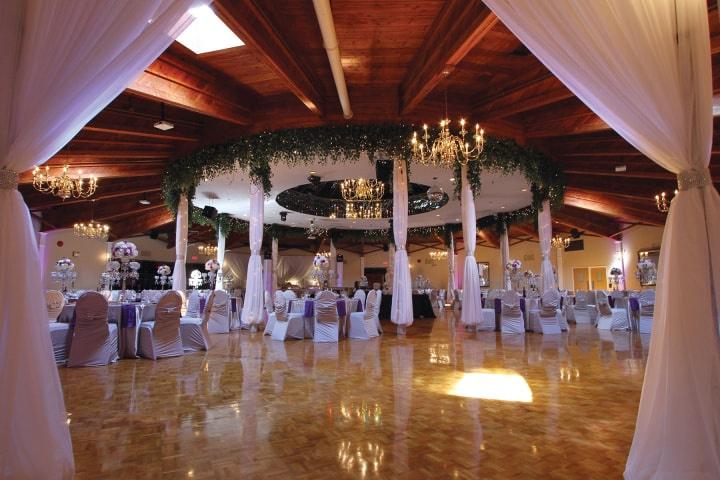 The Oakville Club (56 Water Street)
If you've been dreaming of hosting your big day by the water, The Oakville Club may just be the Oakville wedding venue for you. It sits on the Sixteen Mile Creek and overlooks the water as well as the adjacent yacht clubs. For your celebration you'll get to make use of the entire main floor, which includes the dining room, boardroom, and patio space. It can accommodate up to 150 guests, making it perfect for intimate to midsize weddings.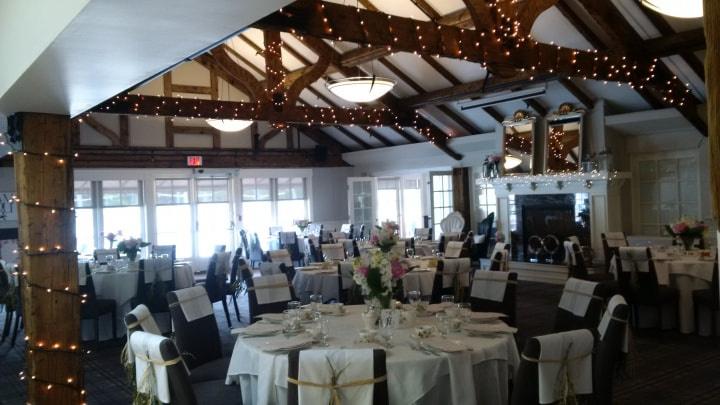 St. Joseph's Banquet & Conference Centre (300 River Oaks Boulevard East)
St. Joseph's Banquet & Conference Centre is a state of the art Oakville wedding venue that's the ideal place for a modern, elegant celebration. With hardwood floors, massive windows and plenty of space (it's largest room, the main hall, is 6,000 square feet), it makes for a pretty awesome wedding destination. It's also equipped with several patios and a courtyard, making perfect for outdoor ceremonies and receptions, too. The biggest space can fit up to 500 guests, so it's great for those who want a large wedding.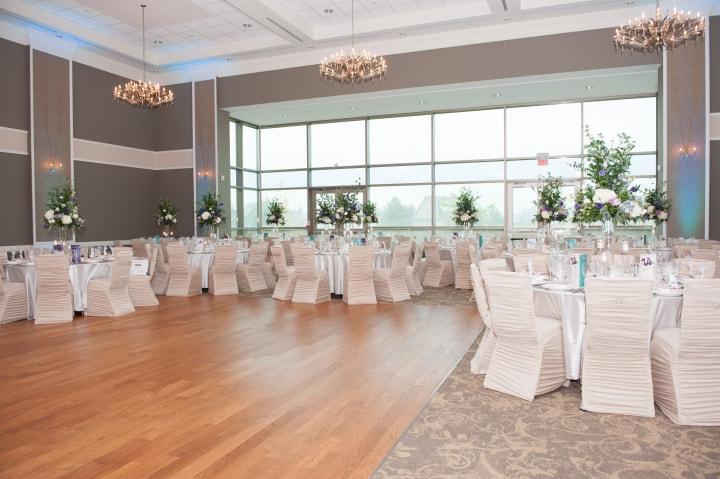 Noble Hall (2273 Royal Windsor Drive)
Head to Royal Windsor Drive and you'll find Noble Hall. This event venue has several indoor and outdoor spaces available, making it a great choice for all wedding styles. Its rooms are more on the elegant side while its patio has more of a rustic feel (picture it decked out with fairy lights and cute bunting!), so you've got options when it comes to your wedding theme. It has a maximum capacity of 300 guests, so you shouldn't have to cut back your guest list too much.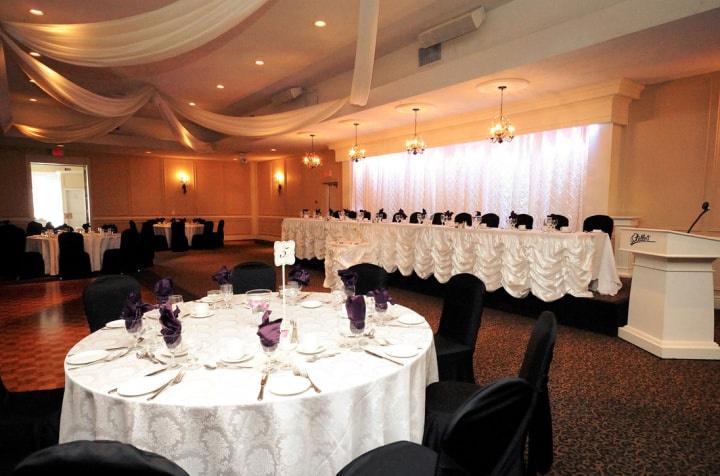 Sheridan Conference Centre (1400 Trafalgar Road)
The Sheridan Conference Centre is great for expos and work events, but it makes for a great wedding venue, too! Its event space is 7000 square feet and has windows looking out to the woodlands (perfect for nature lovers). There's also a fully licensed patio, if you'd like to take your reception outdoors. Its maximum capacity is 300 and can accommodate both large and small events.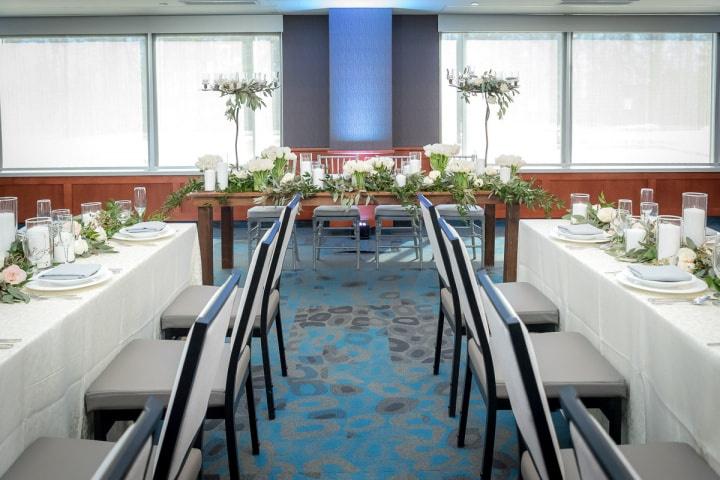 Oakville Conference Centre (2515 Wyecroft Road)
If you're looking for a wedding package featuring state of the art event facilities, catering and accommodations, the Oakville Conference Centre is where it's at. This spot has a capacity of 80 to 800 guests, making it a great choice for those who want to invite all of their friends, family members and followers. So far as style is concerned, its event rooms are definitely elegant, but can be transformed to suit just about any wedding theme.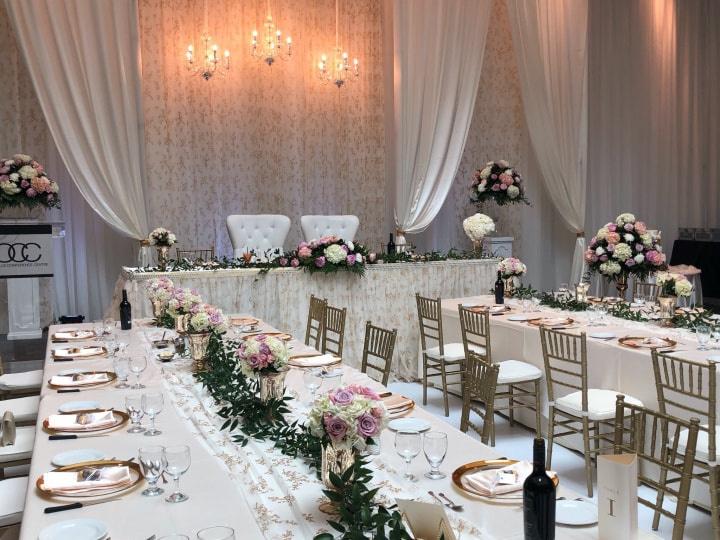 Find more Oakville wedding venues on WeddingWire. »