14 Industrial Chic Wedding Venues in Vancouver
Looking to throw a Pinterest-worthy industrial chic wedding in Vancouver? Here are a few of our favourite loft-esque venues in the city.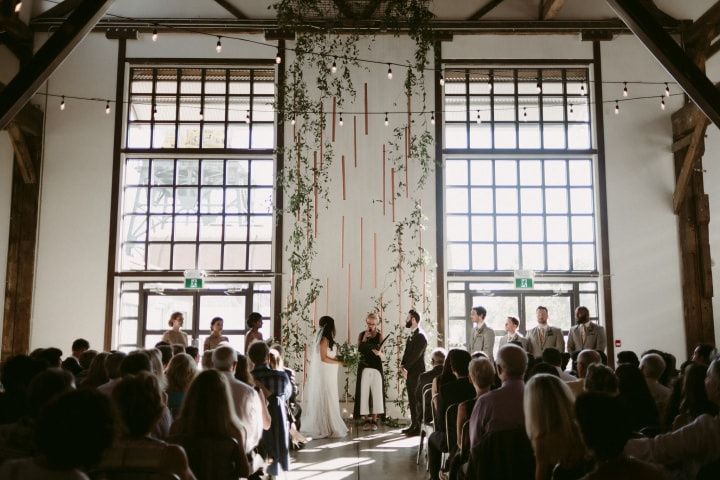 If your vision board is filled with images of exposed brick walls and edgy decor, an industrial chic wedding is probably in the cards for you. Before you start purchasing strings of fairy lights and trying to figure out whether you can rent a shipping container for a bar, you'll need to find an industrial wedding venue. Lucky for Vancouverites, the city is filled with beautiful brick and beam spaces with plenty of wedding potential.
Here are our favourite Industrial chic wedding venues in Vancouver.
130 West (130 West 4th Avenue)
The aptly named 130 West - which is located at, you guessed it, 130 West 4th Avenue - is an amazing option for couples looking for a more refined industrial-style space. It boasts polished wooden floors, sky-high ceilings with exposed beams and all-white walls, giving it a bit of a gallery feel. It can accommodate 220 guests for a reception-style event or 110 for a seated dinner.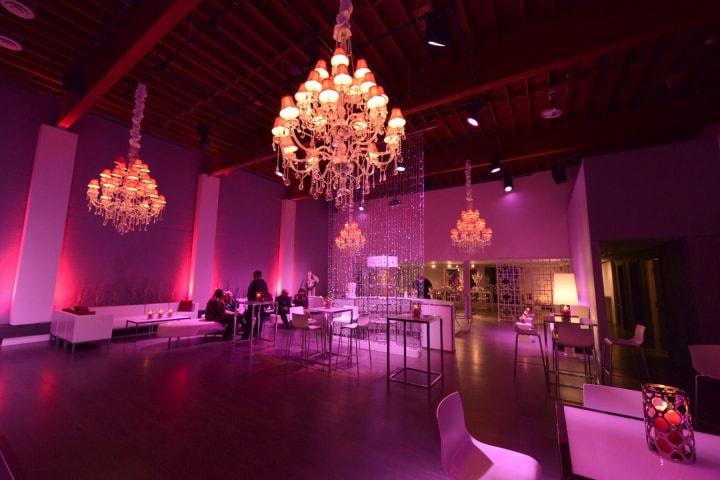 Soundhouse Studios (33 West 8th Avenue)
Head to West 8th Avenue and you'll find Soundhouse Studios, an adaptable venue perfect for weddings. The unique space features a wooden wall (the perfect backdrop for your 'I dos'), black beamed ceilings, floor-to-ceiling windows and polished floors, so it's less gritty than a warehouse space, but still has that industrial vibe. It has played host to events by companies like Nike, Hootsuite and Lululemon, so you're in good company. It can accommodate 100 guests for both reception-style events and seated dinners.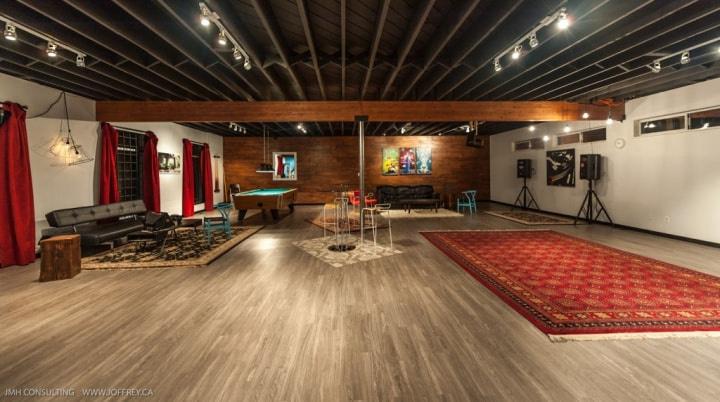 The Loft at Earls Yaletown (1095 Mainland Street)
If Yaletown is your neighbourhood of choice, The Loft at Earls may just be the industrial chic wedding venue in Vancouver for you. The space has a vintage-style loft feel and is a little more chic than your typical industrial space. It flaunts brick walls that have been painted white, exposed wooden beams, 1940's light fixtures and modern tiled floors. It can accommodate up to 100 of your nearest and dearest for a seated dinner, so don't go overboard with your guest list.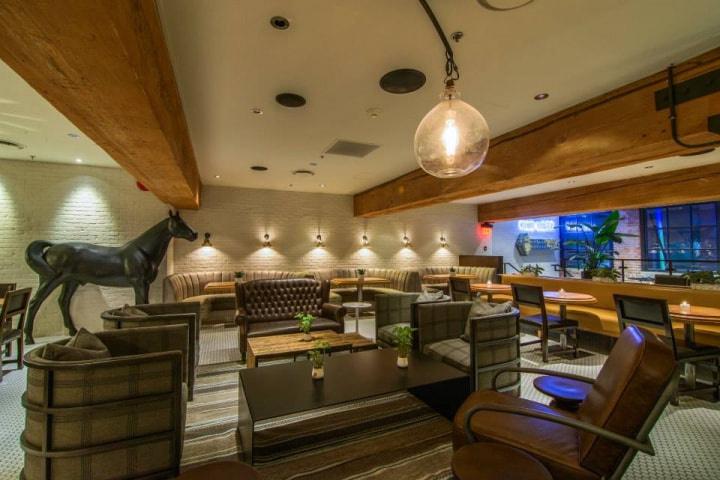 Brix & Mortar (1138 Homer Street)
Brix & Mortar is another Yaletown gem worth looking into. Like most options on this list, it errs more on the chic side of industrial chic, sporting huge skylights, glittering chandeliers, exposed brick walls and plenty of greenery. Plus, because it's a restaurant, you're guaranteed some amazing eats at your reception. It has enough space to fit up to 100 guests for a seated dinner.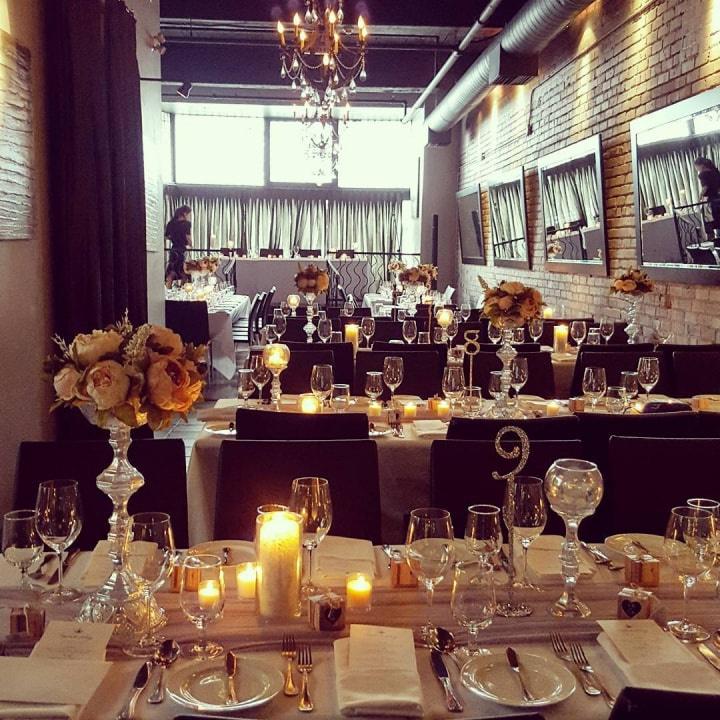 Pipe Shop (115 Victory Ship Way)
Despite its name, Pipe Shop isn't actually a pipe shop - it's a 9,000 square-foot open-concept event space with some serious wedding potential. The 1940's heritage building (which was once a pipe-fitters factory) has been restored to perfection and now has everything you could want in an industrial chic wedding venue in Vancouver - waterfront location, massive factory windows, exposed wooden beams, high ceilings and plenty of space for your ceremony and reception. It has a capacity of 720 guests for a reception-style event or 450 guests for a seated dinner, so you can probably add a few extra plus ones.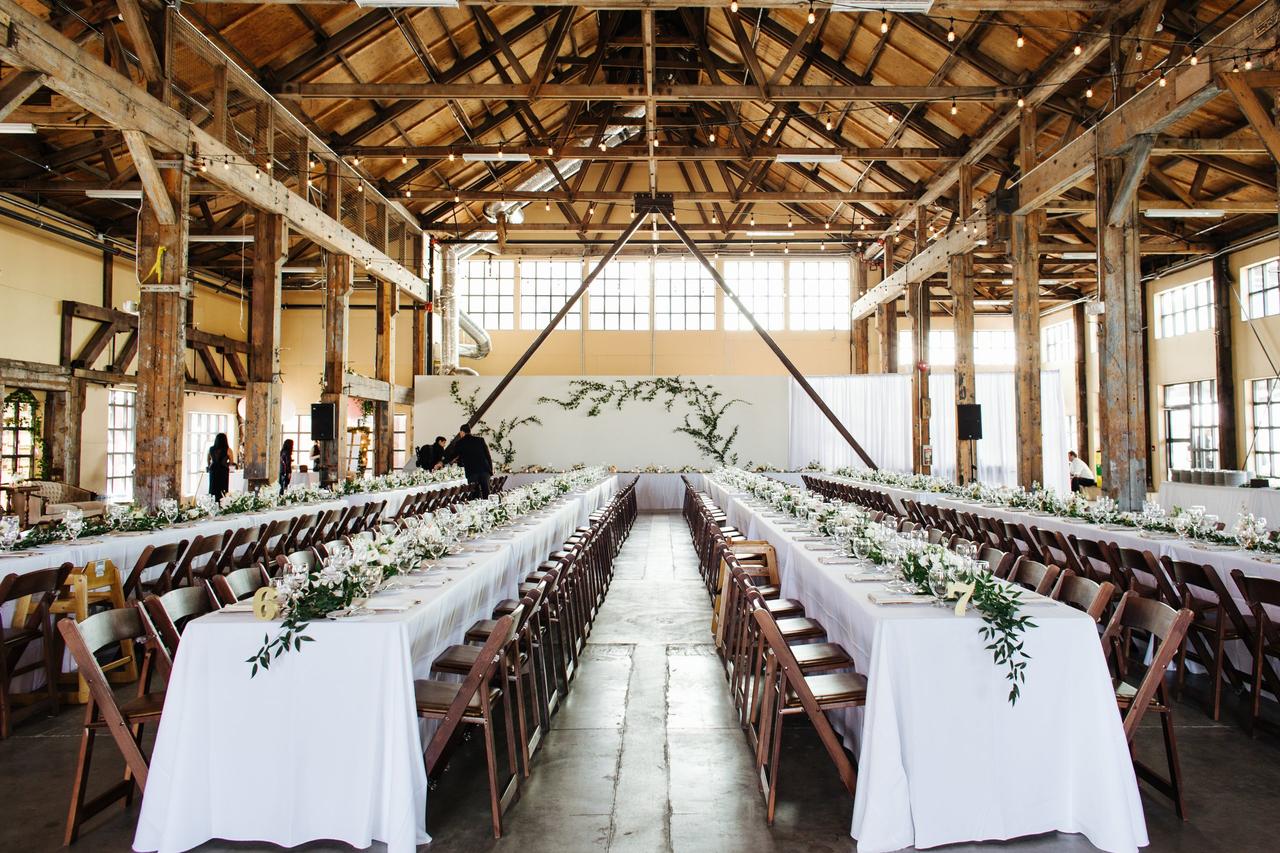 Shaughnessy Restaurant (5251 Oak Street)
If you can't decide between a garden, restaurant and an industrial chic wedding venue for your big day, Shaughnessy Restaurant is the spot for you. It is all three rolled up into one, offering stunning sights of the Vandusen Botanical Gardens, serving amazing food and decorated in that shabby chic industrial style we all know and love (exposed beams, huge windows and skylights - the whole nine yards). It can accommodate anywhere from 25 to 250 guests, making it perfect fit for both intimate and extravagant events.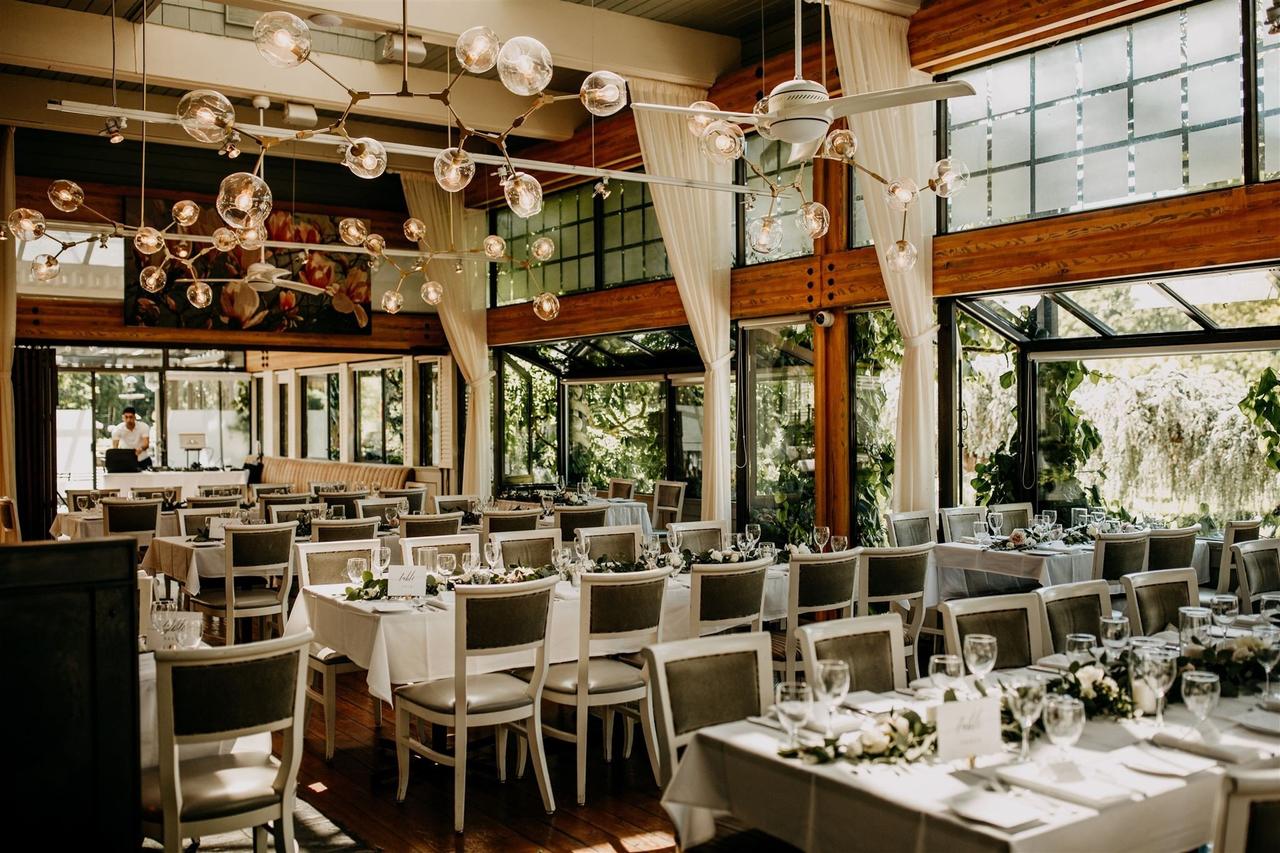 The Beaumont (316 West 5th Avenue)
This hybrid gallery/event space is a solid option for creative couples looking for a unique wedding venue. The Beaumont boasts exposed wooden, white walls and paint-splattered floors and can be sectioned off into smaller spaces for more intimate events. It can host up to 500 people for a reception-style event, so you can probably fit all your friends, family members and followers onto your guest list.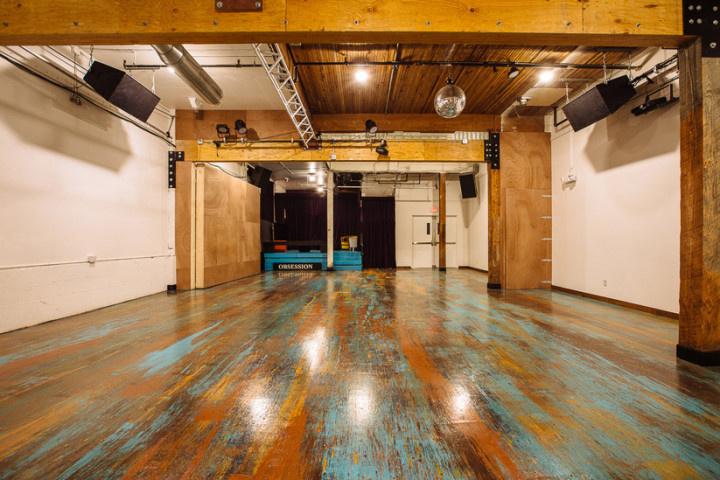 100 Braid St Studios (200-100 Braid Street)
This New Westminster spot is a little ways away from the Vancouver city centre, but 100 Braid St Studios is definitely worth the drive. The 1929 heritage building is first and foremost a creative hub and co-working space, but it also makes for an awesome wedding venue. Its main gallery space has crisp white walls, factory-style windows, works created by local artists (built-in wedding decor, score!) and enough space for you and 90 of your closest friends and relatives.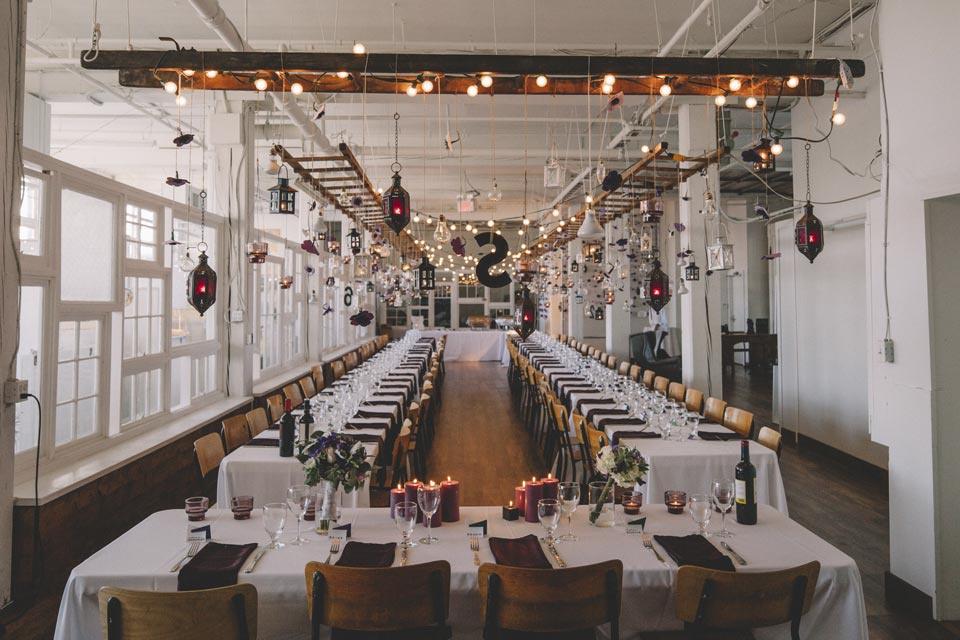 The Settlement Building (397 Alexander Street)
Make your way to Vancouver's Railtown Design District to take advantage of everything this sweet little loft venue has to offer. The Settlement Building is decked out with exposed Douglas fir beams, large factory-style windows, massive skylights, and distressed concrete floors, and is definitely a must-see if you're in the market for a smaller venue. There isn't a ton of decor going on here, so you can really make it your own on your wedding day. It's large enough to seat anywhere from 40 to 60 guests, making it ideal for small events.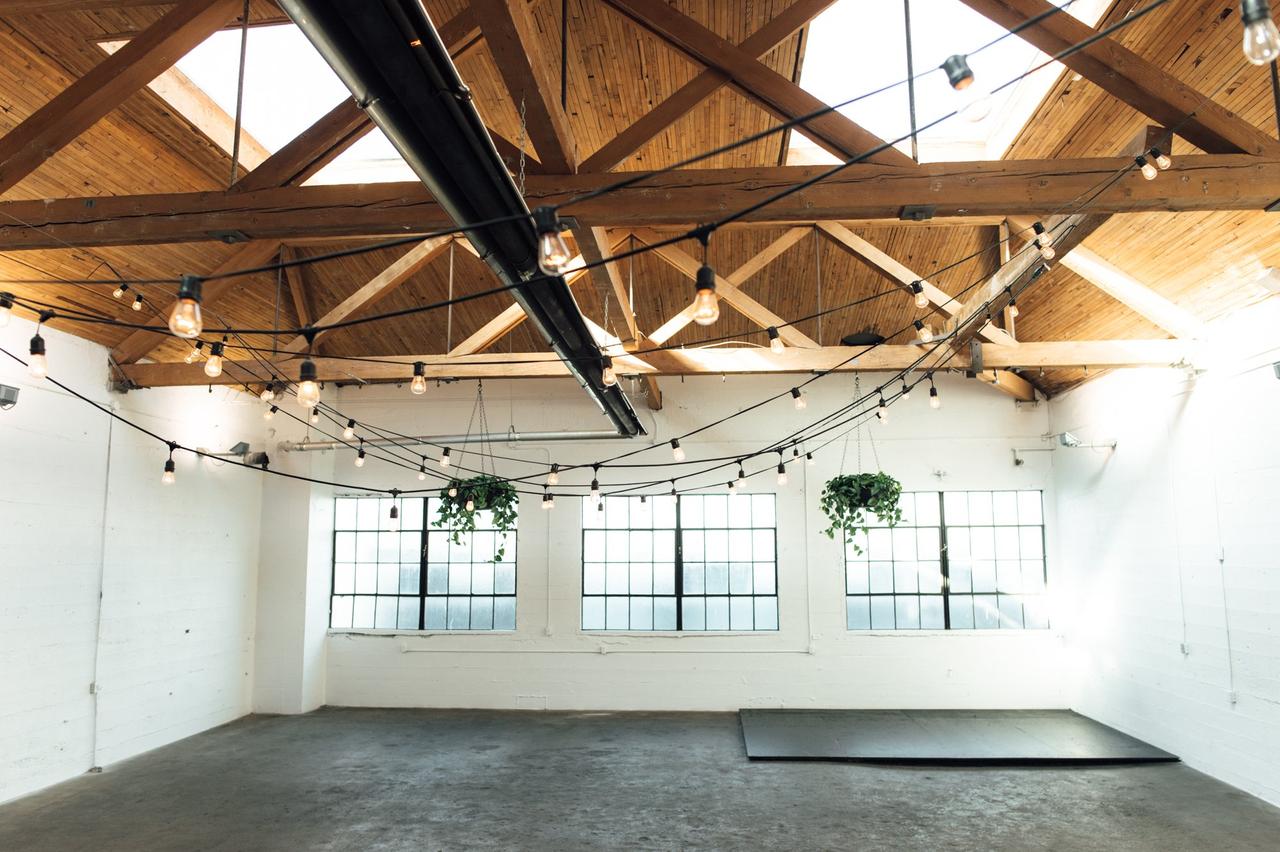 Chambar (568 Beatty Street)
If you're on the hunt for a downtown restaurant with some serious industrial-chic flavour, Chambar may just be the perfect Vancouver wedding venue for you. Inside you'll find all the hallmarks of a killer vintage loft space: exposed bricks and beams, warm wooden accents, and a healthy dose of weather. While it is very rustic in style, it can easily be transformed to suit your wedding theme. As for food, the French-inspired menu is filled with charcuterie, seafood and a few Canadian favourites, like poutine, so you have plenty to get inspired by for your wedding menu. If you do a full buyout, you can host up to 80 guests.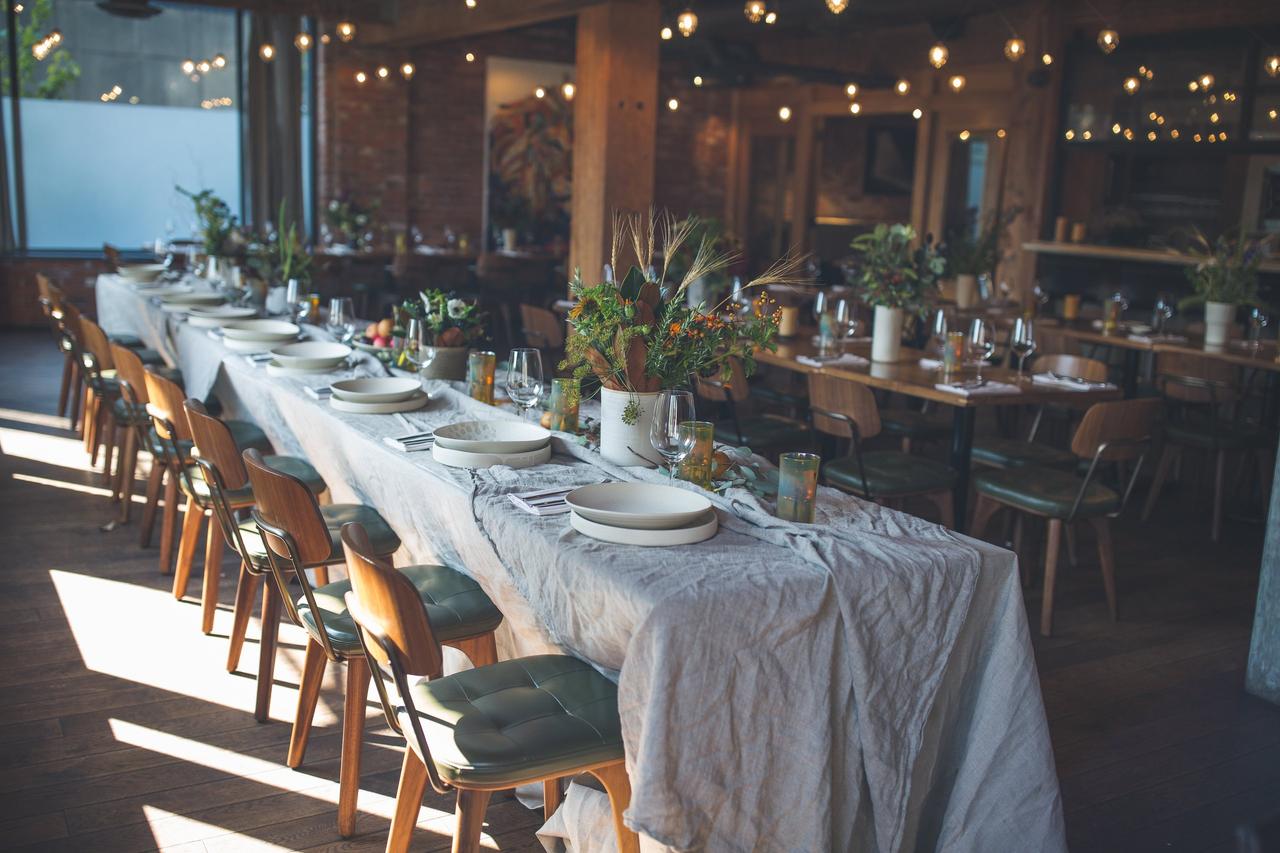 Bauhaus Restaurant (1st West Cordova Street)
Bauhaus Restaurant is like the trendy loft you've always dreamed of living in but could probably never afford (you know, like those Brooklyn apartments you see in movies). It has plenty of concrete, brick and wood worked into its design and is perfect for couples who are in the market for something with a dash of industrial-chic flair. Its sleek and stylish decor is perfect for a chic, modern celebration and its menu is filled with delicious German eats like wiener schnitzel, stroganoff, and spätzle (not just your standard steak and chicken dishes, which is pretty cool). The entire space can fit up to 120 seated guests, so you should be able to fit in most of your friends and family.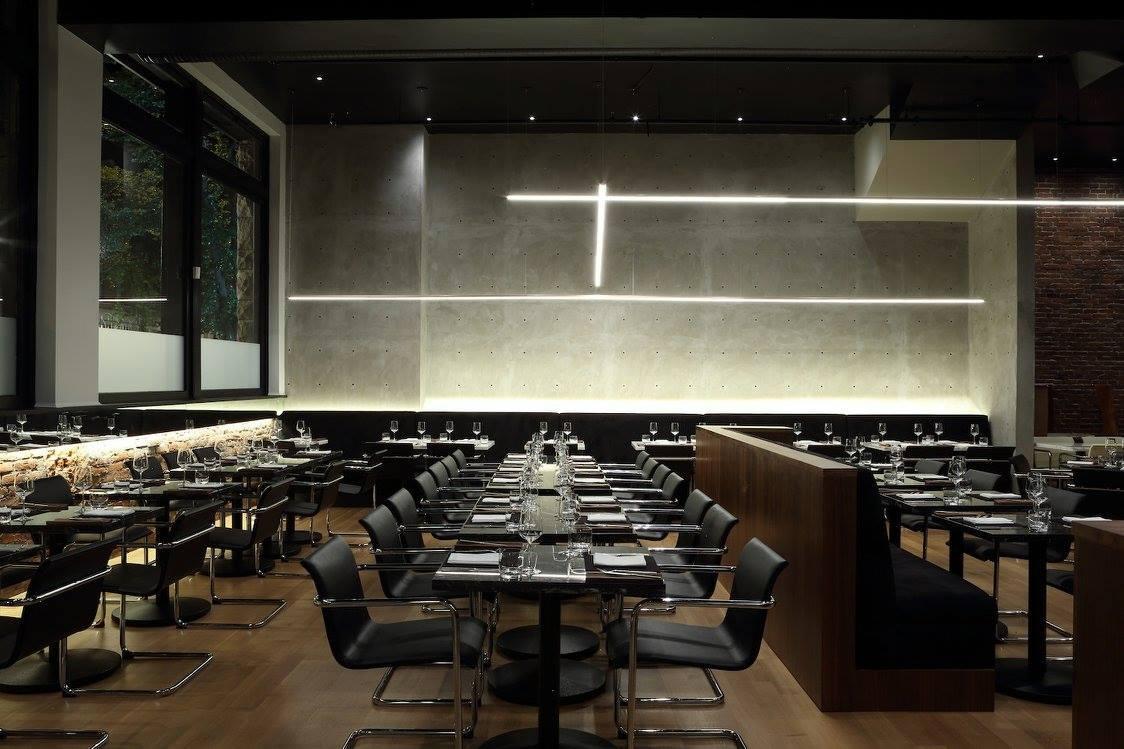 Roundhouse (181 Roundhouse Mews)
Looking for a spot with more of a vintage vibe? Roundhouse will be right up your alley. This spot has plenty of historical significance, with its construction beginning in 1888. While it's held on to much of its original charm, the building has been heavily restored and renovated to bring it into the 21st century. It has plenty of function spaces available, but the most popular (and pretty) options for weddings are its Exhibition Hall (capacity of 400 guests), Performance Centre (capacity of 200 guests), and the outdoor Roundhouse Turntable Plaza (which has a flexible capacity). Pro tip: it's also an awesome spot to shoot your engagement photos.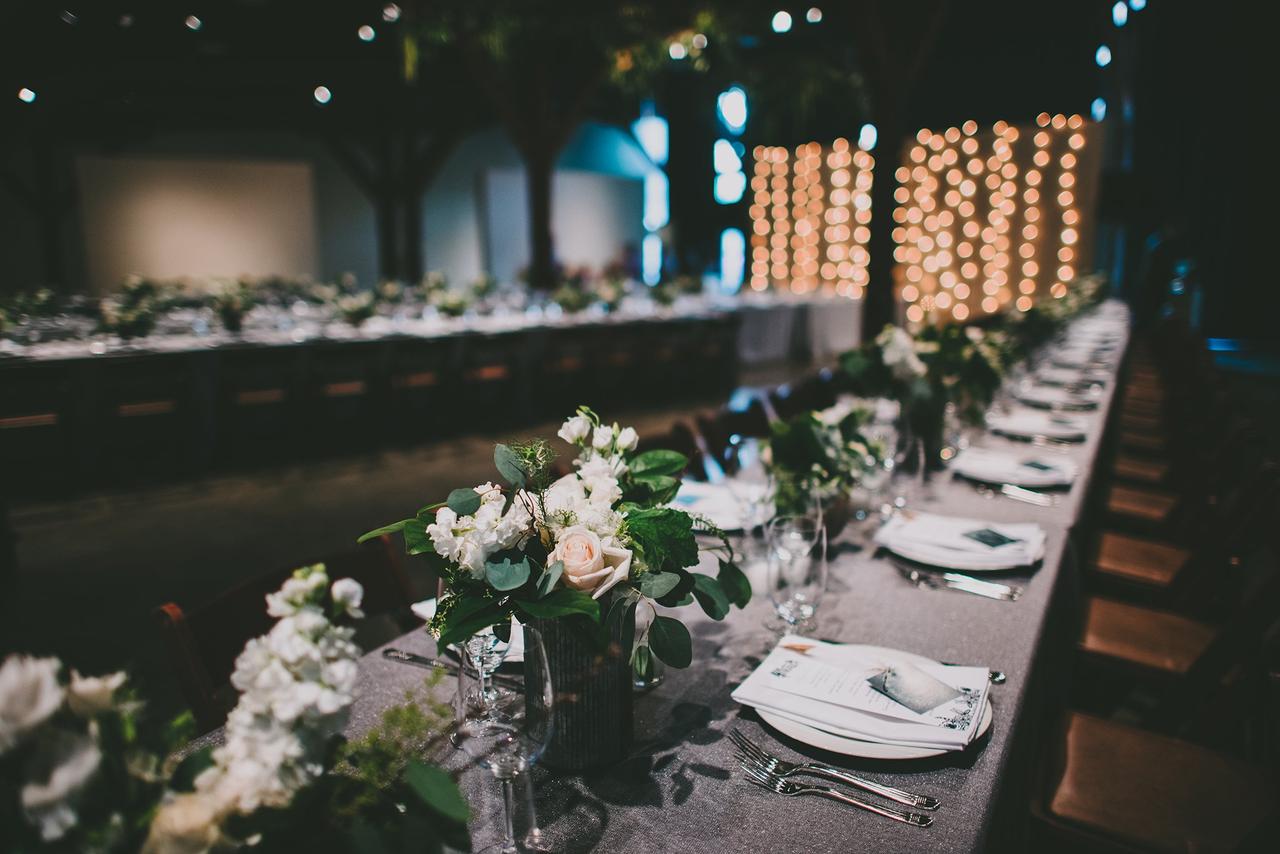 The Boathouse Kitsilano (1305 Arbutus Street)
The Boathouse Kitsilano is another top-notch waterfront restaurant wedding venue that's perfect for foodies and industrial-chic style lovers alike. It boasts casual, modern decor and showcases the coast beautifully (it's perched right on the water's edge). Inside you'll find massive-floor-to ceiling windows that look out onto the beach, and plenty of exposed wood, metal, and concrete (the pillars of any good industrial-chic space). It's big enough to fit up to 300 guests, so you should have no trouble fitting everyone on your dream guest list. Oh, and one more thing, there's a second Boathouse Restaurant in the West End with a similar style that looks out onto English Bay and is equally stunning, so you may want to check it out as well.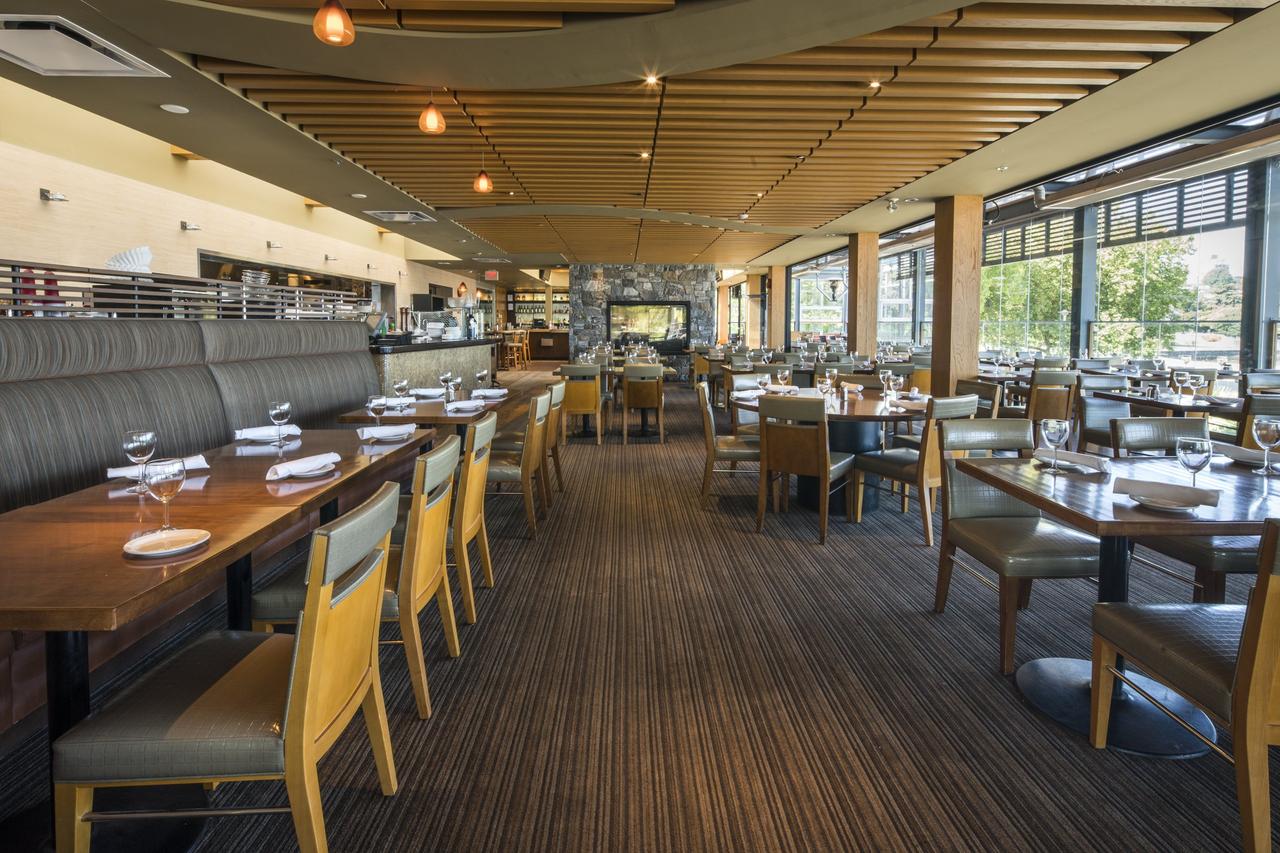 Granville Island Brewing (1441 Cartwright Street)
If there's one thing Canadians love, it's their beer, and lucky for you, our fair country has no shortage of amazing brewery wedding venues. Vancouver is home to one of its best, Granville Island Brewing which attracts tourists, event planners, and pretty much everyone in between. Its taproom — which has sky-high 40-foot ceilings, exposed wood beams, and trendy copper light fixtures — is the ideal spot for a laid-back reception with some hipster flair. The space can easily accommodate 55 guests for a seated dinner or 90 guests for a cocktail-style event. P.S. it is just a hop, skip, and a jump away from the water, so you'll have an awesome backdrop for your wedding photos, too.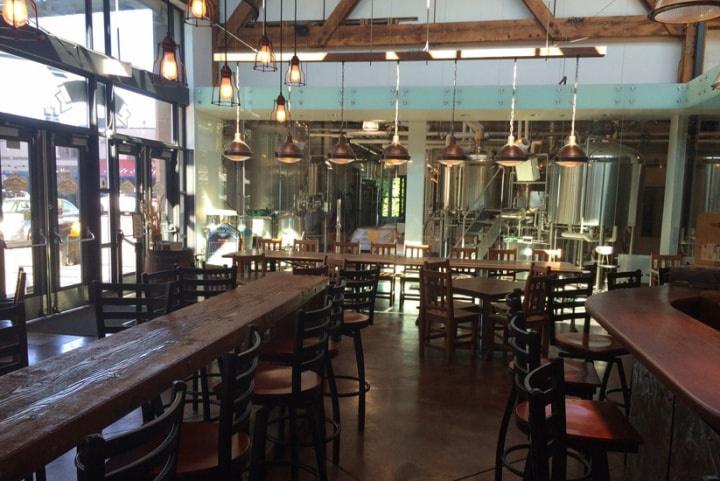 Burdock & Co. (2702 Main Street)
Want an intimate wedding venue in the heart of Vancouver that doesn't slack on style, look no further than this little Main Street gem. Burdock & Co. has some seriously cozy vibes while still hanging onto that cool, industrial style. Just because it's little doesn't mean it's one-dimensional — the space has an awesome mix of exposed brick, reclaimed wood, and chic contemporary furniture, all of which you'll want on full display on your wedding day (you don't need to cover it in a ton of extra bells and whistles!). You'll want to keep in mind that it's only big enough to seat 34 guests, so you'll only want to invite your inner circle.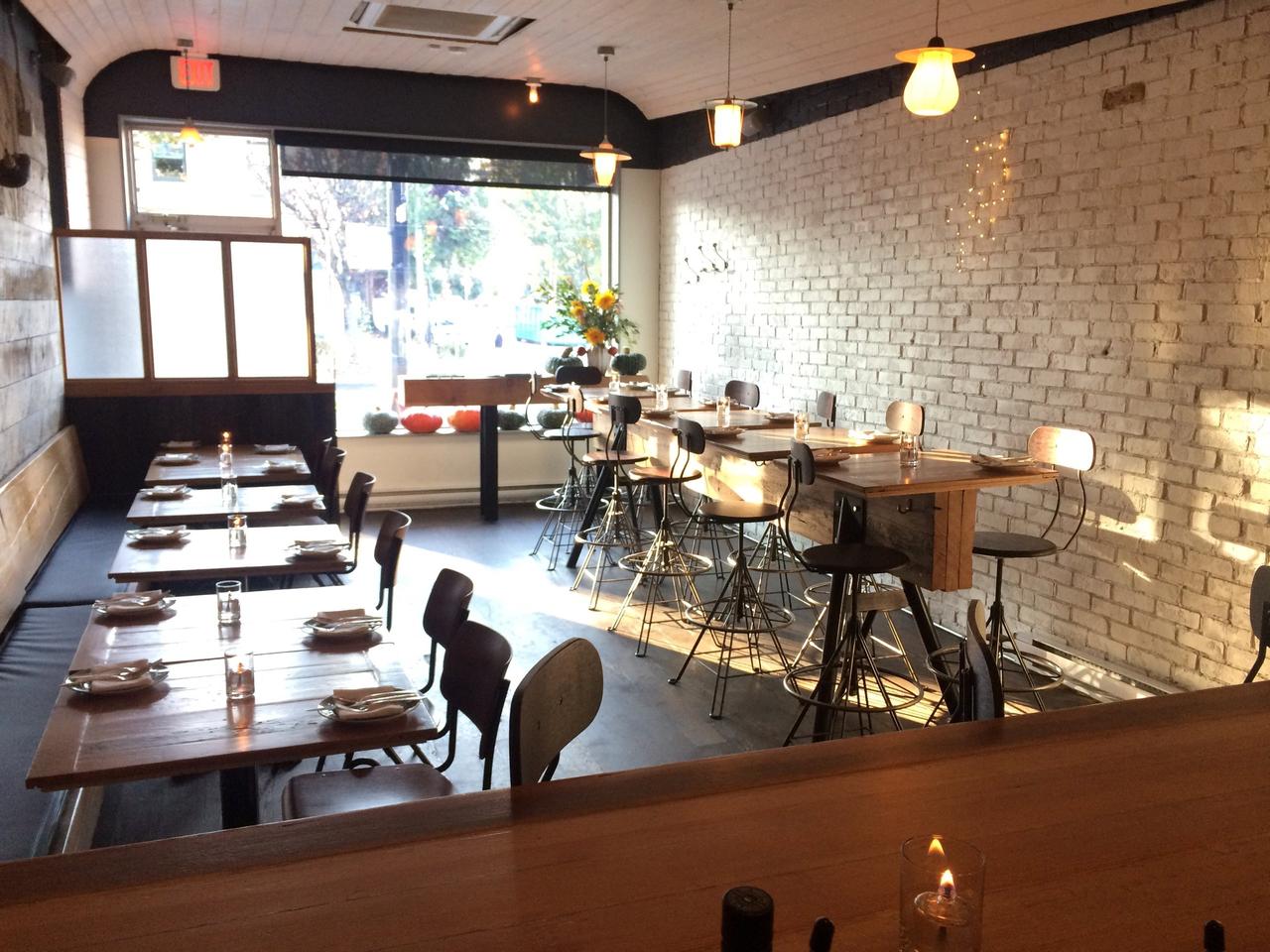 Find more Vancouver wedding venues on WeddingWire »