Vancouver is a city built for foodies, so there is no shortage of amazing restaurants. However, some are a little more wedding-worthy than others. If you're looking to host your Vancouver wedding at an eatery, we have a few suggestions for you. From waterfront restaurants offering locally sourced eats to downtown loft-like spots with trend-forward menus, Vancity really does have it all.
Here are a few stunning Vancouver restaurants worthy of your wedding.
Bridges Restaurant (1696 Duranleau Street)
Make your way to Granville Market and you'll find Bridges Restaurant perched right on the water. Not only does this spot offer amazing views of the city skyline, False Creek and Coast Mountains, but it's also decorated to perfection with chandeliers and exposed beams. The menu boasts drool-worthy dishes like Vancouver Island halibut and Salt Spring steamed mussels. It can accommodate up to 150 guests, making it ideal for mid-sized weddings.
The Boathouse (1305 Arbutus Street)
Tying the knot in Kits? The Boathouse will not disappoint. The restaurant is located right on the waterfront in Kitsilano Beach Park, offering a killer view of the neighbourhood's main attraction. It is equipped with floor-to-ceiling windows, so you'll be treated to tons of natural light, and has simple, yet chic decor. The menu boasts plenty of seafood and premium steaks, so you can have both surf and turf at your wedding. There are two rooms available for events, one that can seat 50 and another that can seat 80.
Sage (6331 Crescent Road)
Sage is located in the University of Vancouver, but it's a whole lot prettier than the stacks, lecture halls and fluorescent lights. It was designed by award-winning architect Arthur Erickson and boasts amazing views of the Georgia Strait and North Shore Mountains. On the menu you'll find potato crusted halibut, pan seared duck breast, seafood tagliatelle and more. The restaurant has eight private event spaces available (both indoor and outdoor), with the largest having a capacity of 250 guests.
Brock House Restaurant (2875 Point Grey Road)
Brock House Restaurant is a picturesque venue that looks out over the Pacific and the North Shore Mountains. It serves up locally sourced seasonal eats, with dishes like smoked salmon bruschetta, hunter's chicken and filet mignon populating the menu. It has both indoor and outdoor spaces available for events, including the Garden Tent (capacity of 180 guests), the Conservatory (capacity of 100 guests), the Begg Room (capacity of 50 guests) and the Art Room (capacity of 50 guests). Each space is impeccably designed, so you'll be treated to something stunning no matter what you choose.
Bauhaus Restaurant (1 West Cordova Street)
This trendy concrete, brick and wood restaurant is perfect for couples who are in the market for something loft-like. It's sleek and stylish decor makes it look straight out of a magazine and its menu is filled with German eats like wiener schnitzel, stroganoff and spatzle (along with some Canadian fare). The space can fit up to 120 seated guests, so you should be able to squeeze in most of your friends and family.
Brix & Mortar (1138 Homer Street)
If you're having your wedding in Yaletown, Brix & Mortar is the venue for you. The restaurant is located inside a 1912 heritage building and is equipped with brick walls, stunning chandeliers and plenty of greenery. It has hosted 750 weddings, so it already has plenty of couples' shining seals of approval. It specializes in locally sourced eats, with items like wild salmon, game hen and beetroot gnocchi making up the menu. It can fit 95 guests in its main space, or, if you're in the market for something more intimate, its private room can seat 26 of your nearest and dearest.
Nomad (3950 Main Street)
This industrial-chic eatery is perfect for couples who gravitate toward modern spaces and meals. The decor is a healthy mix of concrete and wood with sky-high ceilings and plenty of natural light. Its menu boasts imaginative farm-to-table eats like sunchoke wings and braised lamb neck fillet (expect it to change with the seasons), with options for both vegetarians and omnivores. It's ideal for more intimate weddings, so don't go to wild when crafting your guest list.
Teahouse in Stanley Park (7501 Stanley Park)
If you're looking for a restaurant with a view, the Teahouse in Stanley Park is where it's at. The venue is tucked away in the trees of Stanley Park and looks out onto the ocean, giving you the ultimate escape from the city without actually leaving. The menu features seasonal dishes like fresh BC salmon and bison carpaccio as well as an extensive wine list. It's got four event spaces available for weddings The Conservatory (capacity of 70 guests), The Drawing Room (capacity of 50 guests) and The Tearoom (capacity of 30 guests).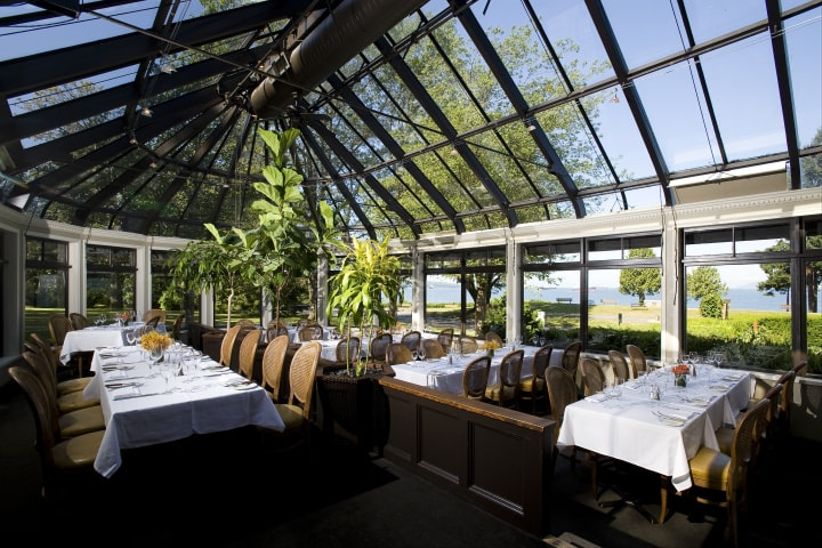 Shaughnessy Restaurant (5251 Oak Street)
Can't decide between a garden venue and wedding-worthy eatery? You get the best of both worlds with Shaughnessy Restaurant. It's located within the beautiful VanDusen Botanical Gardens, which boasts 55-acres of breathtaking flora and fauna. The restaurant itself flaunts wood-heavy decor, modern accents, floor-to-ceiling windows and massive skylights (giving you stellar views of the property). On the menu you'll find everything from seafood to striploin. Its dining room can seat up to 160 guests, so you should have no problem squeezing in a few extra plus ones.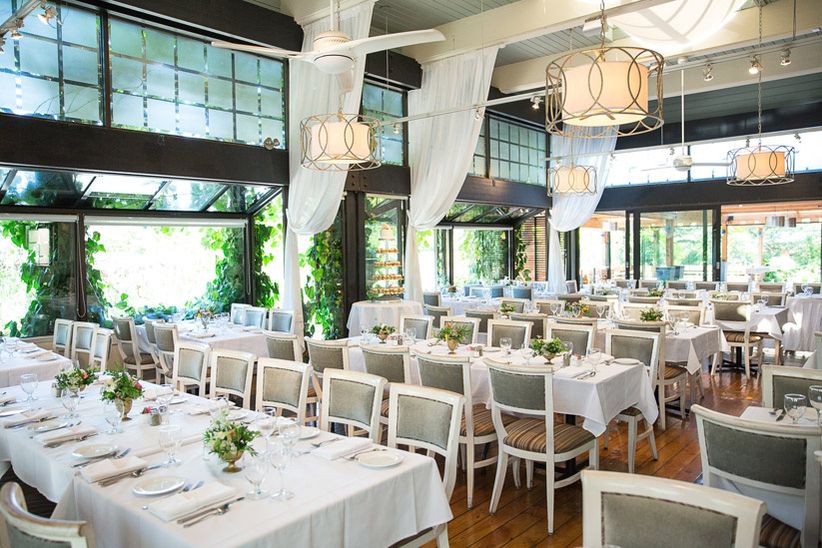 Chambar (568 Beatty Street)
If you don't want to leave the downtown core on your big day, Chambar is the venue for you. The space boasts exposed bricks and beams, warm lights and can easily be transformed to suit your wedding theme. The French-inspired menu is filled with charcuterie, seafood and a few Canadian favourites, like poutine. It can host up to 80 guests, so it's ideal for smaller weddings.
Find more Vancouver restaurant venues on WeddingWire »