After scrolling through Pinterest and seeing all those amazing photos of brick and beam spaces decked out with ferns and fairy lights, you're probably ready to start looking for industrial chic wedding venues in Montreal. Luckily, you've got plenty of amazing options. We've rounded up a few of our faves in the city to help you in your search.
Here are a few stunning industrial chic wedding venues in Montreal.
Dragon and Dame (1458 Rue Crescent)
The downtown Montreal restaurant is one stunning place to tie the knot. It's more refined than your typical brick and beam space, but still has all that old-school warehouse charm. Inside you'll find dark, wood-heavy decor, exposed brick walls and warm lighting. It can accommodate up to 200 guests for a sit down dinner, so you should be able to fit all of your nearest and dearest on your wedding guest list.
Canvas Montreal Reception Loft (870 Rue Notre Dame)
Canvas is the perfect blend of old and new. It's located inside of a building that was constructed in 1929, but has gotten a bit of a makeover to give it some modern flair. It's got large windows, hardwood floors, exposed brick walls, visible beamwork and 3000 square feet of space for your event. It can fit up to 150 guests, so don't go overboard with your invites.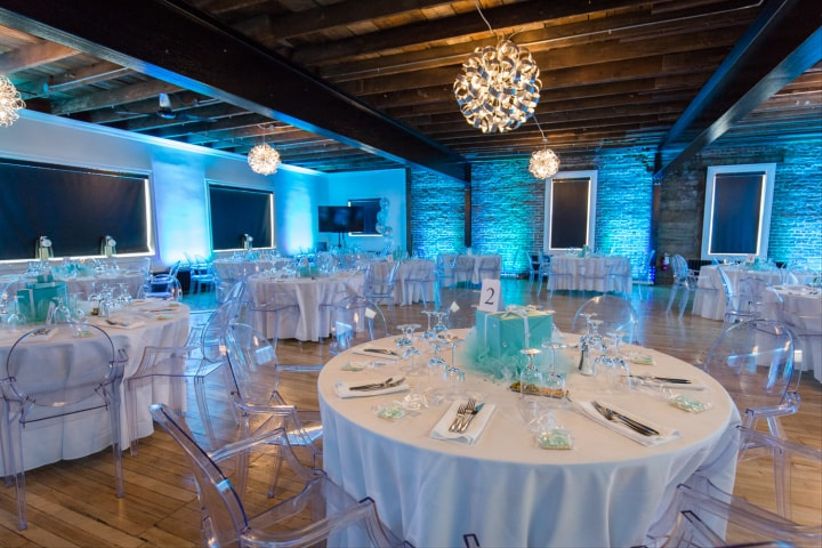 Galerie MX (333 Rue Viger Ouest)
If you and your partner are total fine art fans, Galerie MX may be the perfect industrial chic wedding venue in Montreal for you. The space boasts dark walls, concrete floors and plenty of original works (so you won't have to splurge extra for decor). It can seat up to 115 guests or 300 people for a cocktail-style event - so maybe skip inviting second cousins and coworkers if you want to have a fancy dinner at your reception.
Galerie Gora (279 Rue Sherbrooke Ouest)
Galerie Gora is another amazing option for art lovers. Unlike Galerie MX, the space is all white from floor to ceiling giving it an ethereal, industrial vibe. The loft-style venue features high ceilings, exposed ductwork, installations and artwork galore and 9000 square feet of space to fill with your friends and family. It can accommodate up to 300 seated guests, so you can probably add a few plus ones to your list.
Grumman 78 (630 Rue de Courcelle)
This ever-so-trendy Montreal taco-truck offshoot is the epitome of industrial chic. It flaunts factory windows, distressed floors, reclaimed wood tables, white exposed brick walls and visible beams. It's basically the loft you wish you lived in, but could probably never afford. For events, it can accommodate up to 150 people, so try your best to keep your guest list short and sweet.
Ristorante Beatrice (1504 Rue Sherbrooke Ouest)
Ristorante Beatrice is one of the most aesthetically pleasing restaurants in the city, so, naturally, it makes for a great spot to celebrate tying the knot. It's a little softer in style than your average industrial chic wedding venue in Montreal, with exposed warm wooden beams, metal chandeliers and plenty of greenery on the walls and around the space (you may be able to save on your flower bill because of this!). It has enough space to accommodate 180 guests, so it's great for small to midsize celebrations.
Fonderie Darling (745 Rue Ottawa)
This visual arts centre is known for hosting workshops, events and activities, and, awesome news, it does weddings, too. Head inside and you'll find two equally beautiful, industrial spaces, the largest of which can accommodate up to 300 guests. Expect to see exposed brick, high ceilings, visible beamworks and concrete floors - basically, everything you could want in an industrial chic wedding venue in Montreal.
Entrepôts Dominion (3968 Rue Saint-Ambroise)
Looking for a gorgeous industrial chic wedding venue in Saint-Henri? Well, Entrepôts Dominion may be the Montreal wedding venue for you. The space is a beautiful blend of historic and modern and can be made over to suit your wedding theme to a T. It's got distressed floors, massive windows, exposed brick walls and a gallery feel. The building boasts two event spaces and can accommodate anywhere from 75 to 550 guests, so you can invite everyone you know (and their plus ones, too).
Find more Montreal wedding venues and vendors on WeddingWire »