12 Canadian Castles Where You Can Tie the Knot
Forget about saying your vows in any old ballroom or barn and go with a venue worthy of kings and queens.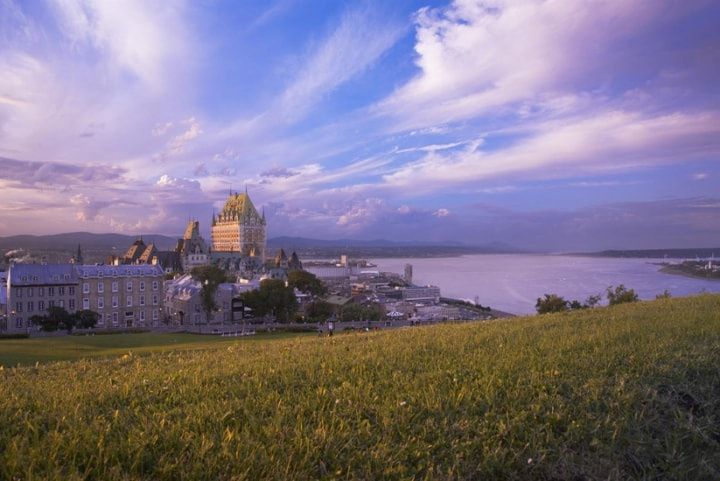 Want to feel like royalty on your big day? Why not get hitched at a castle! These fairytale-worthy wedding venues are picture-perfect destinations for Game of Thrones watchers, Disneyphiles and history buffs alike. Whether you want to tie the knot in an intimate ceremony or host something really grand, there's a Canadian castle that'll fit the bill.
Here are a few Canadian castles that double as wedding venues.
Fairmont Le Château Frontenac (Quebec City, Quebec)
Fairmont Le Château Frontenac is a ritzy piece of real estate that looks out onto the waters of the St. Lawrence River. Its architectural design is inspired by the Middle Ages and Renaissance era, so as you can expect it looks pretty darn regal. The hotel's namesake is Louis de Buade, Count of Frontenac, the governor General of New France from 1672 to 1698 and his coat of arms can be seen around the chateau. It has played host to its fair share of elite guests, including Princess Grace of Monaco, Ronald Reagan and Alfred Hitchcock. All three of its event rooms exude luxury, with elegant decor fit for kings and queens. Its largest room, the Grand Ballroom, can accommodate up to 1000 people.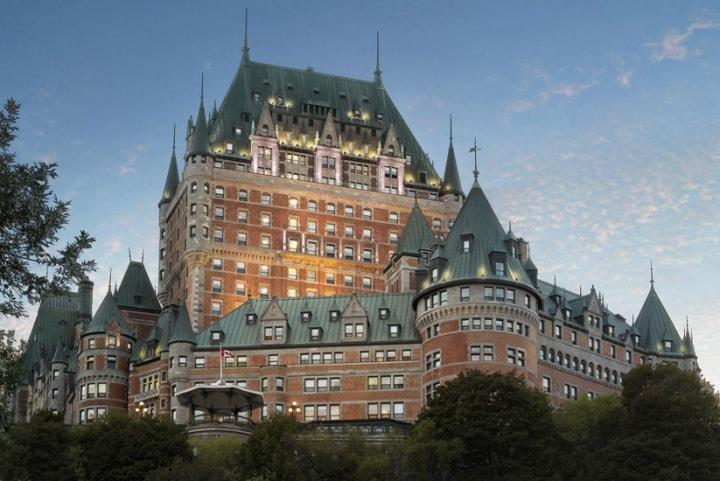 Château Daigle (Saint-Charles, New Brunswick)
Nestled in the New Brunswick countryside, Château Daigle is a storybook castle that's ideal for an elegant and intimate wedding for 75 guests. Château Daigle was built by Réal Daigle over a period of four decades as a dream project. The Château enjoys 1.6 km of river frontage, walking trails, an Acadian Forest, a picturesque pond and blueberry fields. Inside this east coast castle wedding venue, you'll find a grand staircase (perfect for wedding photos) and a private function room, as well as, four guestrooms—so you and some guests can spend the night.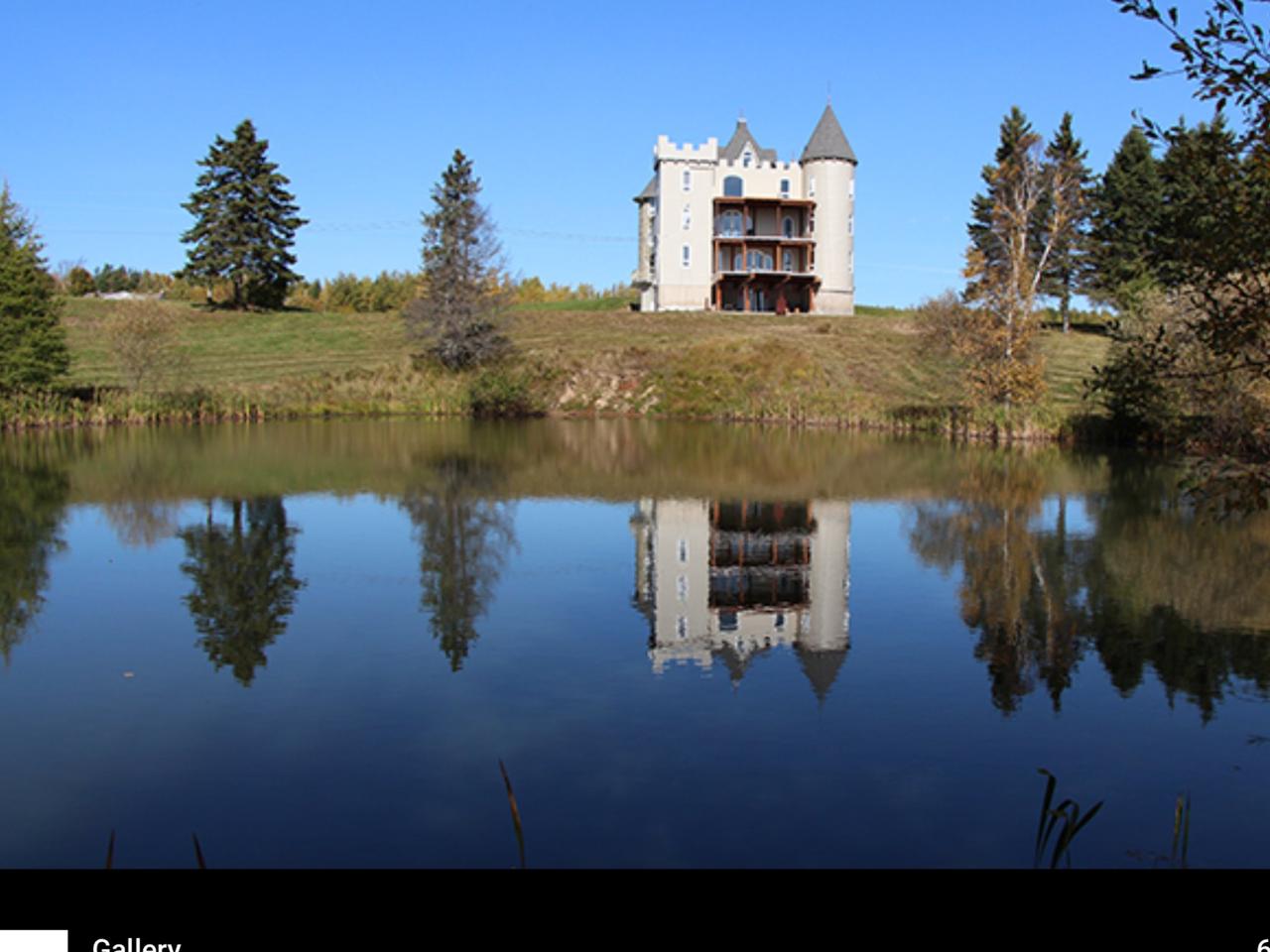 Fairmont Chateau Laurier (Ottawa, Ontario)
The Fairmont Chateau Laurier, also known as "Ottawa's Castle", is just a hop, skip and a jump away from Parliament Hill in our nation's capital. It was commissioned by Charles Melville Hayes, the then-president of Grand Trunk Railway, and built between 1909 and 1912. Though the hotel has undergone a few renovations over the years, it has maintained its original charm. The French-style chateau has three event rooms, all of which boast sky-high ceilings, chandeliers and massive windows that let in the natural light. It has hosted Queen Elizabeth II and Princess Diana, so you know you're in good hands. It can accommodate up to 400 guests, depending on the room you choose.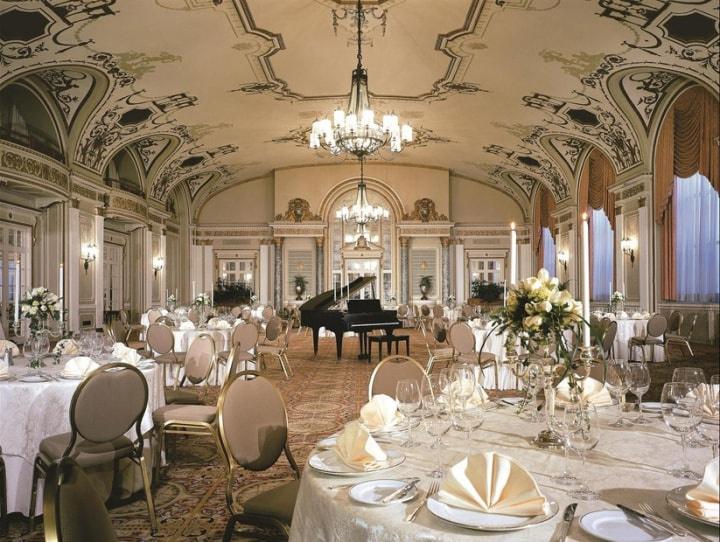 Casa Loma (Toronto, Ontario)
Smack in the middle of the bustling metropolis that is Toronto you'll find Casa Loma, a Gothic Revival style residence (a far cry from the skyscrapers that populate the downtown core). It was constructed between 1911 and 1914 and was originally built as a residence for Sir Henry Mill Pellatt, a leading Canadian financier. It flaunts beautiful estate gardens, a stellar view of the city skyline and plenty of rooms that can be rented out for your big day. Depending on which space you choose, it can seat up to 300 guests.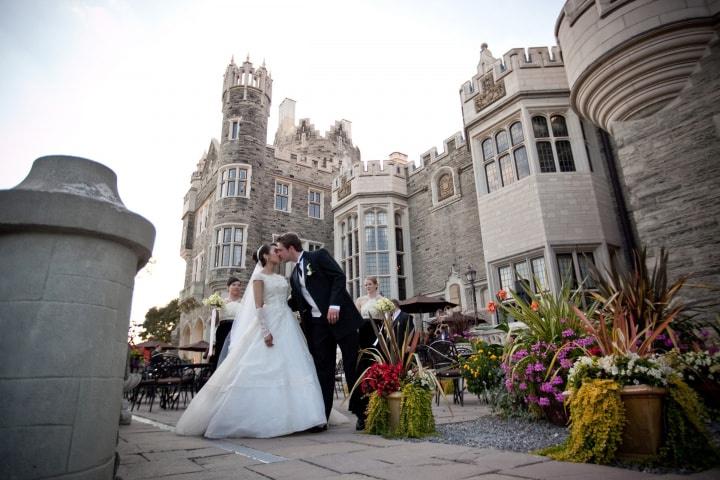 Dundurn Castle (Hamilton, Ontario)
Make your way south of the six to Hamilton to see what Dundurn Castle has to offer. The neoclassical mansion was built in the 1830s and still has many of its original design flourishes (it is being preserved by the City of Hamilton). Notable guests of Dundurn Castle include King Edward VII and Sir John A. Macdonald. You can make use of The Coach House, Cockpit Theatre and outdoor grounds for your wedding day. It can accommodate 72 seated guests indoors.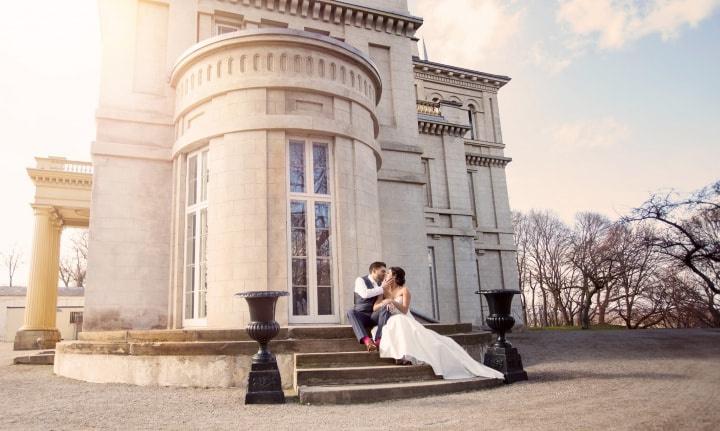 The Old Court House (London, Ontario)
London, Ontario may not have Buckingham Palace, but it does have a wedding venue inspired by Malahide Castle in Dublin, Ireland. Built in 1827, The Old Court House is located downtown with picturesque views of the surrounding landscape, including the Fork of the Thames River. There are spaces both inside and out that can be used to accommodate gatherings of around 200 people for a wedding ceremony and reception. The castle-like architecture and stone walls adorned with greenery, make for a fairytale-like location for your wedding.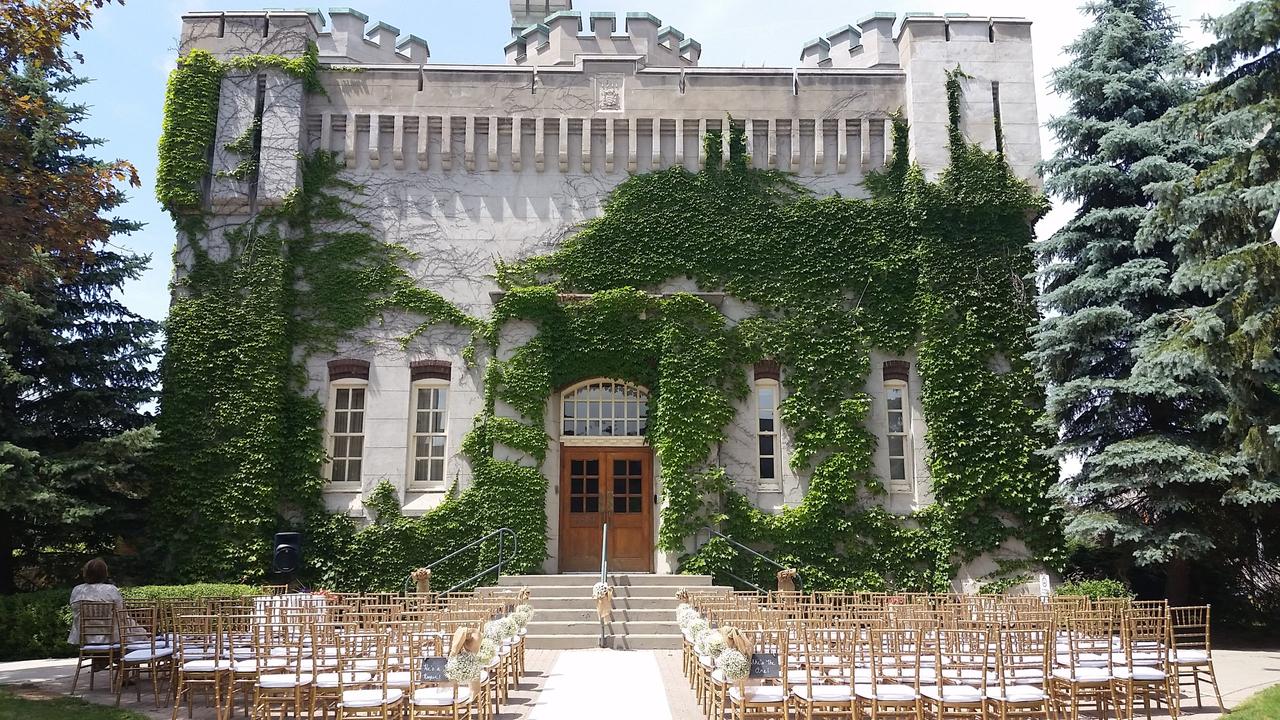 Delta Bessborough (Saskatoon, Saskatchewan)
If you hail from Saskatoon, the Delta Bessborough is where to go to make your fairytale wedding dreams come true. The hotel is located in the city's Central Business District, right near the banks of the South Saskatchewan River. It was built between 1928 and 1932 and its design resembles that of a Bavarian Castle. Its exterior isn't its only impressive feature, though. It has amazing views of the river, 5 acres of gardens and an impeccably designed interior. There are 14 event rooms available and the largest has a capacity of 500 guests.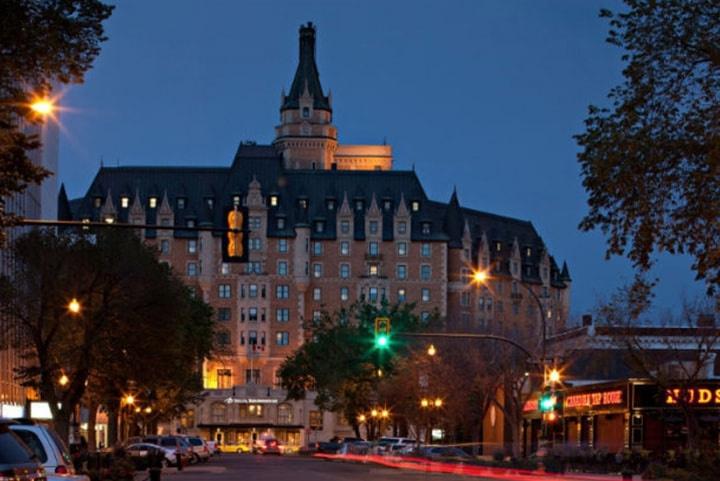 Fairmont Chateau Lake Louise (Lake Louise, Alberta)
Perched on the eastern shore of the picturesque Lake Louise is the Fairmont Chateau Lake Louise. Its history dates back to 1890, when Cornelius Van Horne, the general manager of the Canadian Pacific Railway, commissioned a single-story log cabin to act as "a hotel for outdoor adventurer and alpinist." It has since grown into a massive 550 room luxury castle hotel that's hosted the likes of Queen Elizabeth II and Prince Phillip, Queen Margrethe of Denmark and King Hussein and Queen Noor of Jordan. It has six event rooms available, the largest of which can accommodate 350 guests.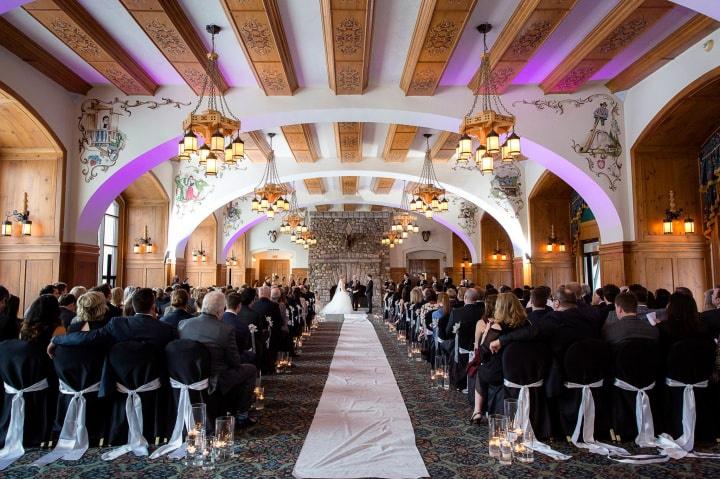 Fairmont Banff Springs (Banff, Alberta)
In the heart of Banff National Park lies the Fairmont Banff Springs, AKA "Canada's Castle in the Rockies". The hotel, built in 1887, is another brainchild of CPR's Cornelius Van Horne. Though the initial structure burnt down in 1926, a bigger and better version was erected a mere two years later. The hotel has had many elite guests, including Marilyn Monroe, Fred Astaire, Helen Keller and King George VI. It features several event rooms and can do receptions for up to 900 guests.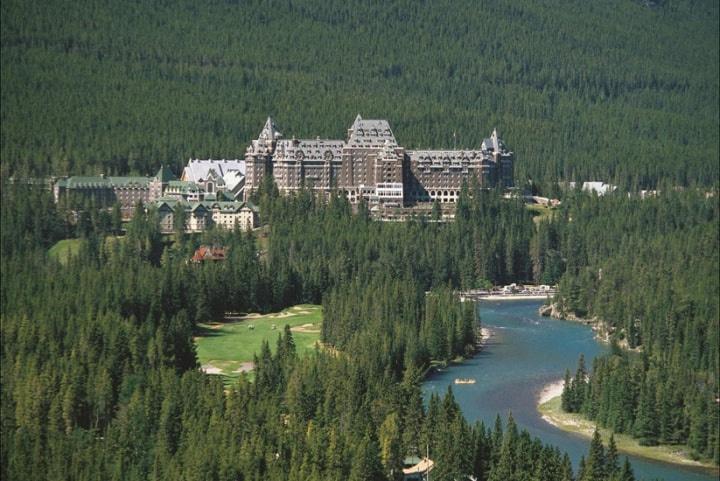 Craigdarroch Castle (Victoria, British Columbia)
In the late 1800s, Craigdarroch Castle was built for coal baron Robert Dunsmuir. The 25,000 square foot Romanesque home boasts Victorian furniture, stained glass windows and stunning woodwork throughout. If you want to get hitched inside the castle, there is only room for 8 guests, so you'll have to keep things pretty intimate. In the market for a larger ceremony? The lawn can accommodate up to 300 guests. Image via YouTube.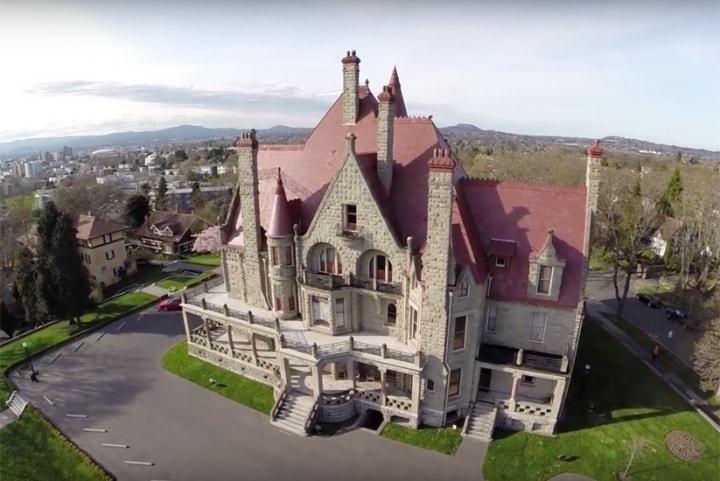 Fairmont Empress (Victoria, British Columbia)
The Fairmont Empress opened in 1908 and remains Victoria's most renowned hotel today. The Edwardian chateau has its fair share of amazing features, including a Tiffany-style stained glass roof above the Palm Court. It has hosted many high-status individuals over the years, from royalty like Queen Elizabeth and Prince Phillip to A-listers like Harrison Ford and John Travolta. Its has seven wedding-ready rooms ranging from intimate to expansive. The largest can accommodate up to 280 guests.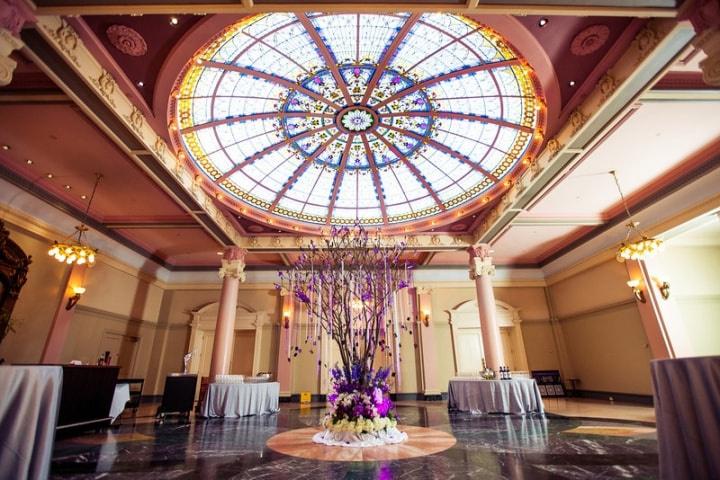 Hatley Castle (Colwood, British Columbia)
Located just outside of Victoria is Hatley Castle, a Scottish baronial-style mansion built in 1908. It was commissioned by James Dunsmuir - the son of Craigdarroch Castle's owner. The home features oak and rosewood panelled rooms, teak floors, several gardens and Tudor Revival style embellishments. It also has amazing views of the Esquimalt Lagoon, the Straits of San Juan de Fuca and the Olympic Mountains. The largest indoor event space has a capacity of 250 guests.