6 Things Every Disney-Themed Wedding Needs
You don't need a fairy godmother or pixie dust to make your Disney-themed wedding dreams come true. Here are all the essentials for a magical wedding.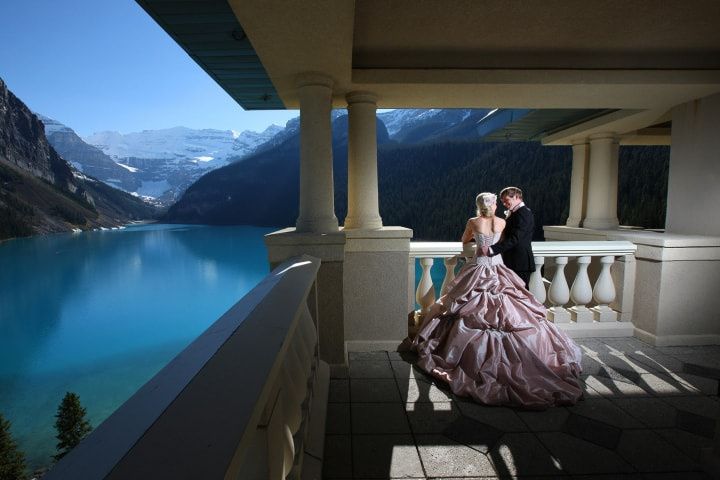 Almost every little girl dreams of being a Disney princess, but by the time you reach adulthood you realize you're destined for a career in business, medicine or journalism, not a life of royalty (and, sadly, none of those come with a coronation). Well, a Disney-themed wedding is one day where you can kiss your regular life goodbye and become the cartoon heroine you've always dreamed of (well, sort of). From finding that perfect Disney-inspired castle venue to crafting a few magical centerpieces, there are many ways to make your Disney dreams a reality.
Here are a few things every Disney-themed wedding needs.
A venue worthy of royalty
A castle venue is the obvious choice for a Disney-themed wedding. Luckily, Canada has a handful to choose from. From snowy Chateaus in Banff (hello, Frozen) to Toronto manors surrounded by sprawling gardens, you've got options.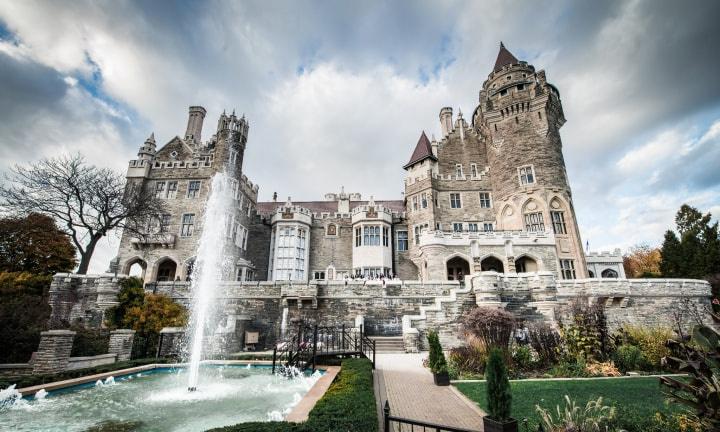 A Princess-worthy gown
Your wedding is the perfect excuse to dress up like a princess - so take this as your opportunity to channel your inner Aurora or Tiana. If you're favourite heroine is the Ariel, the obvious choice is mermaid cut gown. Want to channel Cinderella? A classic ball gown is calling your name. Don't feel obligated to stick to white on your wedding day either - a yellow, pink, green or blue frock will give your look that extra oomph.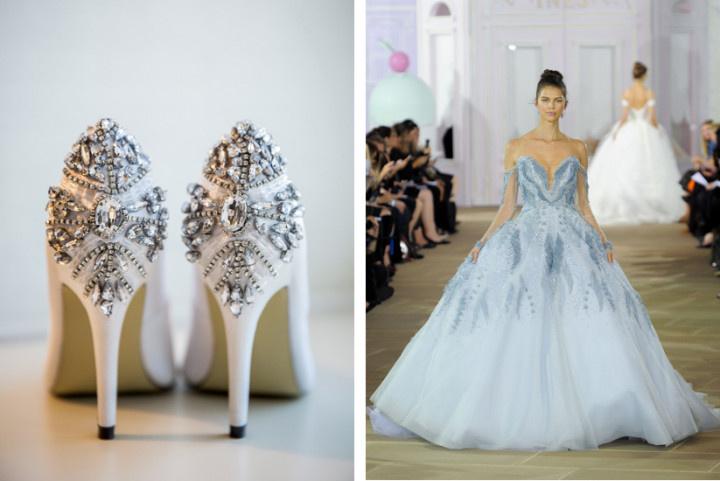 A horse-drawn carriage
A limo may be fancier than your Prius, but it's not exactly fairytale-worthy. So what should you be pulling up to your venue in? A horse-drawn carriage, obviously. Bonus: yours won't turn into a pumpkin when the clock strikes midnight, so you can use it as your getaway car, too.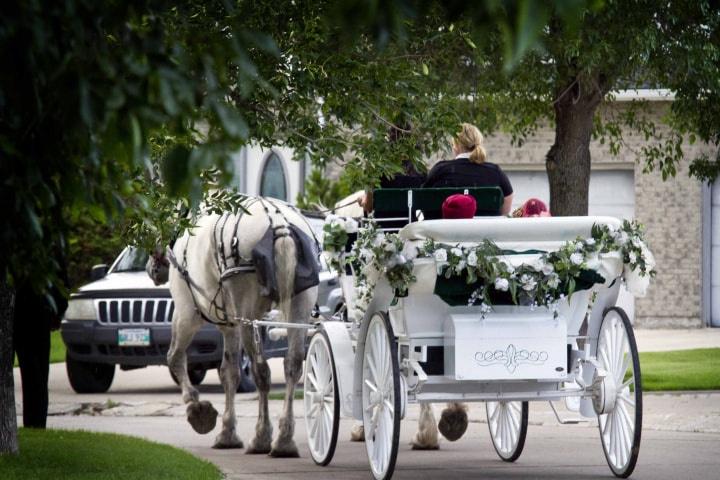 A dreamy cake
Your wedding cake is one area where you can really get creative. Ask your baker if they can fashion Disney-themed wedding cake tiers inspired by your favourite flick. No, you don't have to go all out and feature cartoon characters made of fondant, but a few subtle nods to Walt will make your cake look extra dreamy. Need some inspo? Check out this gorgeous castle cake topper and this sweet Beauty and the Beast-inspired confection.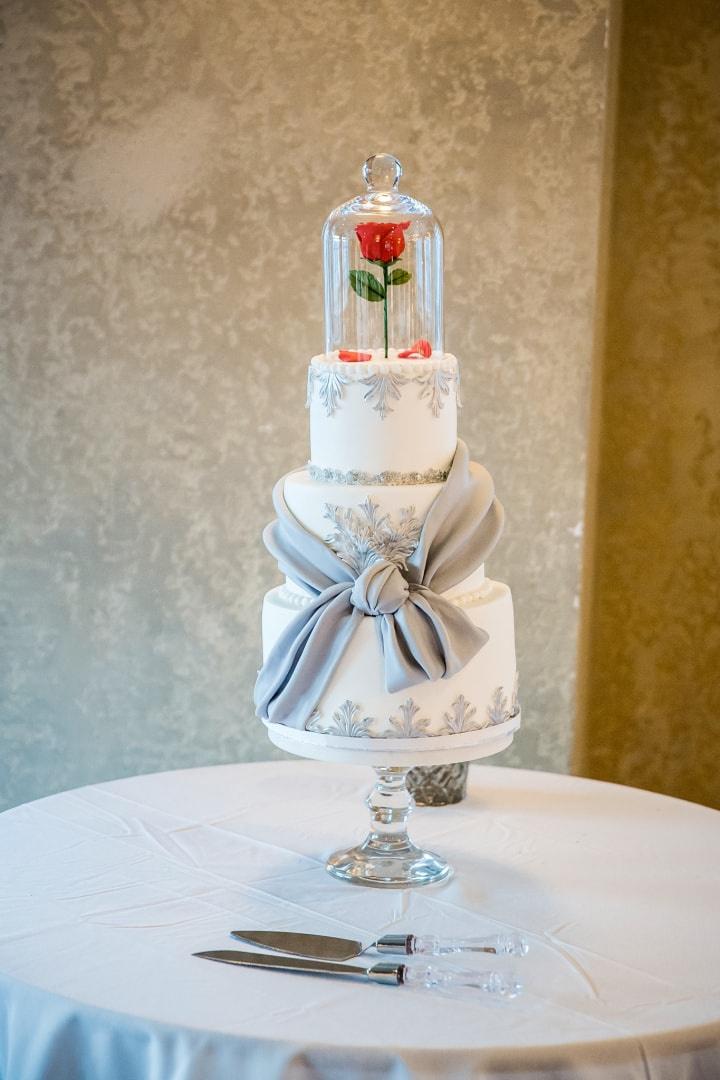 A few magical centerpieces
Infusing your centerpieces with Disney vibes is easy, you just have to use your imagination. From candelabra and bell jars a la Beauty and the Beast to miniature versions of Cinderella's carriage, ditching your plain 'ol vases and votives for more creative Disney-themed wedding vessels is the way to go. If you'd rather give a low-key nod to your favourite childhood flicks, take a look at the flowers used in Alice in Wonderland and create arrangements using those select blooms or go with red roses like the enchanted one in the Beast's castle.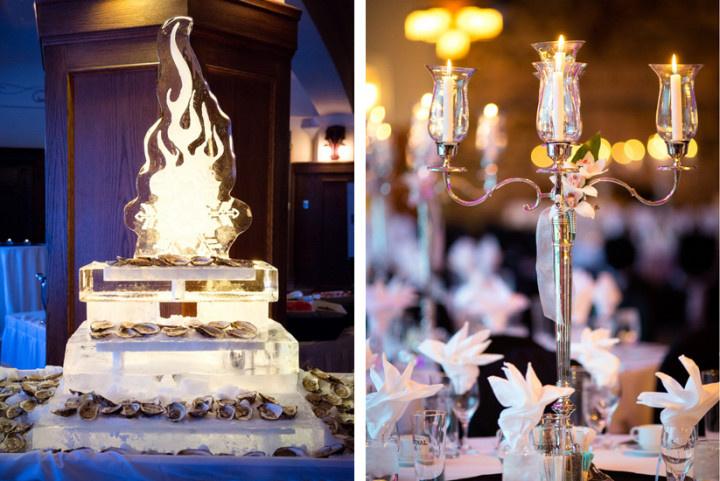 A playlist featuring Disney hits
Your entire playlist doesn't need to be dedicated to Disney love songs, but throwing on a few fan favourites couldn't hurt. I mean, who can resist singing along when a track like "Hakuna Matata" comes on? Answer: No one. If you want something a little more subtle, we recommend using one of the sweet slow songs for your first dance, it'll make your first spin around the dance floor truly magical.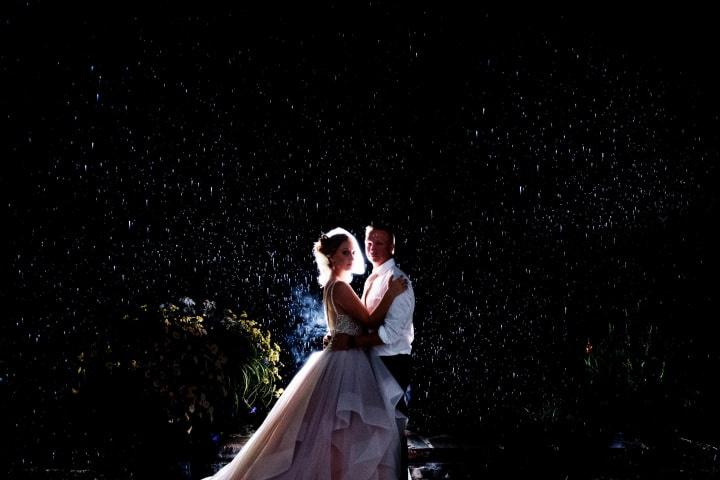 Find your Disney-themed wedding dream team with WeddingWire's venue and vendor directories »