16 Stunning Toronto Restaurants Worthy of Your Wedding
There's no doubt about it, restaurants make for amazing wedding venues. Here are a few of our Toronto favourites.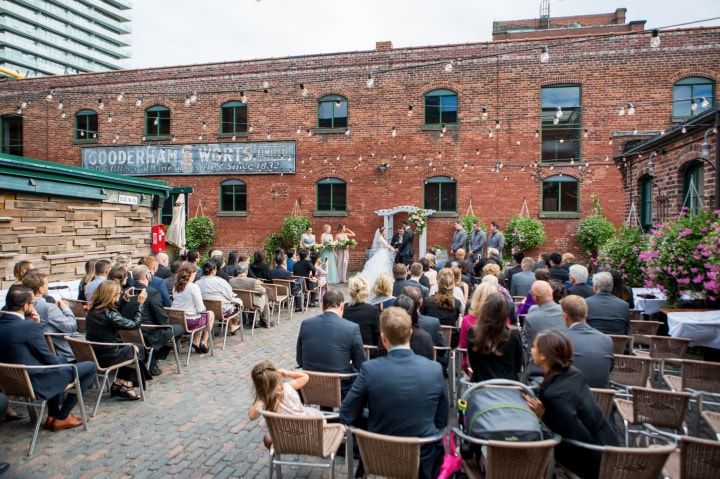 If you and your partner are total foodies or you're looking for a spot for a micro-wedding, a restaurant wedding is the way to go. Toronto has garnered a solid reputation for its roster of amazing eateries, so if you call The Six home, you're in luck. From swanky French eateries to loft-like trattorias, the world is your oyster. We've crafted a list with a few of our faves—many with outdoor spaces—to help you choose the perfect one for your "I dos".
Here are a few stunning Toronto restaurants where you can tie the knot.
Canoe (66 Wellington Street)
Perched atop of the TD Bank Tower you'll find Canoe, a distinguished member of the Oliver & Bonacini collective. The restaurant is quite the sight to see, boasting upscale modern furnishings and, of course, amazing views of the city. The menu is filled with contemporary Canadian fare, so you can treat your guests to eats like Newfoundland cod and Ontario beef rib eye during your reception. For more intimate celebrations, it has private rooms which can host between 40 and 100 guests, or, if you're going for something a bit bigger, a full buyout will give you space for 250.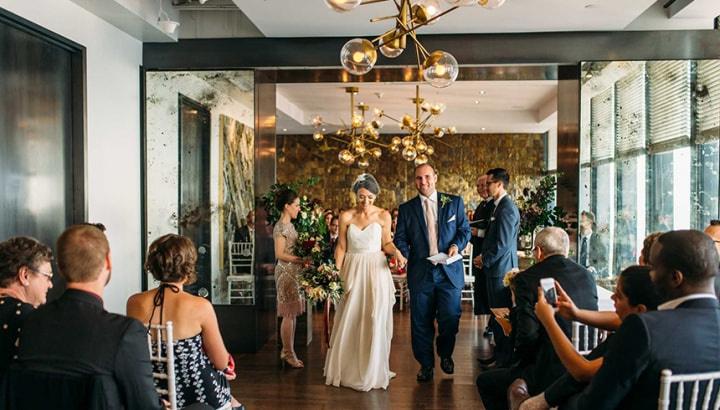 Bymark (66 Wellington Street West)
Bymark is another stellar restaurant wedding venue located in the TD Centre. Its got a dark interior with dark colour palette, wood-heavy decor and leather furniture as well as an expansive patio that you can make use of on your big day. The kitchen has created a number of wedding menus that you can choose from, all of which are stacked with upscale Canadian classics, so you don't have to stress about coming up with something yourselves. Whether you want to host an intimate celebration or a grand affair with north of 150 guests, you can make it happen here.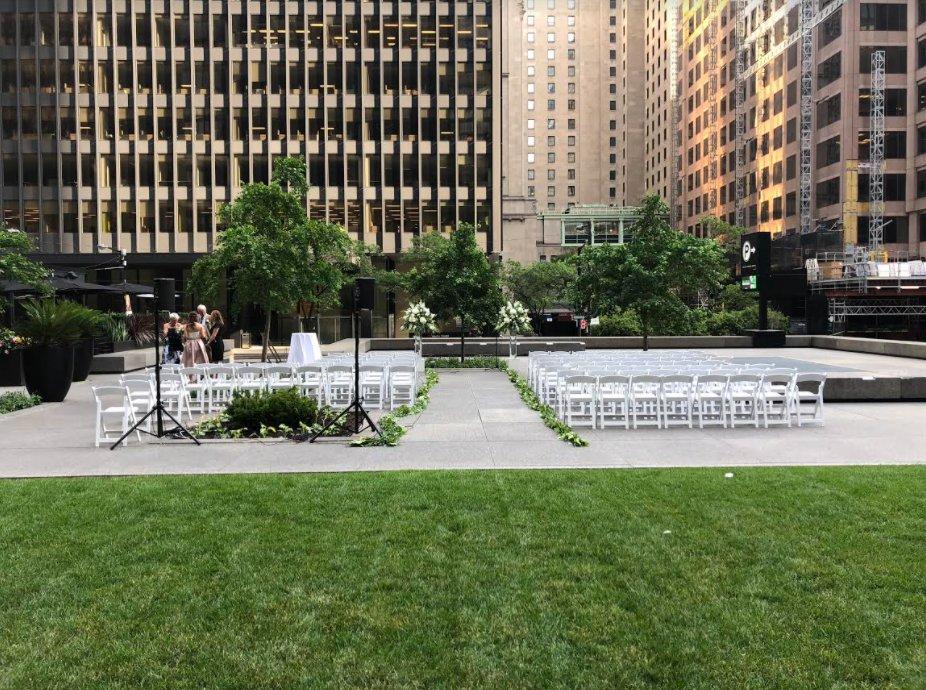 Drake One Fifty (150 York Street)
If you hail from Toronto, you're probably already well-acquainted with The Drake. Its Financial District eatery, the One Fifty, is a modern-meets-vintage paradise, perfect for trend-forward couples. Some highlights? Pop artwork, colourful leather booths and a photobooth (you don't even need to rent one!). Its executive chef, Ted Corrado, will work with you to create the menu of your dreams and the Drake Commissary will handle your confections. Its capacity is 125 seated (or 250 standing).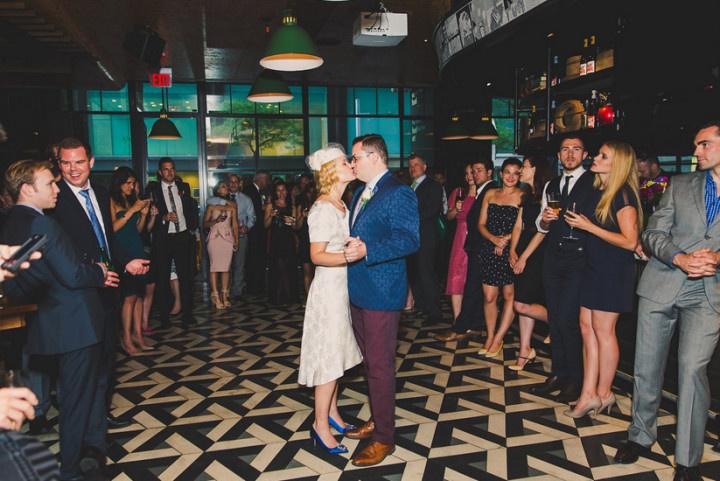 Mildred's Temple Kitchen (85 Hanna Avenue)
Mildred's Temple Kitchen is known for serving up a mean stack of pancakes, but it's so much more than your average bruncherie. The Liberty Village hotspot makes for the perfect industrial chic wedding destination, with sky-high ceilings, a neutral colour palette and modern fixings. Its sample menu features drool-worthy eats like maple-mustard brined pork loin, heirloom carrot and ancient grain salad and kimchi buttered trout (of course, it can be tailored to fit your big day). Its capacity is 100 seated (or 200 standing).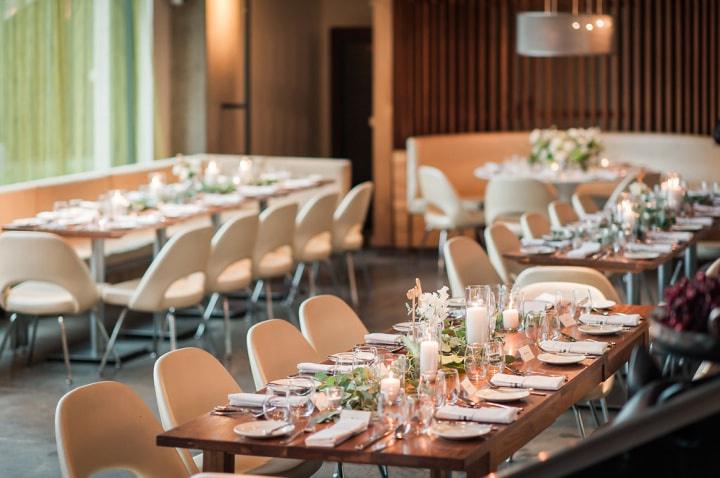 The Chase (10 Temperance Street Toronto)
The Chase Group is known for creating stunning restaurants and its Financial District hotspot, The Chase, is no exception. The swanky modern eatery sits inside the Dineen Building (a heritage site), making it the perfect blend of old and new. The menu features everything from octopus to venison and has a few vegan-friendly options (so even your plant-based guests will be satisfied). Its capacity is 138 seated (or 200 standing).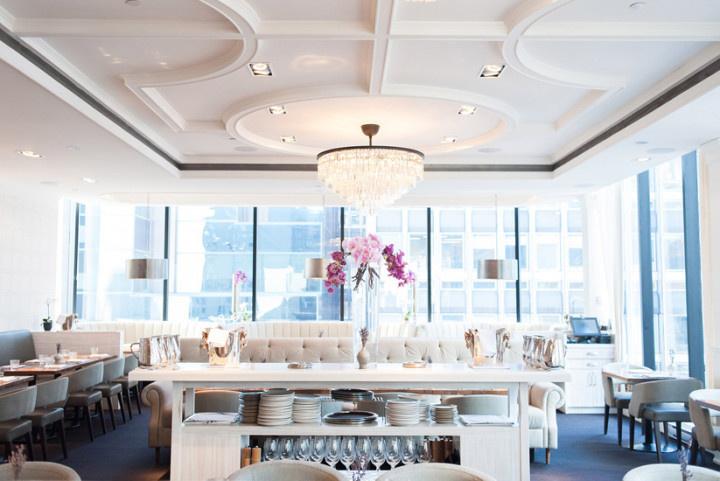 Cluny Bistro (35 Tankhouse Lane)
Cluny Bistro is another Distillery District favourite. The French-style bistro is known for its killer menu filled Parisian dishes, including beef tartare, foie gras eclairs and cheese fondue (drooling yet?). But food isn't its only specialty – it's also a top-notch wedding venue thanks to its open layout and stylish decor. Inside you'll find patterned floors, a marble bar, orb lights and fashionable furnishings that'll look great in all your wedding photos. It's large enough to seat 80 people, so you'll need to keep your guest list on the shorter side.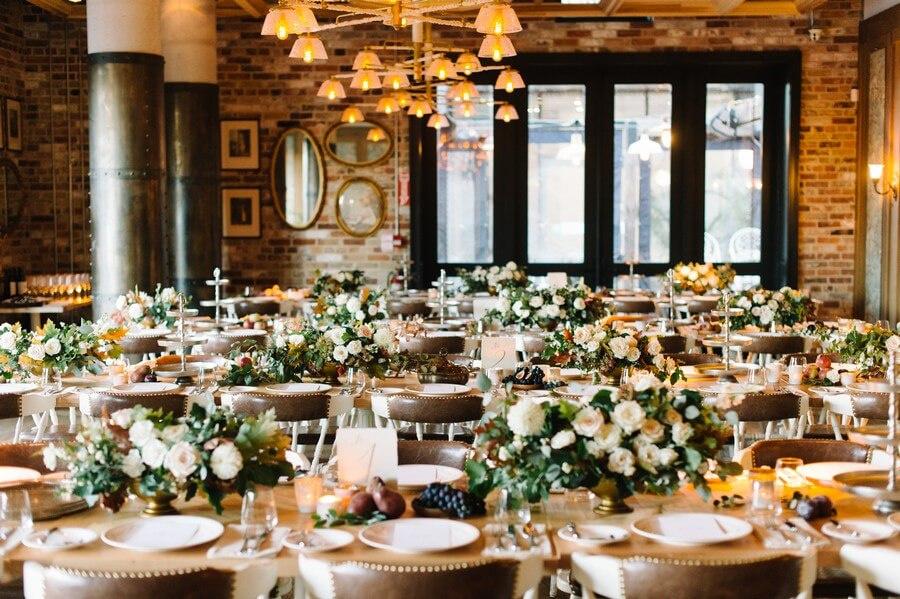 Jump Restaurant (18 Wellington Street West)
Right near the corner of Yonge and Wellington, you'll find Jump, another Oliver & Bonacini favourite. The space has everything you could ask for: a glass atrium (perfect for taking wedding photos in natural light), a courtyard patio (perfect for a summer cocktail hour) and a chic interior with elegant trappings (perfect for dinner and dancing). Its menu is stacked with eats like duck leg confit, ricotta gnocchi and bison lasagna. Its capacity is 162 seated (or 300 standing).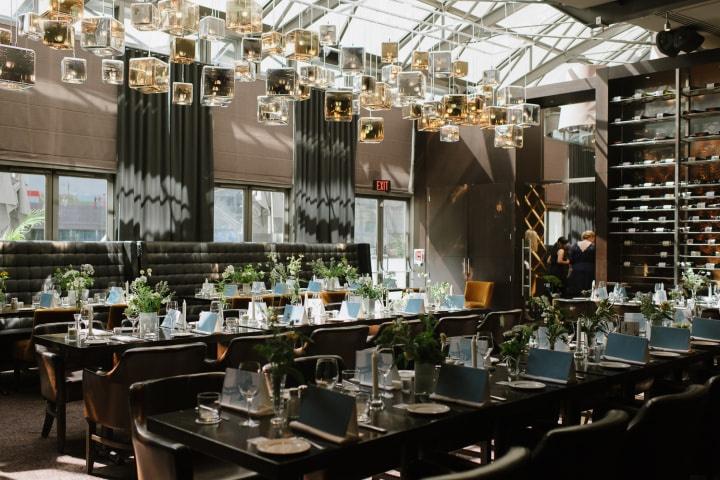 GEORGE Restaurant (111c Queen Street East)
Jump off the 501 streetcar at Jarvis and you'll be a mere hop, skip and a jump away from GEORGE. The restaurant is located inside of a 1850s heritage building that has been restored into a stunning modern space with wrought iron doors, exposed brick walls and an open concept kitchen. The menu here is focused on local, in-season ingredients and can be adjusted to fit your wedding. Its capacity is 110.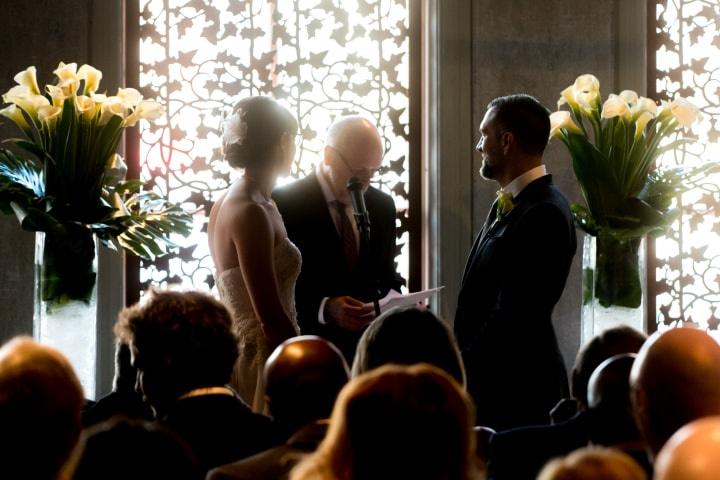 JOEY Eaton Centre (1 Dundas Street West)
Want to celebrate your big day in the heart of the city? JOEY Eaton Centre is the place to do it. This restaurant wedding venue is located just steps from the hustle and bustle of Dundas Square and Dundas Station, making it super easy for your guests to get to. As for decor, its interior is sleek and chic, with dark features and furnishings, so you're sure to stand out in your white gown. Its serves up eclectic Canadian eats, with everything from burgers to pasta dishes available for your wedding menu. Its capacity is 100 guests.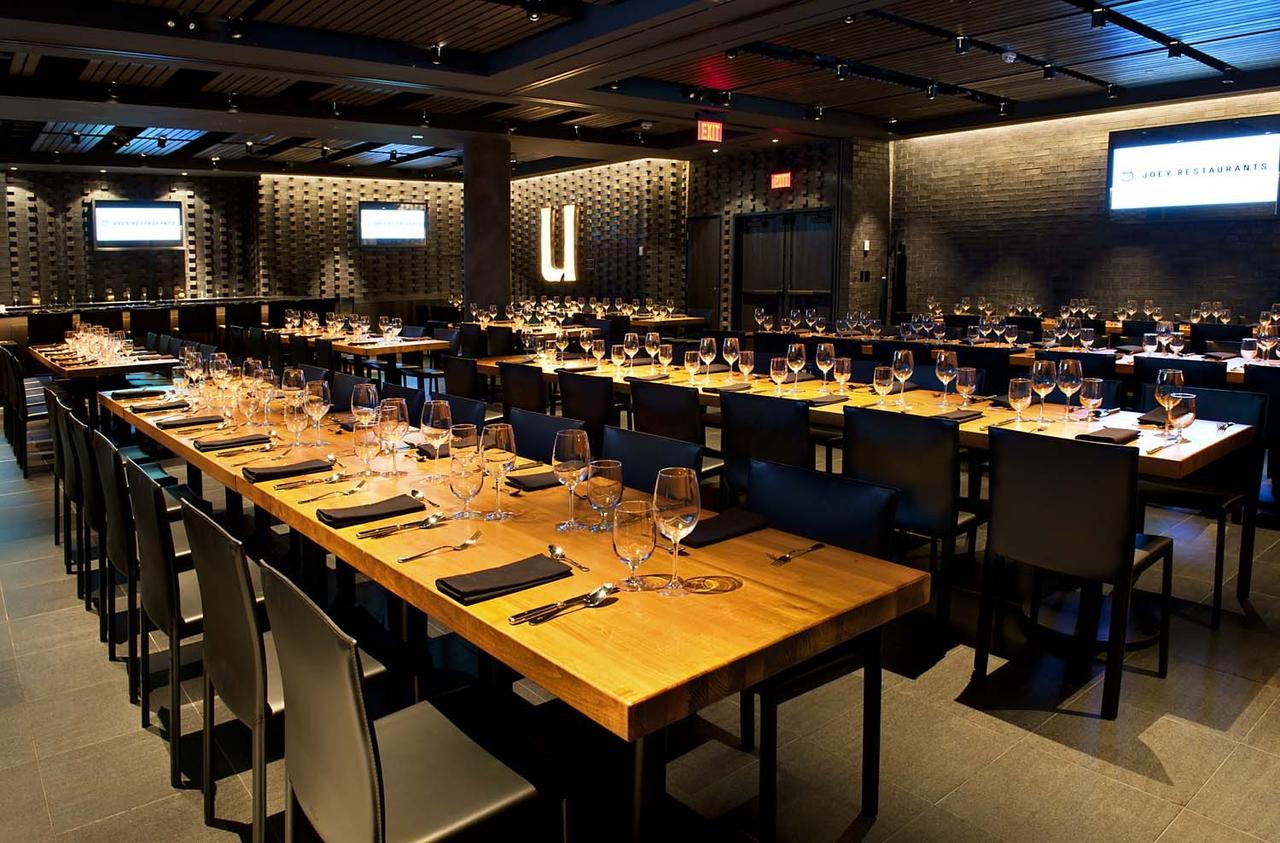 Oretta (633 King Street West)
Oretta is one of the city's most beautifully-decorated restaurants and makes for one gorgeous wedding venue. It has bold, colourful walls, floors, retro furniture, and gets plenty of natural light thanks to its floor-to-ceiling windows. It specializes in Italian fare, so if you want to stack your wedding menu with pizza and pasta, this is a great option. The capacity here is 125 guests, making it ideal for small to midsize weddings.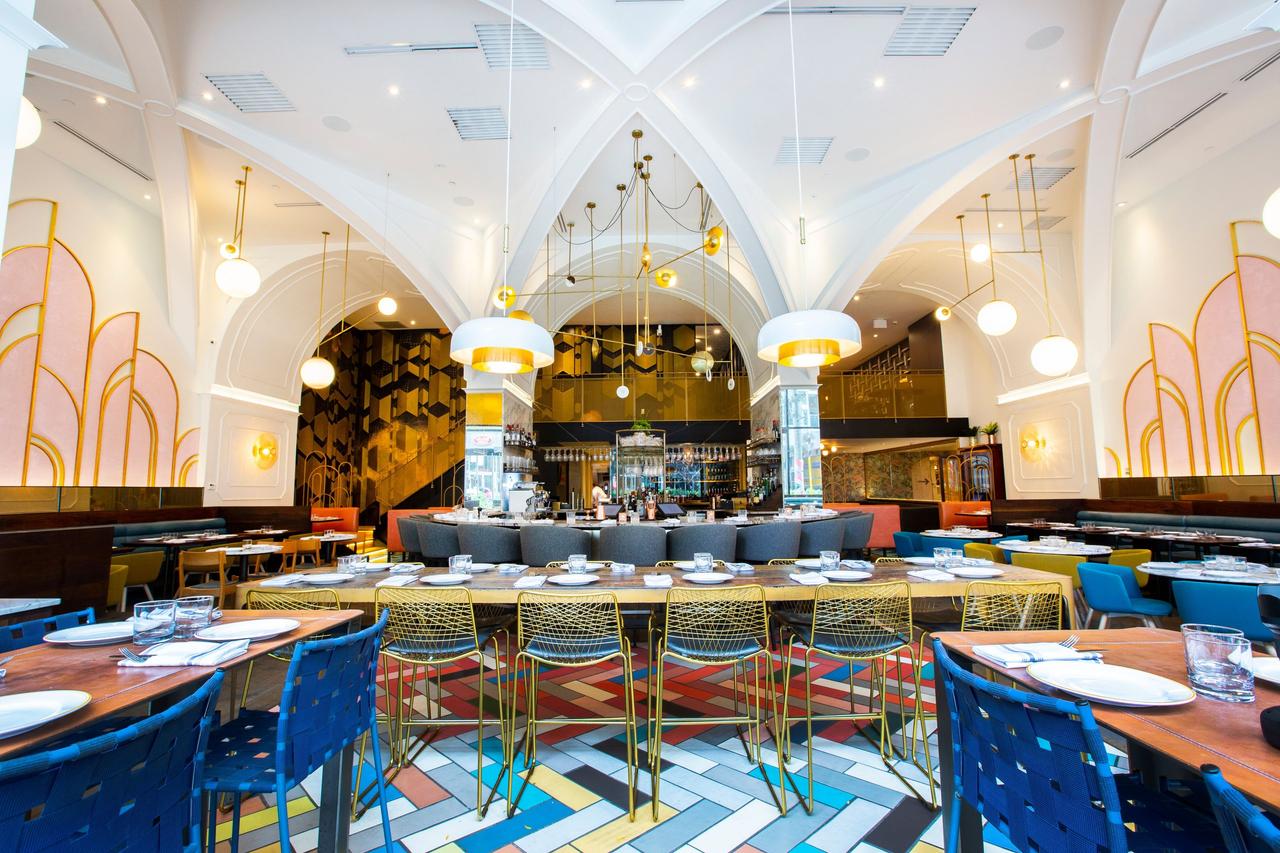 The Sultan's Tent & Café Moroc (49 Front Street East)
If you're on the hunt for a totally unique wedding venue in Toronto, The Sultan's Tent & Café Moroc will be right up your alley. Its a French Moroccan eatery with over-the-top-decor that's sure to impress your guests, even without the help of added bells and whistles. The restaurant can fit up to 250 guests, so you should be able to invite more than just your nearest and dearest. P.S. BerBer Social is located right below, and you can make use of both if you really want to go all out.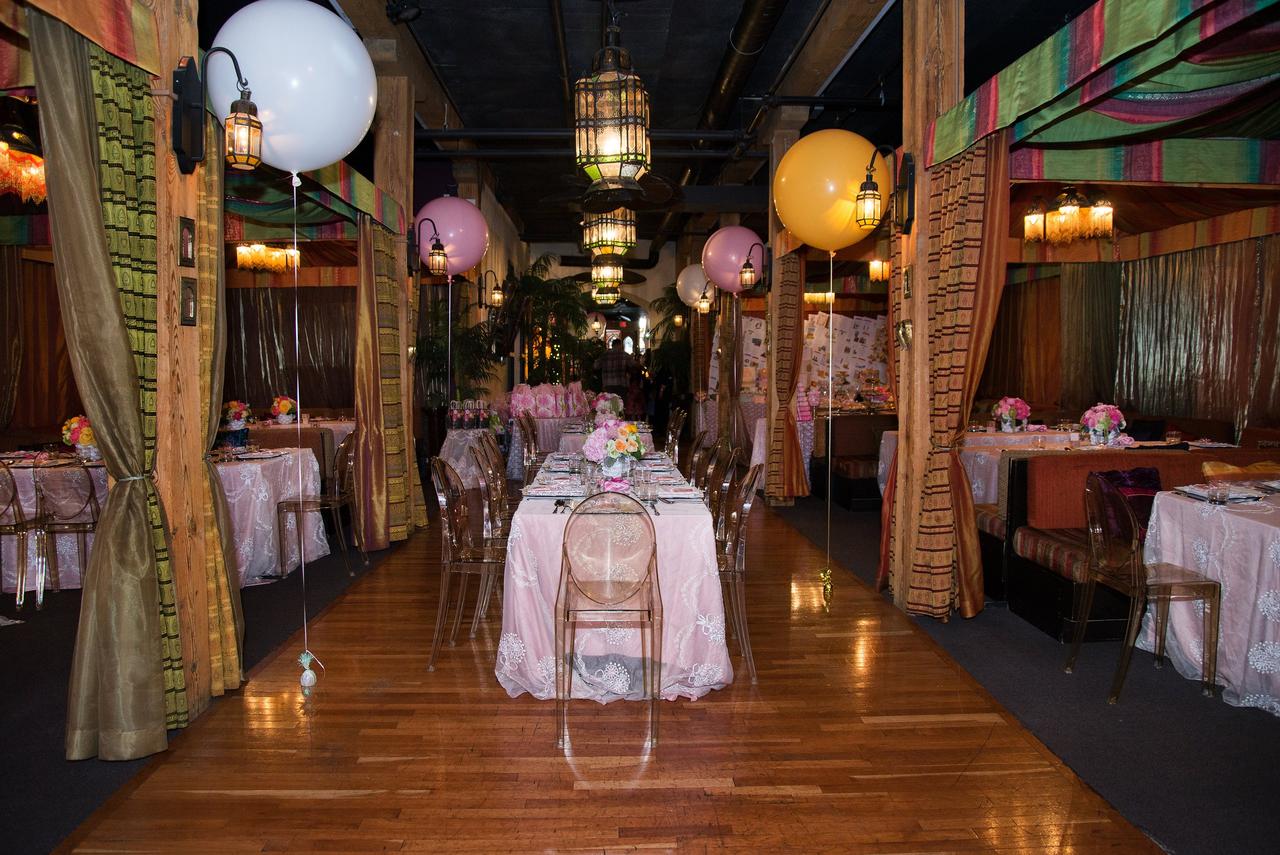 Capocaccia Trattoria (1366 Yonge Street)
Head to Deer Park and you'll find Capocaccia Trattoria, an Italian restaurant just south of St. Clair Station. Other than amazing food, you'll find a contemporary, elegant dining space complete with crystal chandeliers, printed wallpaper and gallery walls. It has enough room to squeeze in 60 guests, so it's best suited for more intimate affairs.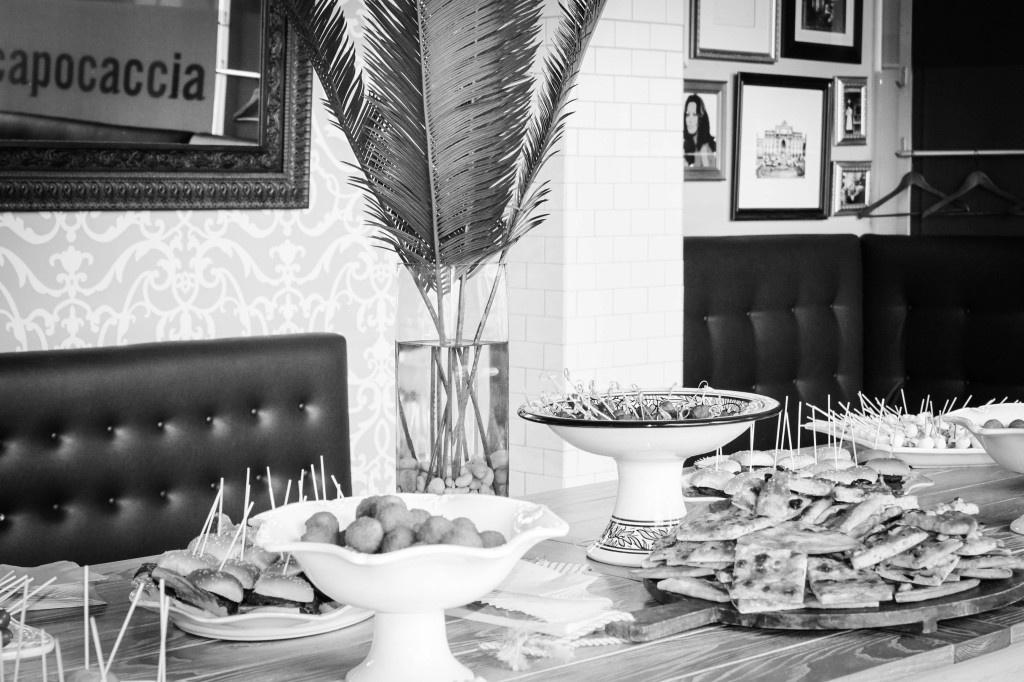 HOTHOUSE (35 Church Street)
Make your way to the St. Lawrence Market neighbourhood to host your wedding at HOTHOUSE, a cool and casual Mediterranean eatery. The restaurant has eclectic decor, with brightly coloured booths, patterned wallpaper, unique lighting fixtures and more – making it perfect for couples who don't want to add a bunch of extra decor (the space is already made over for you). It's large enough to fit up to 275 guests, so you can host plenty of guests.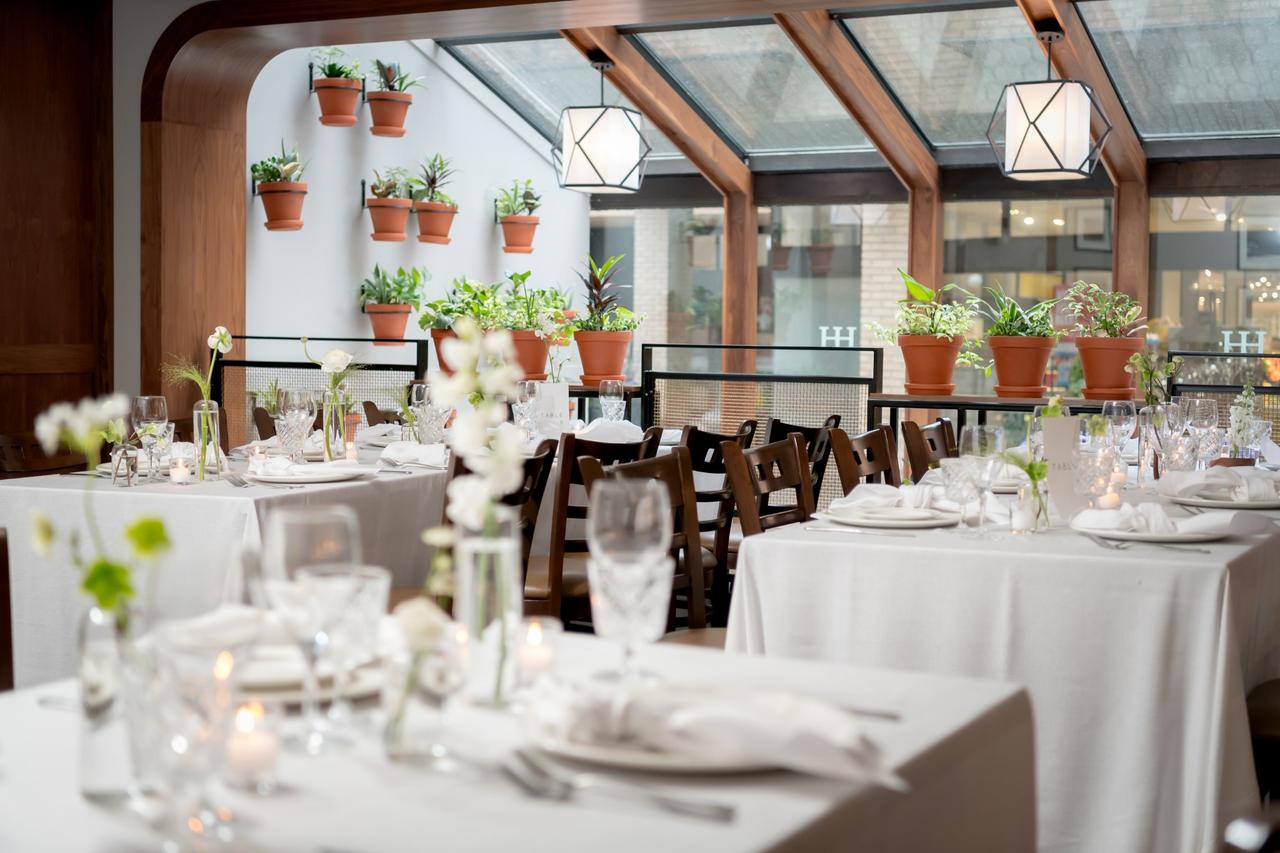 Malaparte (350 King Street West)
Malaparte is a light-filled, modern restaurant wedding venue that's located right inside the TIFF Bell Lightbox. You can host your ceremony and reception in its elegant dining room or take your wedding to the rooftop patio to celebrate under the cover of a marquee tent. Either way, you'll get great views of the city. Its capacity is 200 guests.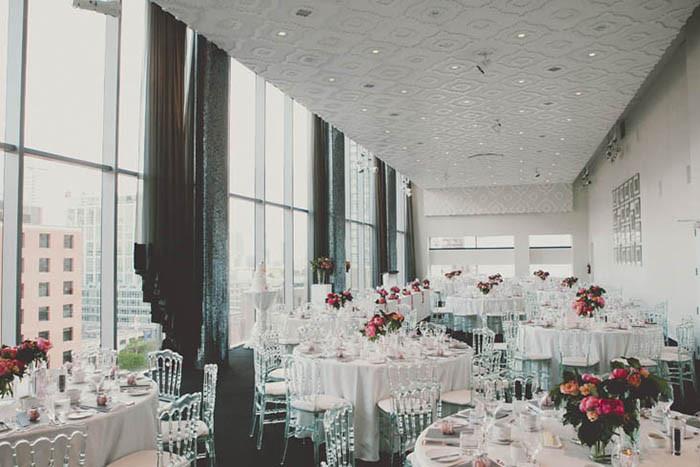 Sassafraz (100 Cumberland Street)
If you're dying to tie the knot in Toronto's stylish Yorkville neighbourhood, Sassafraz may just be your dream restaurant wedding venue. It boasts all white, elegant decor and furnishings, making it wedding-ready without too much work. So far as food is concerned, the restaurant specializes in Canadian and French fare, so expect your wedding menu to have a Parisian twist. It has two unique event spaces, which together can fit up to 100 guests, but can be used separately for smaller celebrations.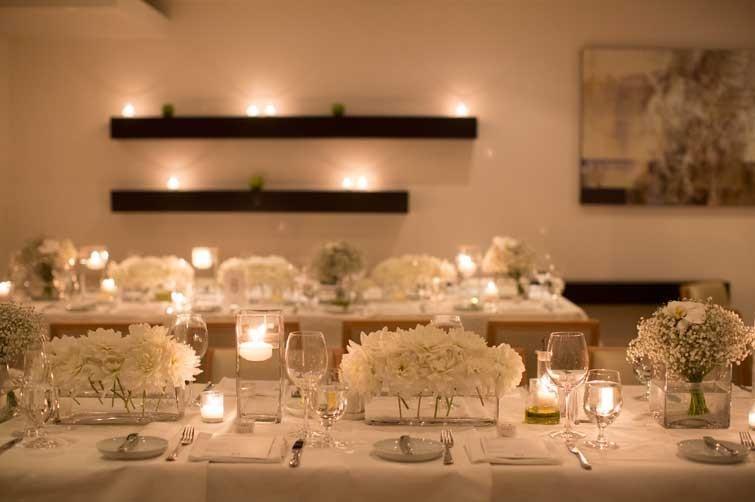 Find more Toronto restaurant wedding venues on WeddingWire »